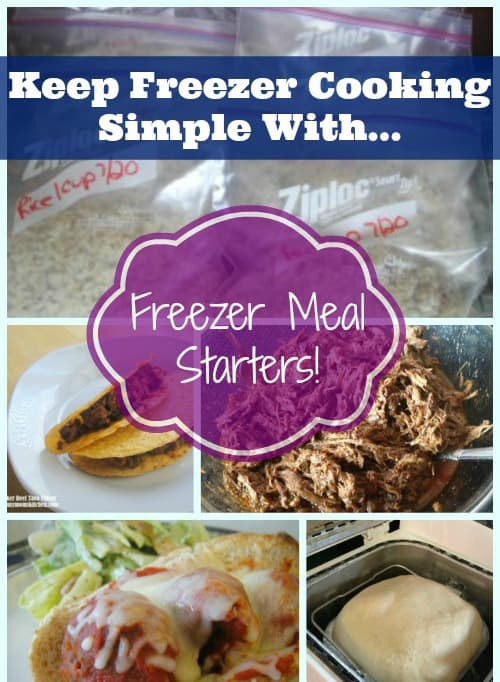 For many people when they hear the term freezer cooking right away their minds drift to spending 1-2 days cooking 30 + casseroles. Those thoughts – and the head spinning that follows – usually pushes freezer cooking out of reach and something "other moms" do. Because really how in the world can we find time to cook that much when many days a 10 minute undisturbed shower is a luxury.
Good thing freezer cooking goes way beyond the 30 meals in one day mentality.  Sure, this is one way you can stock your freezer but it is certainly not the only option. If it were I would have left freezer cooking a long time ago. For one, I rarely make or eat casseroles and second I really don't have 1 -2 full days to dedicate – or the physical stamina – to make a month of complete meals.
One of my favorite ways to prepare foods for the freezer is to put together freezer meal starters. If you have been turned off by freezer cooking because you did not want to commit to 30 already prepared meals then I think you will enjoy the flexibility and freedom of freezer meal starters. Typically, they take a much shorter time to put together which also makes it a nice option for us busy people that don't want to spend our entire weekend cooking.
A freezer meal starter is exactly what it sounds like. They are components of a meal that are prepped and frozen to be used in future recipes. These components can be cooked or uncooked. When you have meal starters prepared then you are able to pull together a recipe in less time than if you didn't. For example, if a recipe calls for pounded out chicken breast cut into strips and you did not prep this ahead of time, then you can plan on adding 20 -25 minutes to dinner time prep along with a chicken juice mess. Now if you prep that chicken ahead of time you would just need to take the chicken out the night before or morning of to thaw by dinner time. Then all you would need to do is put the recipe together. This saves you both prep and clean up time. I don't know about you but I would much rather deal with prepping raw chicken on the weekends rather than after work when everyone is screaming for food.
I have listed out some of my favorite freezer meal starters that I like to have available. I also include links to some different recipe ideas. Most of these freezer meal starters are very easy to prepare and some require no cooking ahead of time. If you have never tried freezer cooking before or don't have a lot of extra time then try putting some freezer meal starters together and see if it works for you.
Taco meat
Taco meat can be cooked fully ahead of time and frozen. This way whenever you are ready to eat all you need is warm it up on the stove or microwave. Whenever I have time to freezer cook you can bet I am making at least 1-2 pounds of taco meat – sometimes more. I use taco meat in tacos, stuffed peppers, taco pizza, taco salad, quesadillas, tostadas, and even taco macaroni and cheese.
Seasoned beef
Seasoned beef can be made completely ahead of time and frozen. The two recipes I have used my season beef in is hamburger macaroni and cheese and cheeseburger wraps. However, you can use seasoned beef in any recipe that calls for it (soup, wraps, casseroles, etc)
Shredded chicken can be cooked completely ahead of time and frozen. I absolutely love having packages of shredded chicken prepared ahead of time. I have used it in salads, sandwiches, soups, wraps, and recipes that called for cooked shredded chicken.
Here are some recipes I can throw together super-fast when I have shredded cooked and ready
Cut up raw chicken
You all know I hate raw chicken. The last thing I want to do ever – but definitely during the week – is handle and cut up raw chicken. YUCK! But having raw chicken prepped ahead of time solves this problem. You can cut up and prep chicken however you want or need then just stick in the freezer. It is so nice to have a bag of cut up chicken breast recipe ready. Use this chicken in any recipe that calls for chopped or cut chicken. I have prepared many stir fry's or skillet meals very quickly having this chicken prepped ahead of time.
There are many ways you prep chicken ahead of time. Check out this post I did on "What to do with a bulk package of chicken" for lots of ideas.
Rice
Many of my readers are often surprised that you can cook and freeze rice ahead of time. But I assure you I have done it many times and it always reheats perfectly each time. Just remove from bag or container, heat in microwave, and use in whatever recipe you like. I wrote a post a couple years ago on prepping rice ahead of time. So simple yet so incredibly helpful on busy weekday nights.
Meatballs
Meatballs can be rolled and frozen raw or cooked completely then frozen – it is totally up to you. I have done both but I actually prefer cooking them ahead of time. This way I can just heat and serve when we want to eat them. I use meatballs in sauce, meatball subs, and on pizza.
Spaghetti Sauce
Sauce (meat, marinara, pizza) is one of the easiest freezer starters to make. You can prepare a large batch on the stove or crockpot then portion it out into 2-3 cup servings to use in a variety of recipes. Whenever I have sauce in my freezer I know my recipe possibilities are endless. I use sauce for spaghetti (of course), lasagna, ravioli, any pasta dish, pizza, calzones, skillet dishes, or any recipe that calls for sauce.
Pizza dough
Whenever I don't feel like freezer cooking I always prepare a couple batches of pizza dough. It is so easy – all I need to do is place ingredients in the bread machine and turn on. We eat pizza a lot and like many families it is one of our go to meals. Here are a few of my favorite pizza recipes I can quickly whip together when I have pizza dough recipe ready in the freezer.
Sausage, Peppers, and Onion Pizza
Those are some of my favorite meal starters. What are you favorite meal starters? How do they make your life easier?
Get Instant Access to My Best Weight Loss Tips & Strategies!
Sign up now for a free step-by-step 7-day email course that I created exclusively for my email subscribers! That's you. I will teach the best habits, strategies, and insider tips so you can enjoy a lifestyle that encourages and supports weight loss! Stop relying on willpower and take control back over your life! You can do this. Let me help!