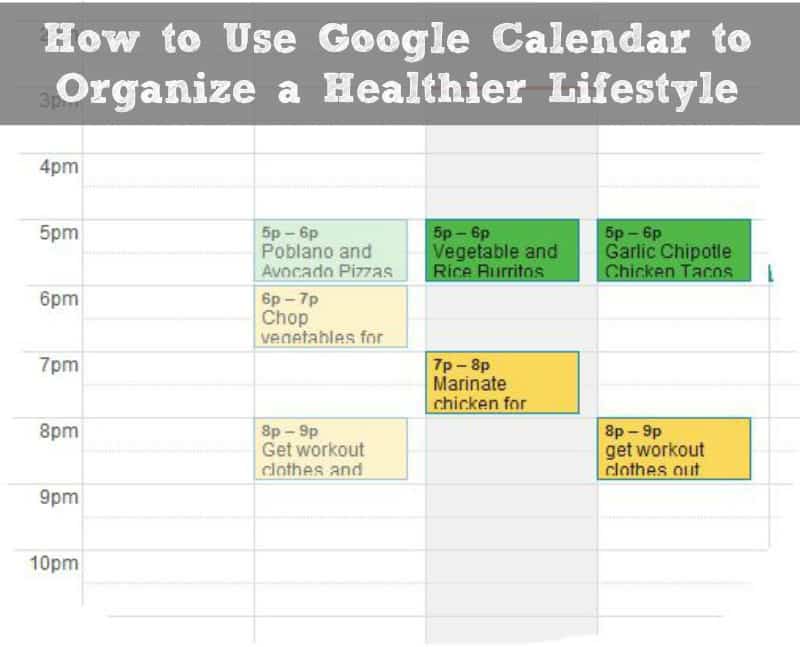 As a busy parent keeping a calendar is essential for my sanity. Without one I would surely forget silly sock day, show and tell, when to send in money for the flower sale, when it's my turn for snack day, hair cuts, etc. You name it – if it's not in my calendar it does not exist.
It took me awhile to notice, but this same concept rang true with adopting a healthier lifestyle. I would always have every intention to workout or cook a healthy meal but more often than not life would get in the way and I would forget. I would get so annoyed when I would forget to do things like take food out of the freezer or lay out my exercise clothes the night before. To me these are basic things that I really should remember. However, with so much on our plates it is impossible to count on memory alone to get things done – at least it is for me.
A couple months ago I had a light-bulb moment to start using my calendar as a way to help me remember and keep track of my weight loss goals and tasks. This was also another way to hold me accountable.
I specifically use Google Calendar but you can use any calendar system. The main point would be to use a calendar tool that you can set to send reminders to your email, phone, or both.
At first I was not sure how this was going to work out but I knew I had to try something. Life was starting to get busier and I needed a system that would help me keep everything organized and on track. Well it worked! Just by setting and scheduling calendar reminders I was able to keep focused and progress on my goals. Of course, there were times I would ignore the reminders or I was a little too ambitious but as I got my system down I was able to get into a grove that worked for me.
Why using a calendar to organize my weight loss works for me.
It takes everything out of your head and puts it in the calendar.
My head is filled with numerous tasks I need to get done daily. Many times I get overwhelmed just thinking about it. By taking all that I need and want to get done out of my head and putting it into a calendar alleviates the stress of worrying about it and provides me with a plan to get it done. When I keep an idea in my head it usually will stay there – until I forget about it.
It is kind of like having your own virtual personal assistant.
I cannot tell you the number of times I have said I wanted a personal assistant. I have even thought about trying to create an internship for someone who may want to be a personal assistant to the stars someday – hey they have to start somewhere, right? I know wishful thinking. Anyway, I always thought that life would be so much easier if I had someone or something to remind me on a daily basis what I need to do.
Well, my google calendar does just that. Once I plug in all my appointments and tasks then set reminders I get notifications on my phone and email when I need to do something.
Keeps exercise a priority because you physically see it.
I have found it harder and harder to ignore exercise when a notification pops up on my phone that says "Tammy get your butt on the treadmill". Just last week, I was all ready to plop on the couch and take in a little morning TV when that notification came on my phone. I actually got up, put my sneakers on, and went on the treadmill – all because of that reminder. After I got done exercising I thought about how something so simple and free gave me the motivation to work out. We all look for these diet miracles when maybe it is just as simple as setting a reminder in your calendar or phone.
More likely to eat the meals on your menu plan.
Not too long ago I would type up my menu plan and then not think about it again. This was not intentional by any means but just the way it would work out – got that done now on to the next thing. Well, this would result in forgetting to take meals or ingredients out of the freezer, purchasing ingredients, or prepping ingredients. When I get home from work and the chicken is frozen or a bunch of vegetables need to be chopped guess what I am doing? Yep, ordering pizza.
Now not only do I input my actual meal plan into the schedule but set reminders to take ingredients out the night before, shop for fresh ingredients, or whatever needs to be done for the meal ahead of time. Having these simple reminders set has greatly reduced the number of times I forget to do things for my menu plan. This results of course in sticking to it more.
By taking an ½ hour to 1 hour every week to plug in all of your goals and tasks for the week will help keep you moving forward on getting things done. I typically do this Sunday after I am done with my menu plan. This way I start of the week knowing exactly what I need to do.
Here is just a mini snapshot of what my calendar looks like. Keep in mind this is not my work or personal calendar. I specifically use this one for my blog, menu plan, and working out.
 Action Steps
1. If you don't already have an online calendar then sign up for one. I recommend online over paper because of the reminder notification option. Like I said I use google, but there are many options.
2. Plug your menu plan, exercise schedule, along with all the tasks that need to be complete for each of those into your calendar. Make sure the reminders are set. I have mine set for 10 minutes before their due but you can do whatever time works for you.
Do you use a calendar systems to help you stay healthy?
Get Instant Access to My Best Weight Loss Tips & Strategies!
Sign up now for a free step-by-step 7-day email course that I created exclusively for my email subscribers! That's you. I will teach the best habits, strategies, and insider tips so you can enjoy a lifestyle that encourages and supports weight loss! Stop relying on willpower and take control back over your life! You can do this. Let me help!