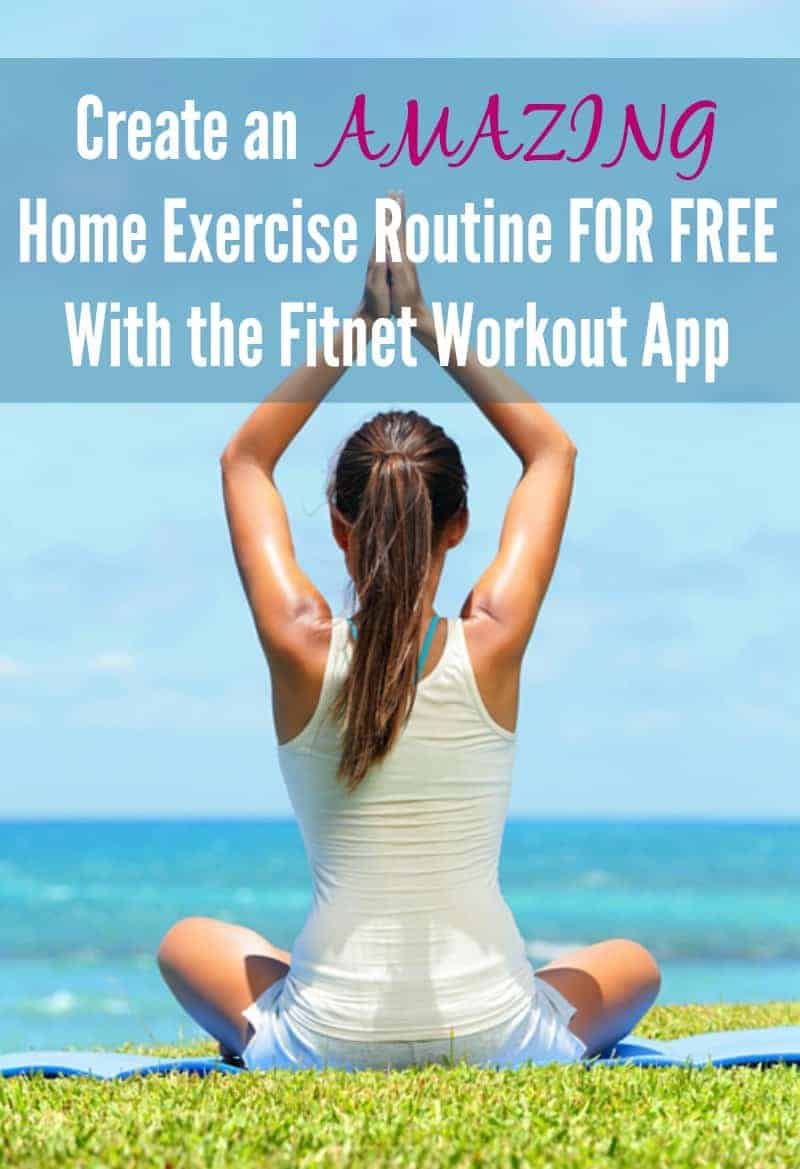 I can't get over how many fitness and workout apps there are out there! And even better, how many of them are free! One of our goals here at OYS is to try out different exercise apps. When I find one that I think is worth sharing with you, our readers, I get to know the app very well, and then report to you guys with all of the details. I promise you that I only bring you apps that I think you will love. The latest one I tried and loved is Fitnet. Fitnet is a free app download.
Let me start by sharing with you what the Fitnet app advertises for itself. It boasts a library of more than 180 free video fitness exercises, with new workouts being posted weekly. Workouts include cardio, strength, and yoga, and are leveled for beginners and experts. Most workouts are about five minutes long. While you are doing the workout, your phone camera turns into a sensor that provides feedback while you exercise. You can create a 7-day plan and set weekly goals for yourself. I thought all of this sounded pretty good, and the app lived up to my expectations, so let's break it down.
Once I had Fitnet downloaded, there were only a few setup items, like providing your name and email address. Then I was ready to browse through the workouts. You can search for cardio, strength, or mind/body workouts at your intensity level by clicking on lite, moderate, or intense. Each workout that I found had anywhere between three and six sessions. I was pleasantly surprised by the different types of workouts and loved the enticing names.
Under lite cardio, I found workouts called Light Low Ready to Go, Intro to Fitness, Kick it Up Kids, Step Basics, and Light and Fit. In the lite strength section, there was Strength Amplified, Strong Mom Dumbbell, New Mom New Body, Strength 4 Kids, Fit For Life, and Ankle Injury Prevention. In the lite mind/body category, the app included Entering Taiji, Yoga 4 Kids, Strong Centered Yoga, Touch Your Toes Yoga, Yoga For Better Posture, and Yoga at Work.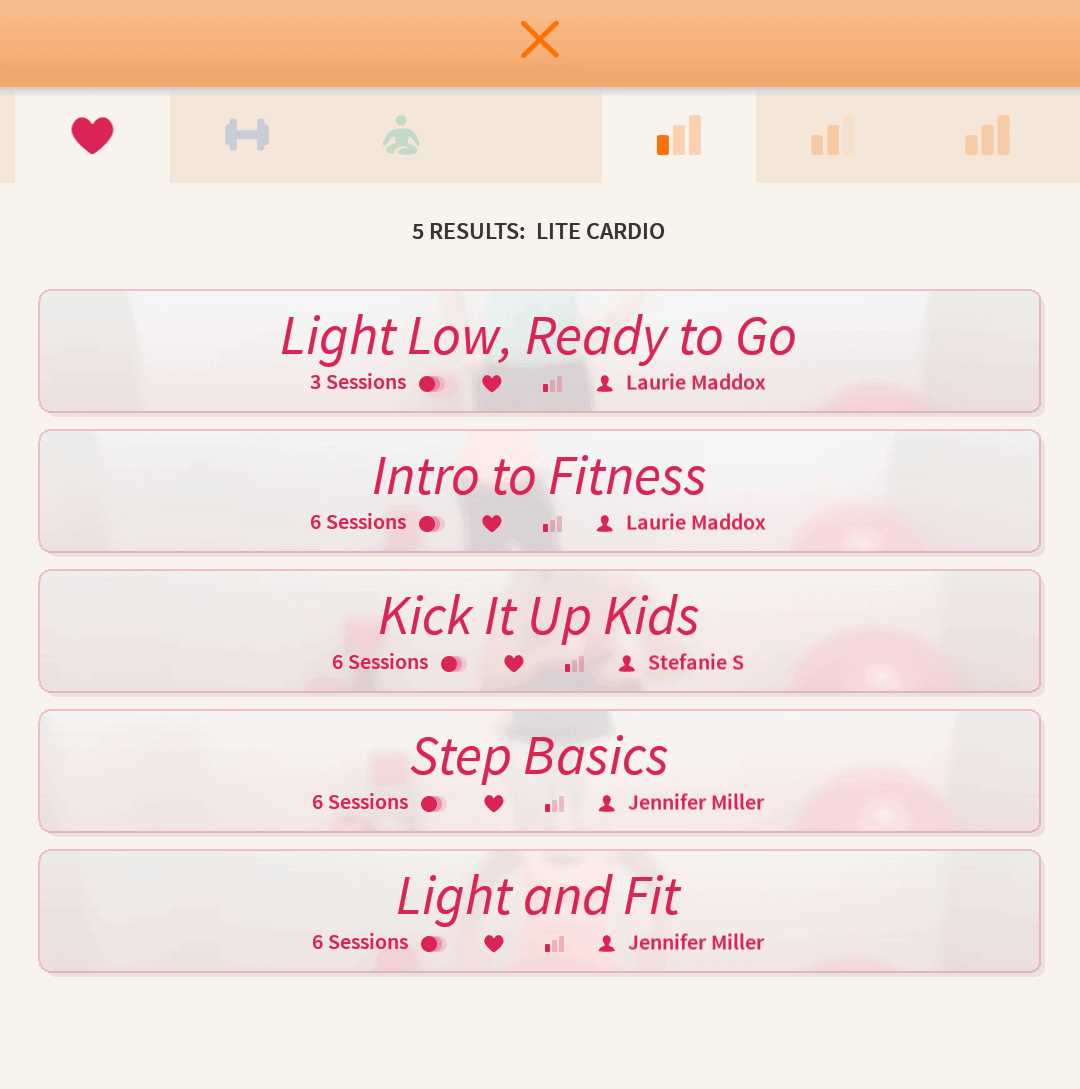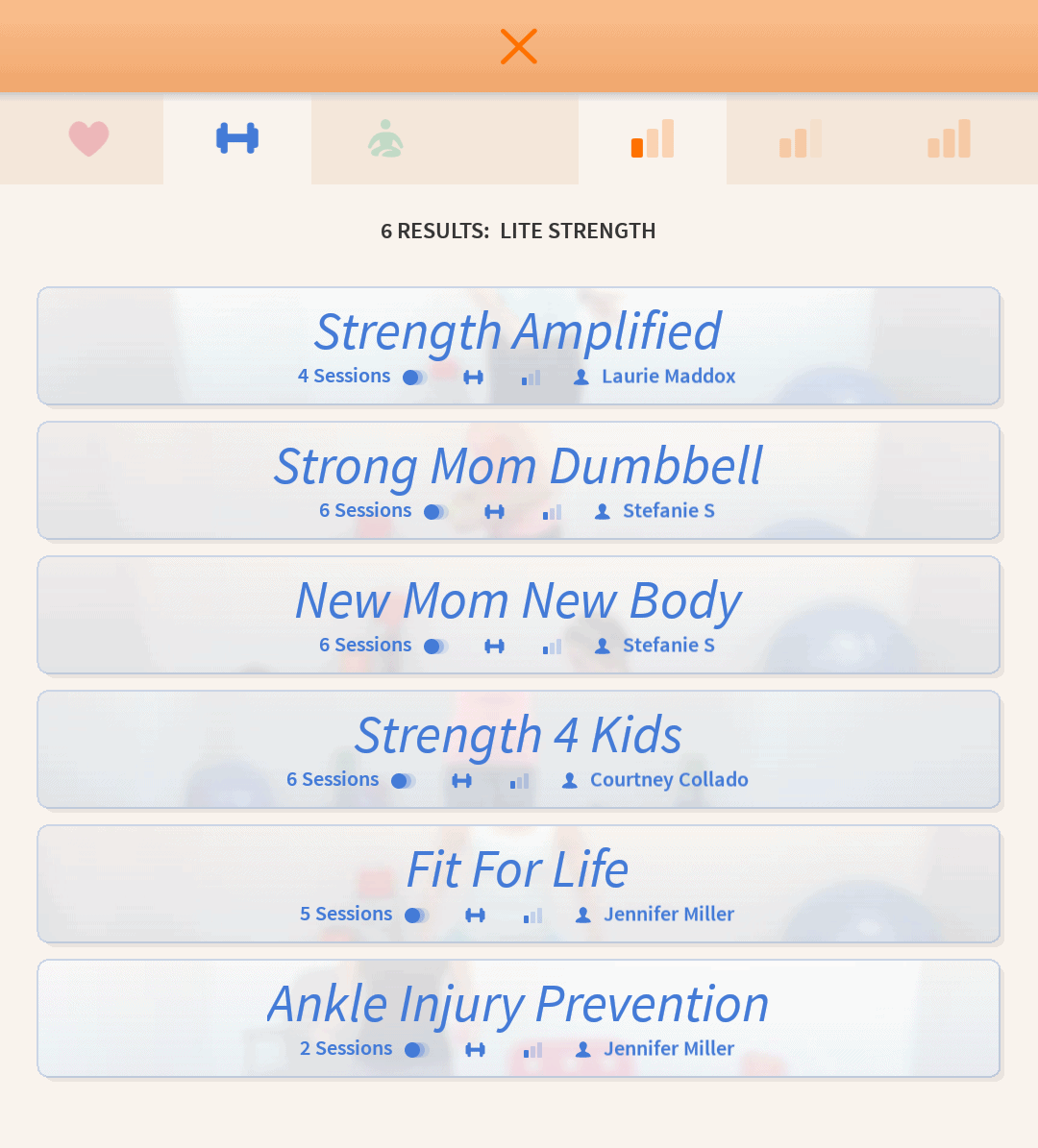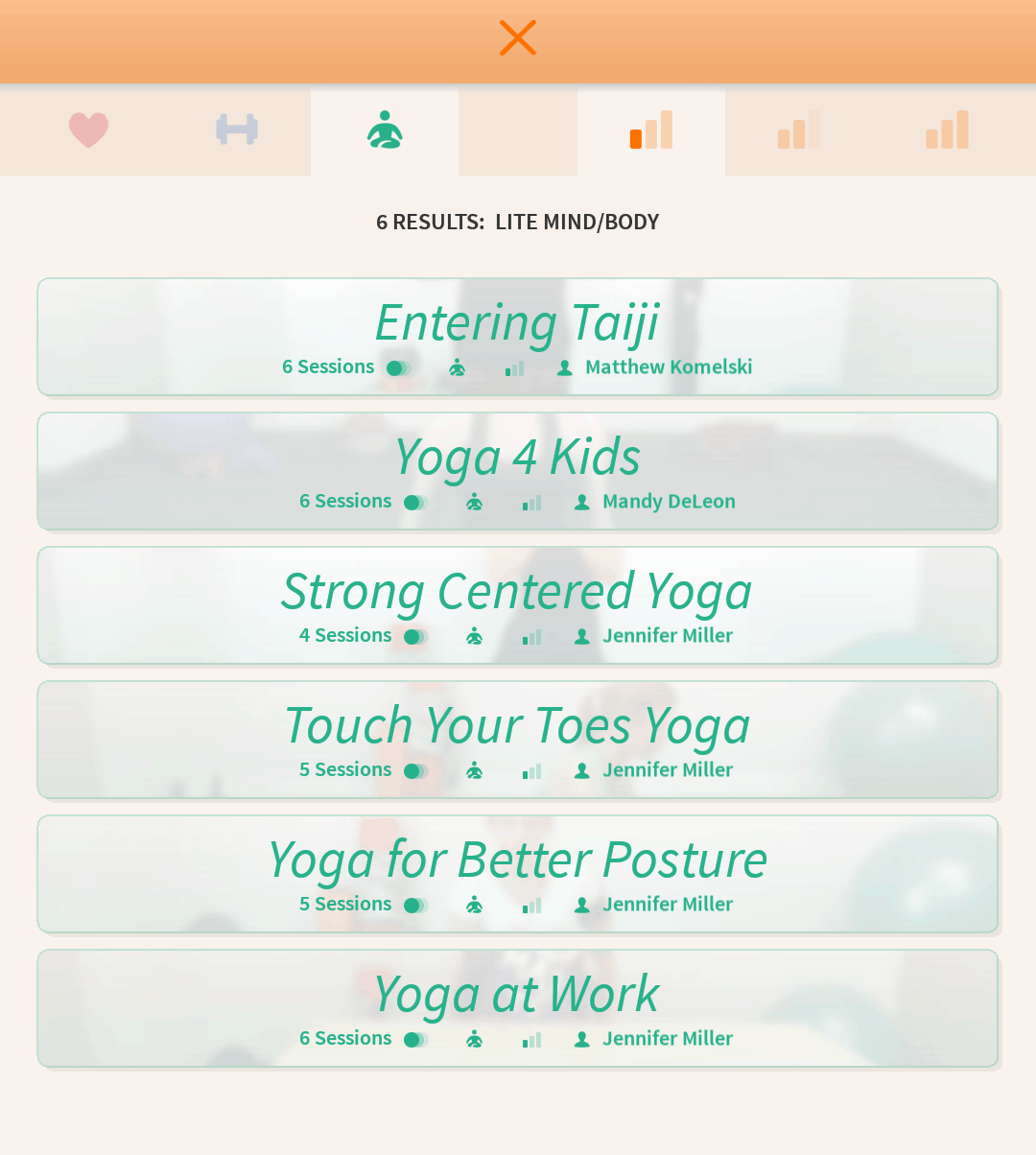 In the moderate cardio section, I could choose from Fire and Ice, Tabatas Make You Tough, Tabatas Make You Strong, Kool Kettlebells, Cardio Fun Times, Dance Fitness, Fit Kids, and Intervals 4 Everyone. In the moderate strength category, there was Maximum Muscle, Hot Kettlebell, Arms and Cardio with Weights, Legs and Cardio with Kettlebells, Total Body with Cardio, Strength 1, Kids Boot Camp, Best Body Bootcamp, and ABSolute BOSU. In the moderate mind/body section, the app includes Total Body Yogalates, Calm Core, Taiji Power, Peaceful Warrior Yoga, and Open Heart Yoga.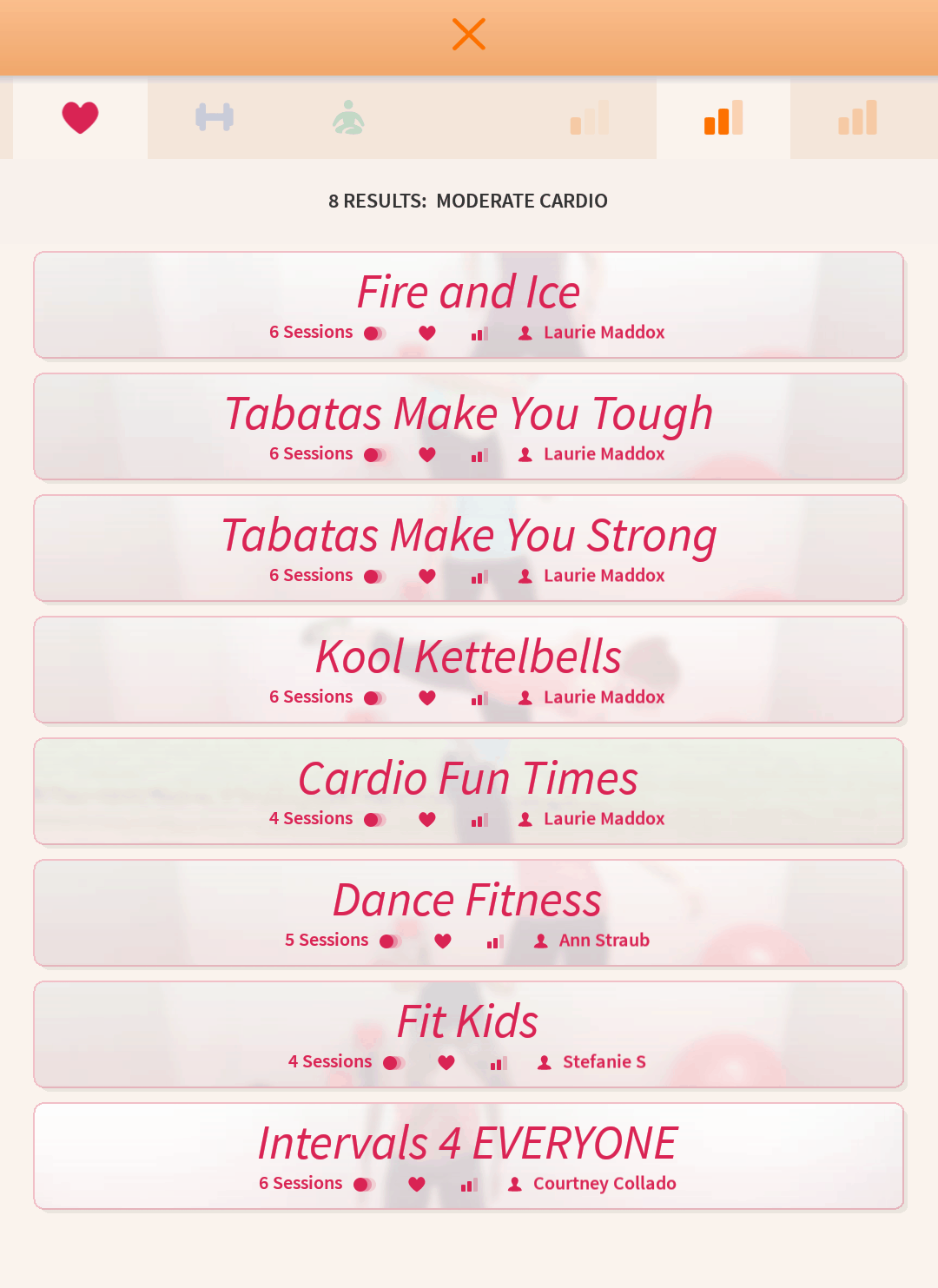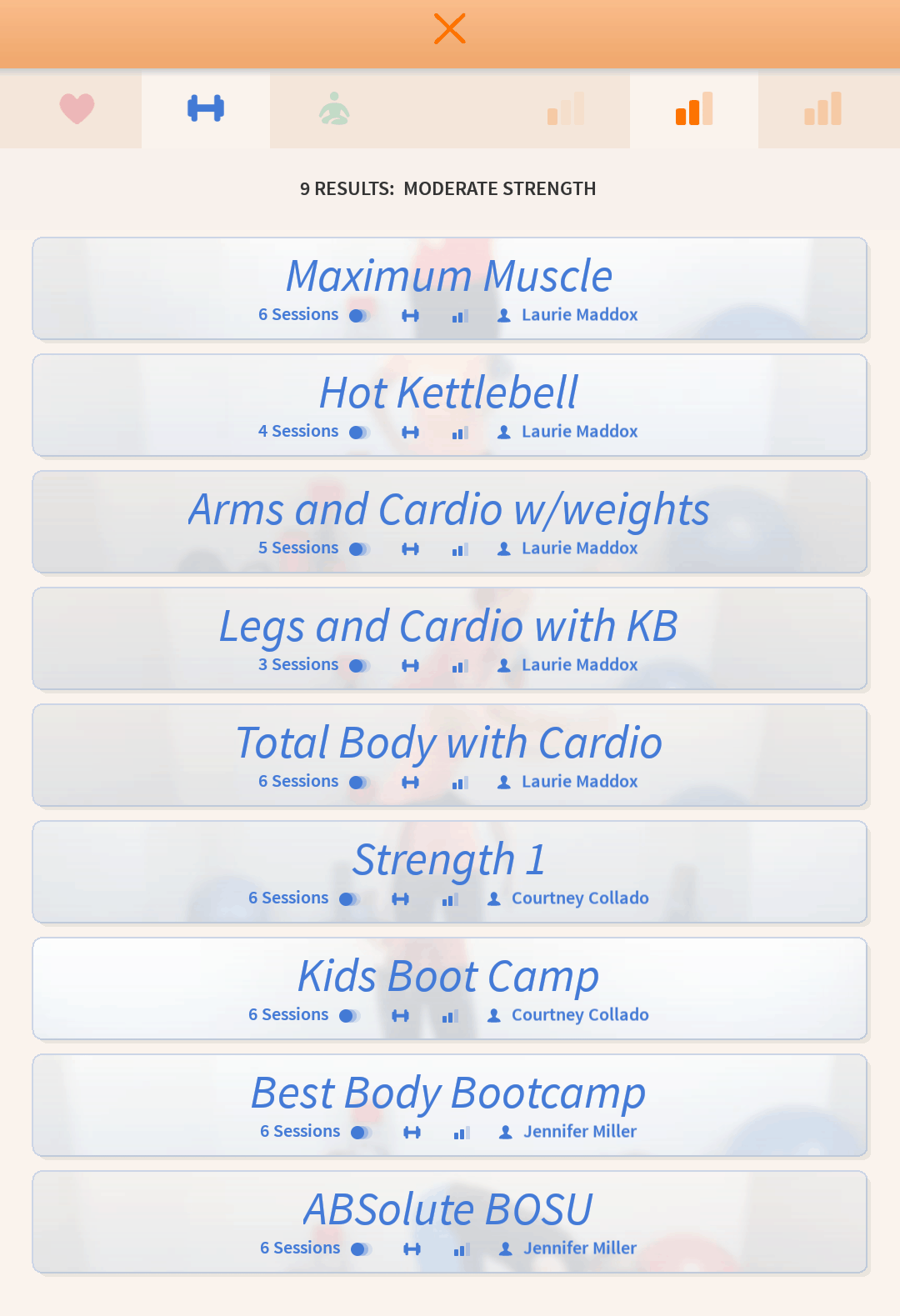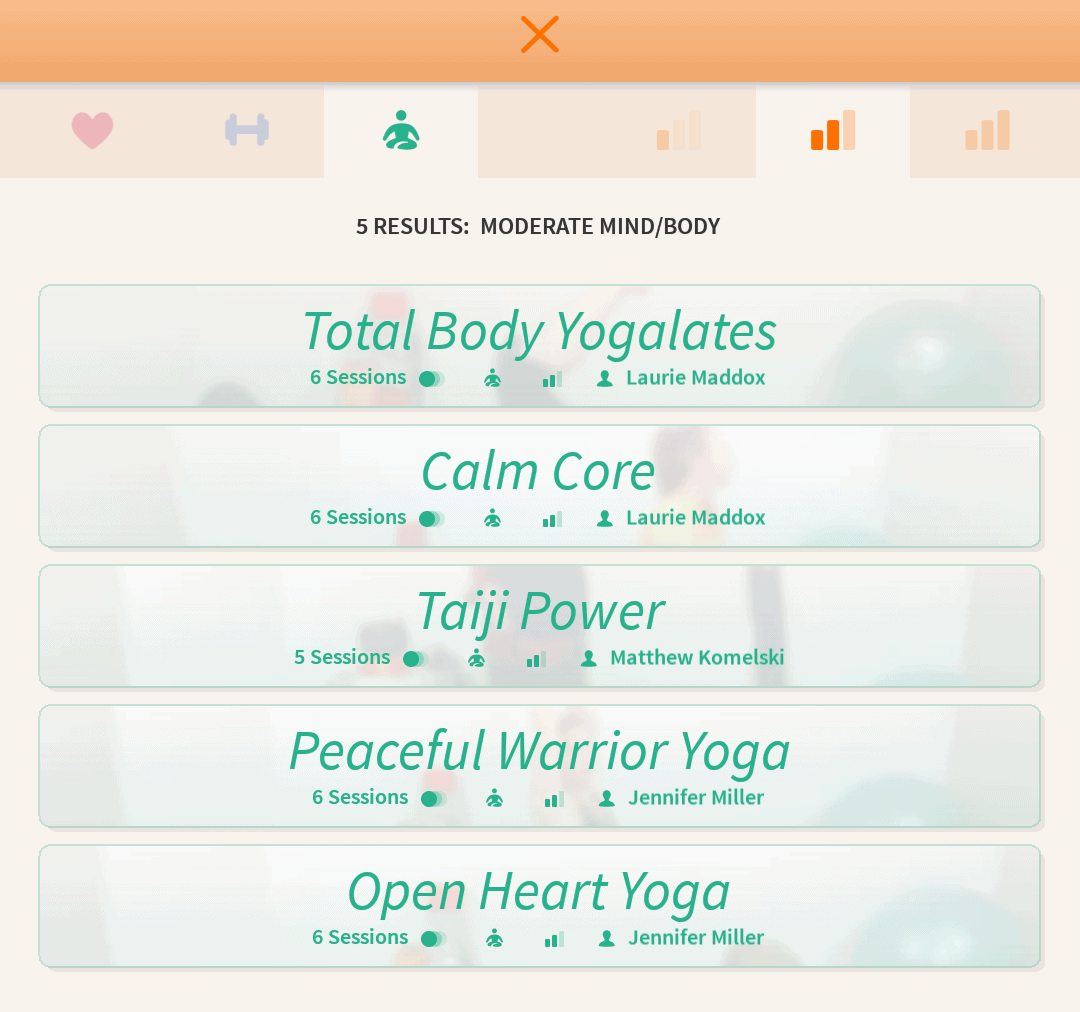 The intense cardio section had one session called Breathless. The intense strength section included Get Sore or Be Sorry, Strength and Conditioning, Body Weight Boot Camp, and Go Hard or Go Home. The intense mind/body category had Taiji Grace and Flexible Flow Yoga.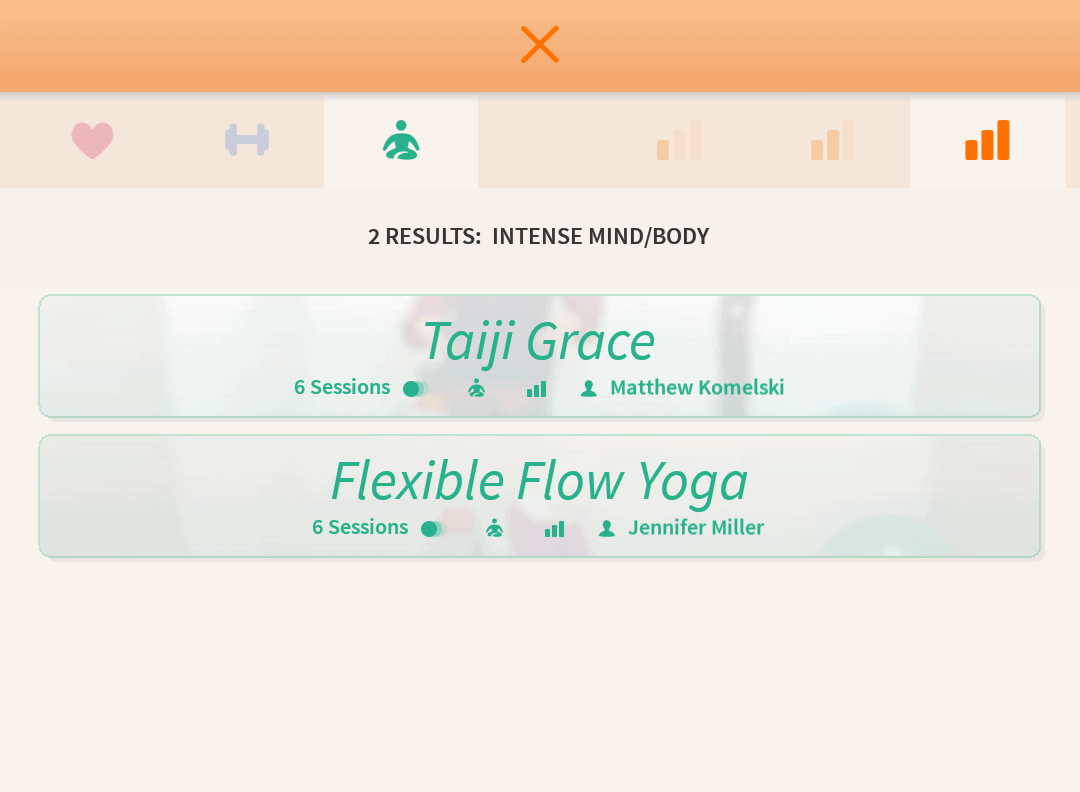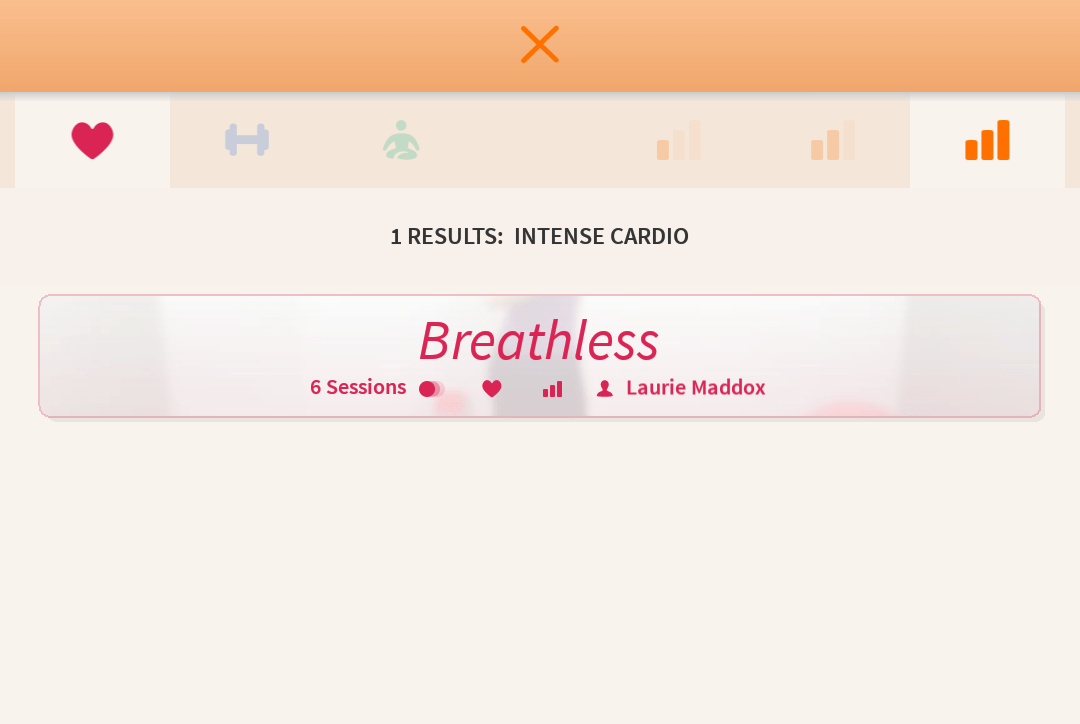 Being the hard core cardio queen that I am, I decided to start at the top with Breathless from the intense cardio section. This workout was 6 minutes, and I did it on my lunch break at work. In those 6 minutes, the instructor had you switching what you do every 30 seconds. She started with basic squats to warm up. The cardio moves included jumping jacks, jumping jacks on an angle, scissor jumps, split squat jumps, boxer shuffles, hamstring curls, lateral hops, squat jacks, jogs in place, high knees, and sprints in place. And yes, you guessed it, I was….breathless! Seriously, my heart rate got up so fast, I was begging for it to be over. So besides the actual workout, here are my thoughts. What I didn't love: There was no music. I also wonder about the accuracy of the camera sensor. I played the workout again while sitting in my desk chair. I just sort of moved my phone around and I still earned three dots. Things I loved: You can pause the workout. There are three dots in the upper corner that score your motion and earn you points. Once I finished Breathless 1, it opened a whole new section of Breathless 2. I could choose to go on to do Breathless 2, or choose a 2 minute cool down option. Love that.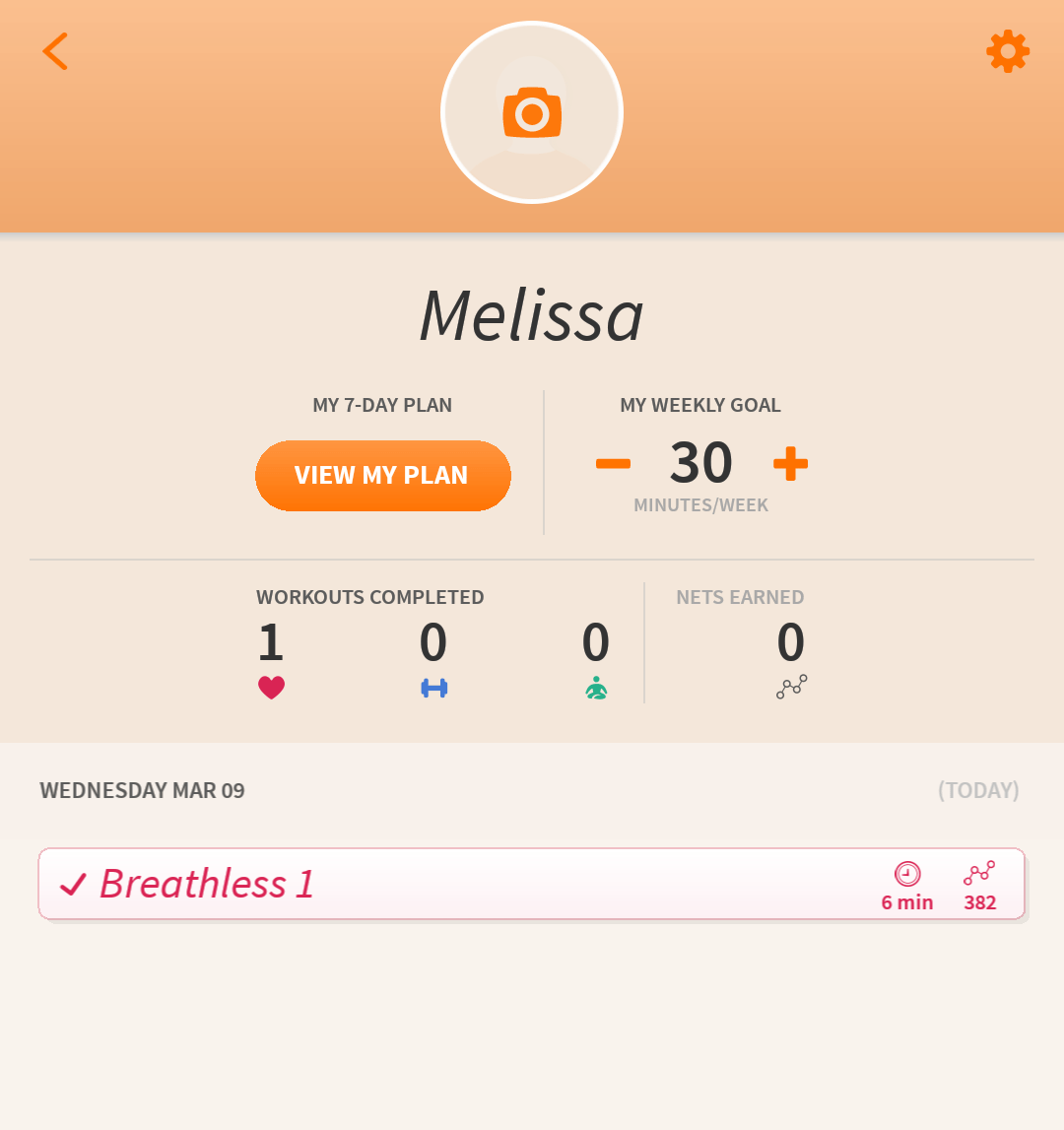 You can build your 7-day plan with workouts you plan to do. You choose how many minutes of exercise you want to do for your weekly goal. It tracks how many minutes you do of cardio, strength, and mind/body. I think this app has a lot of potential. I love that there are workouts geared specifically towards certain health conditions and injuries. I am also looking forward to trying the kid workouts with my daughter. What a great way to set a healthy example for your kids! One of my favorite things about this app is that I think it will help me with the mind/body part. I sooooo want to love yoga, but I just can't. I get so bored, and I'm not the type of person who can meditate or workout slowly. But maybe I can for 5 minutes at a time. I am going to use this app to help me work on adding short mind/body workouts to my daily life.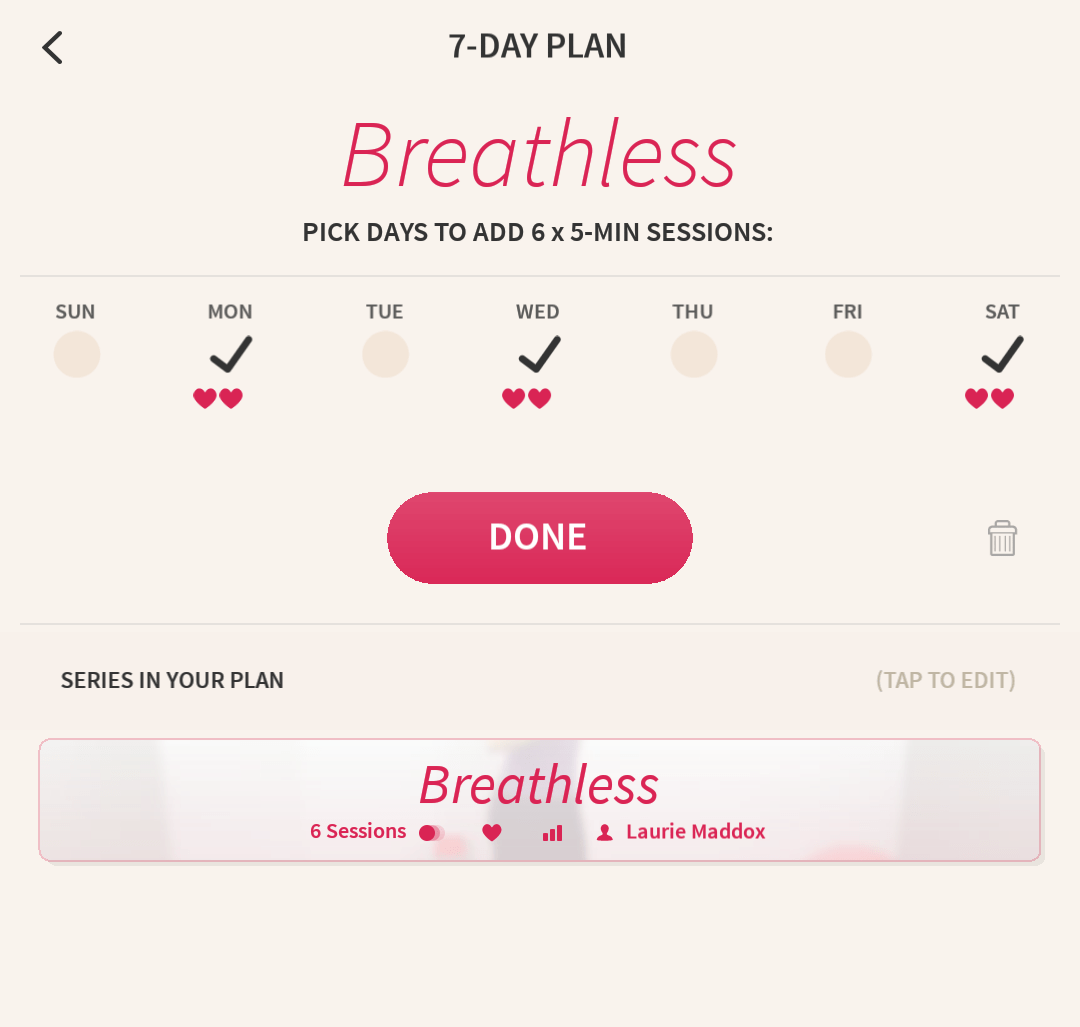 If you try the app, tell me what you love and hate!