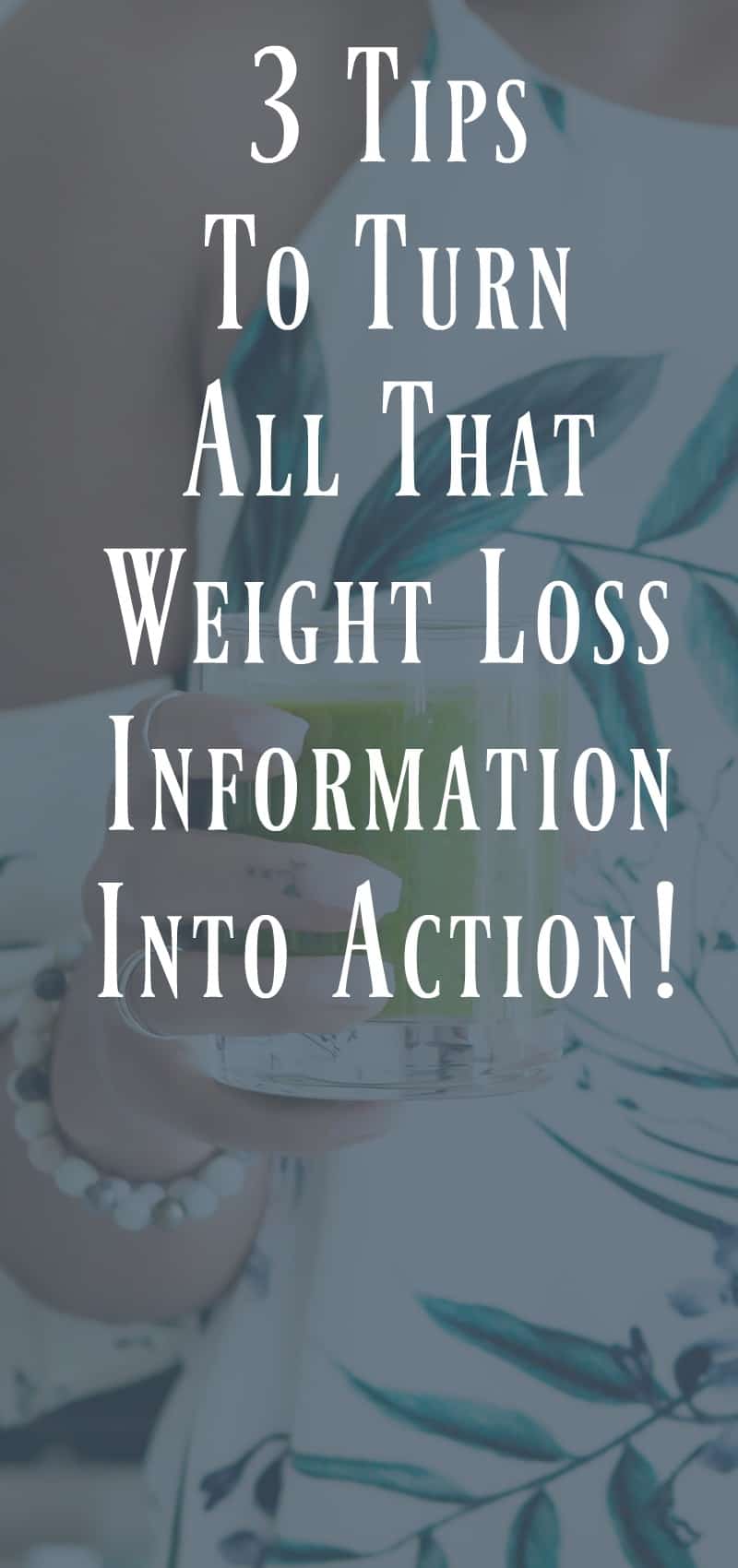 If I were a betting person I would place a lot of money on the fact that most of you, if not all, could write your very own blog or book on eating healthy and losing weight. Am I right?
Thought so.
Many of us have spent hours, days, weeks, months, even years reading all of the latest diet information and research. Whether it be the newest power food, latest reason we shouldn't eat sugar, or the best way to reduce calories – we have read it all. And unless you don't own a computer, TV, or radio it is pretty much impossible not to be constantly inundated with weight loss and healthy living information.
It's everywhere!
Truth of the matter is we all know the steps and actions we need to take to lose weight. We all know the difference between healthy and unhealthy foods. We also know that exercise is an important component to weight loss.
Basically, we know it all.
If we know everything then what is the problem? Why do so many of us struggle to lose weight.
In my humble opinion, the problem is that we spend too much time consuming information and not enough time putting that information into action.
Now don't get me wrong I am not saying we should not keep up to date with news, research, and other information. However, too much information can cause you to become overwhelmed and on information overload. More often than not this will result in feelings of confusion thus keeping us at a standstill with creating a plan and progress.
There needs to come a time where you take that information and make it work for you.
Useful Healthy Eating and Weight Loss Information vs. Junk
Before jumping into ways you can put information into action I want to talk about the difference between useful healthy eating and weight loss information vs. junk. The quality of the information you are in-taking is going to make more of a difference that the quantity. Have you ever heard the phrase "Work smarter not harder"? The same rings true when you are trying to create healthier weight loss habits.
Spending hours reading about the latest fad diet craze, weight loss tips from celebrities (hello airbrushing), or advice from tabloids and other similar magazines is a waste of your time. Of course, we all have our guilty pleasures and I truly believe that everything in moderation is fine. However, if you find yourself constantly turning to these sources of information for answers then you need to take a step back and evaluate if those sources have helped  you meet your goals. If the answer is no then it is time to move on to something that is going to keep you progressing forward.
Quality information is when you are able to learn, grow, and create a sustainable plan from it. This information provides you with tools to move forward on your healthy living and weight loss goals.
Some examples of quality information:
Dietary restrictions.
If all of the sudden you or someone in your family is faced with a food allergy or dietary restriction you will need to educate yourself in order to safely provide them with meals. Learning about food allergies takes time, patience, and an open mind to new foods. More often than not you will have to take a longer time learning about food allergies or dietary restrictions than if you were just changing your eating habits.
Nutrition education.
It is assumed that most people understand nutrition. However, with so much misinformation available this assumption could not be farther from the truth. Meaning we think we know everything but in reality how much of that information is quality and valid? Healthy eating requires understanding the nutritional value of foods and knowing the difference between empty calories and nutrient dense calories. This knowledge does not happen overnight and ultimately becomes a life long process.
Cooking techniques.
Preparing homemade meals ahead of time is a key component to eating healthy. In our fast food highly processed world many people do not know how or think they have the time to cook. In reality, they (we) do, it is just about learning the skills and making it a priority. Once you learn to cook it actually becomes easier and healthier to enjoy foods that you may have considered off limits. For example, pizza, cheeseburger wraps, fried rice, and cookies are all foods that when made at home can be prepared with healthy ingredients becoming part of a healthy diet plan.
These are just some examples of what I would consider to be quality information. To recognize whether or not information is quality ask yourself this question "Will this information enhance and/or help my effort in creating a healthier lifestyle for my family". If the answer is no then move on.
Keep in mind that it is still easy to get caught up and waste time constantly researching and reading good quality information.
To see the true benefits of quality healthy eating and weight loss information you must put it into practice.
Steps to putting theory into practice
Set a target start date.
If you are just beginning your healthy living and weight loss journey you will most likley need to take a good amount of time educating yourself on food, nutrition, and cooking. With setting a target start date you are giving yourself time to learn but also creating a limit so you don't waste time and are staying on track.
Carve out time each week for research.
Of course living a healthy lifestyle is a life long learning process. After your target start date, you will continue to keep up to date but more so in a way that does not interfere with progress. I set aside a few hours a week keeping up to date on research, recipes, and other information. To make sure I don't waste a lot of time surfing the Internet or reading a cookbook for the 100th time I always set a timer. I think my timer on my phone has been one of my biggest productivity tools.
Create a plan
The almighty plan. Without a plan all you have is a dream and bunch of knowledge. By having a plan you put that information to work. That plan will take many different forms. Most likely you will have a menu plan (including a grocery list), exercise schedule, reading schedule, along with a plan on how those three things will fit into your already jam packed weekly life schedule. You plan should include weekly goals so you are are able to hold yourself accountable. Of course, this might go without saying, but I will say it again – make sure you write out your plan. A written plan can be referred to and it is easier to hold yourself accountable.
Information alone is not enough to get you healthy and in shape. It is necessary and helps to formulate your diet plan and move you forward but…you need take action!
Resources
Here are some of my recommended resources for healthy eating and cooking.
Series on my weight loss journey. In this series I go over the process I went through to get to where I am today.
These books gave me a whole new outlook on food and eating.
Food Matters: A Guide to Conscious Eating by Mark Bittman
Mindless Eating: Why We Eat More Than We Think
These books helped to get me started with freezer cooking.
30 Day Gourmet's Big Book of Freezer Cooking
Don't Panic – Dinner's in the Freezer: Great-Tasting Meals You Can Make Ahead
These books give me recipes and ideas to prepare healthier versions of the foods I love.
Weight Watchers New Complete Cookbook
Weight Watchers One Pot Cookbook
Cooking Light Way to Bake
These are three of my favorite cookbooks and have helped immensely in teaching me the proper ways to use my bread machine and slowcooker.
The Bread Lover's Bread Machine Cookbook: A Master Baker's 300 Favorite Recipes for Perfect-Every-Time Bread-From Every Kind of Machine
Slow Cooker Revolution
Not Your Mother's Slow Cooker Cookbook
Find more recommendations on my resource page.
What are your tips for putting information into action?