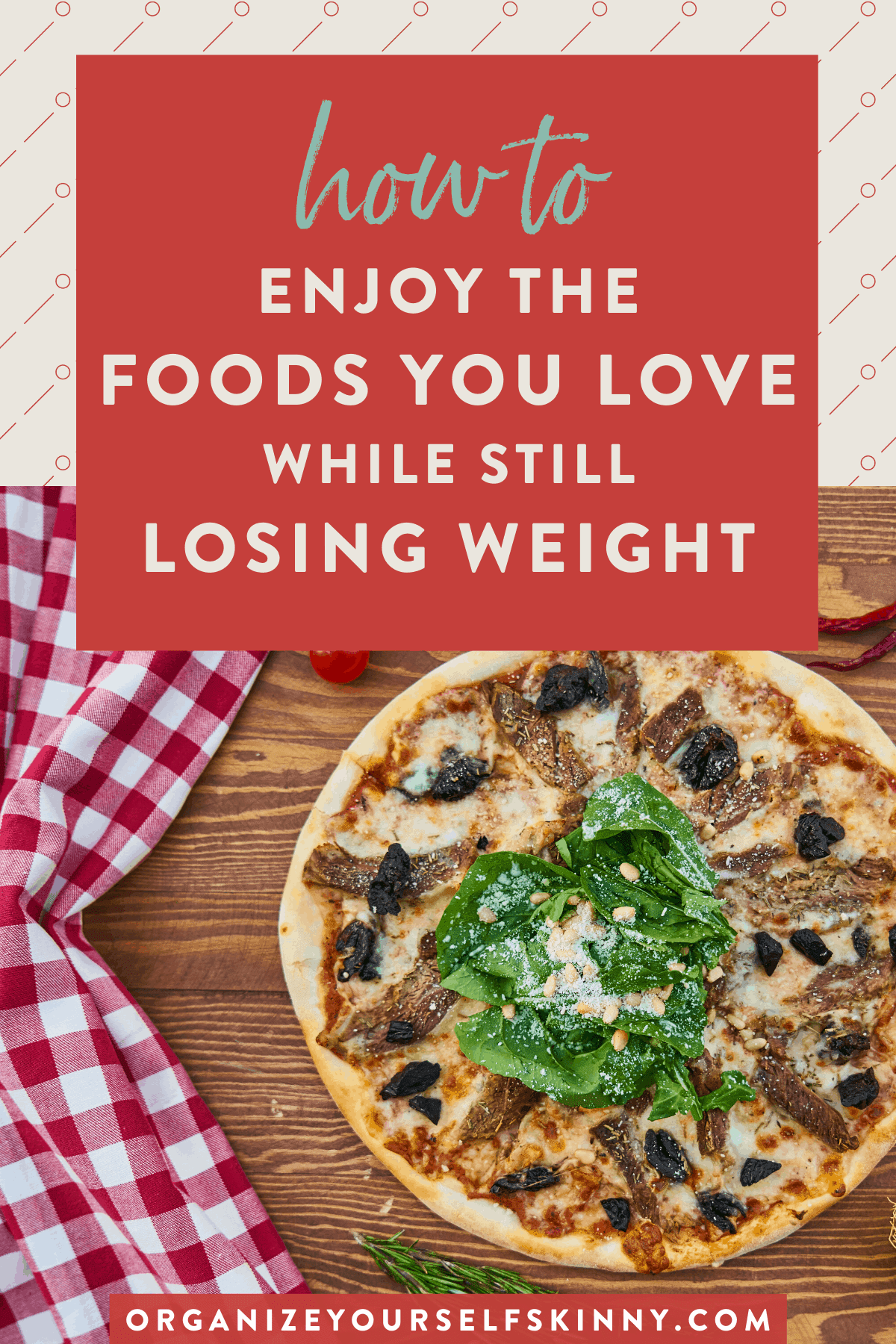 Here's the deal. Most people when they begin a diet or weight loss plan will immediately create a mental list of all the "bad foods" they need to "give up". It seems impossible to continue eating the foods they have grown to love if they want to get healthy and lose weight. Sound familiar?
The problem is that the moment you start to deny yourself certain foods the next response is usually feelings of deprivation and resentment. Most likely you will then crave even more of the food you are trying to avoid – eventually breaking down and eating it. Can you tell that I have been there?
I truly believe that you should not begin adopting healthier habits by immediately depriving yourself of foods that you have grown to love. It is likely that these foods have given you comfort and made you very happy over the years.
In my experiences, limiting certain foods in your diet causes you to rely heavy on willpower as a strategy to prevent you from eating foods you are trying to "give up". Most of the time this does not end successfully. For example, if I decide that pizza was going to be totally off limits I guarantee I would be thinking and dreaming about pizza morning, noon, and night. Then as soon as I had the opportunity I would inhale the closest greasy slice – obviously I have no willpower.
Do not depend on willpower alone as a weight loss strategy. Of course, there needs to be some discipline because you will not lose weight by eating pizza and burgers on a regular basis – sorry but it's true. Losing weight is about sustainable healthy lifestyle habits; not who can go longest without eating fries.
Therefore, instead of focusing on everything you can't eat I challenge you create opportunities to allow all foods to fit into your life. This way you will find a healthy balance between the foods you enjoy eating and losing weight without feeling deprived.
I can hear you now "Sounds great Tammy, but how the heck do I do that? How do I eat the foods I love and still lose weight?"
Don't worry I am here to help.
Tips to Help You Enjoy the Foods You Love and Still Lose Weight
Create healthier versions of your favorite foods at home.
Cooking more at home has allowed me to enjoy foods that I never thought would be possible for someone trying to lose weight. When I prepare homemade meals I control the ingredients and portions. This in itself can increase nutrition while decreasing calories. As an added bonus I save $300 – $400 a month, off my grocery bill, by cooking more at home. Some of my favorite meals to cook at home are pizza, buffalo chicken wraps, tacos, red clam sauce, macaroni and cheese, meatball subs, and many more. You can view all my healthy homemade recipes here.
Research and experiment with new foods.
Healthy food, in my opinion, gets a bad rap. There are hundreds of foods and recipes out there that are tasty and good for you. As I said earlier don't focus on all the foods you can't eat; focus on all that you can. Over the last year I have experimented with many different foods and ingredients finding that I actually prefer foods that are good for me – I think you will too.
Most of my research has been done using cookbooks and other websites. Here is a list featuring some of my favorites that I refer to often when cooking. Some I have mentioned before but I feel they are worth mentioning again – they are that good!
Cookbooks
Weight Watchers New Complete Cookbook
The Best of Cooking Light Everyday Favorites: Over 500 of Our All-Time Greatest Recipes
Cooking Light Fresh Food Fast: Weeknight Meals: Over 280 Incredible Supper Solutions
Cooking Light Way to Bake: The Complete Visual Guide to Healthy Baking – delicious recipes, fresh healthy ingredients, smart tools & techniques
Not Your Mother's Slow Cooker Cookbook
The Bread Lover's Bread Machine Cookbook: A Master Baker's 300 Favorite Recipes for Perfect-Every-Time Bread-From Every Kind of Machine
**there are many more but these are the ones I use most frequently.
Everything in moderation.
If you find yourself faced with cheesecake, a bag of doritos, or other not so waist friendly foods I don't think it is completely necessary to run in the other direction. From my experience, as long as you consume in moderation and account for the food you are eating I think it is acceptable to enjoy these foods once in awhile. Moderation combined with accountability is your weight loss friend. Just to clarify when I say accountability I mean keeping track of the calories and nutrition you are consuming by food journaling.
The point I want you to take away is that by cooking your own foods, experimenting with new foods, and enjoying foods in moderation you will be able to live a healthier lifestyle and lose weight eating tasty foods you enjoy without feeling deprived.
Now doesn't that sound awesome!