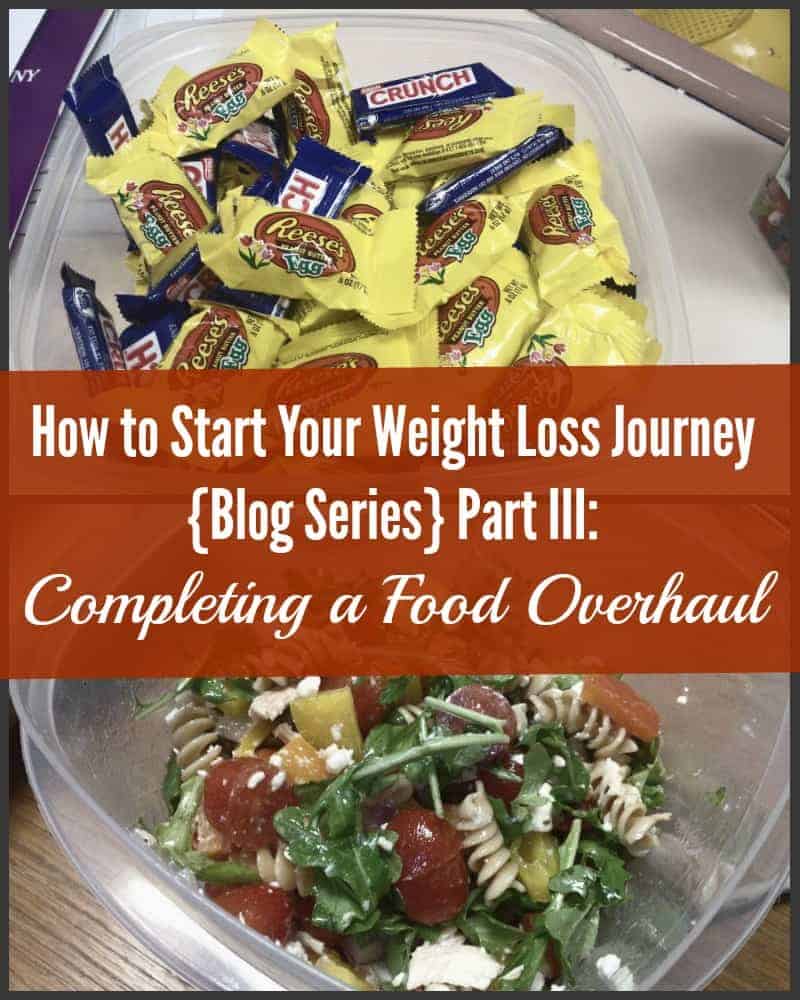 Now that you have assessed and accepted your current weight (part I) and are committed to making a healthy lifestyle change (part II) you can now move forward onto the next step of the weight loss journey. This next step I like to call a "food overhaul".
What is a food overhaul?
A food overhaul is taking a deep down real look at the foods (including drinks) you are currently consuming on a daily basis. This step, from my own experience, is critical to successfully changing habits and moving towards a healthier lifestyle. Most people when starting a weight loss plan jump right into it without ever evaluating their current habits which means they never figure out what they were doing wrong in the first place. Then when their attempt at the latest fad diet doesn't work (and we know it won't) they turn back to their old habits and end up right where they started. This cycle often leads people to what I like to call the 4 D's of dieting (disappointment, discouraged, desperate, and depressed).
Do I sound like I am talking from experience? That is because I am. I have been there many times. The good news is that the moment I began tracking what I was eating my mindset completely change. You see before then I truly had no idea why I gained weight and why I couldn't lose weight. It was very frustrating for me because I did not feel that I was an "unhealthy" eater. I did not eat the stereotypical unhealthy foods such as soda, sugar drinks, fast food, and other junk foods. Of course I knew I was not perfect but I did not think I was that bad either.
Well I was wrong. There was a reason I had gain 60 pounds in 10 years and as soon as I began my food overhaul those reasons became crystal clear.
The importance of a food overhaul before starting any healthy lifestyle changes.
As I stated earlier doing a food overhaul is a critical step in your weight loss journey. It will help you pinpoint exactly where the problem areas are in your diet and also help you become aware of the eating and lifestyle habits you have formed around food. That way when you start putting together your own plan you know exactly what you need to change not what some "diet" is telling you to change.
When I did my food overhaul I was shocked to find where the extra calories where sneaking in. Remember my post on cutting 500 calories just in coffee drinks? Then I was pleasantly surprised to realize that with only a few painless tweaks I was able to start making the changes to begin my weight loss. It became clear that I spent many years jumping from one strict unrealistic diet plan to the next when really I just needed to understand my own habits that were road blocking my success.
I think it is important to mention that I don't want you to focus solely on what you have been doing wrong because I am sure that there are many things you are doing correctly. The goal here is to see what is going on with both sides of the equation and then adjust and enhance accordingly.
Change of any kind is never easy so I don't want to give the impression that I did not struggle with losing weight. I did and still do. What I am saying is that we don't need to make such abrupt intrusive changes in our diet to have results. However, until we know what we need to change (or keep the same) moving forward with any changes will be flawed.
The main conclusion that became ultra-clear at the end of my food overhaul is that I have been my worst enemy. I was the one standing in between my goals of losing weight and achieving a healthier lifestlye.
How to complete a food overhaul?
I hope I have convinced you to complete a food overhaul before you embark on any type of weight loss strategy. Seriously, without doing this step I could honestly say that I probably would not be where I am today.
If you are ready then here are my recommendations for completing a food overhaul.
Using a food journal, keep track of your eating for 2 days without changing anything. Eat as you normally would. I utilized (and still do) the online food and exercise journal My Fitness Pal. This is a free site and they also have a mobile app so you keep track on the go. I guarantee, with using this tool, that by mid-morning you will begin to get an idea of where you have been struggling with food. Of course, if you wish to use old fashion pen and paper you can though online is much more efficient and easier to calculate.
Before bedtime review the entire day's journal. Take note of these four things:
Where did your calories come from? For example, did most of your calories come from coffee drinks, salad dressing, candy, take-out lunch, etc.
The nutritional density of the foods you were eating. For example, eating a 400 calorie candy bar is going to have less nutritional value than a 400 Greek yogurt parfait with granola. They may have the same calories but the Greek yogurt will provide more nutrition to keep your body satisfied longer.
The time of day along with what was going on when you were eating. Did you find yourself eating more when you were with friends? Did you pick while preparing dinner? Maybe you found yourself grabbing ice cream after the kids went to bed. Knowing when and why we eat is just as important as what we are eating. I may argue even more important.
What did you do well? For example, maybe you already pack yourself healthy lunches instead of going out to eat. Or you recently formed the habit of not eating late at night. Like I said note positive habits because you want to keep and build off what is already working for you.
Once you have completed this food overhaul you will have a much better understanding of your own habits and how you will proceed in making changes to move you towards a healthier lifestyle. I will cover in the rest of this series how to begin doing just that. The next part will focus on calorie awareness.
What are your thoughts on completing a food overhaul? Have you done one before? If so, what did you learn about yourself?