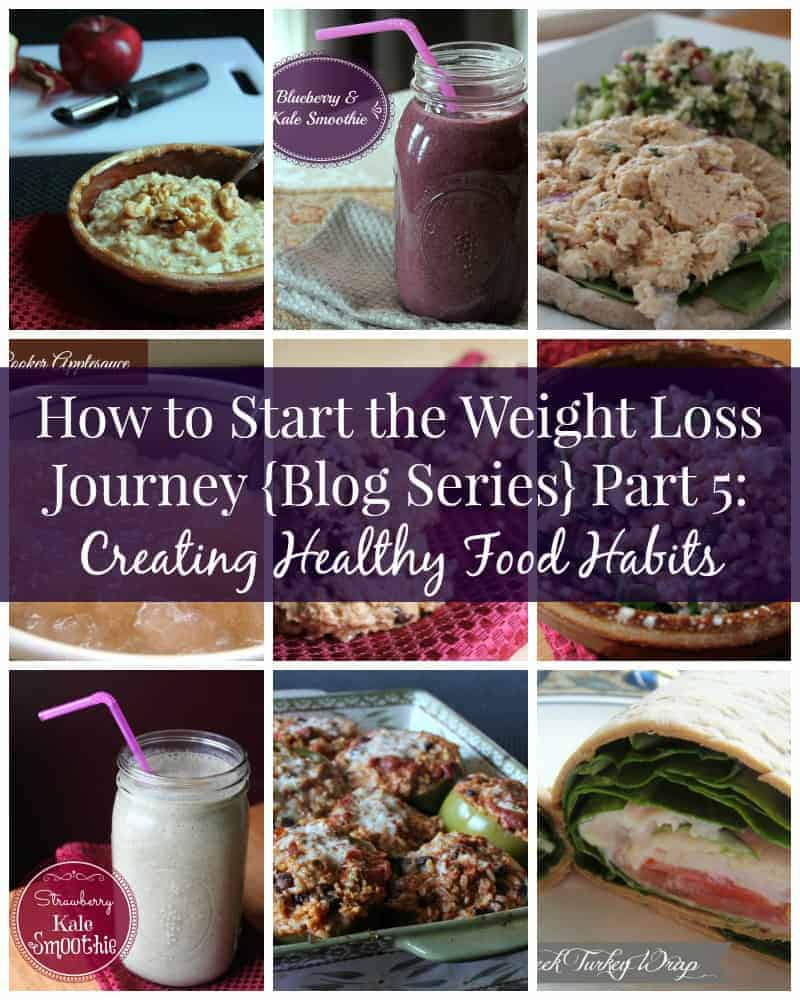 Check out the rest of the How to Start the Weight Loss Journey series:
Part 1. Assessment and Acceptance
This now brings us to Part 5 of the series which will be focusing on creating healthy food habits.
In part 4 of this series I spoke about the concept of calorie awareness. This concept was meant to get us focused on the basics of creating a healthy weight loss plan. During that part of the process the goal is about creating awareness and understanding of how many and the type of calories you are consuming.
Once you become aware of how many calories you are consuming daily you can then start the process of moving towards creating healthy food habits.
You may be wondering why the concepts of calorie awareness and creating healthy food habits can't be done at once. From my personal experience, anytime big changes are made abruptly that almost always sets the stage to sabotage any weight loss effort. To create an environment that supports a successful weight loss I feel it is important to move through the process slowly. With taking your time and moving to the next step as you become comfortable you will more likely create healthy habits that stick.
How to Create Healthy Food Habits
The two strategies that helped me to successfully lose weight, and so far keep it off, has been finding healthy food alternatives and learning to cook healthy meals at home.
Healthy Food Alternatives
If I told you to eat an apple when you are craving Doritos I am pretty sure you would roll your eyes and laugh. I think it is ridiculous when I see food substitutions like this. If you are craving Doritos then more than likely you want something crunchy, salty, and cheesy. So, instead of eating an apple try some Kashi cheddar whole grain crackers. The crackers will satisfy your craving in addition to offering more nutritional substance.
The point is you want to substitute unhealthy foods with healthier versions of themselves that taste good. This is where you start to look for nutrient dense calories. When the food you're eating is filled with nutrients the more satisfied your body will be. Specifically, foods that have fiber and protein will keep you feeling full longer and reduce cravings in-between meals.
Reviewing your food journal will help you figure out what foods you need to substitute, reduce, or keep. Don't feel you need to substitute out every single food that you have been eating. For instance, maybe you are not ready to give up whole milk for 1%. That is fine and you should not feel pressure to make a lot of big changes. Just reducing your portions a little bit might be all you need to get the calories under control. I say this a million times but I will say it again slow and steady wins the weight loss race.
When you are ready these are the 3 things you should look for when starting to make healthy food substitutions.
Nutrient dense calories. The healthier version of your favorite food might have the same amount of calories however if it has more fiber, protein, and other nutrients it is better for you and will keep you satisfied longer.
Minimally process. It is always a healthier option to choose foods that are minimally processed. When foods are left closest to their natural state they keep more of their nutrients.
Preservative and additive free. Many foods that are labeled "fat free", "reduced fat", and "sugar-free" are almost always filled with additives and preservatives. Mostly because in these foods ingredients are removed (usually the good healthy stuff) and filled with additives to keep the flavor. You are better off eating the real food over the fat-free junk any day.
However, keep in mind just because a food is healthier does not mean you can't gain weight by eating it. I have heard many people say that they already eat healthy nutrient dense foods but don't understand why they can't lose weight. After looking at how much they are eating, using a food journal, we can quickly determine where the extra calories are coming from.
Regardless of the foods you are eating anytime you eat more calories than you burn you will put on the pounds. So, back to original example, even though the Kashi crackers are a better choice if you eat the whole box then you are definitely consuming too many calories and may gain weight. Portion control is always your friend.
With so much to cover on the topic of healthy food alternatives I will be expanding on this in future posts.
Cook Healthy Meals at Home
Cooking meals at home has been the cornerstone to keeping my family and me eating healthy nutritious meals. When cooking your own meals you control the ingredients and the portions making it much easier to keep nutrition and calories in check.
Learning to cook healthy meals was another story. Like many busy moms I had maybe 5 go to dinners that we ate all the time. When we got sick of those we ordered out. To begin creating a collection of nutritious family friendly recipes I turned to my Weight Watchers and Cooking Light cookbooks. These cookbooks taught me the techniques and ingredients to use in order to create healthier versions of our favorite foods. Once I felt comfortable I began to create my own recipes and adapting others I found on blogs and in cookbooks.
Some of you may be thinking that you don't have the time to cook meals from scratch every night. Well neither do I. I work full-time and barely have time to take a shower everyday. However, I have been able to put together a healthy weight loss system that has made it possible for me, as a very busy working mom, to feed my family home cooked foods everyday.
The strategies used in my system are menu planning, freezer cooking, and make ahead meals. My weight loss would have never happened without utilizing these three things.
The next and final post of this series will talk about how these cooking strategies tie the rest of the concepts together. This is where I will show you how every busy mom can make friends with healthy eating and weight loss.