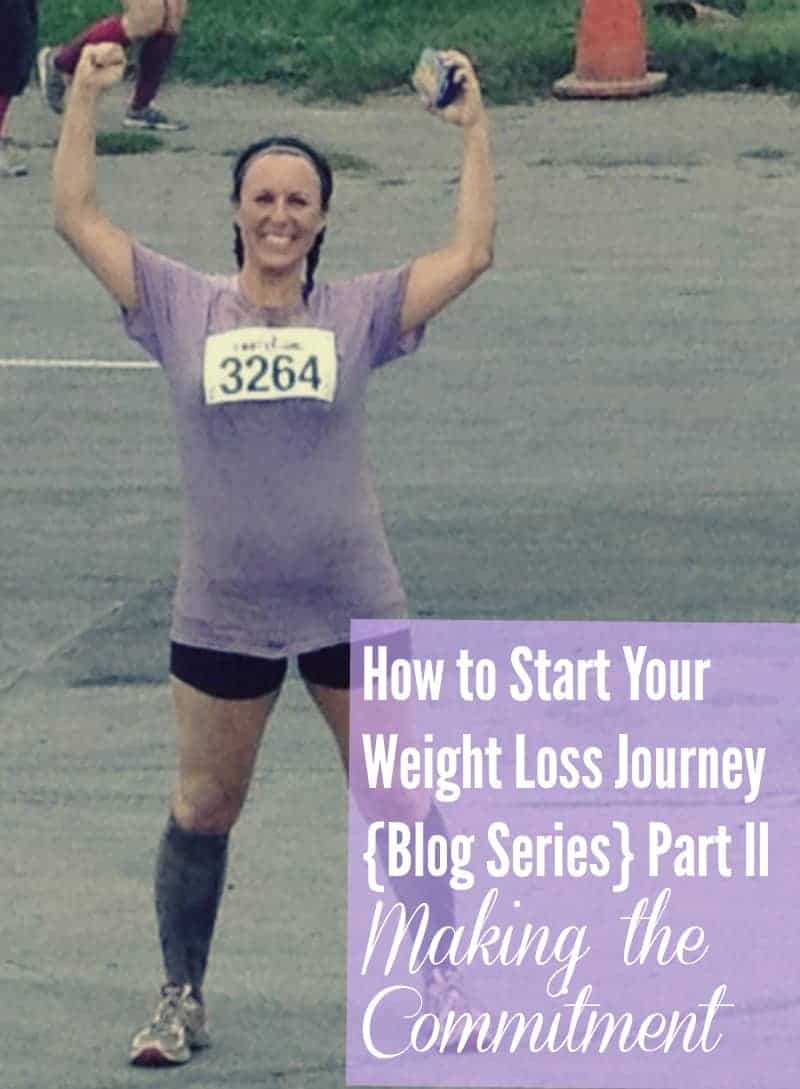 If you missed part 1 of the How to Start the Weight Loss Journey Series, read it here.
As a busy working mother trying for years to lose weight one of my biggest challenges has always been commitment. It's not that I didn't want to lose weight or that I thought eating a healthier diet wasn't important it just, at the time, the excuses came easier than the strategies.
Typically, in the past, my weight loss cycle would look something like this.
Make the decision to lose weight. This decision usually came from some big event on the horizon such as a party or reunion or maybe a pair of pants did not fit right. Regardless, some event would spark a fire to make a change.
Go full force. Once I made the decision I would purchase tons of "diet food" and immediately stop eating what I felt to be the bad foods. I pretty much would go cold turkey.
Fall off the weight loss wagon. After a few days I realized that I could not keep up with the drastic changes and sacrifices I forced upon myself. Then, more often than not, I would go running back with open arms to my old habits. I actually remember a feeling of comfort biting into a food that I swore to be off limits.
This entire cycle would only last for about 3-4 days. However, I repeated that same cycle for years and years.
In the end I found myself increasingly frustrated and confused because I could not commit to taking on a healthier lifestyle, something I desperately wanted.
Why Committing to a Healthier Lifestyle is Such a Struggle
I think we are all aware of the individual reasons we struggle to commit to a healthier lifestyle so I really do not want to dwell on the negatives. However, I think it is useful to briefly mention, in my opinion, 3 main reasons busy moms, including myself, find it so difficult to follow through on weight loss initiatives.
No real plan. Transforming your lifestyle into a healthier one takes intentional planning. It is not just about walking on the treadmill for 20 minutes and eating a processed frozen diet meal for lunch. If it were really that easy we would not all be struggling. You need to purposefully plan healthy living into your days.
Depending on a fad diet. When I say plan I am not talking about a fad diet plan. They do not work and will only leave you feeling more defeated. Sustained weight loss comes from incorporating healthy foods into your diet not from an unrealistic diet plan, pills, shakes, or any other weight loss gimmick. Basically, if the diet program promises any type of quick weight loss turn the other way and run.
Not getting family involved. In my experience this is the main reason busy moms do not sustain weight loss. We try to go at it alone without involving the rest of our family. We purchase separate foods, make separate meals, and work out when it is convenient for everyone else. Basically we try to lose weight without causing disruption to our families. We all know it is impossible to keep that up and we end up feeling overwhelmed and our new healthy living initiative is usually the first thing to fall down to the bottom of our long list of responsibilities.
How to Successfully Commit to Losing Weight
After years of trying to lose weight I finally made the commitment to do so. I adopted strategies that allowed me to seamlessly and painlessly embrace a healthy lifestyle. In essence, I became genuine friends with healthy eating and weight loss. This was so nice because we were frenemies for so long.
Of course this is not ground breaking information but simple strategies that I use everyday to commit to a healthier lifestyle and ultimately lose weight.
Set realistic goals. Once you assess your current weight you can begin to set weight loss goals. Do not sabotage your efforts by wanting to lose 20 pounds in a month. Understand that healthy weight loss takes time and that it will happen but not overnight. ½ pound to 2 pounds a week is a more realistic weight loss goal. I say this all the time because I know it to be true "Slow and steady wins the weight loss race".
Do not make any foods off limits. Once people decide to lose weight they start immediately depriving themselves of foods that they consider bad or off limits. Of course some foods are better than others but if you immediately deprive yourself of your favorite foods it will become increasingly difficult for you to commit to changing your eating habits. Start off by slowly decreasing the bad foods such as fast, processed, and/or other junk foods. Then slowing increase the good foods such as whole grains, fruits, vegetables, lean meats, and other minimally processed foods into your diet. The key is to begin making subtle changes with minimum disruption to your norm until you are naturally choosing the healthier options. This process can be different for everyone so it is important to listen to your body.
Get your family on board. More than likely if you are eating unhealthy so is your partner and kids. Having them as part of the journey is critical in successfully committing to a healthier lifestyle. You can get your family involved in the process by letting them choose the meals, prepare the ingredients, along with making other decisions about food and exercise. In addition, educate them on the importance of a well-balanced nutritious diet so they have the knowledge to make their own decisions about food when they need to. At first, they may be standoffish because nobody likes change. This is another reason why I feel it is important to move slowly when reducing and adding foods to your family's diet.
Use tools that make committing to a healthier lifestyle easier. The three tools that prove to be essential in my weight loss are menu planning, make ahead meals, and freezer cooking. These tools help me plan out what my family is going to eat daily and then have the meals ready when I need them. Since using these tools I find it much easier to integrate healthy home cooked nutritious meals into my family's diet. Also, I don't feel the need to order take out or fast food because I always know what's for breakfast, lunch, and dinner.
Make healthy living and weight loss your new fun hobby.Moving towards a healthier lifestyle is fun and exciting. You will feel and look better than ever before so have fun with it and enjoy the ride.
Dealing with Commitment Setbacks
Naturally, setbacks are part of the process. You will always be faced with temptations, stress, and other factors that entice you to choose the unhealthy option. That is expected, normal, and perfectly fine. It does not mean you failed on your commitment. Give yourself permission to stray off the path and forgive yourself when you do.
Healthy weight loss is a journey that takes time, effort, and persistence. Make a commitment to the journey not the destination.