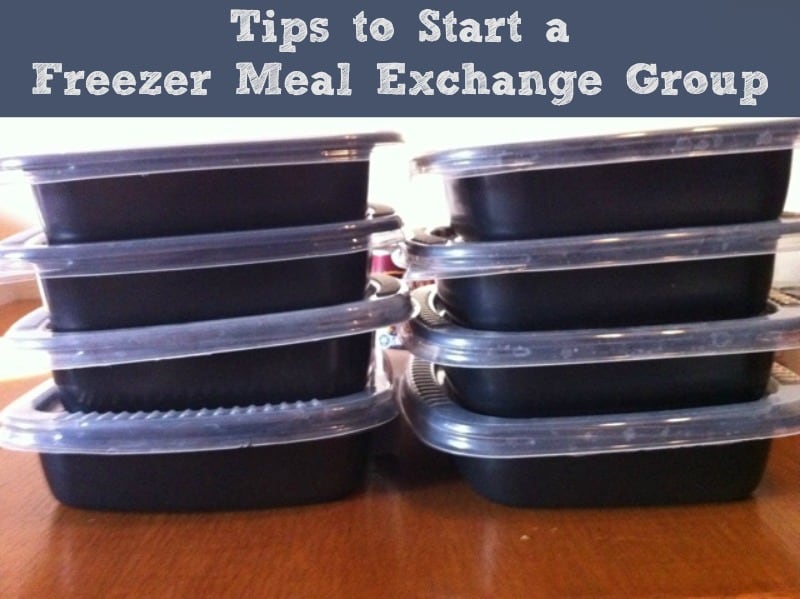 Today we have a guest post by Jackie from the Facebook page Funky Freezer Girls. This page was built around the concept of creating a freezer meal exchange group so one does not have to go at freezer cooking alone. I have to admit that as much as this concept intrigues me I personally have never participated in one. However, I do think it is one that could benefit many of my readers. Because I do not have the expertise in this area I asked Jackie if she would be so kind to share at Organize Yourself Skinny some basic steps to starting your own  freezer meal exchange group.
******************
I am a follower of Christ, wifey for 12 years, mommy of two crazy active boys, business owner 20 + years BeautiControl and JackieStyle Image Consulting (and Jackiestyle FB Page) and lifetime fashionista.
With all that said, I have a full plate and getting healthy meals prepared for my family in a timely manner is not always easy or convenient.  So in 2010, I came up with a plan to help me and my other mommy friends – a freezer meal exchange group. We call ourselves Funky Freezer Girls.
Freezer meals and exchange groups are not new concepts, but I hadn't really heard of the idea until I started poking around the web. Most freezer meal prep is for a months worth of food prepared in one day to freeze and pull out as needed.  Fantastic idea, just not one I felt would work well for me.  I could however plan, shop and make the same recipe multiple times. And when I get a group of women together that would do the same thing and exchange the meals, I'd have a freezer full of new meals for the month AND so would they. Win – Win!!
This concept has blessed my family sooo much! And the families that have been a part of the exchange.
Cost Saving
When you put this concept to work it keeps cost down and  saves time.  My family is little so a 13×9 recipe is just too much.  In the past when I have made a recipe this size it gets thrown away because we get sick of eating all the leftovers -what a waste! Now, participating in a freezer meal exchange I have appropriate portions and more variety.
Also, I know when the exchange is each month so I keep an eye on the weekly sales. When you plan ahead you can keep the cost down tremendously per meal and serving.
Our group prefers to have a meat in each meal. Meats can be your biggest cost, so buying on sale can be a huge budget saver.
Lastly, I save money using a freezer meal exchange because most of the time making 10 of the same meal  costs way less than making 10 different meals.
Time saving
I plan a day when the hubby is home to watch our boys. I can either get the shopping done before hand or that day.  I plan about 4 hours to prep and assemble the meals. A couple of times, due to poor planning on my part, it has taken longer. Can you prep and make 10 different meals in 4 hours? Nope me either!  
When I am ready to use one of the meals I just have to pull it out of the freezer the night before and pop it into the oven the day I need it. LOVE THIS SOOO MUCH.  We use 8×8 pans which can serve 4-6 adults depending on the type of meal. The meal is your main dish, not the entire meal adding healthy sides completes the meal. When you portion it out you also have enough for left overs or lunches later.
Starting Your Own Freezer Meal Exchange Group
If you like the idea of having meals ready, start a group of your own. If you have specific dietary needs find those people who have that same need. For example if you are in a Weight Watchers group ask if they'd like to start a group or if you have a gluten issue or if your vegetarian find like minded people with similar needs.
Discuss your needs and expectations up from. Do you want the meals around a certain calorie number or avoiding certain foods due to diet or allergies (porks, nuts, tomatoes).
I also encourage groups to add an extra meal to help out a family in need. Find a family in need (someone with new baby, health issues, mourning a loss, or just plan needs some meals) and give them the extra meal each of you have made. It is amazing the impact it has on your family and your group.
What Does a Freezer Meal Exchange Day Look Like?
The day you exchange meals will look like this…. everyone arrives with coolers full of meals. Organize the meals (find a spot for the Ministry Meal) so each meal persons meals are stacked together. We use a kitchen table. Have each person go around and take one of each meal.  If you have 10 people participating you'll be taking home 9 meals. Place in cooler and fellowship. Place the meals in your freezer. Figure out who is delivering the ministry meal and have them take those too. I also like inviting those people to pick them up that day if possible.
Freezer Meal Exchange Summary
Find some friends willing to exchange with you.  If you are doing Weight Watchers or have special diet needs find those who have similar needs.
How many people you can handle? or How many meals can fit in your freezer?
Figure out food preferences, allergies, meal sizes, pan type (I recommend Glad SimplyCooking OvenWare 8×8 Pans. They can freeze, microwave, bake and are dishwasher safe)
Decide on exchange date (pick the same date for each month. Ex First Friday of the month or 3 Tuesday)
Choose where you'll be exchanging
Will you be doing a ministry meal?
Send reminder/evite/ping/FB event to group about 2 weeks before exchange.
Make your meals.
Exchange & enjoy fellowship.
Enjoy meals!
Do you participate in a freezer meal exchange group? What are your tips? Suggestions? Questions?
Another freezer cooking resource that I always recommend is the 30 Day Gourmet's Big Book of Freezer Cooking. This book is packed with tons of freezer cooking information and recipes. Much of what I have learned stems from this book.
Get Instant Access to My Best Weight Loss Tips & Strategies!
Sign up now for a free step-by-step 7-day email course that I created exclusively for my email subscribers! That's you. I will teach the best habits, strategies, and insider tips so you can enjoy a lifestyle that encourages and supports weight loss! Stop relying on willpower and take control back over your life! You can do this. Let me help!