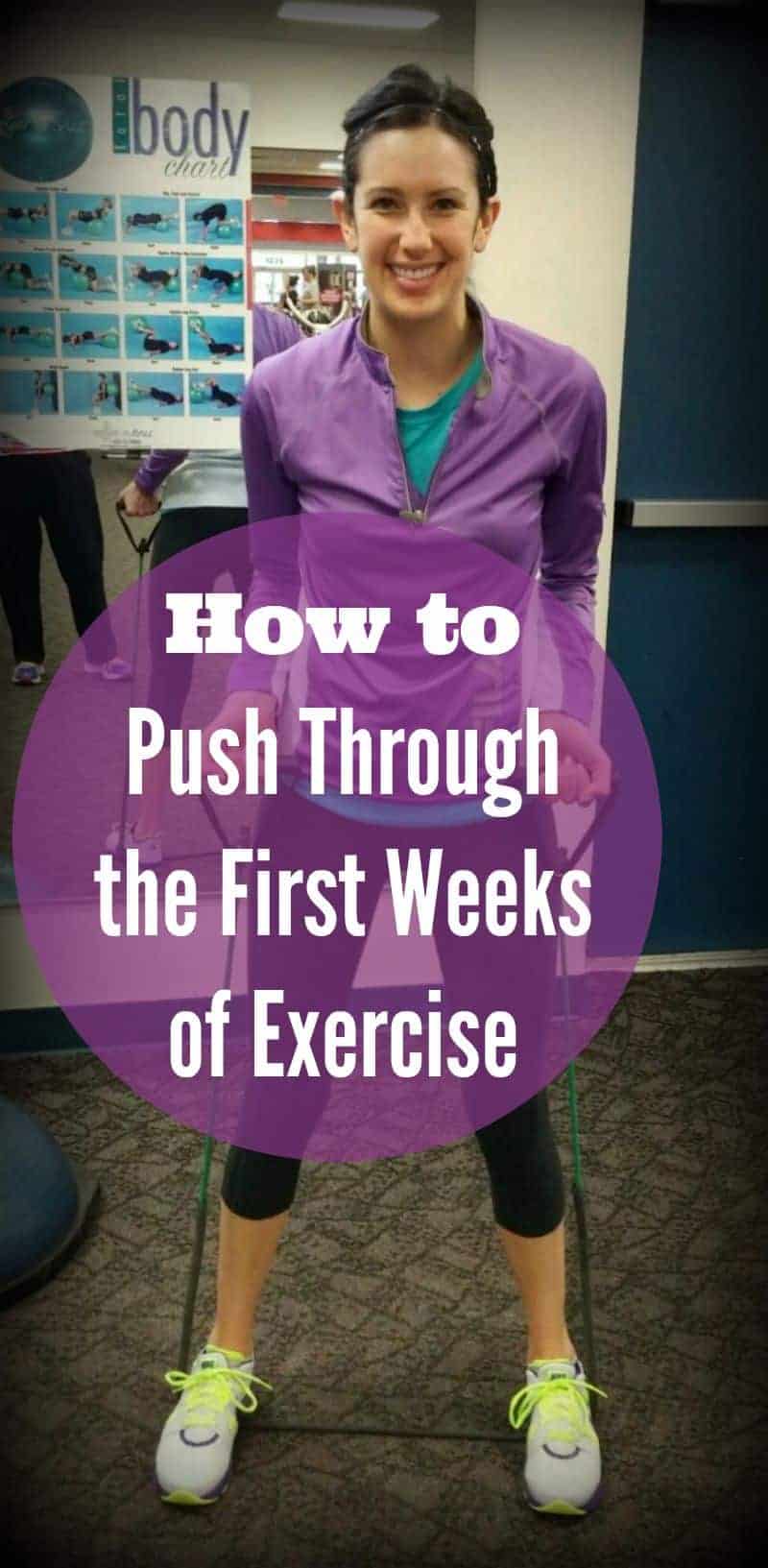 When you first start out on your weight loss journey, exercise can be the hardest part to maintain for some people. Many times people give up on working out within the first month for any number of reasons. This could be due to lack of motivation, not seeing results, being sore, or not being organized. These are all valid and true challenges, but they don't have to derail your exercise efforts completely. Here are some tips to help you push through those first few weeks and keep it going.
Challenge #1 – No Motivation
You need to have something that you are working toward in order to find this motivation. I strongly suggest setting some sort of exercise goal and using an exercise reward system. Since you are new to this whole exercise thing, your goal should be as simple as possible. Something like, "I am going to exercise for 30 minutes three times a week." As you get further into this process, you can make your goals more specific and more challenging. You want to start simple so that you can realistically reach your goal and feel some success. This will motivate you to continue on with exercising regularly and make it a habit in your life. Read more about setting exercise goals here . An exercise reward system is a way to feel proud of what you are doing. Once you reach an exercise goal, you should reward yourself for all of your hard work. Get some reward ideas here.
Challenge #2 – No Results
Many people who are just starting to work out want to see results quickly. Sometimes that happens, but most of the time it does not. You are not going to lose 5 pounds your first week, and you wouldn't want to because that's not healthy. A 1-2 pound weight loss per week is more realistic. But you might not even see that at first. Remember, as you are building muscle, you might not see weight loss because muscle weighs more than fat. Once you build up that muscle, then you will start to burn more fat all day long and start to lose weight, but that can take time. I would suggest not weighing yourself until at least 2 weeks have passed in your new exercise regimen. You want to avoid feeling discouraged. Instead, focus on how good you feel and how much more energy you have. You might also start to notice your clothes fitting looser before you see the scale start to go down. These are all things to celebrate. Once you are well into your exercise journey, the results will come faster. If you ever find yourself hitting a plateau, check out this post for some tips to overcome it.
Challenge #3 – Being Sore
Oh yes, you are going to hurt when you first start exercising. This is a sign that your body and your muscles are waking up and being used like they haven't been in a long time. This is a good sign, but can be a bit painful. You should never be so sore that you can't get out of bed. That means you did too much too soon. When you are sore, your body is trying to tell you things, so listen to it. You will probably need to take a day or two off in between workouts until your body gets used to all of the work it is now being asked to do. When you are sore, trying to work out is just going to frustrate you and possibly cause injury. You can also use ice or cold packs to ease any specific pains that your body is feeling. A warm bath will feel amazing when your whole body is just achy from a workout. Just know that you will not always be sore after exercising. It does go away the more you do it.
Challenge #4 – No Organization
If you are struggling to maintain an exercise routine because you just aren't organized, there are lots of little things you can do in order to help keep it going. All it takes is a little bit of exercise planning. This doesn't have to be complicated, especially in the beginning. Check out this post for how to start an exercise planning routine. Little things like making a schedule and putting out workout clothes ahead of time can make a huge difference, especially if you tend to come up with excuses for why you couldn't exercise. Any excuse can usually be laid to rest with a little organization and planning.
What are your struggles when starting an exercise routine? How do you push through it?