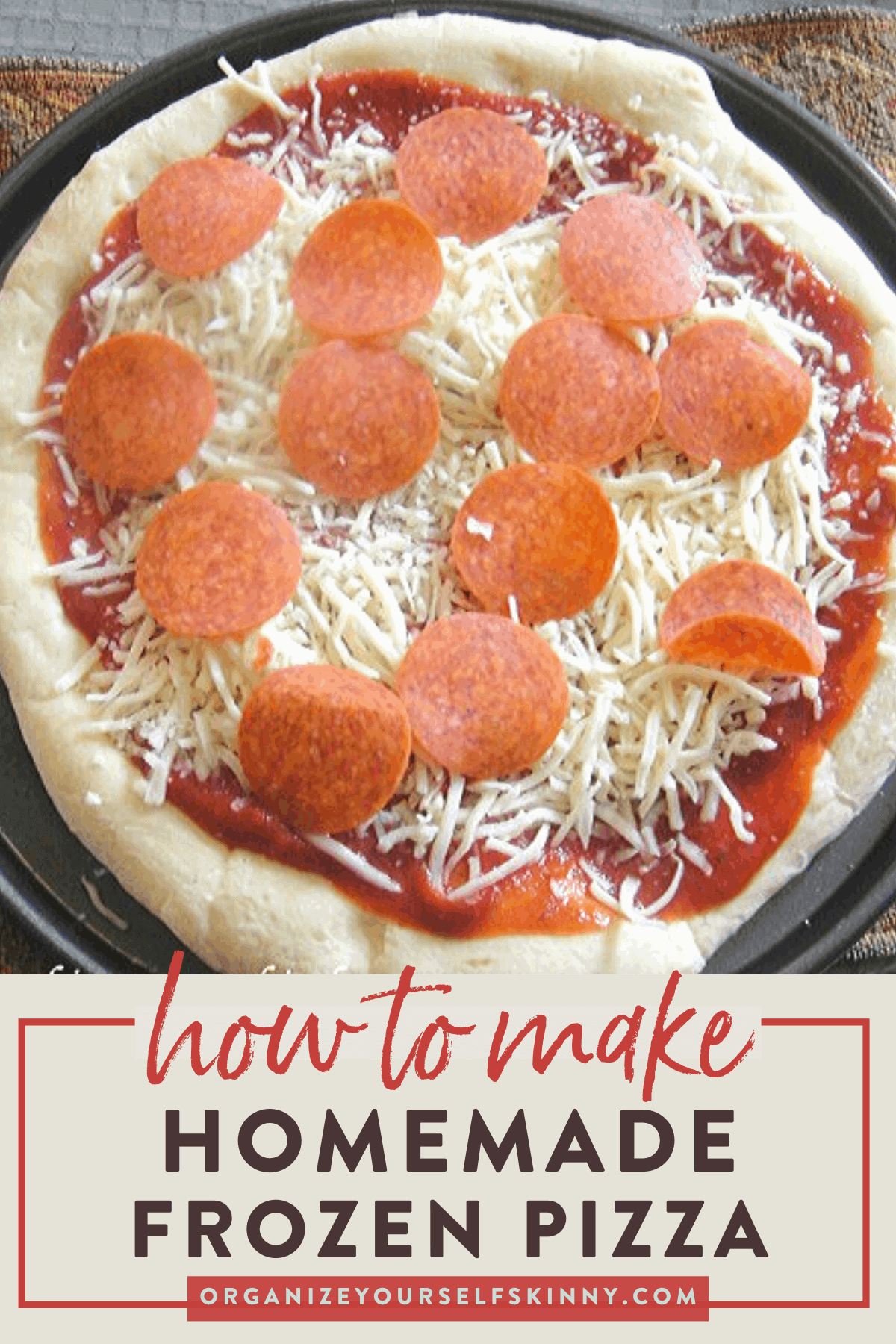 No to long ago store bought frozen pizzas would easily make their way into my shopping cart on grocery day. I loved having the convenience of just popping a pizza in the oven on nights I did not feel like cooking.
As convenient as a frozen pizza is most store bought brands come at a price in both cost and health. Sure there are inexpensive options however most have a long ingredient list filled with many chemicals and additives I can barely pronounce. And yes there are healthier versions but not without a hefty price tag.
Good thing there is a solution – create your own homemade frozen pizzas!
I am so excited to share this with you. Originally, I started making these frozen pizzas a few weeks ago. I wanted to share them then but needed to make a few more tweaks before I posted.
Some of you may wonder why you should put together a frozen pizza when making a homemade pizza is already so easy to do. My answer is this. Yes preparing homemade pizza is easy but not as easy as just taking an already assembled pizza out of the freezer and popping it in the oven. It does not get better than homemade convenience foods my friends.
However, it is not just about making it easier for me when I don't feel like cooking. It is to help my husband out with dinner when I am not home to cook. I work 1-2 nights a week and if my husband does not have meals that are incredibly simple to prepare he will be ordering out. And when I say simple I mean all he has to do is turn on the oven or microwave. He thought these pizzas where nothing short of genius – it doesn't take much to impress him.
These pizzas are easy to make and taste better than anything out of the frozen section.
This post is more of a "How to" post rather than a recipe post. You can use any of your favorite pizza dough and sauce recipes. And please experiment with toppings. I just did cheese and pepperoni to start with but skies the limit! I can not wait to see all the different topping combinations I can turn into frozen pizzas.
In the future, as I create them, I will post more frozen pizza recipes.
How to Create Your Own Homemade Frozen Pizza
Just in case you don't have a pizza dough or sauce recipe I will provide you with the ones I use. Both of these recipes are adapted from The Bread Lover's Bread Machine Cookbook: A Master Baker's 300 Favorite Recipes for Perfect-Every-Time Bread-From Every Kind of Machine. Honestly, if you are looking for a cookbook for your bread machine this is the one to get. I absolutely love it and use it all the time.
Semolina Pizza Dough Recipe
(This recipe makes one large 17 x 11 inch pizza crusts, two 12 inch pizza crusts, or four 8 inch pizza crust)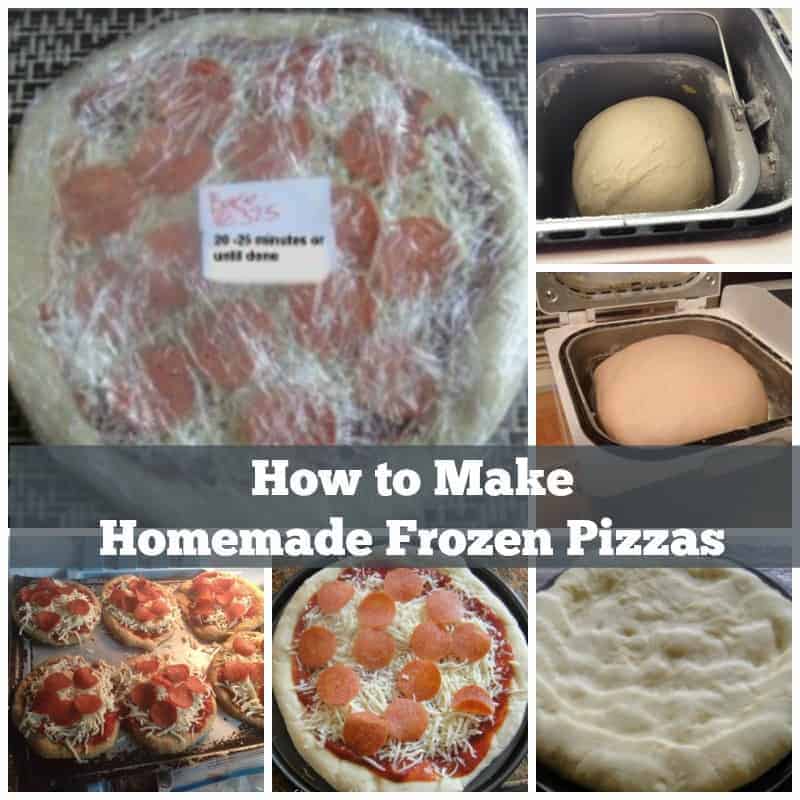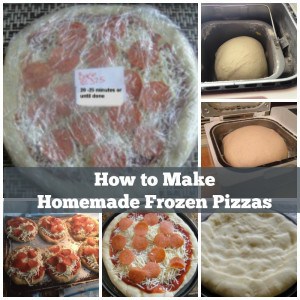 Ingredients
1 ½

cups

warm water

3

tablespoon

olive oil

3 1/3

cups

unbleached white flour

I use King Arthur

2/3

cup

semolina pasta flour

I use Bob's Red Mill Semolina Pasta Flour

1

tablespoon

sugar

2

teaspoons

salt

¼

cup

freshly grated parmesan

½

teaspoon

dried minced garlic

2 ½

teaspoons

bread machine or active dry yeast
Instructions
Place all the ingredients into your bread machine according to the instructions that came with it. Program for dough or pizza dough cycle, press start. **if the dough is too wet add flour 1 teaspoon at a time until it forms a round smooth ball. If it is too dry add 1 teaspoon of water until it forms a round smooth ball. Let it work a little bit first before you add anything.

Divide into the number of portions you want and let the dough rest for about 20 minutes.

Stretch and roll dough into the shape you would like and use as directed in your pizza recipe. Also, at this point, if you are not using it right away the dough can be frozen.
Easy Pizza Sauce Recipe
This recipe is enough for 1-2 12 inch pizzas depending on the amount of sauce you use.
1 28 ounce can tomato sauce
1 6 ounce can tomato paste
1 teaspoon oregano
1 teaspoon dried minced onion
½ teaspoon dried minced garlic
1 teaspoon brown sugar
Salt and pepper to taste
Step 1. Mix all ingredients in a sauce pan and bring to a simmer. Let sauce cook for about 15-20 minutes. If it gets too thick add a little water to thin. Use as directed in your pizza recipe
Homemade Frozen Pizza Instructions
These instructions are just for one pizza. However, to get the real convenience benefits, I recommend making a few of these at a time to have ready in the freezer.
Ingredients
1 12 inch recipe for homemade pizza dough
pizza sauce
mozzarella cheese
pepperoni
Step 1: Preheat the oven to 350 degrees. Stretch the dough out to fit a 12 inch pizza pan. Precook the dough for 7 minutes. Let it cool for 3 minutes then remove from pan and place on baking rack to cool completely.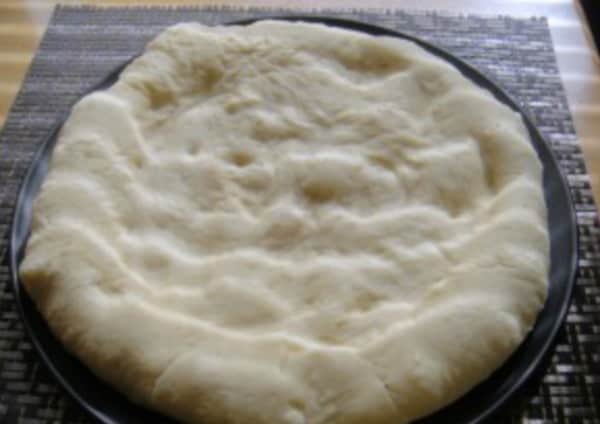 Step 2. Add sauce, cheese, and pepperoni. **Please note that the sauce should be cool or cold when assembling the pizza. Place back on the pizza pan, put in freezer, and flash freeze for 3-5 hours. If you are making more than one pizza then you can put the other pizzas on any baking pan.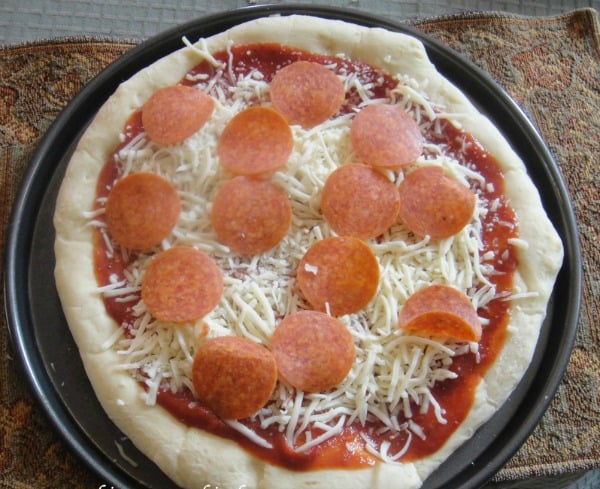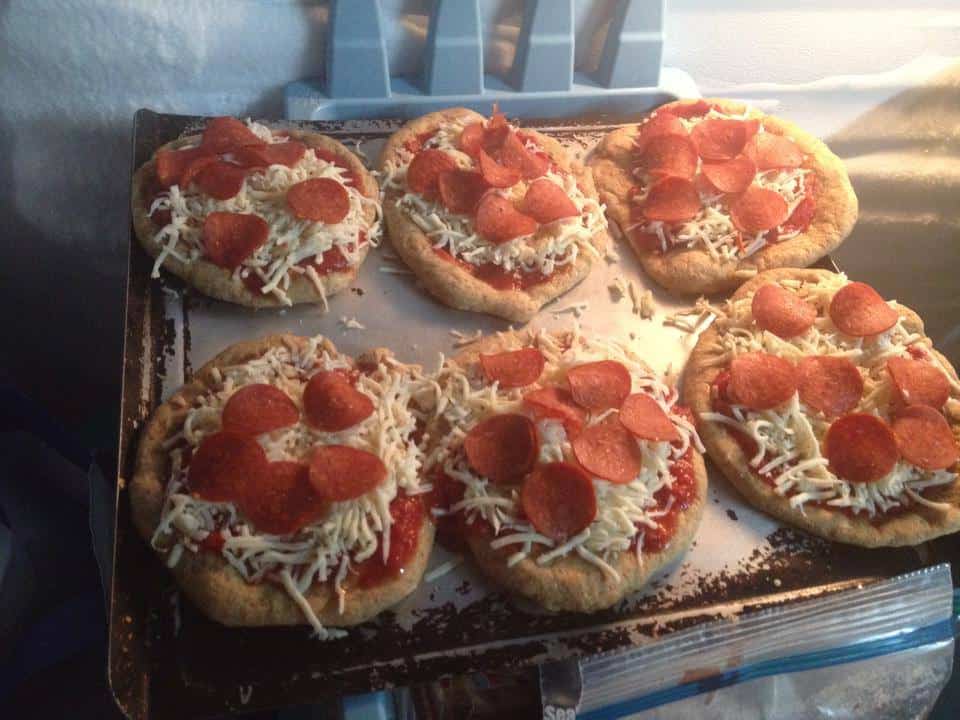 Step 3. Take out of the freezer and wrap a few times in plastic wrap. Label and freeze.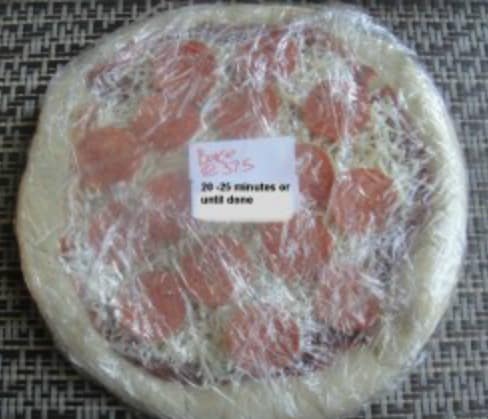 Step 4. When you are ready to eat preheat the oven to 375 and bake for 20-25 minutes or until done.
There you go friends. Homemade frozen pizzas! Now if you have been doing this for years and have lots of advice, tips, and recipes to give us please share.
Let me know if you make these! Who knew frozen pizzas could get me so excited 🙂