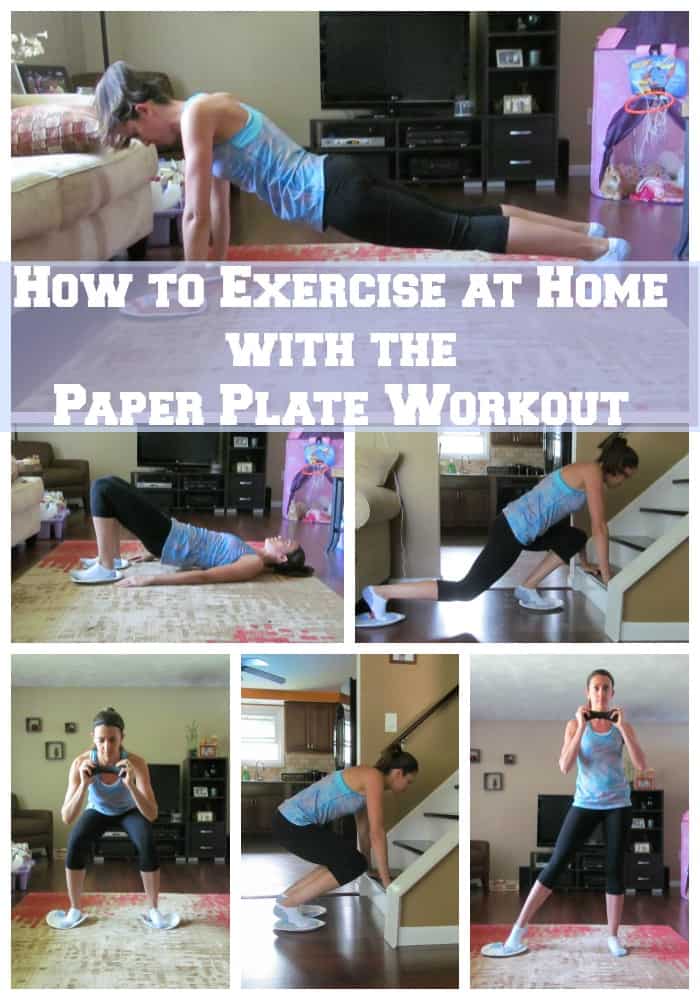 This post is by OYS writer Melissa. You can see more of her posts here.
Gliding discs first came on the exercise scene about ten years ago. We have these at my gym and I sometimes use them when teaching fitness classes. They are another piece of equipment that you can use to shake up your workout routine and try something different. You can purchase them from Amazon here.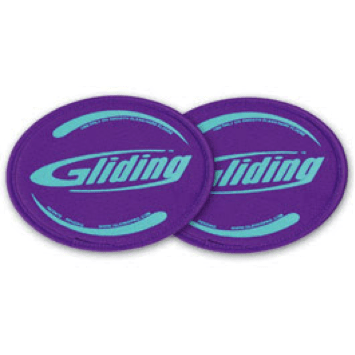 Why use them?
The point of using gliding discs is to elongate your muscles and tone them through smooth, fluid movements. They force you to slow down your movements so you can truly isolate your muscles with good form. You can certainly buy the official discs yourself online for around $15, but I thought it would be nice to adapt them for home. I found that paper plates work just as well and cost so much less! So grab yourself two paper plates and head to your living room for a great toning workout.
How to Use Them
The paper plates will work best on carpet or an area rug, but a smooth floor would do the job too. You can also opt to add a set of hand weights to make the moves more difficult, but if you're a beginner you can start without them. There are so many moves you can do with these, but I am giving you the five that I think really work your legs and core the most. Each move includes a description and two pictures of me doing the moves so you can see how each one is done. In the pictures, I am holding a dumbbell, but you don't have to.
Move #1 – Sliding Side Squat
Start with a paper plate directly under each foot, and stand with your feet together. Slide your right foot out to the side, then squat, keeping your weight centered over both legs and sit way back and down. Come up out of the squat and then slide your right leg back in. That is one rep. Complete 12-15 reps with the right leg, and then 12-15 reps with the left leg. Remember, you can make any of these moves more challenging by holding a dumbbell between your hands.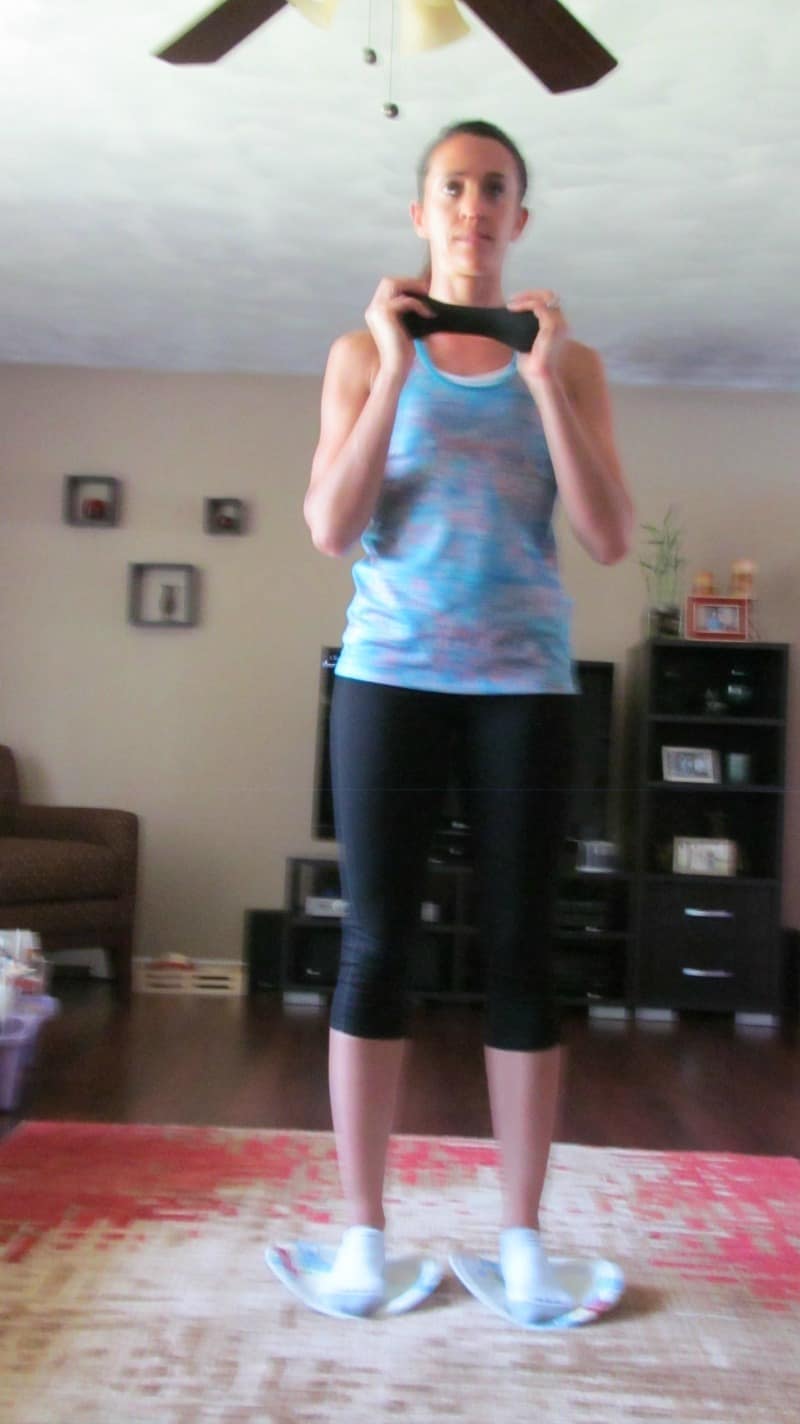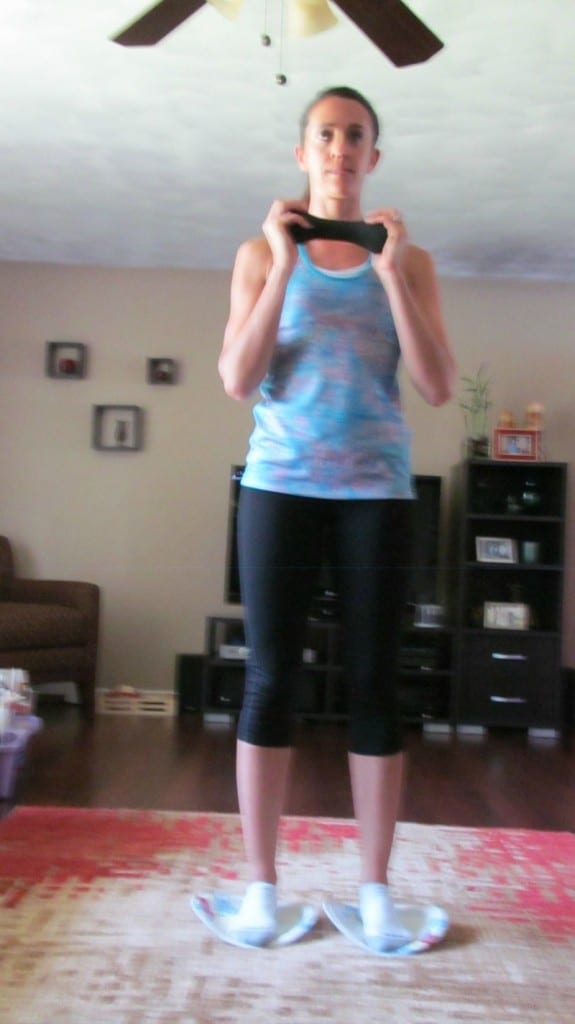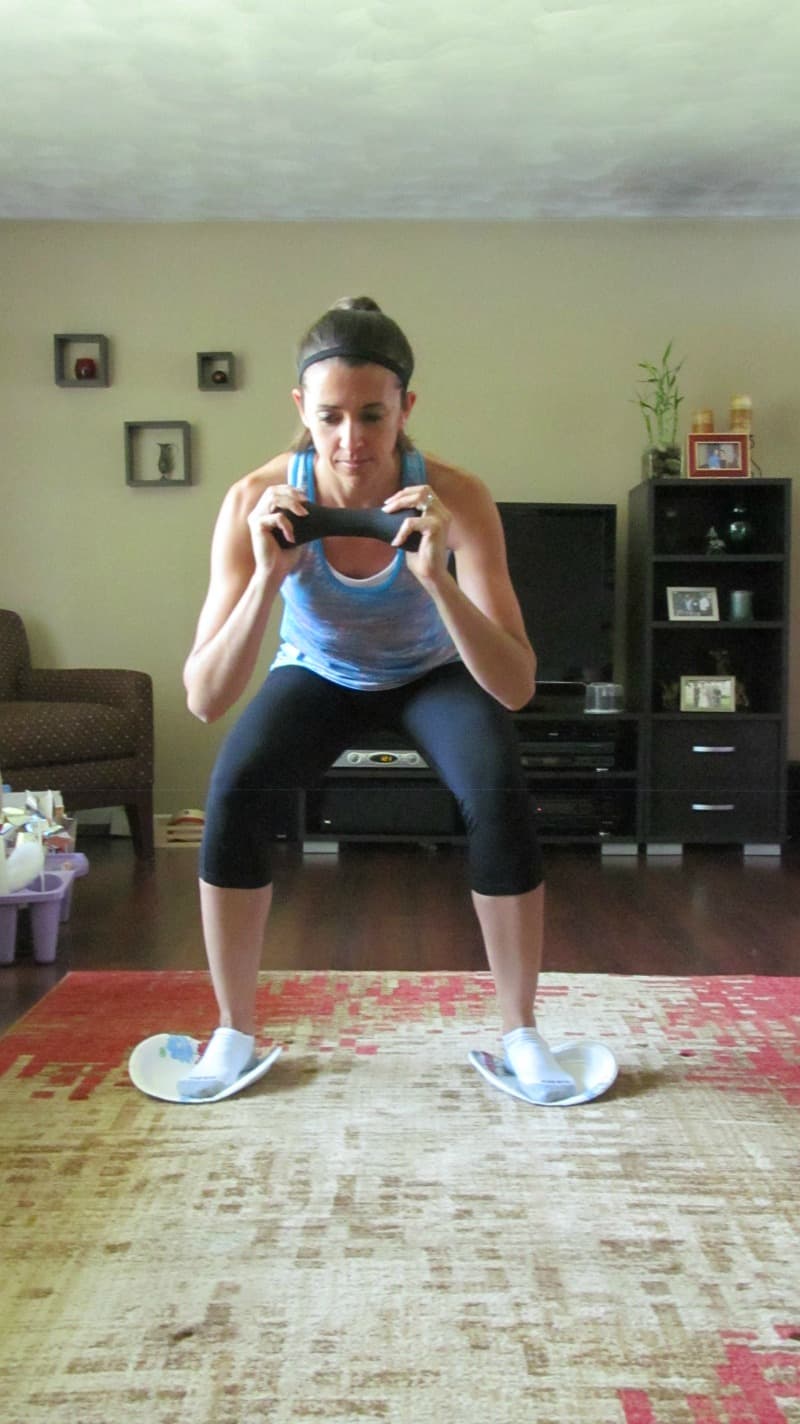 Move #2 – Sliding Four-Part Lunge
Stand with your feet together, with a paper plate under your right toe, with your heel lifted off the ground. Slide the paper plate out to the right, then slide it directly behind you, then bend your knees and drop down into a deep lunge, then come up and slide the disc back to starting. That's one rep. Complete 12-15 reps with the right leg, and then 12-15 reps with the left leg. Hold a dumbbell between your hands if you wish.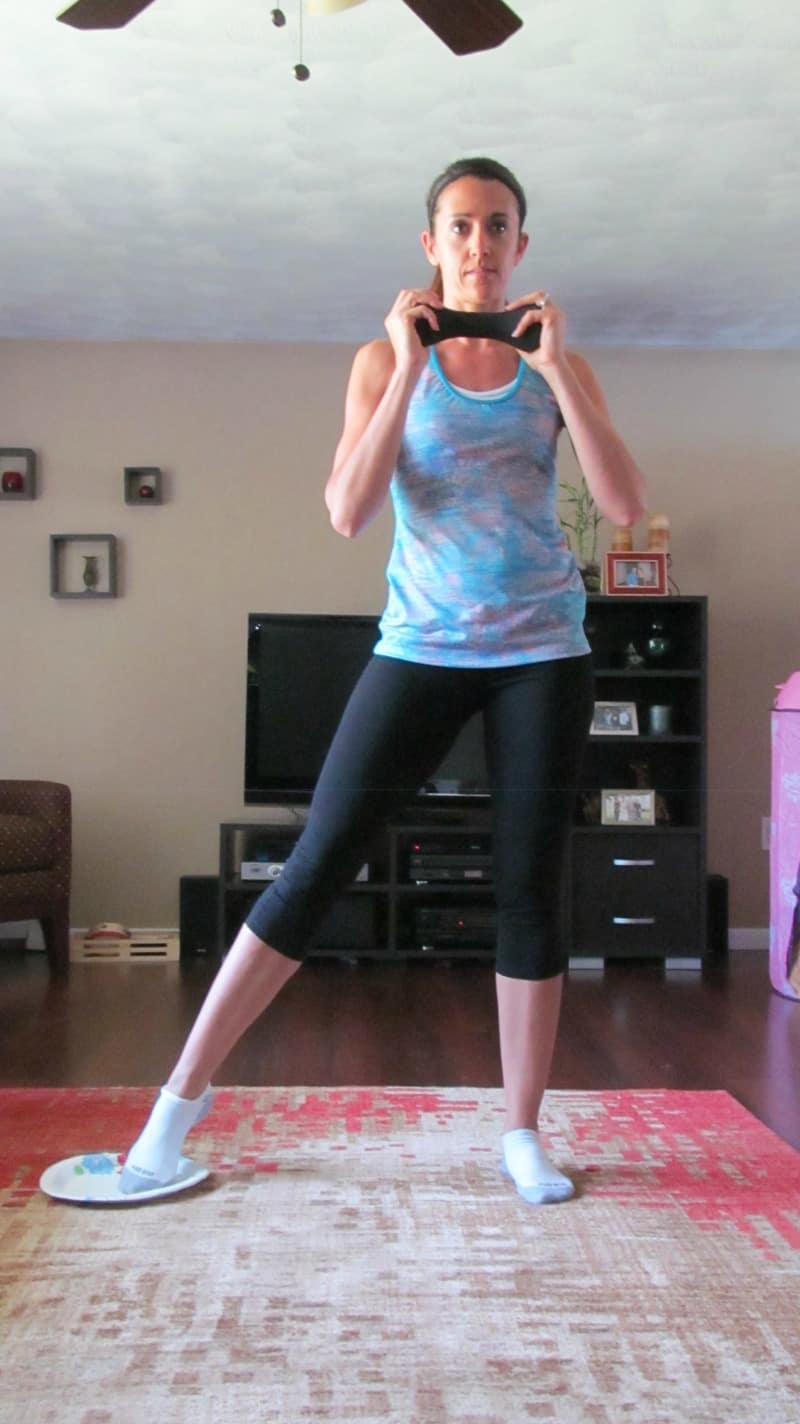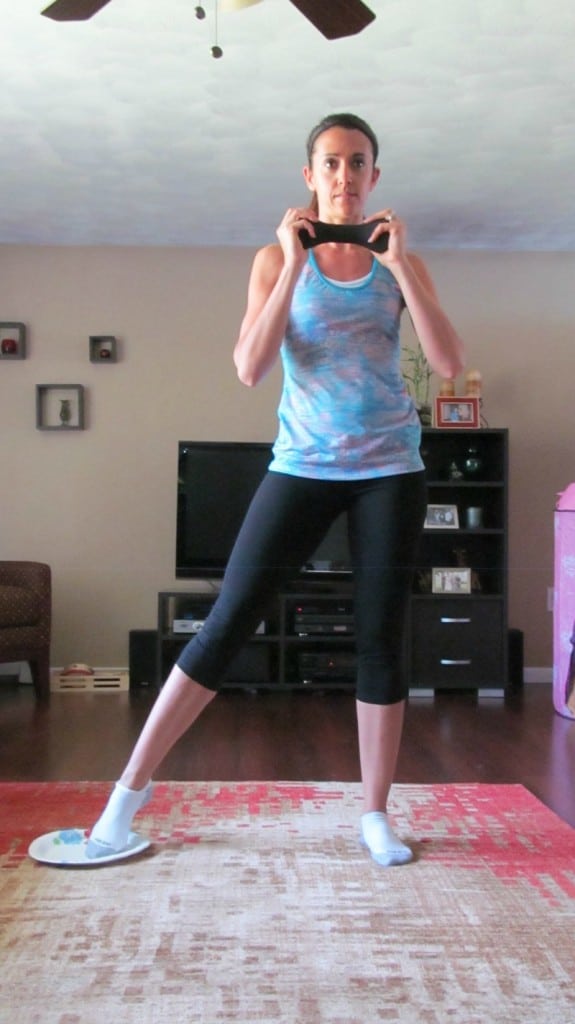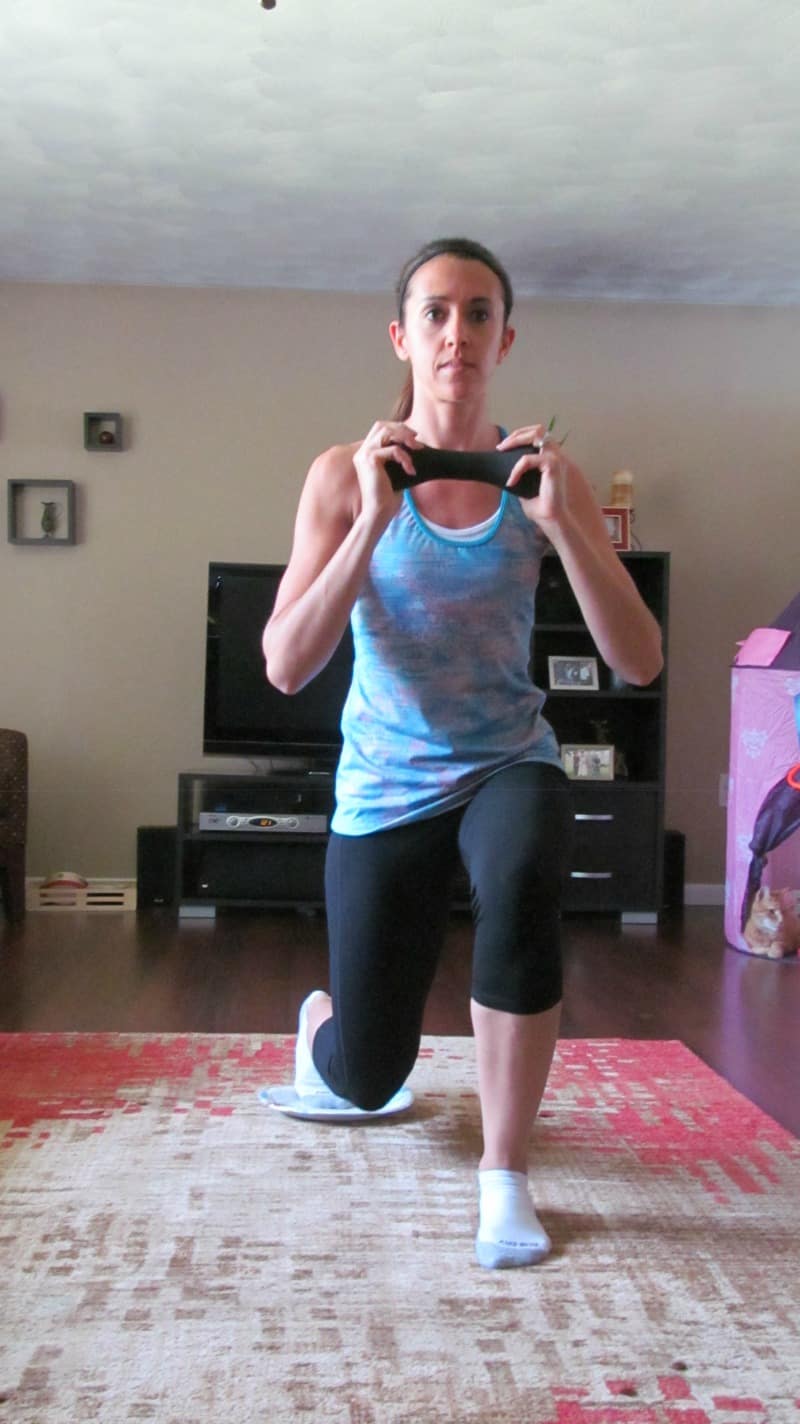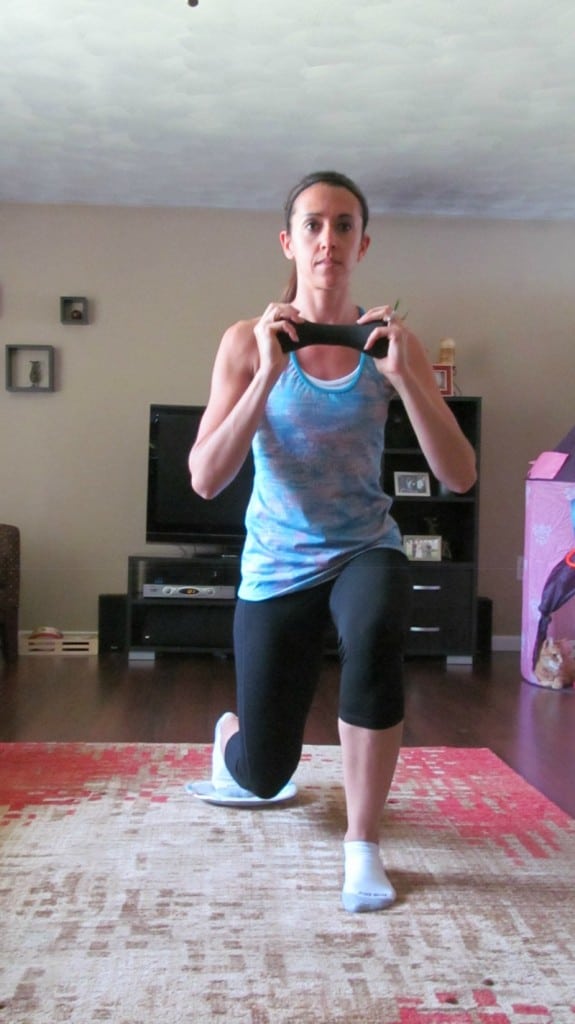 Move #3 – Sliding Quad Burner
For this move, you want to be standing in front of a stair or something slightly elevated. Place a paper plate under your right toe. Bend your knees and reach down to lightly place your fingertips on the stair. Don't lean forward. Keeping your left knee bent and staying low, slowly slide your right leg directly back and then slowly back in. This move can be done easier by leaving your left foot completely flat on the floor, or made harder by lifting your left heel off the floor as you slide your right leg back. Complete 12-15 reps with the right leg, and then 12-15 reps with the left leg.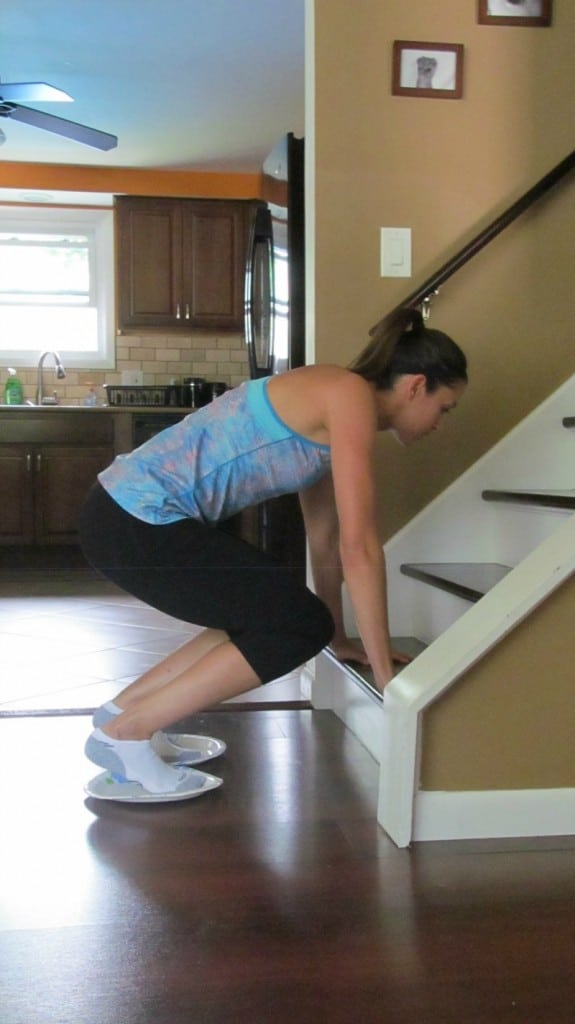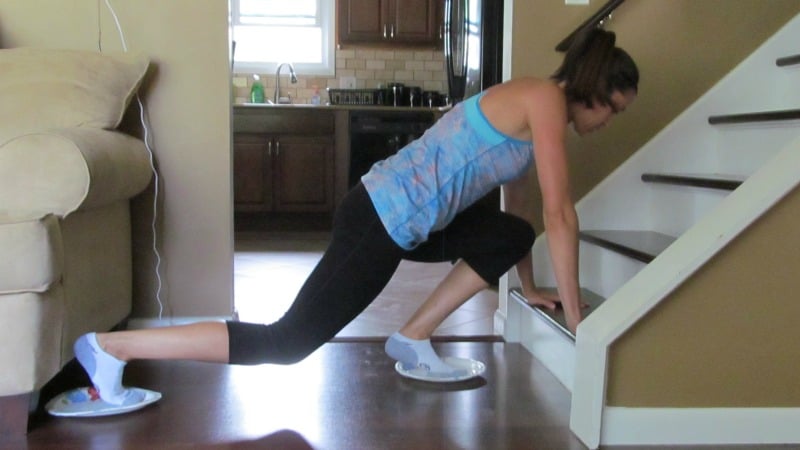 Move #4 – Sliding Walk-Out
This move will engage your upper body and core more than any of the other moves here, but still work your entire body. Start by bending over and placing your hands on two paper plates. Slowly slide your right hand forward, then your left, then your right, then your left, letting your body lengthen and straighten. After four times, you should be able to make it down to full plank position. If you can't get that far, that's fine, just go as far as you can for now. Then slide your hands back the same way four times, pushing your body back to the starting point. You are really going to feel this in your core muscles. It is a challenging move, so don't despair if you can't do it right away. Keep working on it. Also be very careful to stay in control of those paper plates on this one. You don't want them sliding out so fast that you end up falling on your face.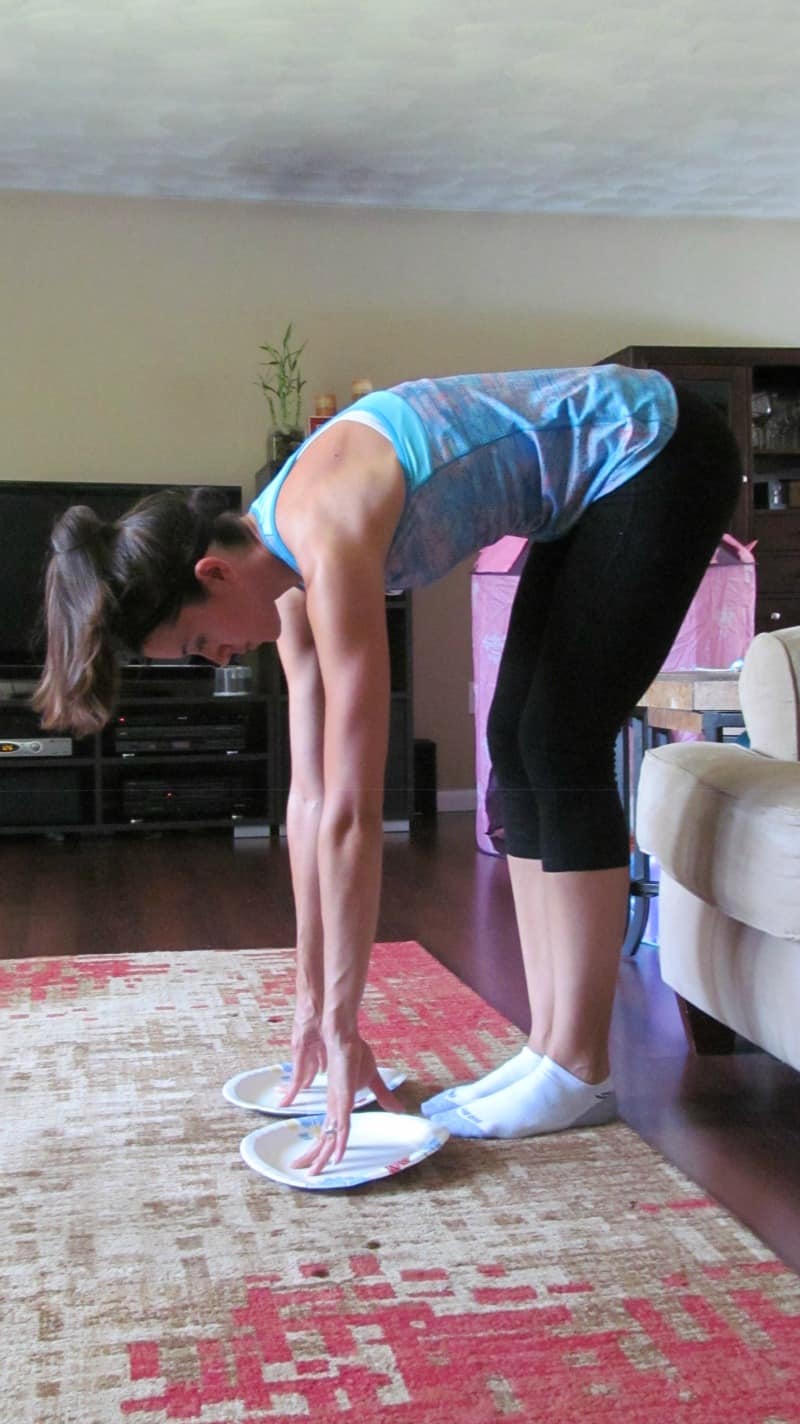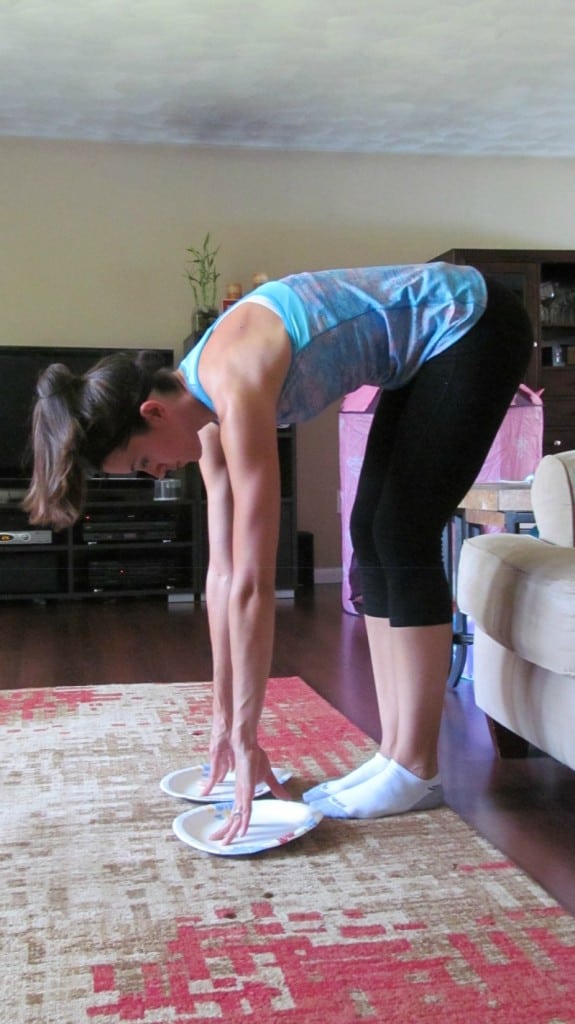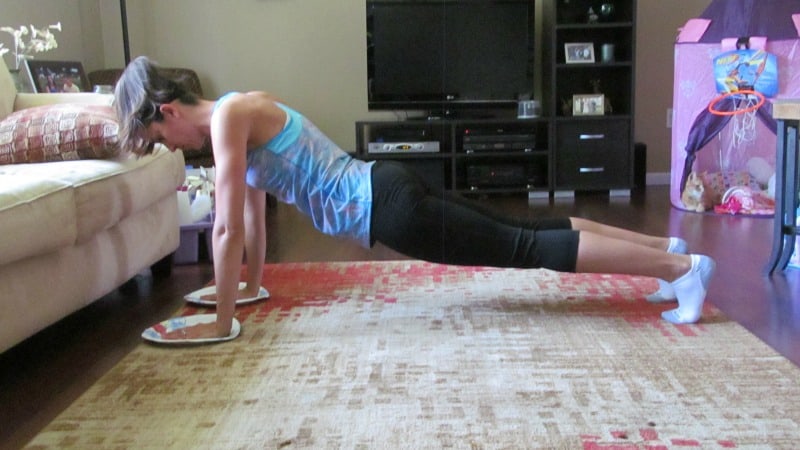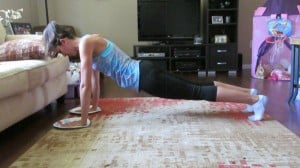 Move #5 – Sliding Glute Buster
For this move, you are lying on the floor on your back. Place a paper plate under your right heel and bend your knees, bringing your feet in close to your butt. Lift your hips off the floor and keep them up the entire time. Slowly slide your right leg out to the front, and then slowly bring it back in. Be sure not to let those hips drop. Really think about digging the opposite heel into the floor and squeezing your glutes. Complete 12-15 reps with the right leg, and then 12-15 reps with the left leg.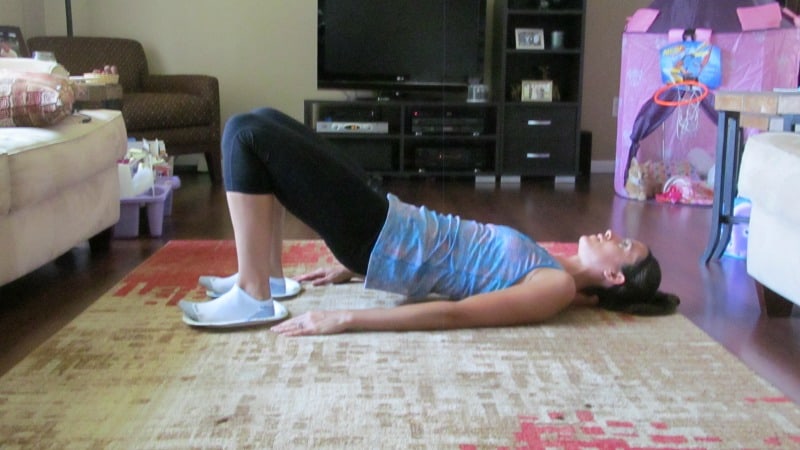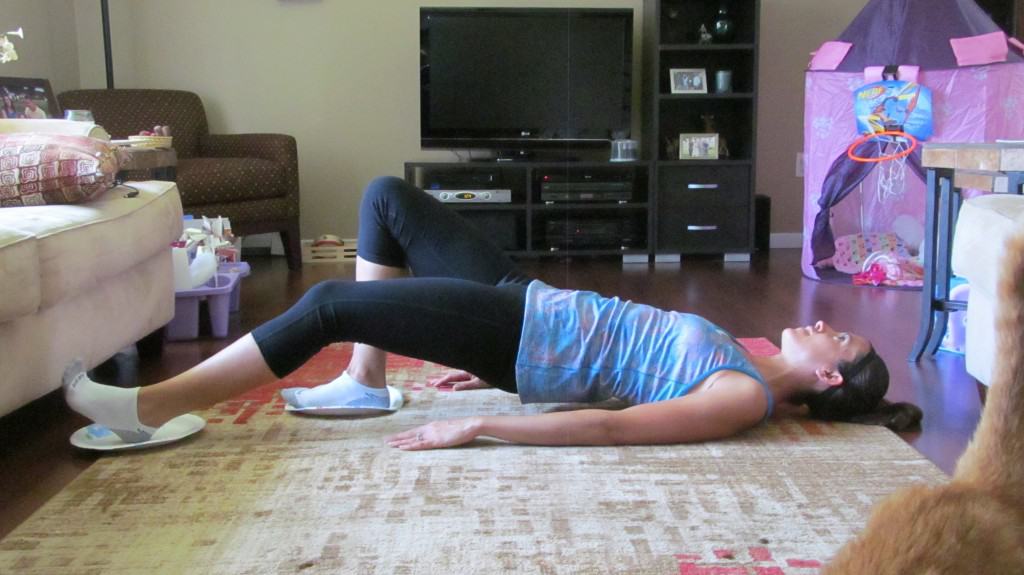 I would love to hear some feedback if you try these paper plate moves. If you like them, let me know because I have a lot more you can do with them.
Get Instant Access to My Best Weight Loss Tips & Strategies!
Sign up now for a free step-by-step 7-day email course that I created exclusively for my email subscribers! That's you. I will teach the best habits, strategies, and insider tips so you can enjoy a lifestyle that encourages and supports weight loss! Stop relying on willpower and take control back over your life! You can do this. Let me help!