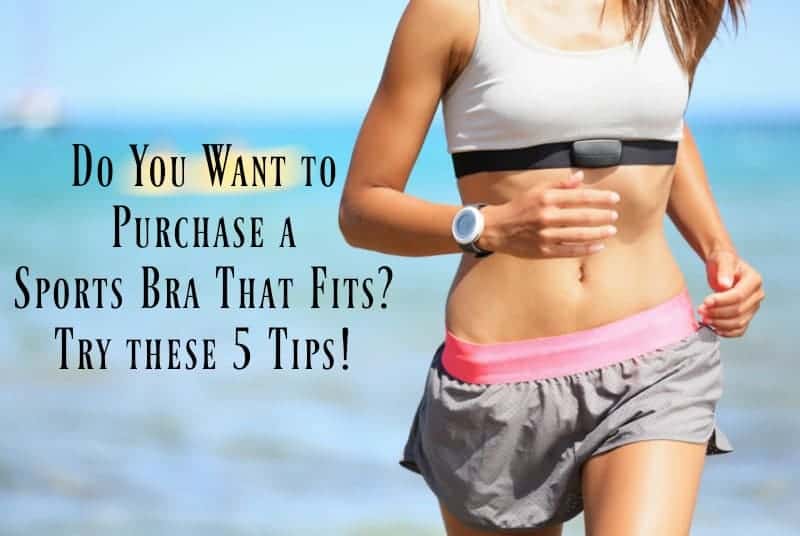 I am probably the world's pickiest sports bra shopper ever. I am very particular about what I want and don't want in a sports bra, and there's no compromising. Whether you are new to buying sports bras or you just need to refresh your sports bra wardrobe, there are some questions you need to ask yourself before you buy. Here is my best sports bra advice.
#1 Have a professional sizing done.
Ok, so it's a little weird having a stranger measure your chest, but it's so worth it. These people are trained to tell you what size bra you should be wearing, and that includes sports bras. Seriously, I had been buying one bra size my entire life, and when I went for my sizing recently, I found out I had been buying the completely wrong size! When I put on the size they told me, it was like sweet relief. Bra sizings are free and quick. Sports bras are sold two different ways. Some are sold simply by small, medium, large, etc. Others are more specific like regular bra sizes: 34B, 36D, etc. Either way, a bra fitting will help you start with a specific size in mind.
#2 Try it on!
Do not ever buy a sports bra without trying it on. Even if you have had the bra sizing done, still try it on. Different brands are going to run smaller or bigger than others. This is one garment you want to know fits perfectly. When you try it on, do a couple of things in the dressing room. First reach your arms up over your head. Make sure the bra stays in place and doesn't ride up. Next jump up and down. I think you know where I'm going with this. Make sure things stay in place and feel supported. Overall, your sports bra shouldn't feel too tight or too loose. You want it snug, but not cutting off your breath.
#3 Decide how much support you want
There are some sports bras out there that are just simple material straight across your chest. I don't understand how these are supportive, but I see them everywhere. I have a small chest, and even I would not feel comfortable wearing one of those. I definitely recommend a sports bra that has some sort of shaping or supportive cups in them. The more padding you find inside, the more supportive the bra will be. Here you need to think about the type of exercise you will be doing in the bra. Walking or yoga? You won't need as much support. Running or kickboxing? Go with more support.
#4 Look at the straps
I'm so picky about sports bra straps, but I think it's something to think about. For a regular bra, thinner straps are fine, but in a sports bra, I want thick straps that are more supportive and comfortable. I prefer not to have adjustable straps because those little clasps can dig into your skin and become uncomfortable and annoying. If you feel like you want the ability to adjust the straps, just make sure they are comfortable on your skin as you move around.
#5 Decide if you want overhead style or clasp closure
Again, this is going to be your personal preference, but I hate sports bras with clasp closures in the front or back. I want the bra to just go over my head and that's it. I feel like the bras with clasp closures don't stay put as much as overhead styles. You have to try on both and move around in them to see what feels right for you. Everyone has different shapes to their bodies, so one sports bra is not going to be the best for everyone.
My favorite place to buy sports bras is Champion. I am lucky that there is a Champion outlet store pretty close to me, but their prices are pretty reasonable anyway. If you go to a Champion store, you will find a large selection of sports bras in all different styles and sizes. They will have simple bras, padded supportive bras, thin straps, thick straps, overhead, clasp closure, and everything in between. There are a variety of fun colors and patterns to help make working out more fun and fashionable. You are sure to find the right sports bra for you. Just be sure to take your time and really test them out with the tips above before you buy.