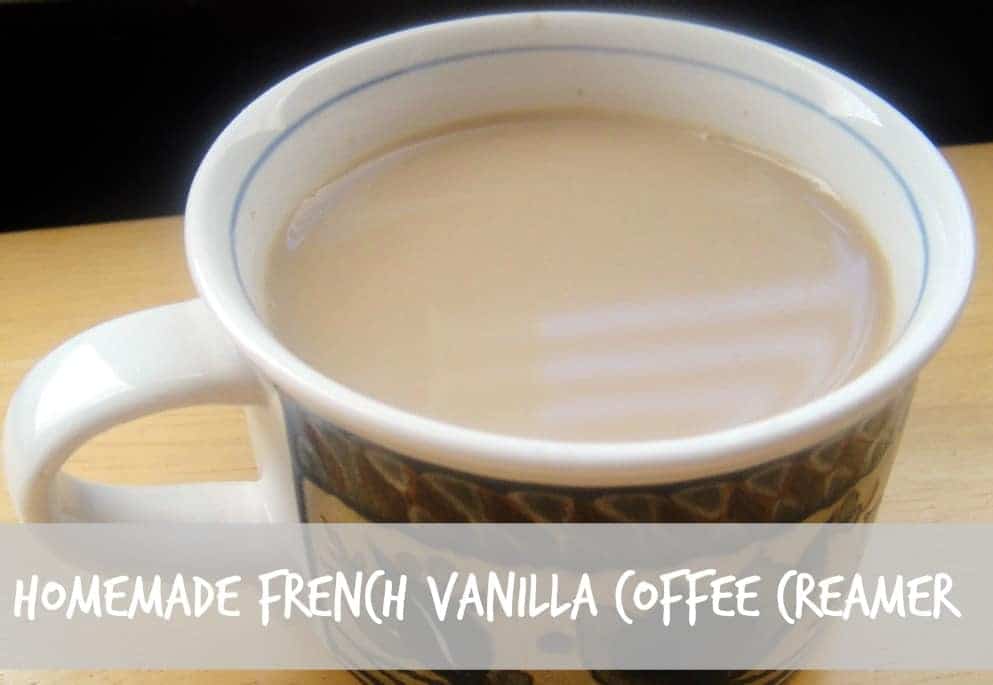 Some might say that I have a weird obsession with coffee. And you know what? They would be right!
There are very few things I enjoy more than waking early in the morning before the family rises and having a hot cup of coffee flavored with delicious rich creamer. I set my alarm sometimes for 5:00am just to guarantee this happens. Some nights I get excited just thinking about my morning coffee. I am sure it is all mental. But I don't care.  Coffee just seems to make it all right in the world.
There is one problem.
Store bought flavored creamers are filled with hydrogenated oils, chemicals, and tons of fillers. Actually they don't even  have cream, sugar, or natural flavors in their ingredients list at all. Yuck! I tried to look past or deny this for years. Unfortunately, I can no longer do so.
Some of the brands are starting to offer "natural" creamers but at a premium price. Not to mention the flavor selection is minimal.
Well this girl needs her flavored creamer so I set out to create my own version of homemade vanilla coffee creamer. This is a basic recipe that can be used as a base for many flavors (which I plan on creating in the near future).
This vanilla creamer recipe is rich, creamy, and absolutely delicious. Try to be alone the first time you try it so you can just melt away in the yumminess 🙂
I used sweetened condense milk because it is well …awesome and really makes this creamer in my opinion. There are other recipes out there in Internet land that use other sweeteners (ex. maple syrup) instead of sugar but they were not sweet enough for me. Good but for my one indulgent I needed a little more. Sorry I know bad…but this is one area I am not willing to sacrifice 🙂
Also, other recipes called for whole milk or cream but I found that half and half worked perfectly. Just the right amount of creaminess.
You are going to love this! Enjoy mamas!

Homemade French Vanilla Coffee Creamer
Author:
Organize Yourself Skinny
Recipe type:
homemade coffee creamer
Ingredients
1 14 ounce can sweetened condensed milk
1 ½ cups half and half
1 teaspoon pure vanilla extract
¼ teaspoon cinnamon
Instructions
In a medium sauce pan on low heat whisk together sweetened condensed milk and half and half until combined.
Whisk in the vanilla and cinnamon.
Warm up mixture until it steams. Do not bring to a boil.
Move away from heat and let sit for about 5 minutes.
Nutrition Information
Serving size:
2 tablespoons
Calories:
74
Fat:
3
Carbohydrates:
10
Fiber:
0
Protein:
2
 To store the creamer pour into glass container and cover. I use a Ball Regular Mason 1 Qt Canning Jar
. Someday I want to get something fancier but for now this works fine.
The homemade french vanilla creamer will keep for about 10 days in the refrigerator. If it even lasts that long 🙂
Get Instant Access to My Best Weight Loss Tips & Strategies!
Sign up now for a free step-by-step 7-day email course that I created exclusively for my email subscribers! That's you. I will teach the best habits, strategies, and insider tips so you can enjoy a lifestyle that encourages and supports weight loss! Stop relying on willpower and take control back over your life! You can do this. Let me help!