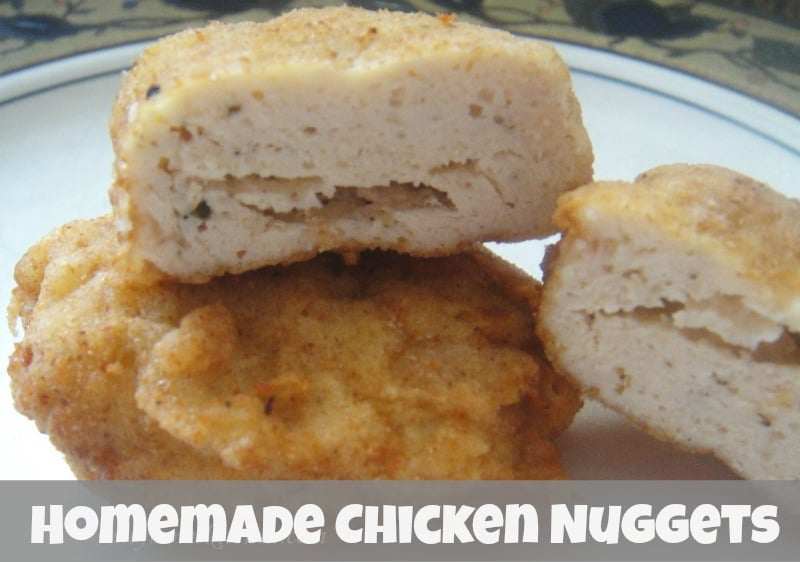 Since embarking on my weight loss journey one of my strategies has been to create healthier versions of foods my family loves to eat. Primarily because I never want my husband and kids to feel deprived when mommy is making them "eat healthy".
I have successfully accomplished this with recipes such as my Buffalo Chicken Wrap, Turkey Bacon Cheeseburgers, Meatball Subs, and Cheeseburger Wraps. Those are just a few you can see all my recipes here.
In addition to those healthy meal makeovers there is another food that I was determined to conquer and that is the chicken nugget. My kids love chicken nuggets and admittedly so do I. However, because I am now completely aware of how bad these little chunks of mystery meat are for you I completely stopped purchasing them. Instead, I decided to try and create a healthy homemade version.
With the help of other bloggers who have already cooked up their versions of wholesome nuggets I was able to easily find a great basic recipe I can add my own twist to.
I solicited the help of my husband because these chicken nuggets were a tad messy and not exactly the easiest to make. I only say that because I hate working with oil as I always get burned. If you are not bothered by oil then you will be fine. Nevertheless, they are so worth the extra effort because they came out delicious and definitely tasting better than their rival fast food counterparts. The best part is because you control the ingredients they are much healthier.
Also, you can bake these if you wish which would reduce the fat greatly in this recipe. Frying gives it the crispier chicken nugget taste. However, baking is good too.
My kids loved them!

Homemade Chicken Nuggets
Author:
Organize Yourself Skinny
Ingredients
2.5 lbs chicken (about 4 medium chicken breasts)
1½ teaspoon salt
1 teaspoon onion powder
½ teaspoon oregano
½ parsley flakes
¼ cayenne powder
1 cup whole wheat flour
2 eggs, beaten
1 cup peanut oil (this is what I used but use whatever you like)
Instructions
Place chicken, 1 teaspoon salt, onion powder, oregano, parsley, and cayenne powder in food processor and  process until ground and pasty.
Combine flour with ½ teaspoon salt in a medium bowl and beaten eggs in a separate medium bowl.
Take a heaping tablespoon or small cookie scoop of the chicken paste and roll into a small ball then flatten slightly. Dip in egg then into flour and set aside. Repeat with the rest of the chicken paste mixture until it is gone. I recommend finishing this step before you start frying.
Heat oil in frying pan. I used a deeper pan but any frying pan would work. When the oil is hot enough (sizzles when you drop a little flour in there) place some of the nuggets in without overcrowding. Fry on both sides for about 4-5 minutes, until browned, and cooked through.
Nutrition Information
Calories:
60
Fat:
6
Carbohydrates:
2
WW Points +:
2
Protein:
1
Freezing instructions
These homemade chicken nuggets freeze perfectly. After step 4 let them cook completely, put into freezer bag, and then place in freezer.
Reheating instructions
Take out the number of chicken nuggets you would like to prepare and place on baking sheet. Cook in a 350 degree oven for 20 minutes or until warmed through.
Get Instant Access to My Best Weight Loss Tips & Strategies!
Sign up now for a free step-by-step 7-day email course that I created exclusively for my email subscribers! That's you. I will teach the best habits, strategies, and insider tips so you can enjoy a lifestyle that encourages and supports weight loss! Stop relying on willpower and take control back over your life! You can do this. Let me help!