All the flavors of turkey club sandwich mixed into a delicious cold summer salad.
Thank you Barilla® for sponsoring this post.
One of my earliest make-ahead meal memories is my mother making a huge summer pasta salad over the weekend for us to eat all week long. We did not grow up with the luxury of central air conditioning so once the weather hit 70 degrees the oven was put on vacation and we lived off sandwiches, salads, and of course freezy pops, grape buggies, and cherry Kool-Aid. Hey, I grew up during the 70's and 80's and that's just how it was. Haha! Oh the good ole days! Anyway, I didn't care because after playing outside all day the only food I was in the mood for was something cold and refreshing. So a pasta salad and freezy pop were the perfect end to a summer day in 1985!
Today, I do have central air – along with many other luxuries I never missed as a kid – but as soon as the weather turns hot I immediately crave a cold pasta salad. It amazes me the number of things we hold onto from our childhood, as we become adults. Something as simple as a pasta salad can bring so much nostalgia and comfort. Maybe it just me, but I am turning 40 in a few months and have been feeling very sentimental and emotional. Something like a pasta salad, a grape huggie, and Frank Sinatra can bring me to tears. Just saying. How am I almost 40! Ahhh.
Okay, back to pasta salad.
This Turkey Club Pasta Salad recipe has been floating around in my head for quite a while now. I love turkey clubs. Seriously, a restaurant can have a 50-page menu and I will always want a turkey club. Not sure why because I do like to experiment with food. I guess I am just a creature of habit. Anyway, I had the idea to create my favorite sandwich into a cold summer pasta salad. I know, I was pretty excited too!
Why didn't I think of this sooner? Oh mama! This pasta salad is AWESOME.
Let me break it down for you.
The first thing I did was prepared the dressing. I thought about keeping it extra easy and just using a bottle dressing but then decided to make my own. Don't worry it was still easy to make. All I did was take some plain greek yogurt, a small amount of mayonnaise, and mix in a blend of spices. The spice combination I used created a homemade ranch flavor dressing. It was very good. A little tangier because of the yogurt but it was still tasty. Plus using mostly yogurt saved on calories and fat.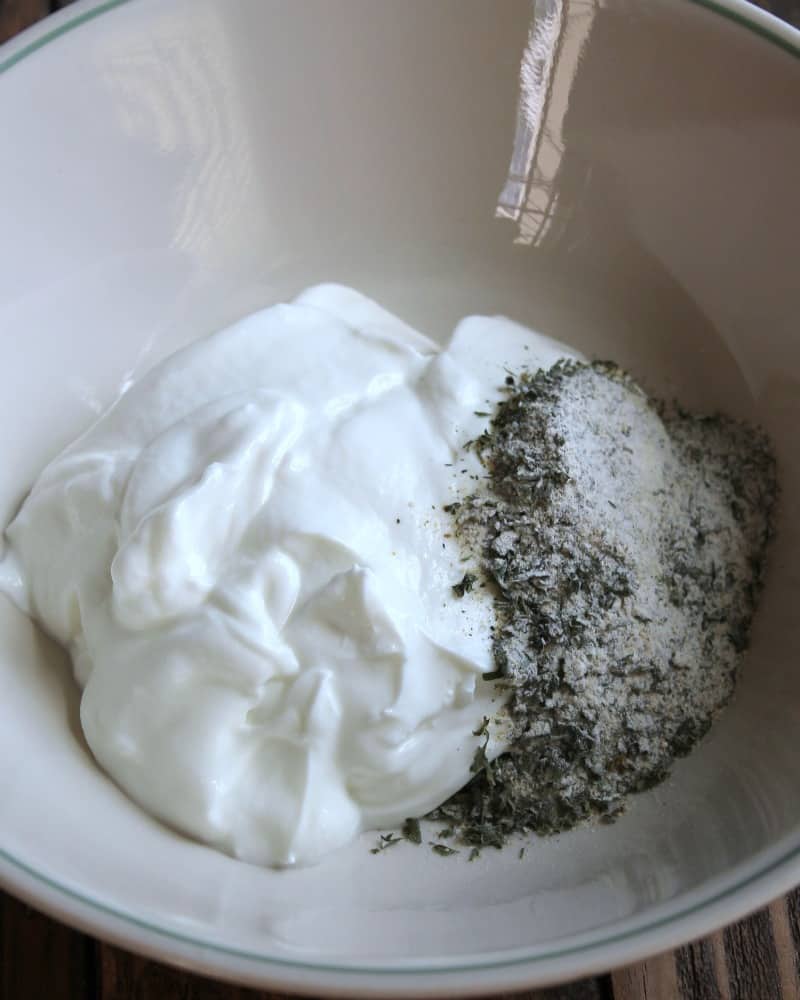 I stirred in 2 tablespoons of milk to thin it out. If you would like it thinner then add more milk until you get the consistency you like. This dressing taste best when you can let it sit for an hour or so before dressing the rest of the ingredients. This allows the flavors to "marry". I know very foodie of me.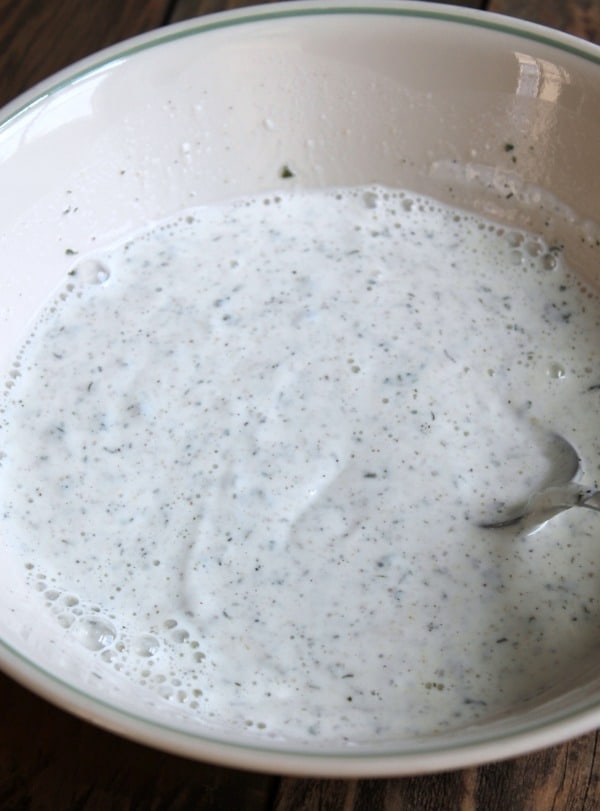 Then I made the pasta. Barilla® pasta is my favorite and – like I mentioned in a previous post – I don't remember any other pasta filling my pantry as a kid. My mom was (and still is) always stock with Barilla® pasta, all shapes and sizes.
I cooked it until it was al dente, about 11 minutes. Then I set it aside. You want the pasta to be cooled off before you mix it with the other ingredients.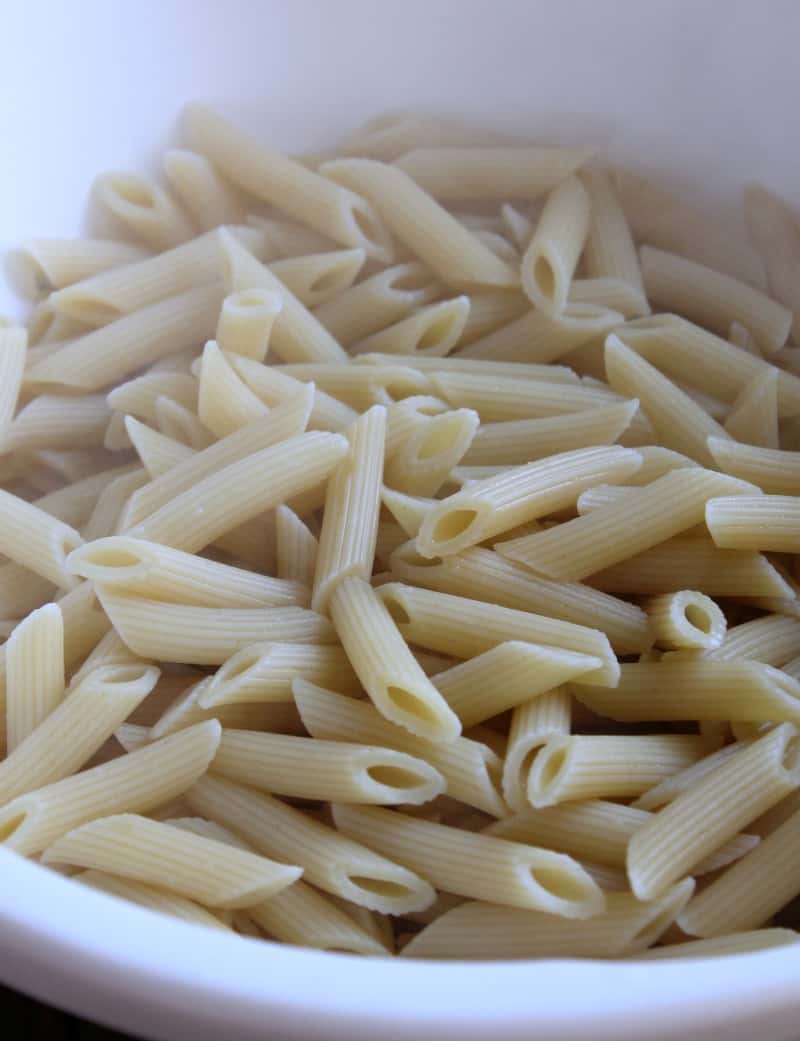 Next I tossed in the tomatoes, scallions, bacon, turkey, and lettuce.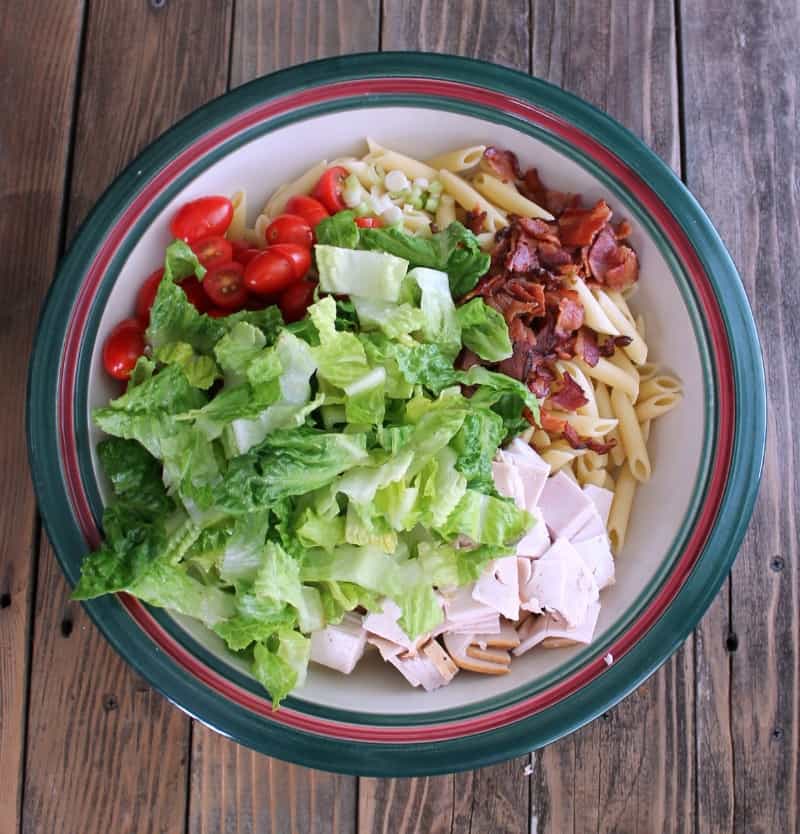 If you haven't figured out it would be very helpful to make this in a large bowl.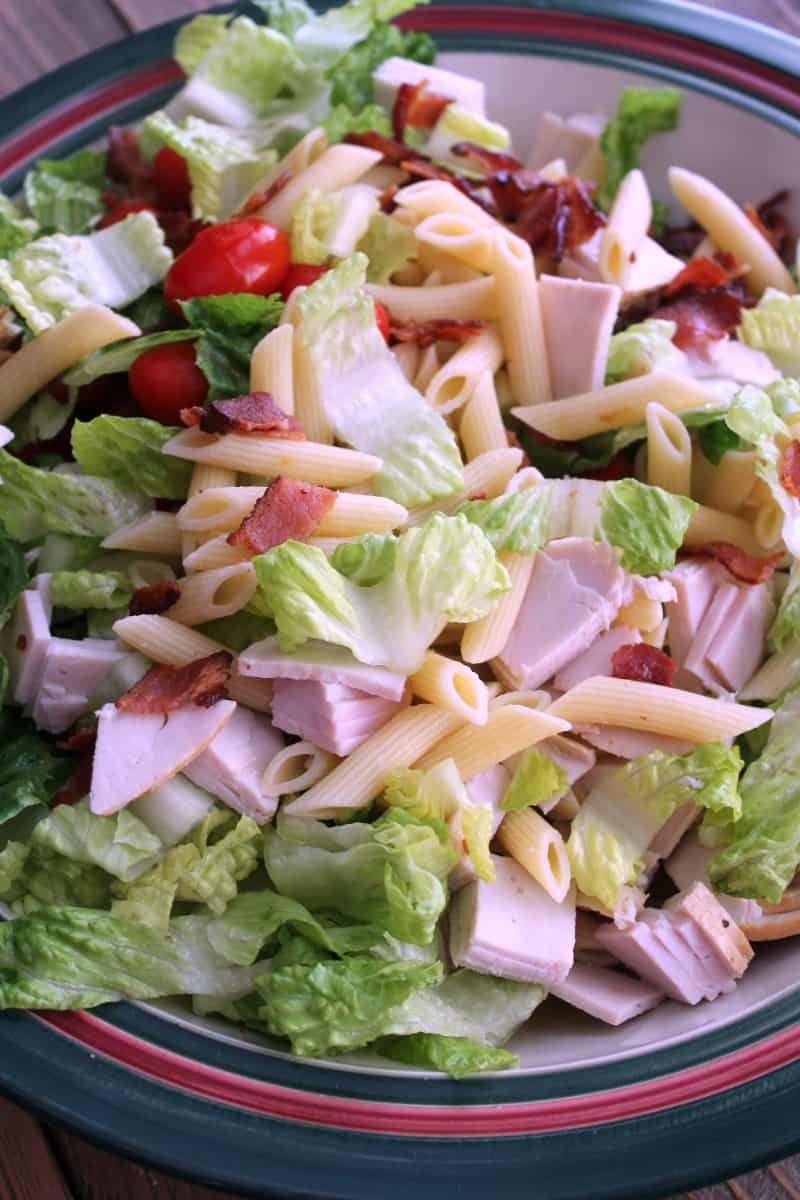 You can probably put the dressing in right away but I found it easier to toss the other ingredients a couple times before pouring in the dressing.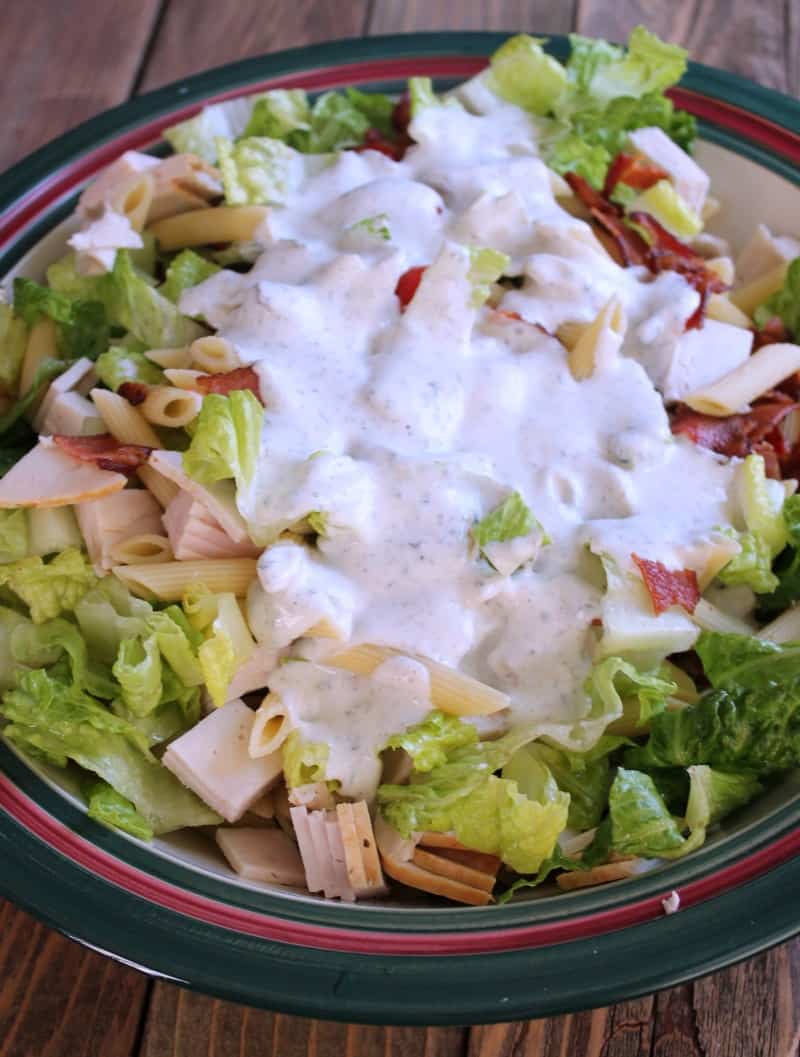 Toss until all of the ingredients are coated with the dressing.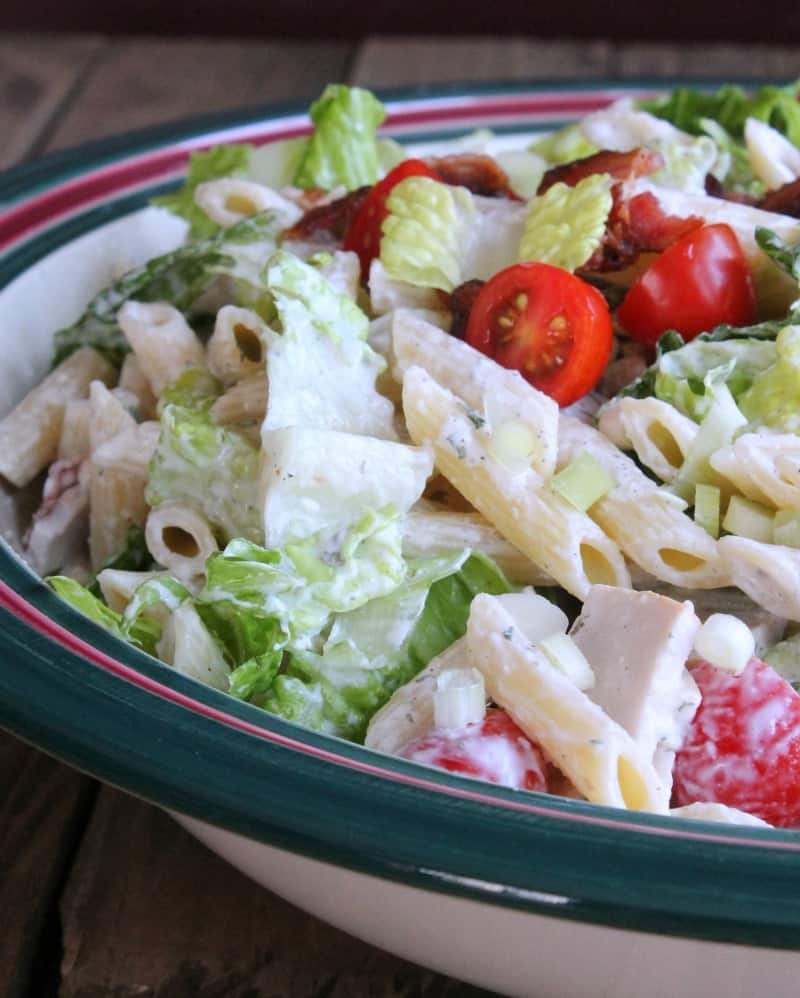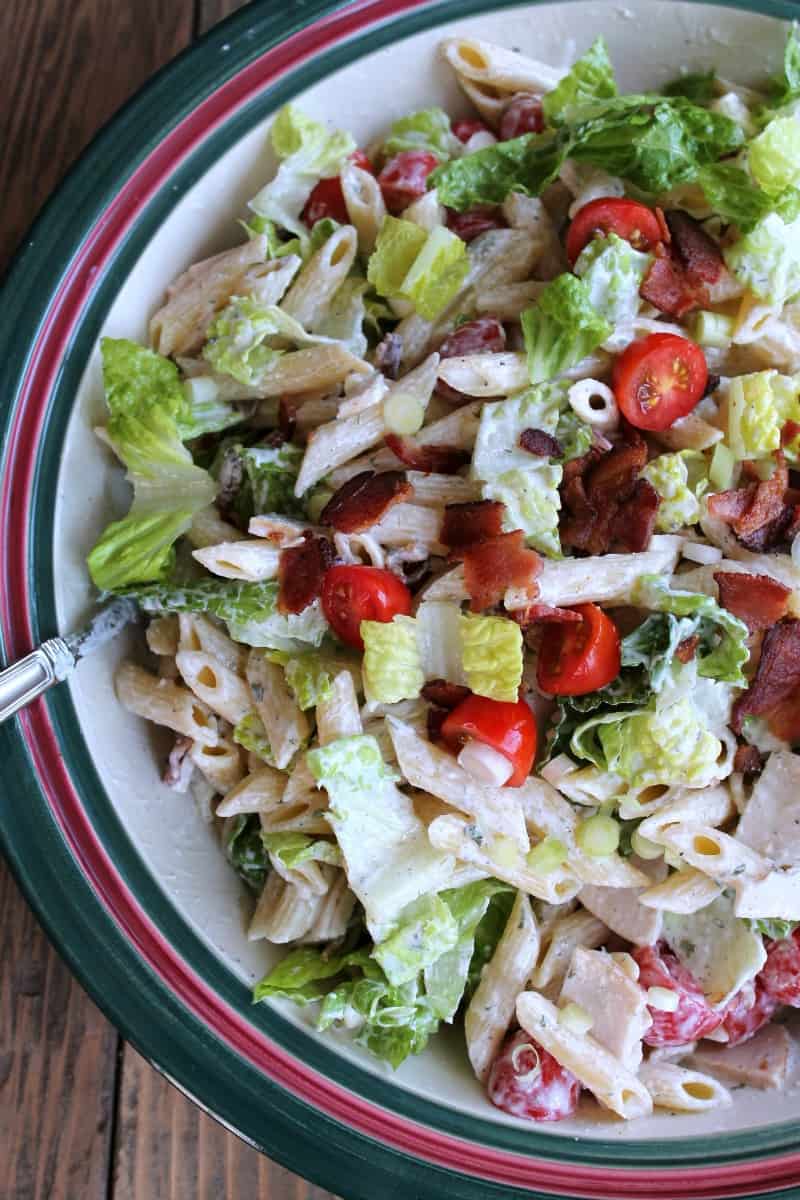 I saved a little of the bacon, tomatoes, and lettuce to place on top for a garnish. This salad taste better the longer it sits so it is a perfect make-ahead pasta salad for summer. The lettuce does stay crisp but if you want it extra crisp you can always keep it on the side and toss it in when you grab a bowl to eat. I throw it in because I love how it all blends together.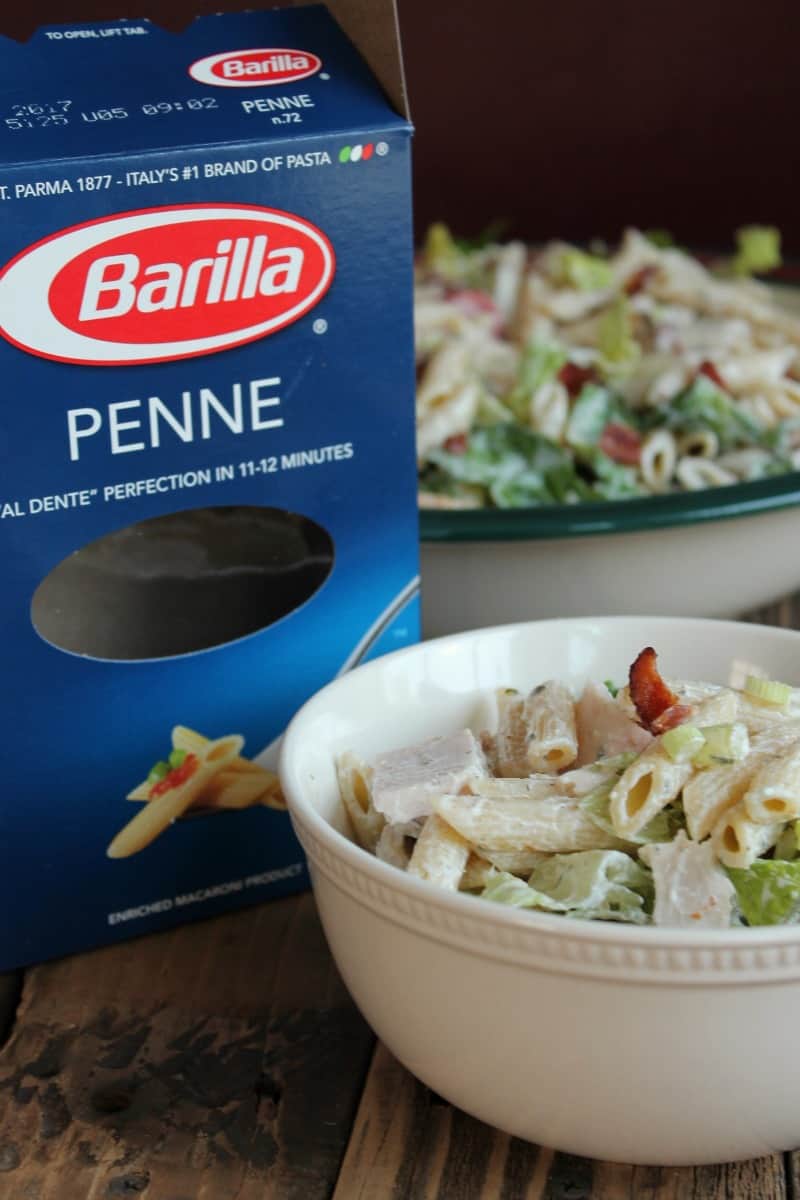 This pasta salad is delicious and taste just like a turkey club but salad style instead of in a sandwich. My kids loved it and with the weather expected to be in the high 80s I am sure none of us will have a problem grabbing a bowl for lunch, dinner, or both.
Ingredients
1 1/2

cups

of plain greek yogurt

1/4

cup

mayonnaise

1

tablespoon

dried parsley

1

teaspoon

granulated garlic

1 ½

teaspoons

onion powder

¼

teaspoon

dill weed

½

teaspoon

salt

½

teaspoon

black pepper

2-3

tablespoons

1% milk

1

lb

Barilla® Penne Pasta

½

lb

bacon

cooked and crumbled

1

pint

cherry tomatoes

halved

¼

cup

sliced scallions

white parts and some of the green

½

pound

deli turkey

sliced on the thicker side and cut into small chunks

3

cups

shredded romaine hearts
Instructions
In a small bowl mix together the greek yogurt, mayonnaise, parsley, granulated garlic, onion powder, dill weed, salt, pepper, and milk. Cover and refrigerate for at least an hour.

Cook pasta according to package instructions and set aside for a few minutes to cool.

Once the pasta is cooled place into a large bowl with bacon, tomatoes, scallions, turkey, and romaine. Toss together.

Pour dressing over top and mix together until all of the ingredients are coated with the dressing.

Serve cold.
Notes
This salad can be made up to 3 days ahead of time or longer if you leave the romaine on the side. Stir the romaine in when you are ready to eat.
Nutrition
Serving:
1
g
|
Calories:
317
kcal
|
Carbohydrates:
39
g
|
Protein:
14
g
|
Fat:
8
g
|
Fiber:
3
g
|
Sugar:
7
g
This is a sponsored conversation written by me on behalf of Barilla. The opinions and text are all mine.