Pumpkin Cheesecake Muffins take everything you love about Starbucks version but much healthier!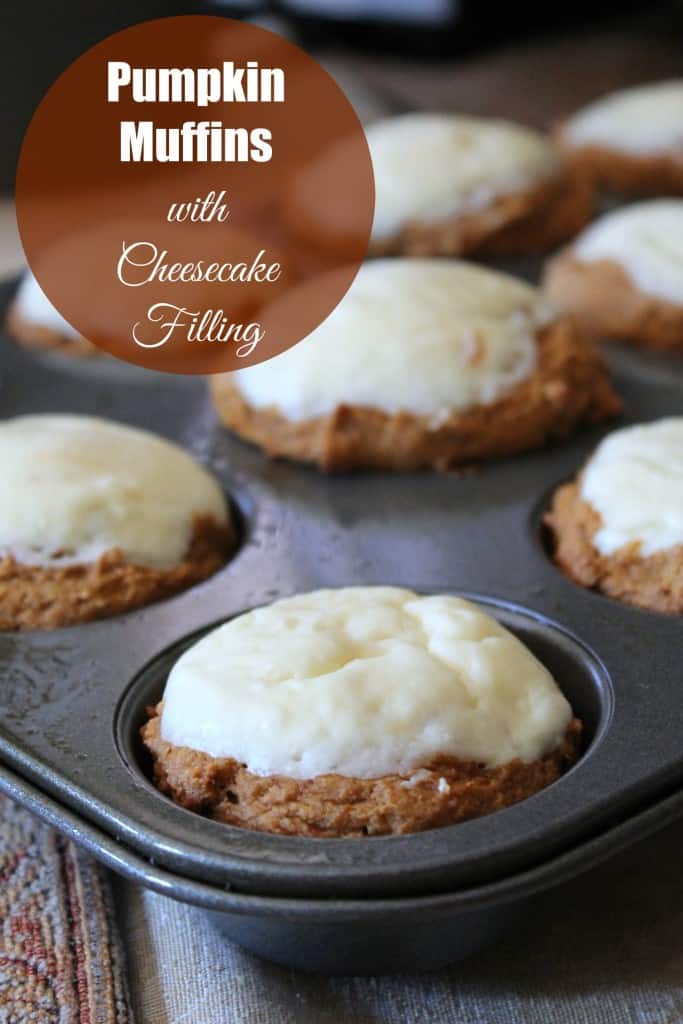 A couple weekends ago I was craving a café mocha from Starbucks…like bad. Since it was Saturday I figured I would go ahead and treat myself. Mommy needs treats too. As I ordered my grande café mocha, made with skim milk and no whip, I noticed the pumpkin and cheesecake muffins. COME TO MAMA!!!
I wanted one sooooooo bad. Good thing Starbucks lists out calories because if I didn't see the 420-calorie tag I probably would've bought it and convince myself it was a vegetable because it's made with pumpkin. Not saying I've done that before.
So I walked away. Bye pumpkin cheesecake muffin.
But I couldn't stop thinking about. For days. I seriously think I developed a crush on the muffin. Instead of dwelling on the muffin I couldn't have I decided to do what I always do. Create a healthier – yet still delicious – version of a muffin I can eat without guilt.
I'm not gonna say it's completely guilt-free. Hello, it has a cheesecake filling and it's a muffin so we have the carb issue. But it's only 275 calories per muffin, which is 145 calories less than the Starbucks version. The best thing about this muffin is I control the ingredients…not Starbucks. I can use organic everything, reduce the sugar, and control the portion size. These are the reasons homemade treats are so much better. Not to mention, the time it takes to make the treats allows you to think a bit before chowing down.
Let's go through the recipe.
I started with white whole-wheat flour, pumpkin pie spice, baking powder, baking soda, and salt. I like using white whole-wheat flour in muffin recipes. It lighter than whole-wheat but you still get the nutritional value of whole grain. It works well.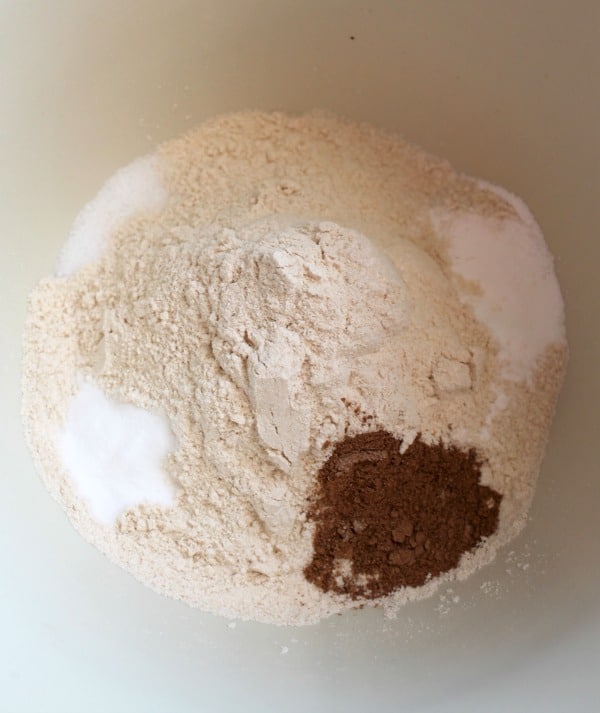 I made sure to whisk all the dry ingredients together.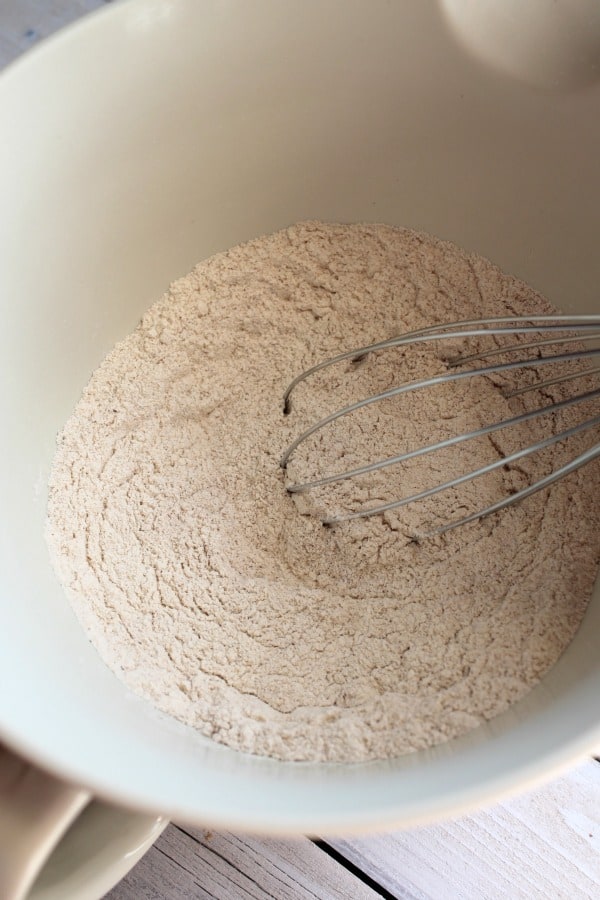 Next I moved on to the wet ingredients. I kept it basic with eggs, brown sugar, white sugar, vanilla extract. I reduced the sugar as much as I could without ruining texture or flavor.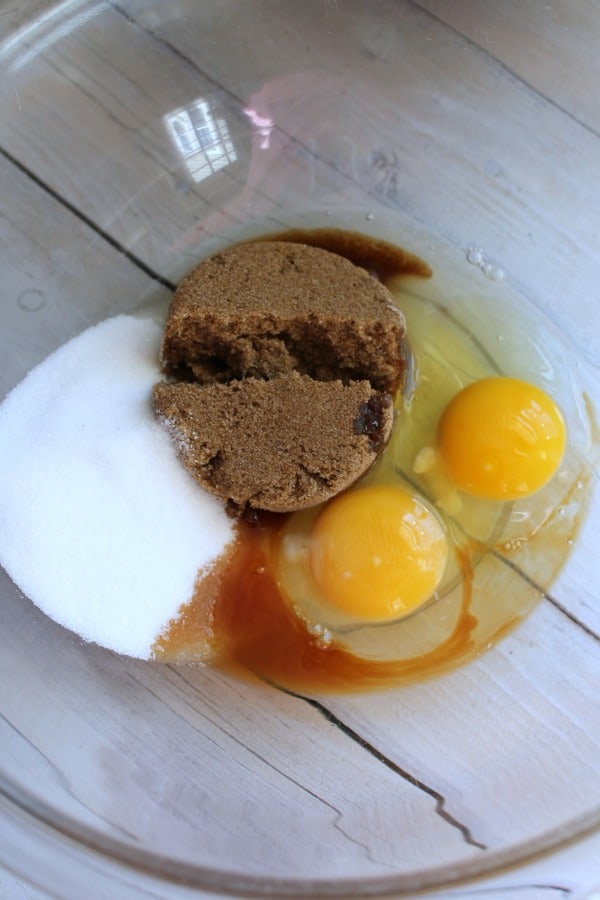 After I whisked all these ingredients together I stirred in the pumpkin and coconut oil. I use coconut oil almost exclusively in baking recipes. It's a healthy oil and produces a very tender muffin. Don't worry, if you are not a coconut fan because the coconut flavor is very faint. In fact, I can't even taste it and I had a few "coconut haters" try this and have no clue coconut oil was used. Don't say anything and they will never know.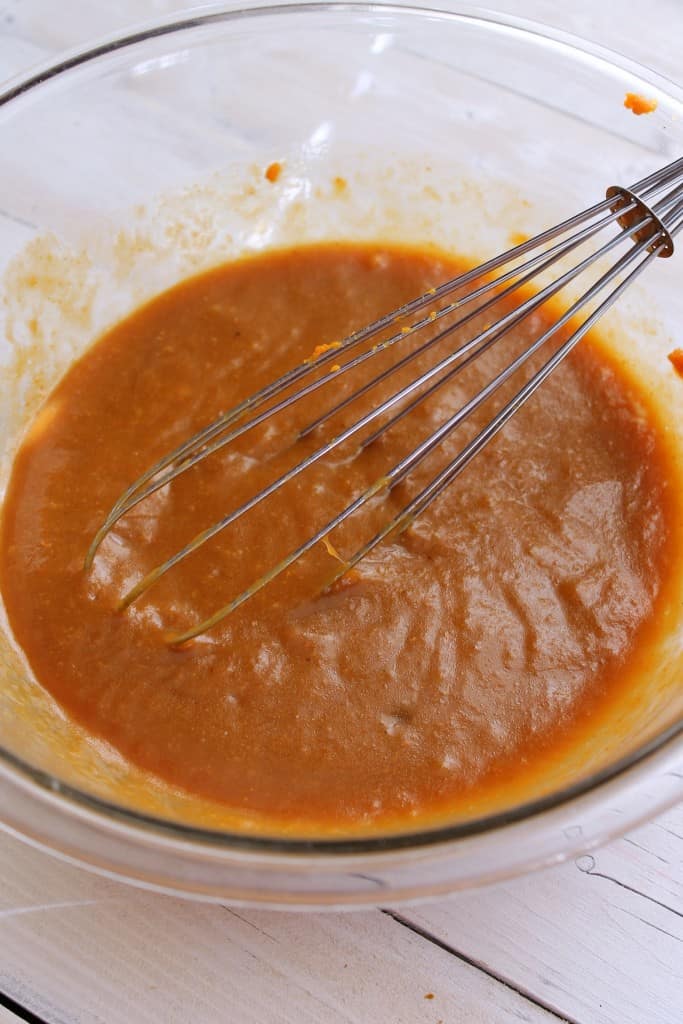 After all the wet ingredients are mixed together I poured the wet mixture into the dry mixture.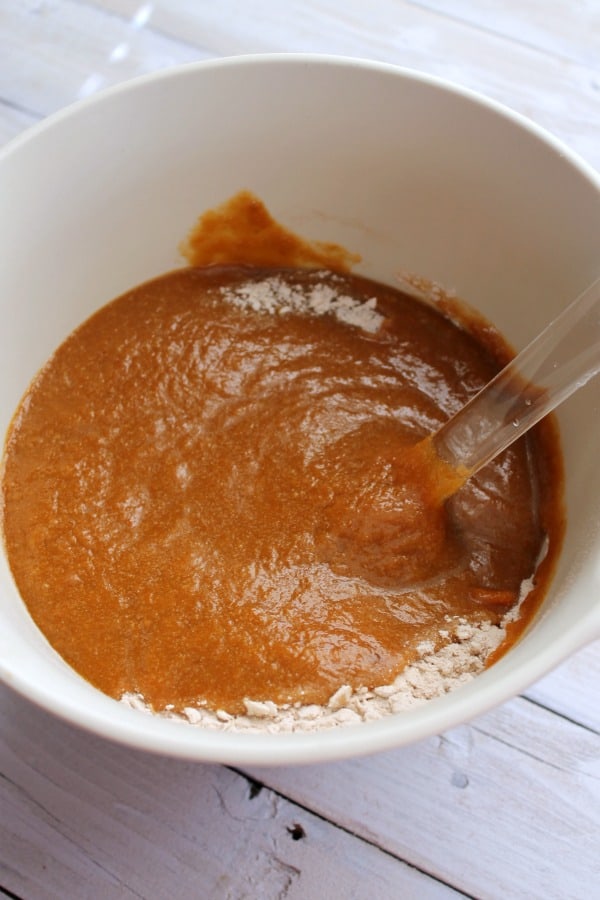 And mixed it up.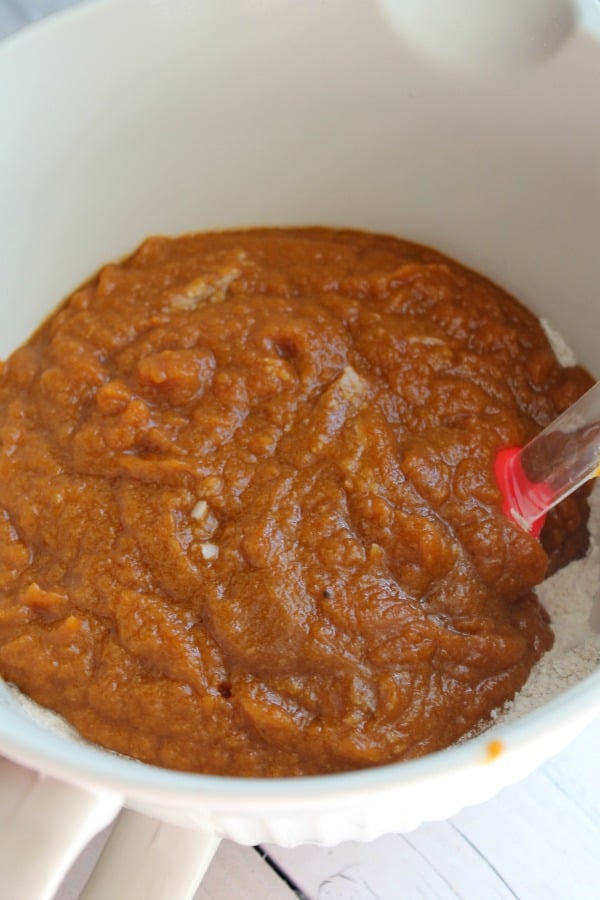 Until it looks like this. This is a thicker batter. Don't worry it bakes up moist and delicious.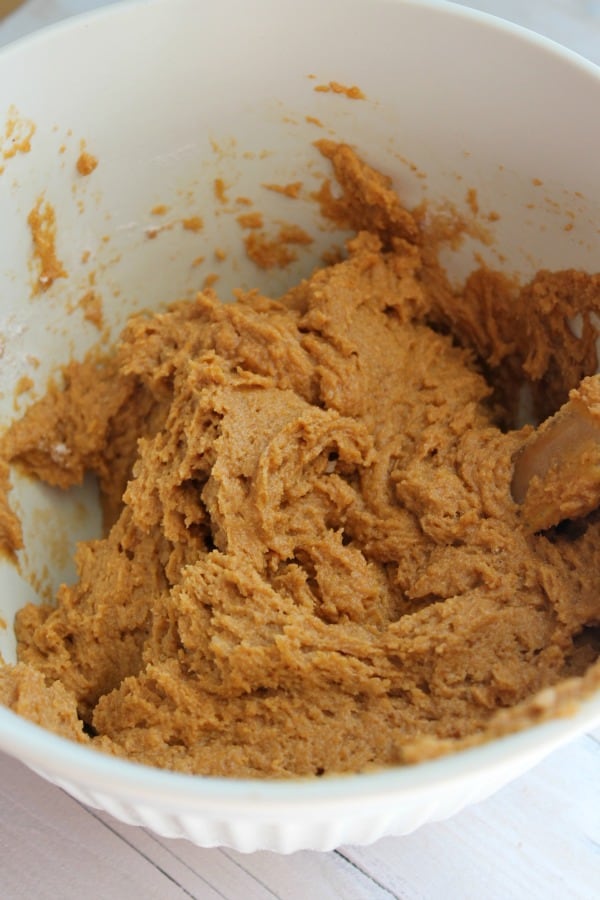 Set the batter aside for a moment while making the cream cheese filling. This is so easy to make. All you need to do is blend together softened cream cheese, eggs, sugar, and vanilla. I use a hand mixer like this one at Amazon. It's a #1 best seller.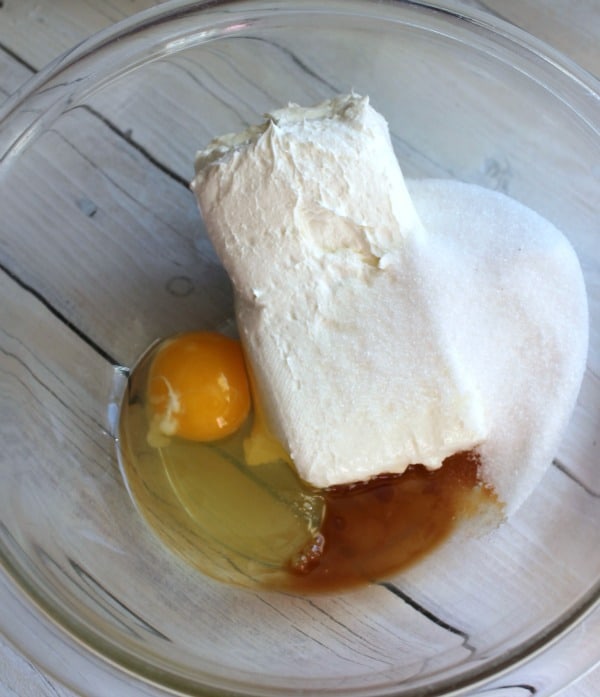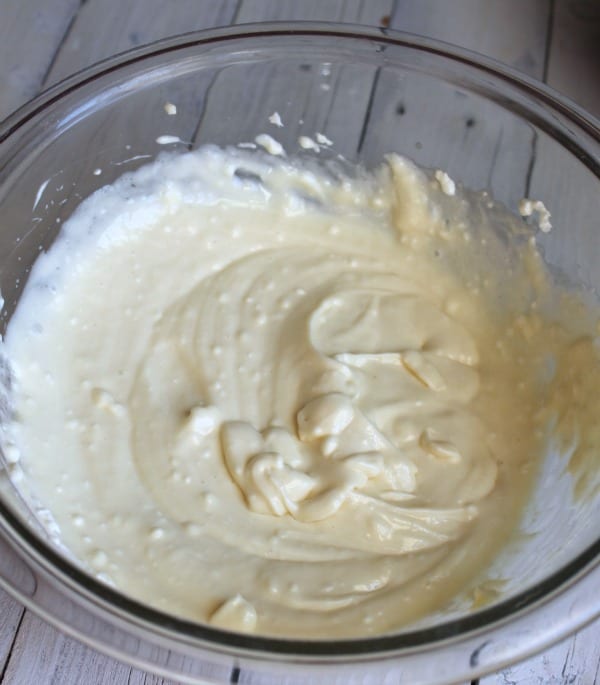 Now divide the batter among a 12-cup muffin pan sprayed with cooking spray. Looking back, I bet I could've got more than 12 servings out of this recipe. That would make the portion sizes a little smaller and also reduce the calories and fat. Something to think about for next time.
Then I used a tablespoon to make a well in the center of each muffin. This is for the cream cheese filling.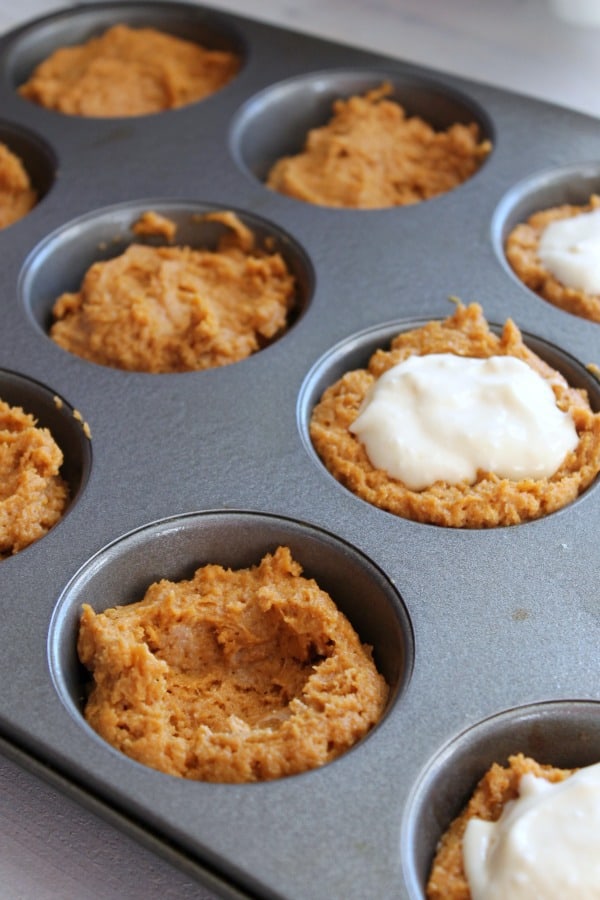 I put about 2 tablespoons of cream cheese per muffin.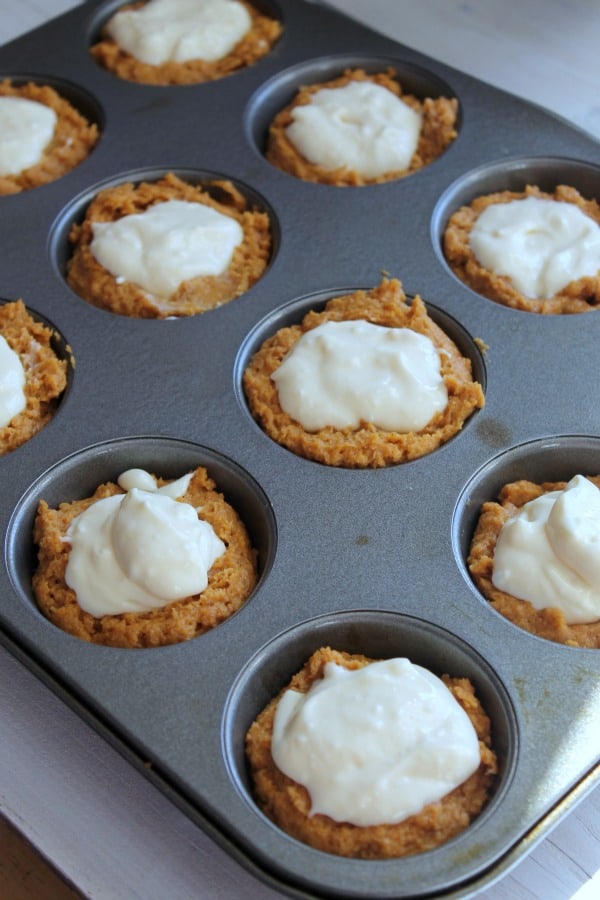 It looks like a lot of cream cheese in the bowl but I ended up using almost all of it. Again, next time I will try to make 16 – 18 small muffins with this recipe.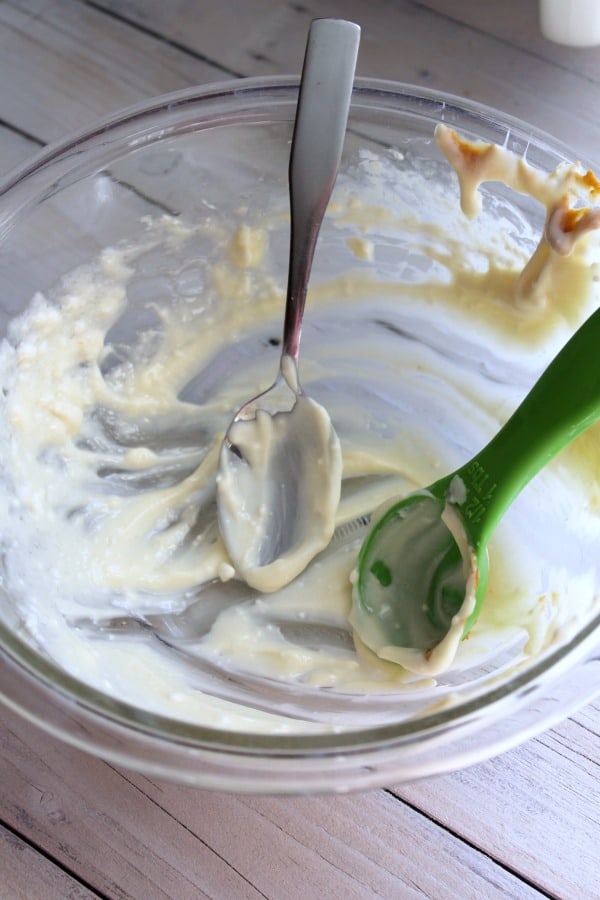 I baked the muffins for 20 – 22 minutes at 350 degrees. Mine cooked great at 20 minutes. You want the filling to be set but not completely cooked. The muffins will continue to cook when you take them out of the oven.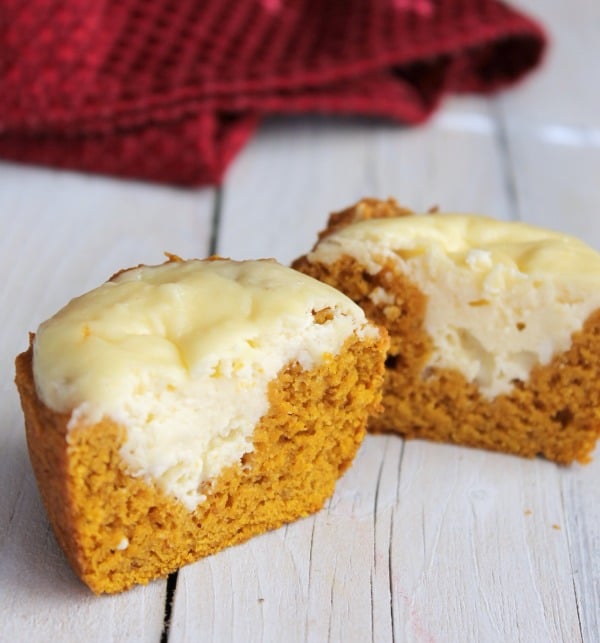 Yummy for my tummy! These Pumpkin Muffins with Cheesecake Filling gives Starbucks a run for their money. Mmmmm.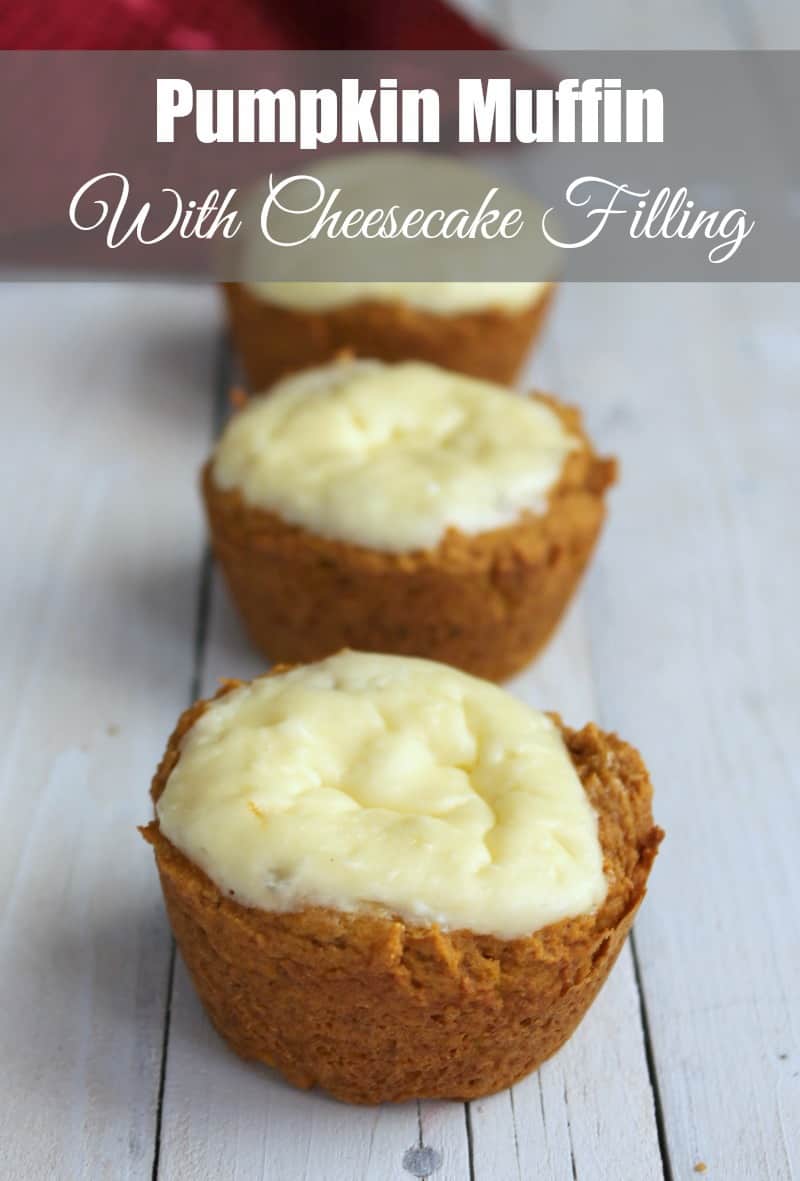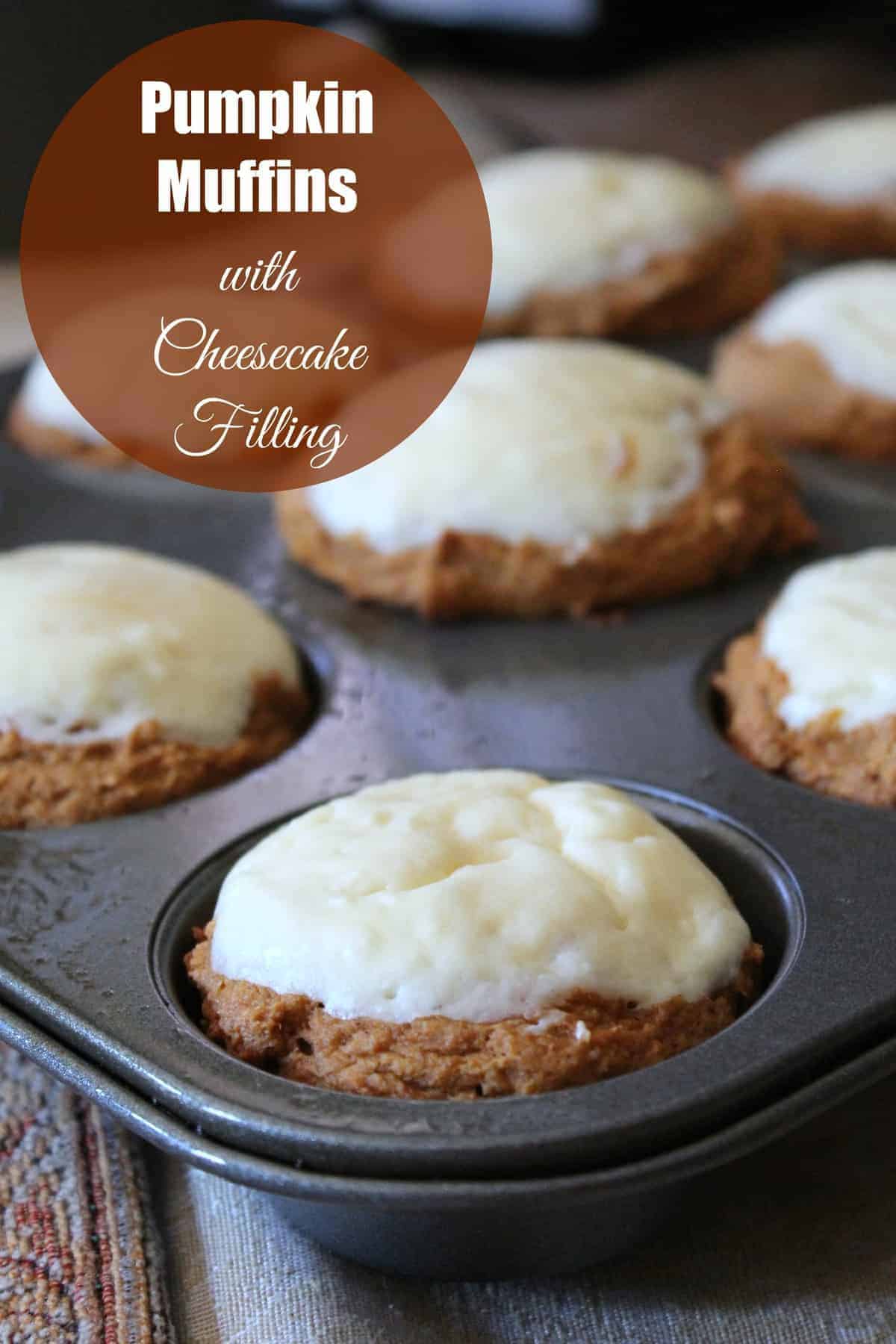 Ingredients
1 1/2

cups

white whole-wheat flour

1

teaspoon

baking powder

½

teaspoon

baking soda

½

teaspoon

salt

1-

teaspoon

pumpkin pie spice

½

cup

brown sugar

¼

cup

granulated sugar

2

large eggs

1-

teaspoon

vanilla extract

1

cup

canned pumpkin

My favorite brand of canned pumpkin is Farmers Market Organic Pumpkin

1/3

cup

melted coconut oil

cheesecake filling

1

8-ounce package low-fat cream cheese, softened

1

egg

1/2

teaspoon

pure vanilla extract

1/4

cup

sugar
Instructions
Preheat over to 350 degrees

In a large bowl whisk together flour, baking powder, baking soda, salt, and pumpkin pie spice. Set aside.

In a medium bowl whisk together sugars, eggs, and vanilla extract.

Stir pumpkin and coconut oil into the wet mixture.

Pour the wet mixture into the dry mixture and stir until combined. Set aside.

In another medium bowl, using a hand mixer, combine cream cheese, egg, vanilla extract, and sugar until blended.

Divide batter amount 12-cup muffin pan sprayed with cooking spray.

Make a well in the center of each muffin and fill with about 2 tablespoons of cream cheese mixture.

Bake for 20 -22 minutes or until cheese cake filling is set.

Let cool in the pan for about 5 minutes and then move to finish cooling on a wire rack.

Store in a plastic container in the refrigerator. These muffins taste best chilled in the refrigerator for a couple hours. This gives the cheesecake filling time to completely set.
Notes
Make ahead instructions
These muffins can be made completely ahead of time and stored in the refrigerator up to 4 days.
Nutrition
Serving:
1
g
|
Calories:
275
kcal
|
Carbohydrates:
37
g
|
Protein:
5
g
|
Fat:
12
g
|
Fiber:
3
g
|
Sugar:
7
g