Healthy meal prep idea for snack time or lunch. Tuna salad rolls served along side raw almonds, grapes, and baby carrots create this high protein low carb delicious snack to keep you full and energized between meals.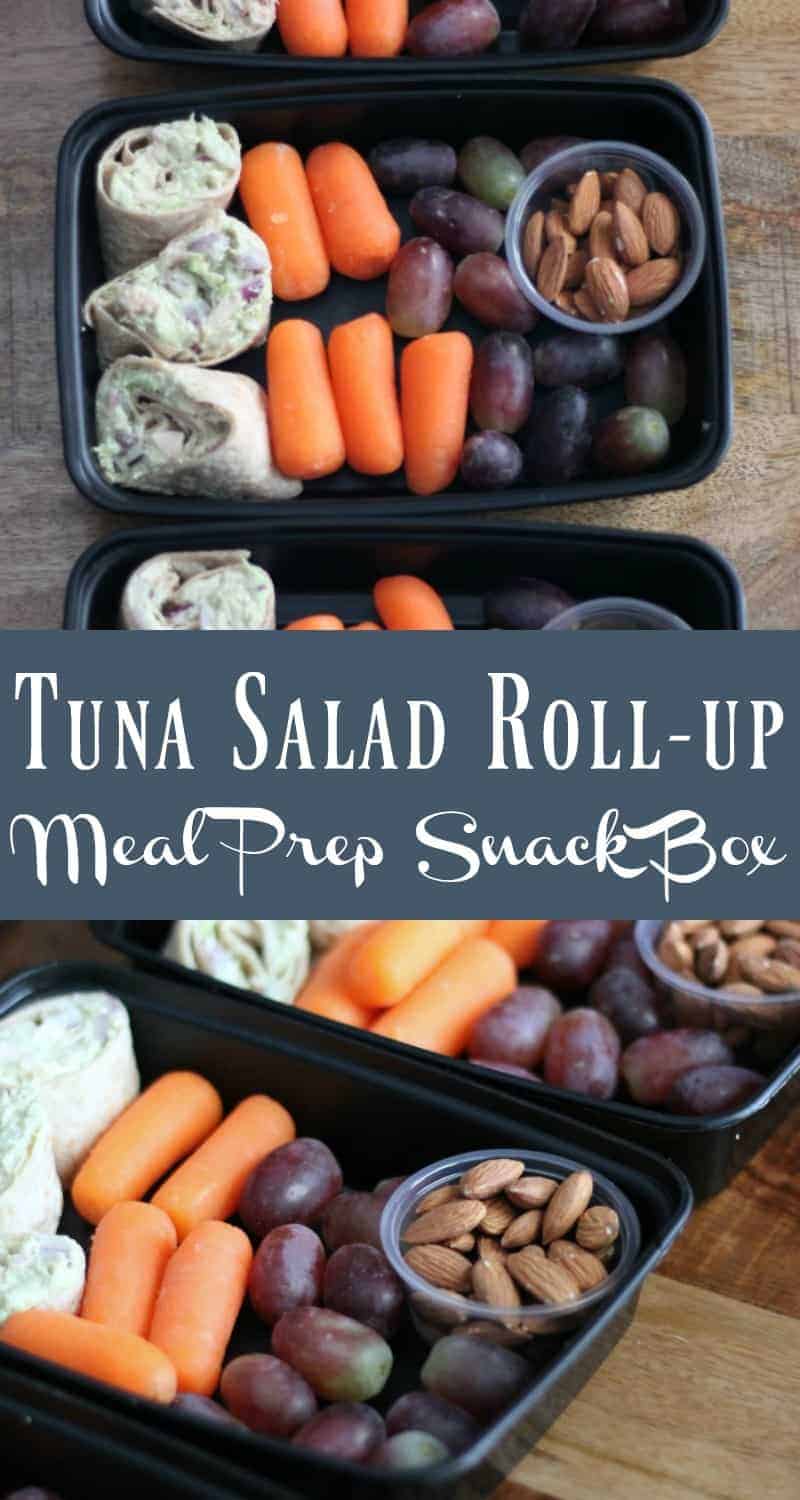 Check out the FREE 7-Day Meal Prep Email Series to learn more about meal prep and how to fit this healthy routine into your lifestyle.
If there's one thing I've learned in all my years of writing Organize Yourself Skinny it's that you love easy healthy meal prep recipes. I totally understand because I'm the same way. Sure, sometimes we have time to prepare a 10 ingredient recipe but more often than not we want minimal ingredients and preferably no baking. Oh and we also need to make it ahead of time because everyone knows we ain't got time for fancy cooking during the week.
That's exactly the reason I love meal prep – especially meal prep snack boxes. They are tasty, require little to no cooking, packed with protein, and can be made ahead of time. I first shared this healthy meal prep idea last year when I talked about protein snack kits. That post was more of a "how to" to give ideas and inspiration for you to create you're own snack kits. Since that post I've receive questions about specific meal prep boxes and if I can share the recipes.
The meal prep snack boxes I put together are more like "non-recipe" recipes because I simply put a variety of snacks in a meal prep box and then put in the refrigerator to enjoy all week. However, I totally understand when recipe ideas don't flow that easily, believe me my brain is fried more often than I care to admit. Therefore, I decided to share some different healthy meal prep ideas starting with this tuna salad roll-up snack box.
Before I get to the details I want to give a few tips about these snack boxes. First, the food in these boxes are my snacks for the day. So I eat some at 10:00am and the rest at 3:00pm. I try to keep the calories for the entire box below 400 calories so that equals about 200 calories per snack. Second, these snack boxes need to be full of protein and fiber. The point of snacks is to keep us full between meals and that's not going to happen without protein and fiber. Last, I try to have a mixture of sweet and savory because I never know what I'm going to crave that day.
Alright, let's get to this Tuna Salad Roll-Up Meal Prep Snack Box.
For the roll-up I used my popular no-mayo tuna salad recipe made with avocado and greek yogurt. Then I divided the recipe between 3 low-carb wraps. I love Father Sam's wraps, they are the only low-carb wrap I can tolerate. Most likely, you won't use all of the tuna salad so simply store the leftovers in the refrigerator for a future lunch. Or you can half the recipe if you don't want any tuna salad leftovers.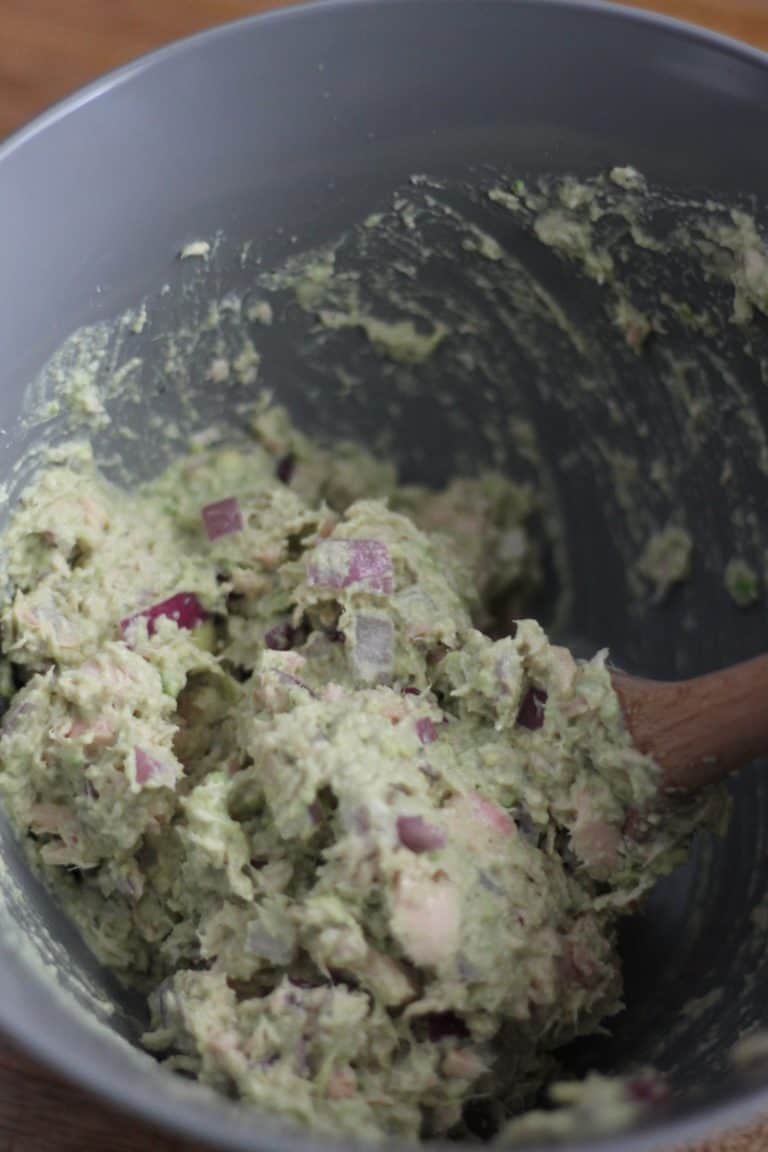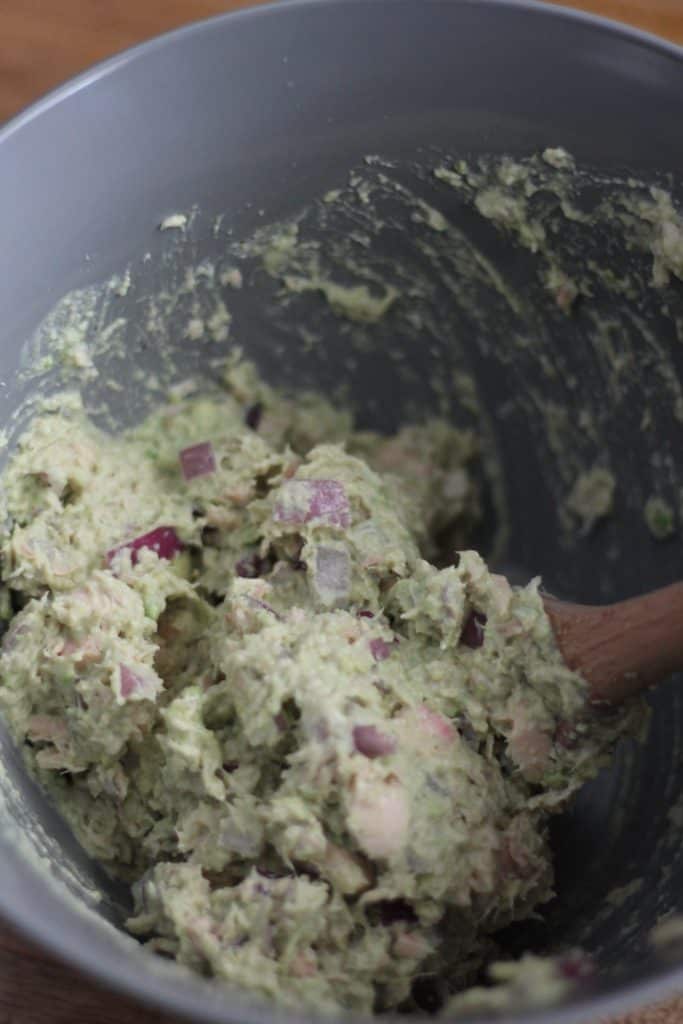 Preparing the tuna salad is the hardest part of the recipe, after that the rest is a cinch. Cut each of the tuna rolls into 5 pieces. Place each piece into the meal prep container. After all is said and done each container will have 3 tuna roll-up pieces. Then place 5 baby carrots, about 10 grapes, and 1/4 cup of raw almonds.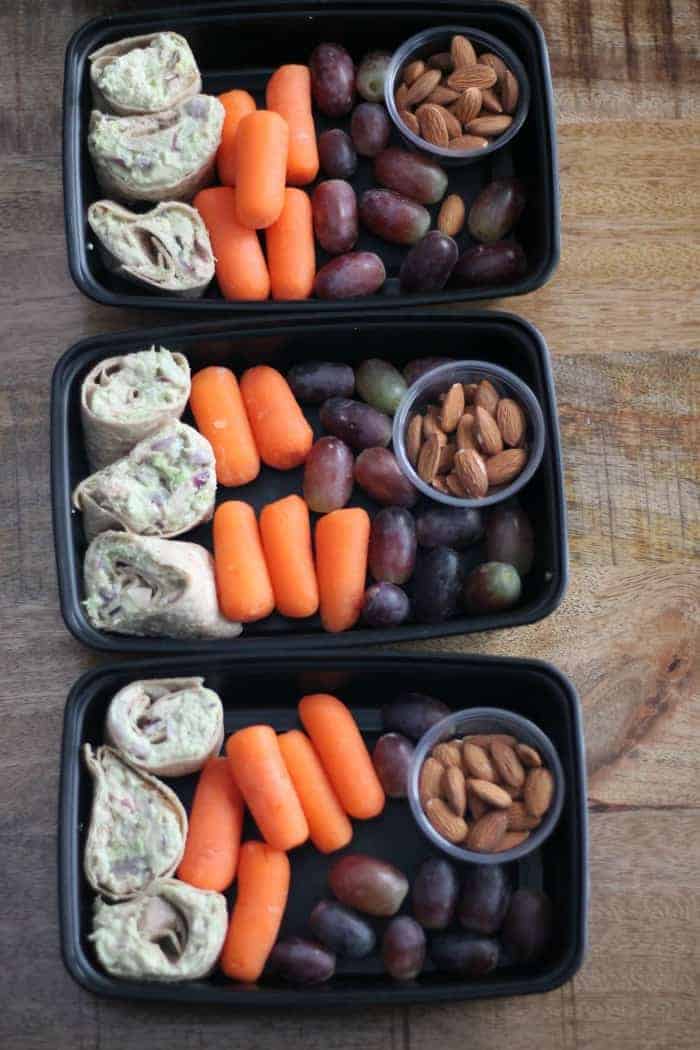 See how easy that is? Honestly, it took me maybe 15-20 minutes to have snacks ready for the week. Of course, if you wanted to eat these boxes for lunch you can. Each tuna roll-up box is 390 calories so it perfect for lunch.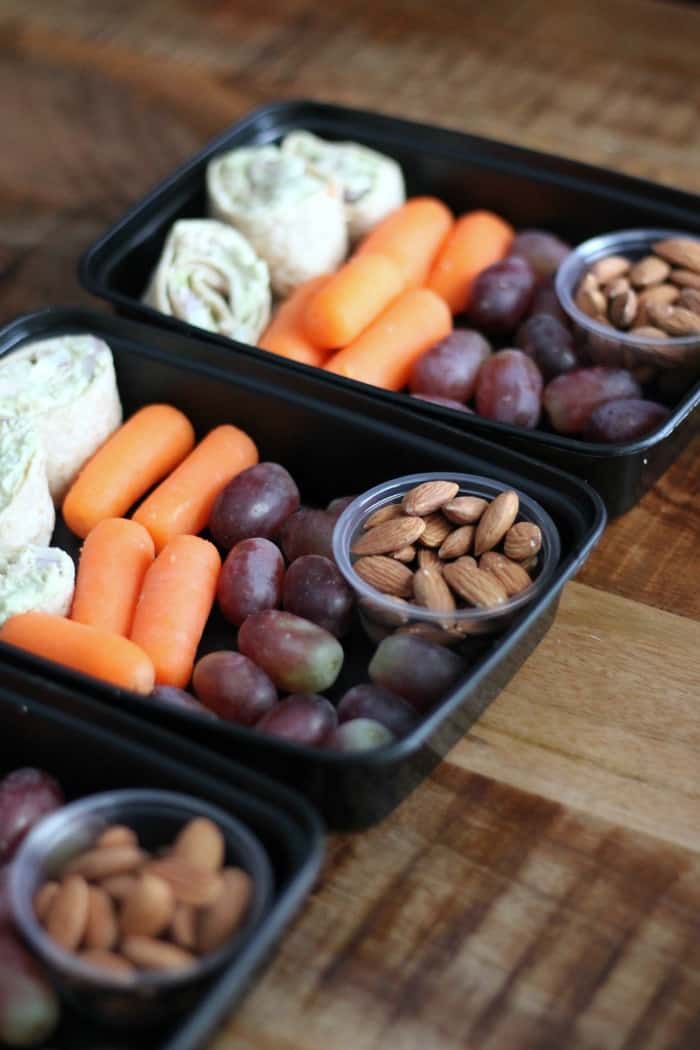 The fat grams for this snack box is 25 grams which seems kind of high. However, all of the fat comes from the avocado and almonds so it's actually good fat. If you want to reduce the fat then make the salad without the avocado. I've done that many times and it's still very good.
If you're looking for a healthy meal prep idea then I hope you give these Tuna Salad Roll-up Snack Boxes a try. These boxes are a great way to get snacks prepared for the whole week in under 20-minutes.
You can purchase the meal prep containers, and small 2 ounce round containers, on Amazon.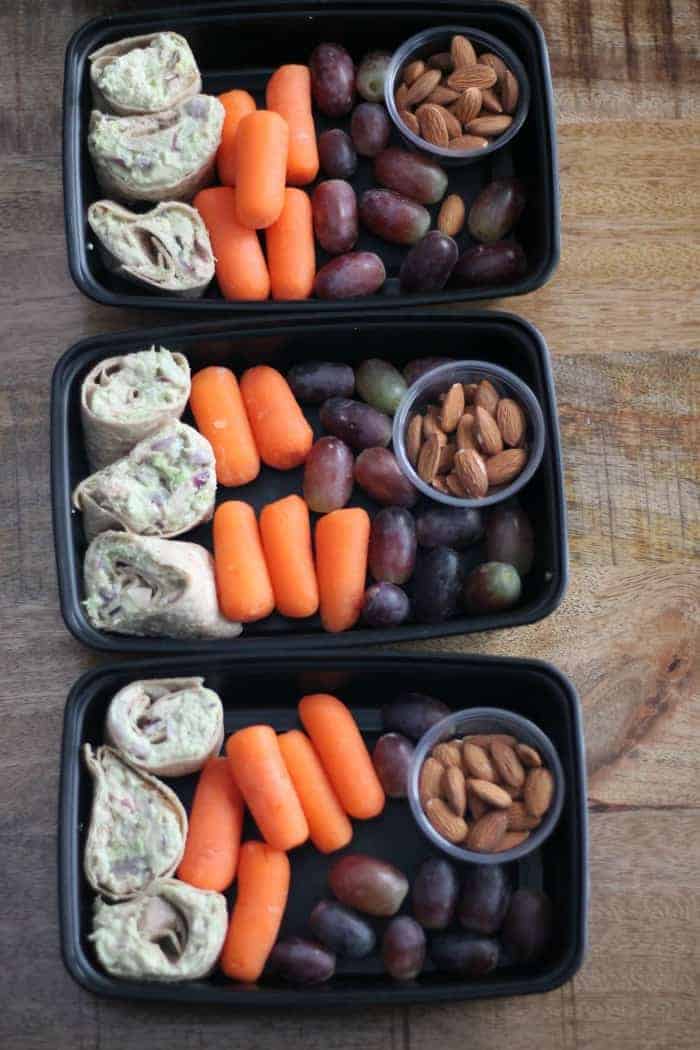 Ingredients
1

No-Mayo Tuna Salad recipe

3

low-carb wheat wraps

15

baby carrots

50

red seedless grapes

1 1/4

cup

raw almonds

divided into 1/4 cup portions.
Instructions
Prepare tuna salad recipe.

Divide tuna salad between the three wraps and roll up. Cut each tuna roll into 5 pieces.

Place 3 tuna rolls into each meal prep containers. Then divide the rest of the ingredients between the meal prep containers.

Store in the refrigerator.
Notes
Sugars: 6
Make-ahead Tips
These meal prep boxes can be made on Sunday to enjoy all week.
Nutrition
Serving:
1
g
|
Calories:
390
kcal
|
Carbohydrates:
22
g
|
Protein:
27
g
|
Fat:
25
g
|
Saturated Fat:
2
g
|
Fiber:
10
g