Thank you to Stevia in the Raw® Bakers Bag for sponsoring today's Lemon and Blackberry Snack Bar recipe.
My kids ask me all the time to make desserts. ALL.THE.TIME! They are also convinced you want to see more desserts too. My oldest says things like "mommy people can't just drink green smoothies". I guess she has a point.
But here is the thing.
And I am pretty sure I said this before.
The reason I don't make a lot of desserts is simple – I will eat them. Every last bite will be gone. It is next to impossible for me to work all day from home and see a sweet treat glaring at me and not eat it. I will eat it.
But I know you want more desserts and so do my kids…soooo I will take one for the team and make more. I promise. Starting with these lemon and blackberry snack bars. 
The good thing about making homemade desserts instead of buying them is I control the ingredients and portion size. I also find when I take the time to put a dessert together I need to be patient – and so do my kids. It's easy to buy a bag of cookies from the store and dig in. Many times that bag is gone before you even a have a chance to think about what you just ate. However, when you take the time to make cookies and other desserts at home you need time and patience. This removes the instant gratification and mindless eating and gives you time to think before you eat.
Of course a dessert is still a dessert. There is no way to get around using some sugar, fat, and carbs in a dessert recipe. It probably wouldn't be a dessert if you didn't. Good news is over the years I have come across tricks and substitutions that produce lightened up versions of my favorite dessert recipes – without compromising on flavor. YAY!
Even if I prefer not to have desserts in my house I do think it is important to have dessert recipes you can bring to parties. Everybody loves the person who brings the sweet treat to the party. It's the truth 🙂 I never got rave reviews for my veggie tray. Ha! Anyway, Memorial Day is right around the corner and these lemon and blackberry snack bars are the perfect dessert to bring. I love lemon any time of the year but it is especially good in the springtime. The flavor is so fresh and screams picnic and party time!
Let's talk about the recipe!
I started with a basic crust made up of quick cooking oats, flour, brown sugar, and butter. Like how I sneak some oats into the crust? Nobody will even notice.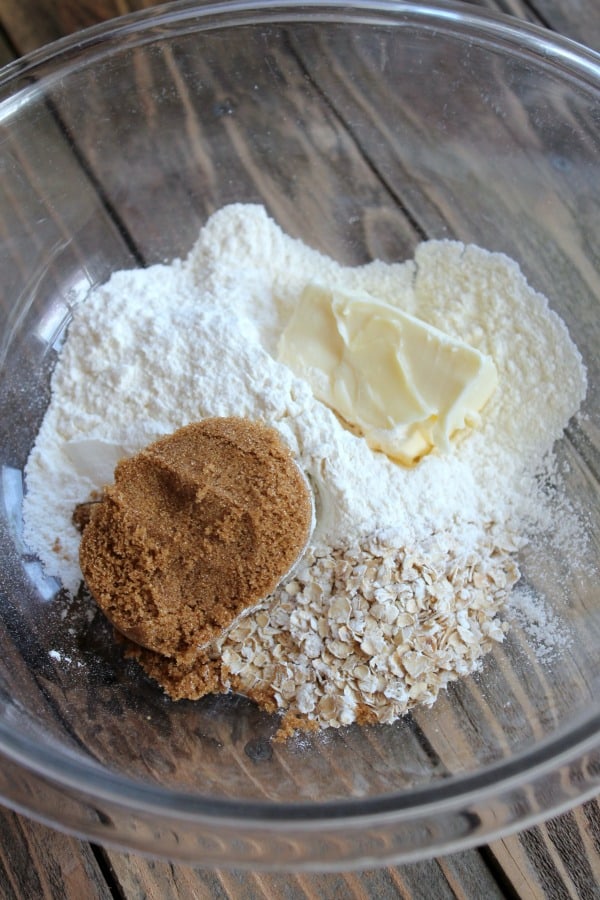 I cut all the crust ingredients together with two butter knives. You want to do this until it becomes a coarse mixture.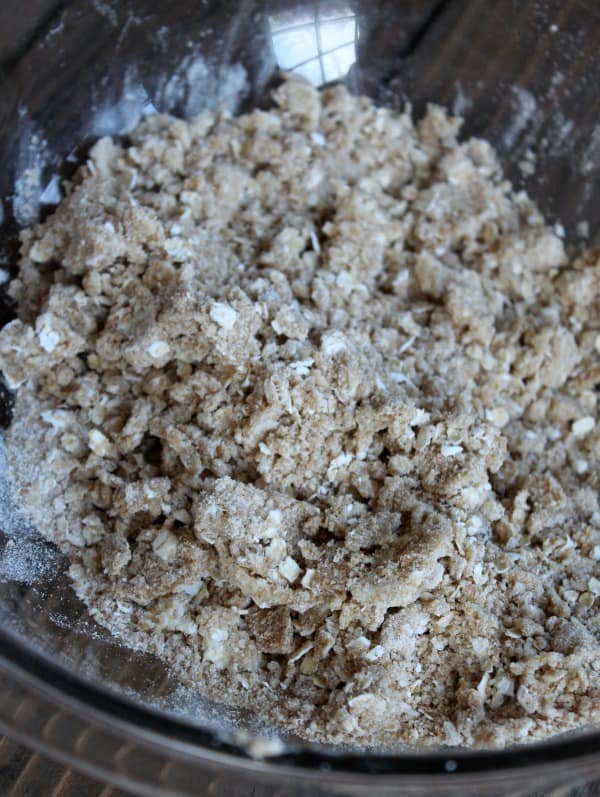 Then coat a 9 x 9 inch baking pan with cooking spray and press the crust into the bottom of the pan. This can be a little tricky but don't worry it all fits and will stay together.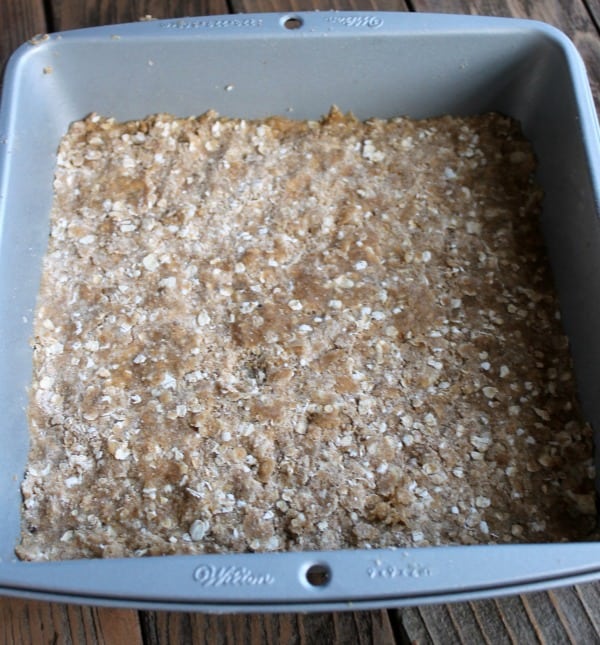 Cook in a 350 degree oven for 15 minutes or until brown.
At first I was not going to add the blackberry preserves but….when I saw them in my refrigerator I thought it would taste delicious in these bars. I was right.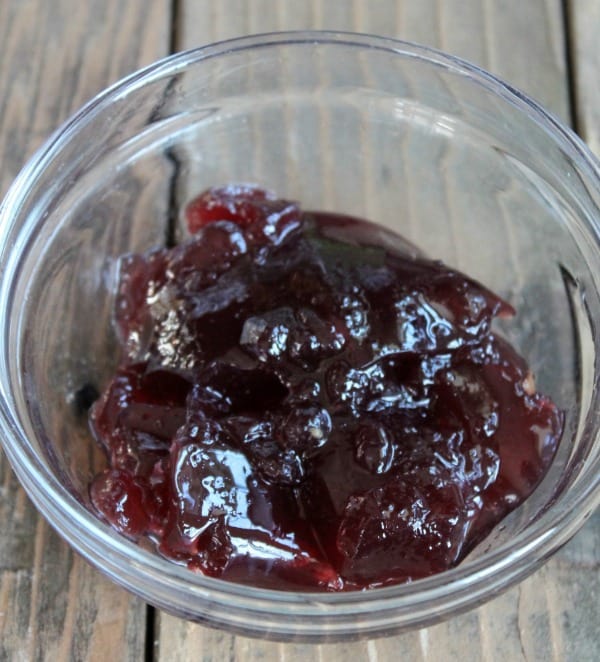 Microwave the preserves for about 30 seconds or so. This helps make the preserves spread better on the crust.
Next I went to work on the filling. To lightened up these bars I decided to substitute some of the sugar in the filling with Stevia in the Raw® Bakers Bag. Most baking recipes need sugar as part of the recipe because it helps with browning and rising. I started with ½ sugar and ½ Stevia in the Raw® but decided after making this recipe a couple times I prefer to substitute ¼ cup out for Stevia in the Raw®. This amount reduced the calories of the dessert bars while still keeping the sweet tart flavor I love with lemon bar recipes.
I love the Stevia in the Raw® Baker's Bag and found it to be very helpful when measuring out the amount of Stevia in the Raw® I needed for my recipe. It stands up straight and opens and closes very easily. This bag is also the perfect size and fits nicely with all my other baking ingredients.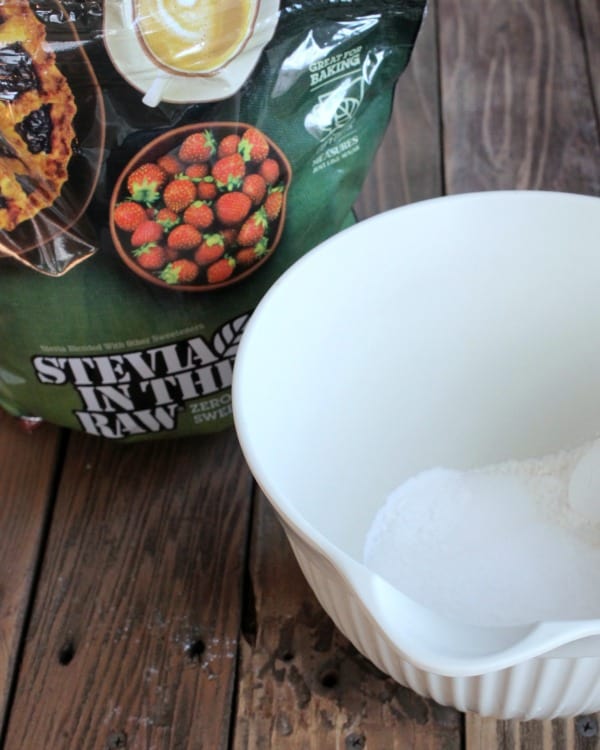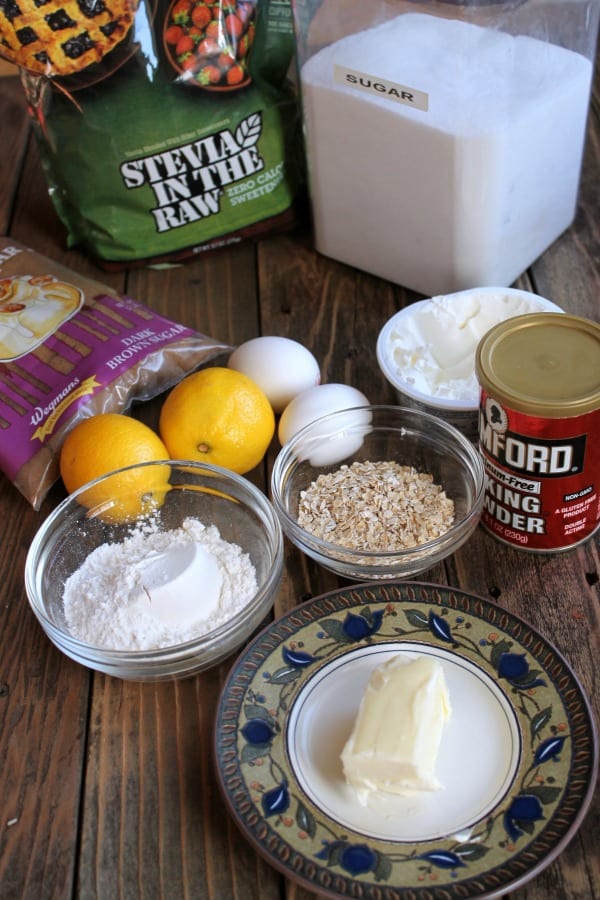 Next I added cream cheese, egg, lemon zest, and lemon juice. I love the cream cheese in the recipe because it almost gives it a cheesecake type consistency. Very good!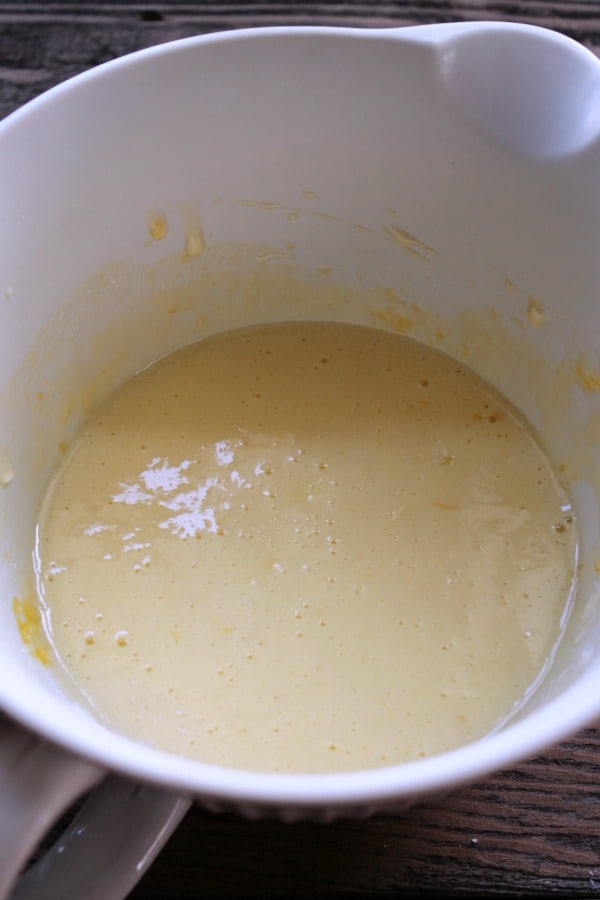 Then I poured the filling over the top of the preserves and baked for 25 minutes.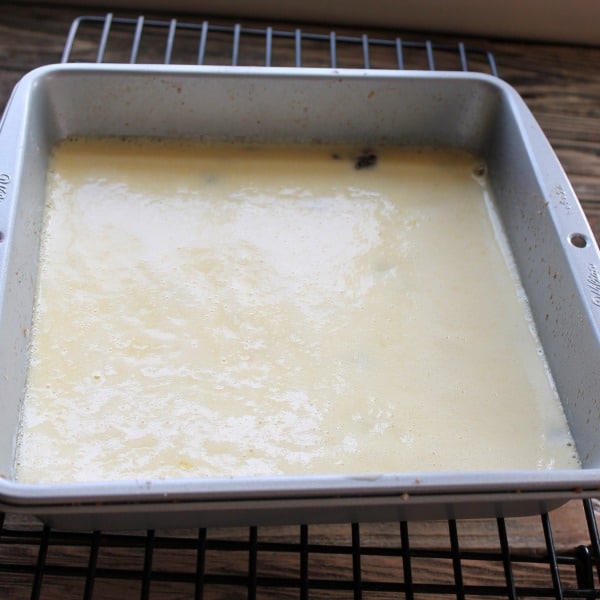 I let the bars cool on a wire rack and then chilled overnight in the refrigerator. After the bars were chilled I cut into 16 squares and served.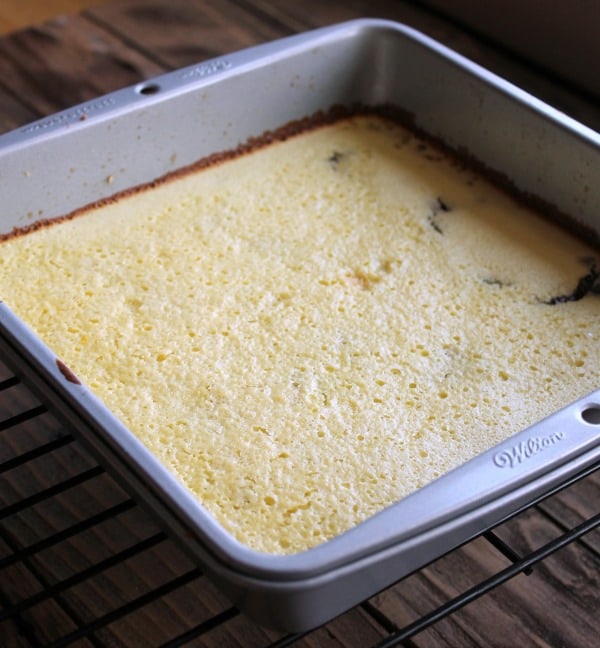 These lemon and blackberry snack bars have great flavor. Sweet, tart, and a little creamy. Perfect for a Memorial Day picnic or party.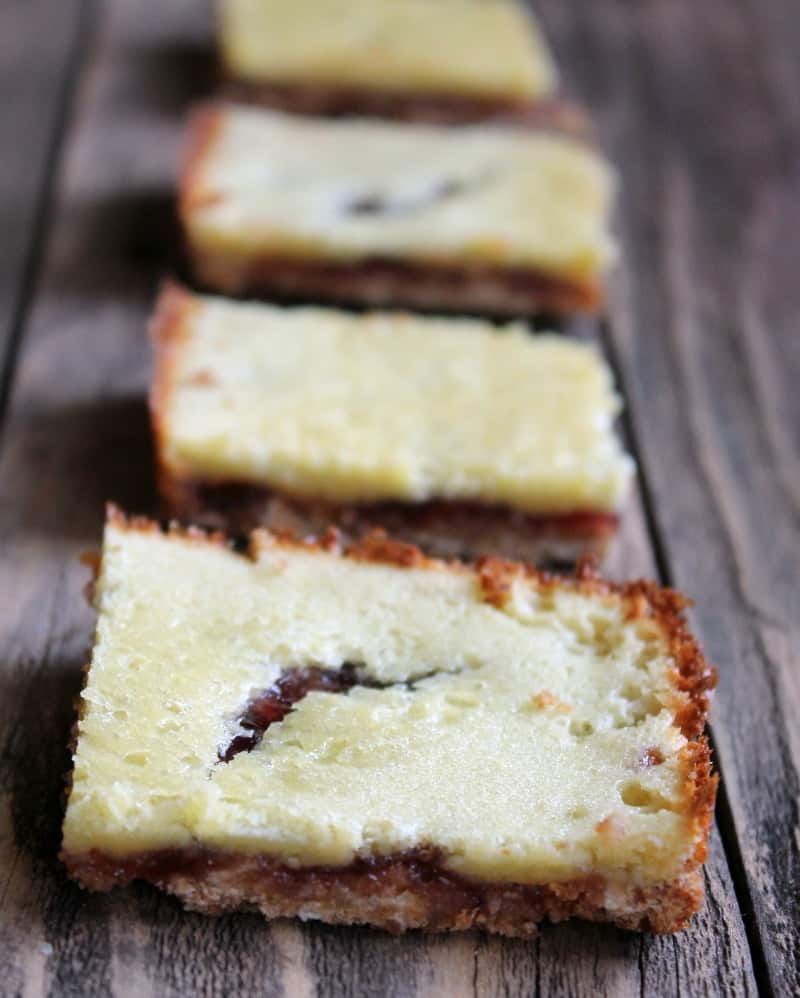 You can learn more about Stevia in the Raw® on their website on the In The Raw® Facebook Page, Twitter Page, Pinterest, or Youtube. You can get a coupon here and check here for a retailer near you.
Thank you again to Stevia in the Raw® for sponsoring this Lemon and Blackberry Snack Bar recipe.

Lemon and Blackberry Snack Bars @InTheRawBrand #InTheRaw
Author:
Organize Yourself Skinny
Ingredients
For the crust
½ cup flour
⅓ cup quick cooking oats
⅓ cup brown sugar
¼ cup unsalted butter, softened
For the filling
½ cup blackberry preserves
¾ cup sugar
¼ cup Stevia in the Raw Bakers Bag
½ teaspoon baking powder
2 tablespoons tub regular cream cheese
2 eggs
1 teaspoon lemon zest
¼ cup fresh lemon juice
Instructions
preheat oven to 350 degrees.
In a medium bowl combine flour, quick cooking oats, brown sugar, and butter. Using 2 butter knives cut it all together until it forms a crumb mixture.
Press the crust into a 9 x 9 baking pan coated with cooking spray.
Bake for 15 minutes or until browned. Let it cool on a wire rack.
Place blackberry preserves in a small microwave safe bowl for 30 seconds. Spread preserves over the crust.
In a medium bowl combine sugar, Stevia in the Raw, baking powder, cream cheese, eggs, lemon zest, and lemon juice. Using a hand mixer, mix all the ingredients on medium speed until blended and smooth.
Pour over the preserves and crust.
Baked 25 minutes.
Let the bars cool in pan on a wire rack.
Chill overnight in the refrigerator.
Cut into 16 squares and serve
Nutrition Information
Serving size:
1 bar
Calories:
101 calories
Fat:
4
Carbohydrates:
14
WW Points +:
3
Fiber:
0
Protein:
2
This is a sponsored conversation written by me on behalf of In The Raw via Burst Media. The opinions and text are all mine.
This is a sponsored conversation written by me on behalf of In The Raw via Burst Media. The opinions and text are all mine.
Get Instant Access to My Best Weight Loss Tips & Strategies!
Sign up now for a free step-by-step 7-day email course that I created exclusively for my email subscribers! That's you. I will teach the best habits, strategies, and insider tips so you can enjoy a lifestyle that encourages and supports weight loss! Stop relying on willpower and take control back over your life! You can do this. Let me help!