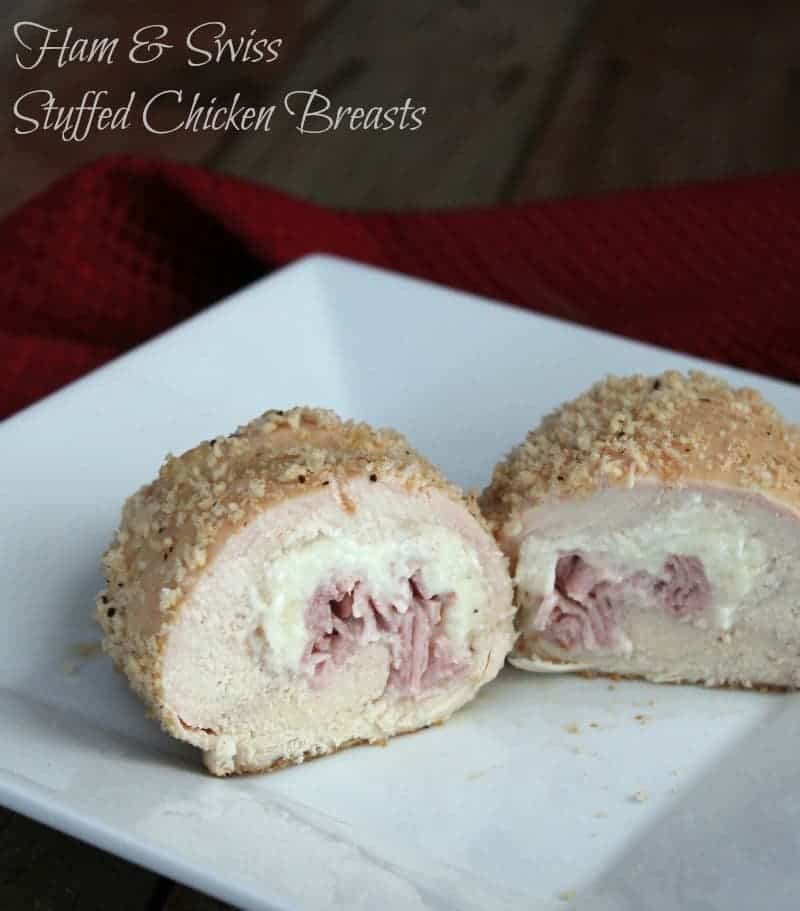 I love simple recipes. Ya know what I love even more than simple recipes? Simple recipes that look fancy and taste great. This is why I make stuffed chicken breasts. They are probably one of the easiest chicken dishes to make but they look like a recipe you could only find in a restaurant. At least I think they look that fancy 🙂
This Ham and Swiss Stuffed Chicken Breasts recipe takes simple and easy to a whole new level. Not kidding. The only ingredients you need are chicken breasts, cream cheese, shredded swiss cheese, ham, panko, and some basic spices. You probably already have on hand most of these ingredients. If you don't have panko then use regular bread crumbs.
Also, I had these chicken breasts stuffed and ready for the oven in less than 15 minutes. Pounding out the chicken took the most time and made the most mess. If you don't have time during the week then prepare the chicken breasts on the weekend. After you pound out, stuff, and dip in panko just store in the refrigerator or freezer. If you freeze them take out the night before you are going to eat and allow the chicken to thaw in the refrigerator. You might need to add on to the cooking time.
Even though the ingredients are simple the taste is fantastic. The recipe itself is quite filling so I recommend serving with a salad. However, you can serve with vegetables and rice.
Try my other stuffed chicken breast recipes.
Ham and Swiss Stuffed Chicken Breasts
Author:
Organize Yourself Skinny
Recipe type:
dinner, chicken recipes
Ingredients
1 teaspoon granulated garlic
1 teaspoon onion powder
½ teaspoon salt
½ teaspoon ground pepper
2 ounces cream cheese, softened
1 cup shredded swiss cheese
½ cup seasoned panko crumbs
4 (4 ounce) chicken breasts
4 slices of smoked deli ham
Instructions
Preheat oven to 350 degrees.
In a small bowl mix together the cream cheese and swiss cheese. Set aside.
In another small bowl mix together the granulated garlic, onion powder, salt, and pepper.
In another medium bowl pour in the panko bread crumbs.
Using a meat mallet, pound the chicken breasts until you get the desired thickness.
On each chicken breast, sprinkle ¼ - ½ teaspoons of the spice mixture and then spread ¼ of the cheese mixture.
Take 1 slice of ham, chop it up, and sprinkle on top of the cheese mixture.
Roll up the chicken breast then coat with the panko bread crumbs. Place on a baking sheet sprayed with cooking spray.
Repeat with remaining chicken breasts.
Bake for 40 -45 minutes or until chicken is done and juices run clear.
Notes
Make Ahead Tips
These chicken breasts are easy to make ahead of time. You can prepare the breasts and before you cook them store in the refrigerator or freezer. If you decide to freeze the chicken breasts then take out the day before you make them to thaw in the refrigerator. You might need to add on some cooking time if they are still a little frozen. Or you can prepare and cook ahead of time. Once cooked you can store in the refrigerator or freeze. Again, if frozen take out the day before then warm up in oven for about 15 minutes or so at 350 degrees. You can also heat up in the microwave for about 3-5 minutes on high.
Nutrition Information
Serving size:
1 stuffed chicken breast
Calories:
323
Fat:
14
Carbohydrates:
10
WW Points +:
8
Fiber:
0
Protein:
35
Get Instant Access to My Best Weight Loss Tips & Strategies!
Sign up now for a free step-by-step 7-day email course that I created exclusively for my email subscribers! That's you. I will teach the best habits, strategies, and insider tips so you can enjoy a lifestyle that encourages and supports weight loss! Stop relying on willpower and take control back over your life! You can do this. Let me help!