If you're looking for healthy gifts to purchase for someone's who trying to lose weight then check out this list. I put together my favorite gift ideas.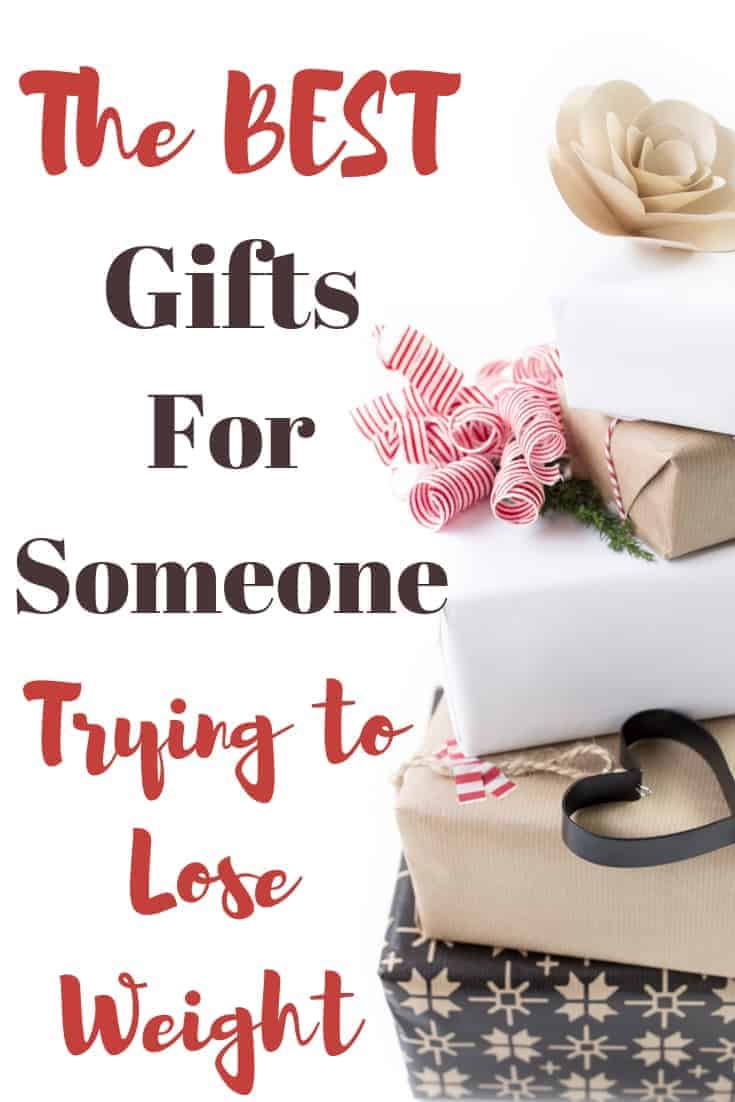 We are coming up on the holiday season. This means time to start thinking about gifts. I don't know about you but I find gift giving to be a little on the stressful side. It's not that I'm cheap, or anything like that, I just don't like wasting money on a gift that won't get used – or worse, thrown out. How many times have you graciously received a gift only to never use it. Next thing you know it's be sold "new in box" a few years later on Ebay or at a garage sale. Hey, no judgement here, we all know it happens.
This is why I take gift giving seriously. I like to give practical gifts I KNOW the other person will enjoy. To be honest, I put a lot of thought into the gifts I buy. If I'm going to spend money I want to make sure it's not going to be wasted. And now that I think about it, I really don't mind spending a few extra bucks if I know the person will enjoy and use it.
In this post, I'd like to share a few healthy gifts you can purchase for someone trying to lose weight. I know it might seem a little awkward purchasing someone a "weight loss" gift but typically when someone is starting a weight loss journey they are "all in". Meaning everything they do is about breaking old habits, creating a healthier lifestyle, and losing weight. In a way, losing weight becomes their new hobby. So, it's my guess, a person working hard towards losing weight will appreciate a well thought out healthy gift idea instead of being offended by it – I know I would.
It's important to support others that are trying to lose weight. Trust me, losing weight isn't easy so having people in your corner can and will make a huge difference. One ways you can be supportive is to purchase healthy gifts to encourage someone's weight loss efforts.
Now of course, if the person you're buying for hasn't expressed an interest in weight loss, but you still hand them a gift certificate for Weight Watchers…then, ummm ya, that can be a problem. My advice, use common sense and your best judgement.
If the person is excited about their weight loss journey, and sharing their experiences with you, then I'm confident they'll love one of these gifts.
Healthy Gifts For Someone Trying to Lose Weight
Meal Kit Delivery Gift Card
If you're looking for gifts for healthy eaters then a meal kit delivery service might be just the thing.
Unless you've been living under a rock then I'm assuming you've come across 1 or 50 of the different meal delivery services out there. Now, just in case you're not quite sure what a meal kit delivery service is let me quickly explain. Basically, each week you get to pick out recipes from a list and then all the ingredients for those recipes are delivered to your door. From there all you need to do is cook a healthy home-cooked meal.
For the most part, each meal kit delivery company functions the same – pick recipes and they deliver the ingredients. However, when it comes to healthy meals, not all companies are the same.
The meal kit company I'd recommend, as a healthy gift, to someone looking to change their eating habits is Sun Basket. This is my personal favorite.
Sun Basket offer recipes that include organic ingredients along with low-carb, paleo, and other healthier options. So, this is a great option for someone starting the Paleo or Keto diet.
Sun Basket is actually a full-service meal company now offering breakfast, lunch, dinner, and tons of grocery items. You can get everything from chocolate covered almonds to olive oil. So, a gift card can be used for numerous items to get them on track with their eating goals.
Sun Basket Promo Code
Right now, Sun Basket is offering new subscribers $35 off their first box.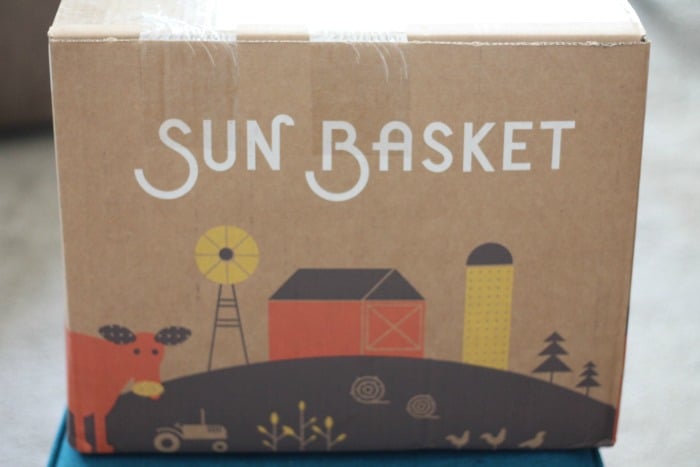 If the person you're buying for is super busy and struggles to meal plan and grocery shop then a gift card to Sun Basket would be an awesome gift. This could be just the thing they need to jumpstart their healthier eating habits!
If you want to learn more then read my updated Sun Basket Review.
Grocery Delivery Services and/or Meal Planning Gift Card
Maybe, a meal kit delivery service isn't something the person you're buying for would like – hey, these services aren't for everyone. However, they like the idea of food getting delivered to their door but don't need the recipes picked out for them. Don't worry I have a couple more healthy gift ideas for you.
If the person you're buying a gift for can appreciate the convenience of healthy food delivered to their door then consider a gift card to one of these services.
Butcher Box Gift Card – This is a meat delivery service that focuses on organic, grass fed, super high quality meats. How this works is you order a box (curated or custom) of meat every month or so and it gets delivered right to your doorstep.
If the person you're purchasing for is focusing on clean eating, paleo, keto, or the Whole30 diet then this would be a great gift. Even if they just appreciate high quality meats and convenience this would perfect. You can learn a lot more by reading my Butcher Box Review.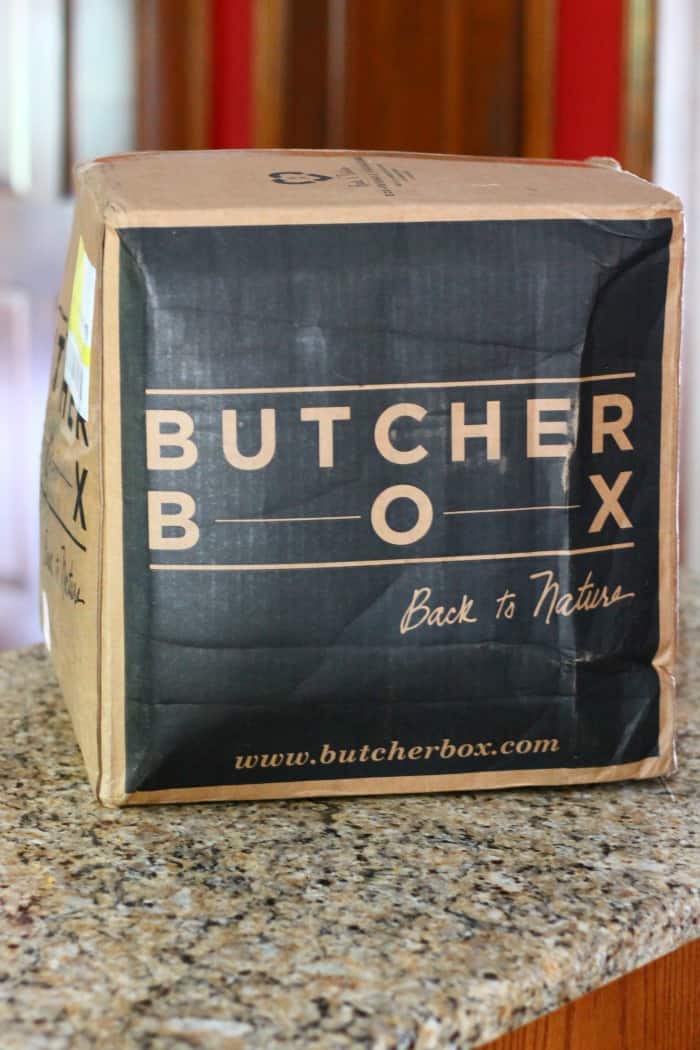 Thrive Market Membership – This is an online grocery store that focuses on natural and organic products. You can get everything from macaroni and cheese to shampoo. All you need to do is place an order on their website or app and your items will be delivered in a few days.
The prices are very comparable to local grocery store prices. Again, this gift works great for someone who has limited time but still wants to prioritize healthy foods. However, it would also be perfect for someone that doesn't have easy access organic and natural products. You can learn more by reading my Thrive Market Review.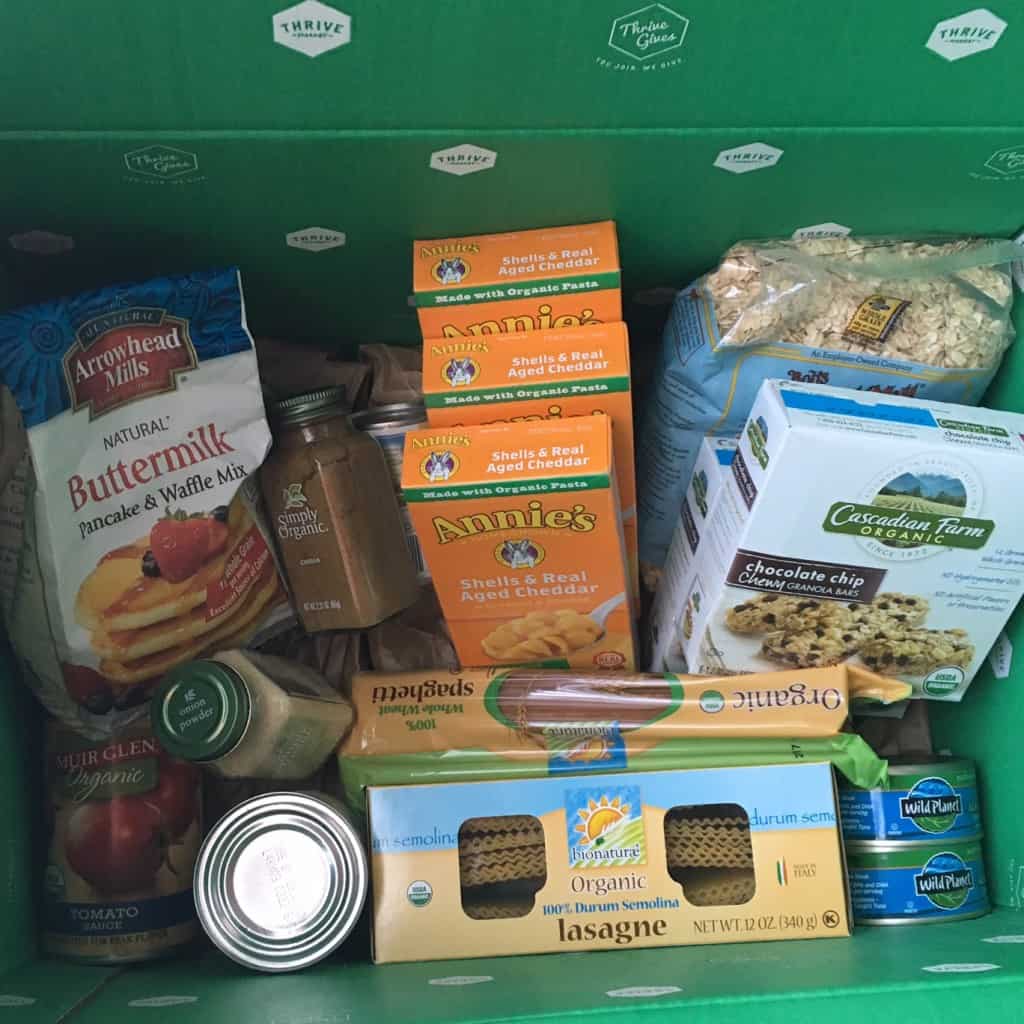 Plan to Eat is an online menu planner. That sounds so basic because it's actually much more than that. With Plan to Eat you can save and organize all your recipes, drag them into a meal planner, and then create a grocery list with those meals.
But it even does more than that.
You can tag recipes, easily create weight loss meal plans, track food in your pantry and freezer, and the list goes on. A yearly membership is only $39 a year and it's worth every penny. Meal planning is a huge part to losing weight so this would be a very practical gift for someone just starting out. You can gift them a subscription here.
Exercise Gear
Now let's move onto to exercise gifts. Healthy gifts come in all shapes and sizes so if one of the food ideas above won't work out then maybe these will.
At first I was going to add a gym membership to this list of healthy gift ideas but after a second thought I decided to leave it off.
Here's the thing, I think some people like the idea of a gym membership, and can thrive with one, but I think exercising at home is more appealing to an exercise newbie. Personally, I'd rather workout at home so, if I was just starting out, I'd love to get one (or more) of these gifts:
Quite honestly, this is all you need to get in a solid workout 3-5 times a week. Not to mention, everything on this list is rather inexpensive too. Purchase it all and gift to someone as a exercise starter kit!
Wireless Earbuds
I CANNOT live without my earbuds – love them! I use them on the treadmill, going for a walk, at Panera bread, doing the dishes, and whenever I just need to focus. Personally, I think this would be a fantastic gift for someone starting an exercise routine. I use these inexpensive ones (under $20) and honestly love them.
Fitbit
Everyone I know that has a Fitbit loves it so I feel this would be a fantastic gift to give someone who's just starting their weight loss journey. Using a Fitbit is actually a great way to start holding yourself accountable to your weight loss goals.
You can track calories, steps, and many other things using a Fitbit. We put together a review on the different Fitbit models so if you're unsure about which one to purchase then read this first. The most popular model, and one that I think would work great for someone just starting out, is the Fitbit Charge. We just bought this for my mother-in-law and she loves it.
Healthy eating tools
This could be a healthy gifts guide in itself! There are so many kitchen tools available that would be great for someone just starting on their weight loss journey. However, these are three that I think would made a nice gift.
Many people already have an Instant Pot, but if the person you're purchasing for doesn't I bet they would love to receive this as a gift. Instant Pots do the work of like 9 small kitchen appliances so it's really one of the best healthy gifts out there – and it's super practical. Not to mention, Instant Pot are relatively inexpensive. You can get this popular model for under $80 on Amazon.
Spiralizer
If the person you're purchasing for is planning to reduce carbs then it won't be long until they want to try zoodles and every other spiralized vegetable. Spiralized veggies are a great way to trick your brain into thinking it's eating pasta when really your enjoying fiber-rich low calorie vegetables. I own this electric spiralizer and it works great. However, the handheld ones work nice too. If they're brand new to spiralizing then think about giving this cookbook alongside the spiralizer.
I know this is an expensive gift but let's say you're purchasing this for someone you really like, love, or just started dating 🙂 So, basically a $300 – $500 gift isn't a big deal!
Anyway, I love my Vitamix blender. I have the professional series you see below.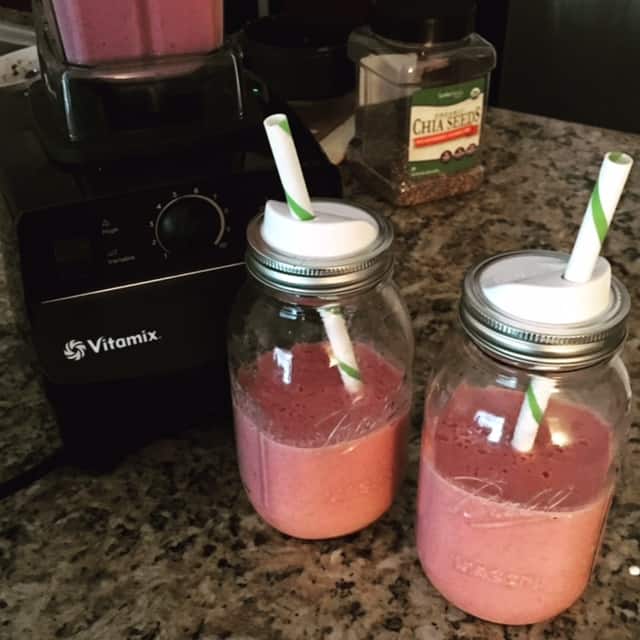 I've had it for about 4 years and use it every other day to make smoothies. This machine takes a beating and is still going strong.
You might think that all blenders are alike but I can tell you that's false. I went through many $30 – $50 blenders before I finally got a Vitamix. Like I said, I have the Professional series which I love but there are also other less expensive Vitamix models. Honestly, you can't go wrong with any Vitamix Blender. If you're purchasing a gift for someone who is hopping on the green smoothie train then a Vitamix Blender will be the best gift ever.
Of course, there are 100s of other healthy gifts I could add to this list but I know holiday shopping (or any gift shopping) can be overwhelming so I wanted to stick to a handful of favorites. I also wanted to include a wide price range because I know some people aren't looking to spend $500 on a gift but want to spend a little more that $15.
All of these gift options are practical and I feel would be appreciated by someone who's working towards a healthy lifestyle and losing weight. If you feel I'm completely missing other healthy gifts then please add your ideas in the comments.