This easy skillet recipe is filled with flavorful smoked sausage, hearty mushrooms, whole grain pasta, and covered in a delicious lightened up cream sauce.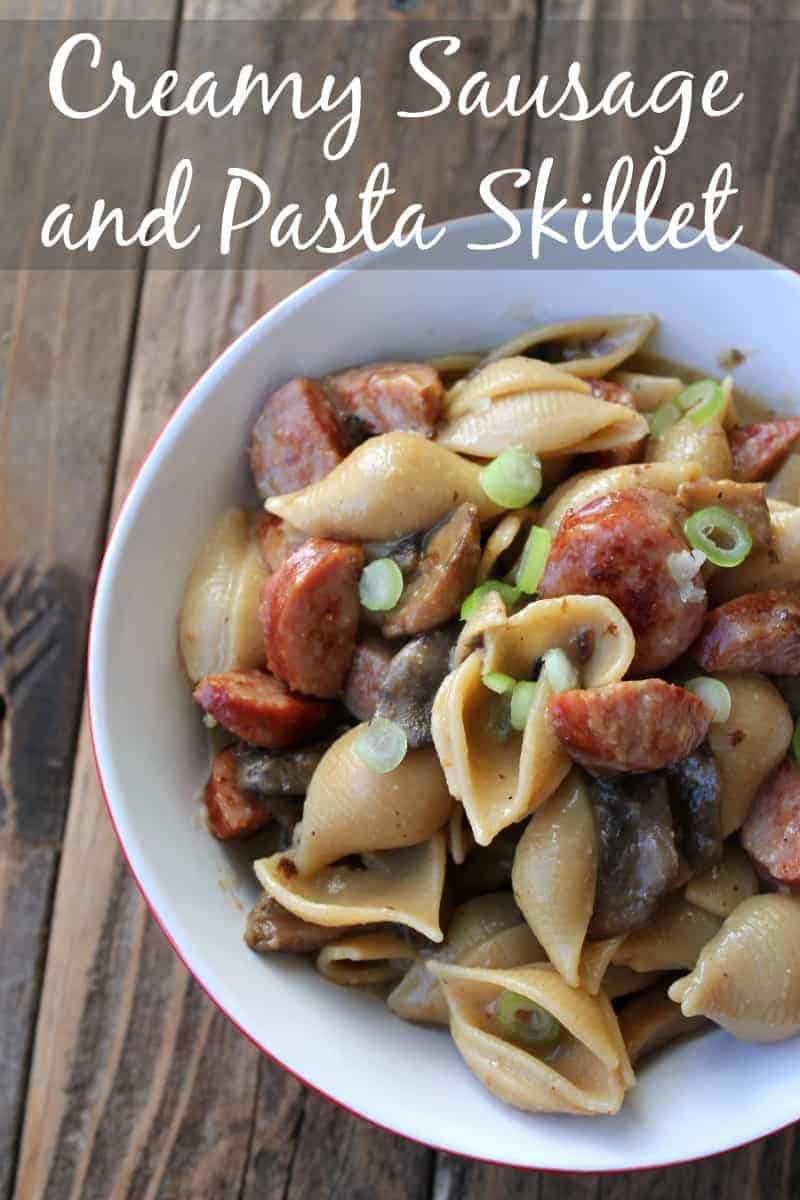 I needed this recipe in my life – we all do. Yes I know it's another pasta recipe but just like the chicken bacon ranch pasta dish I shared this week, these one is also a must share. No worries I have grilled chicken and turkey burgers coming up next week.
But this lightened up creamy sausage and pasta skillet is a recipe you will go back to again and again. First of all it's beyond tasty. In my opinion, you can't really go wrong with kielbasa, it adds great flavor to any recipe. I purchased Harvestland polish kielbasa . It's delicious and made without hormones, msg, nitrates, or other bad stuff and I can get it from BJ's wholesale for a great price. Originally, I wanted to use turkey kielbasa, to reduce the fat, but couldn't find it. Regardless, this sausage tasted great so it might be my new go to kielbasa.
Second, I used my favorite creamy recipe "go to" pasta, Dellalo Whole Wheat Shells. Like I said in the chicken ranch skillet, I shared last week, this pasta is one of the best tasting whole wheat pastas I've found. It's all I use for any mac n cheese or creamy pasta recipe.
Then I filled the recipe with hearty mushrooms and a flavorful lightened up cream sauce made with unsweetened coconut milk and chicken broth. No it doesn't taste like coconut and yes you can use regular milk. I used coconut milk because that's all I had. However, I do prefer coconut milk when making creamier dishes because coconut milk is very creamy and light on calories. I've never had coconut milk let me down with any recipe.
Anyway this recipe is awesome!
Let's walk through it.
I started by browning the sausage in a large skillet sprayed with cooking spray. As you can see the sausage does have fat so you will get a little fat forming on the bottom. This is also known as flavor juice! After it was cooked I removed the sausage and set it aside.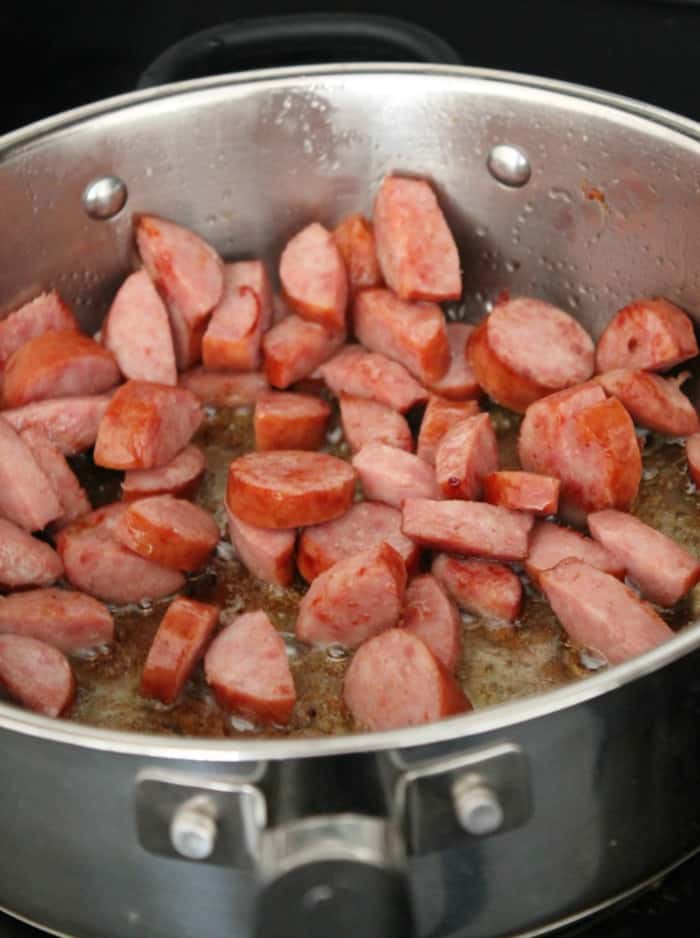 Then I threw in a 10-ounce package of white mushrooms into the same skillet the sausage was cooked in. You can use more or less mushrooms. I sautéed the mushrooms until they were soft and cooked.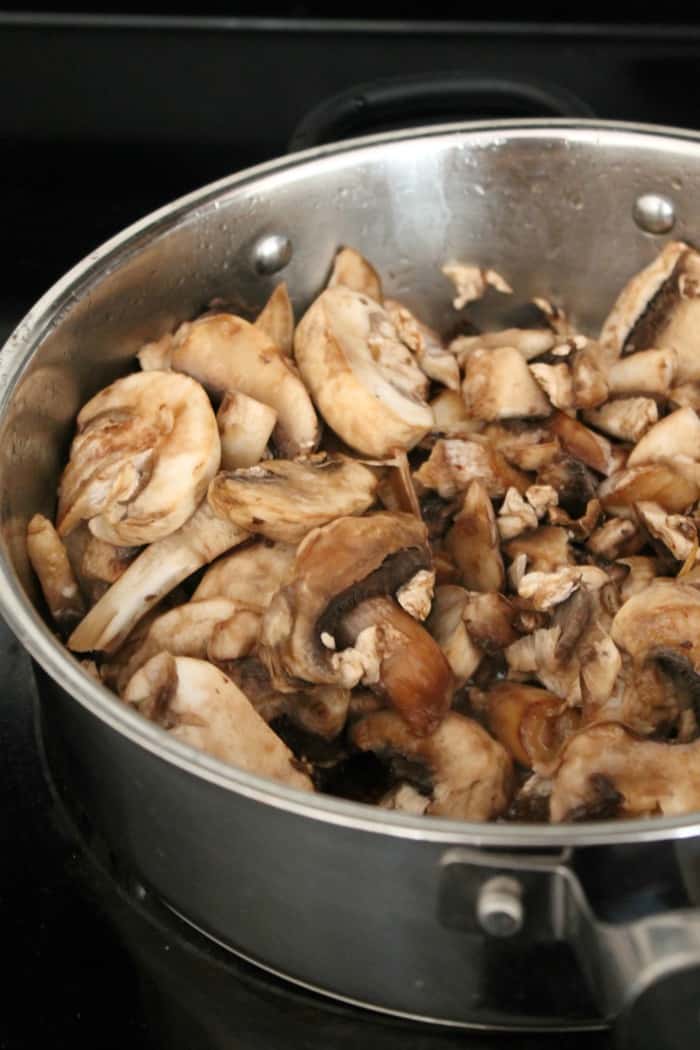 After the mushrooms were cooked down I stirred in 1 tablespoon of white whole wheat flour. I cooked that for a couple minutes then added 1/2 cup broth and 1 cup of unsweetened coconut milk. The mushrooms produced a lot of liquid so I reduced the amount of broth I typically use for this base. Then I seasoned with my usual blend of granulated garlic, onion powder, salt, and pepper.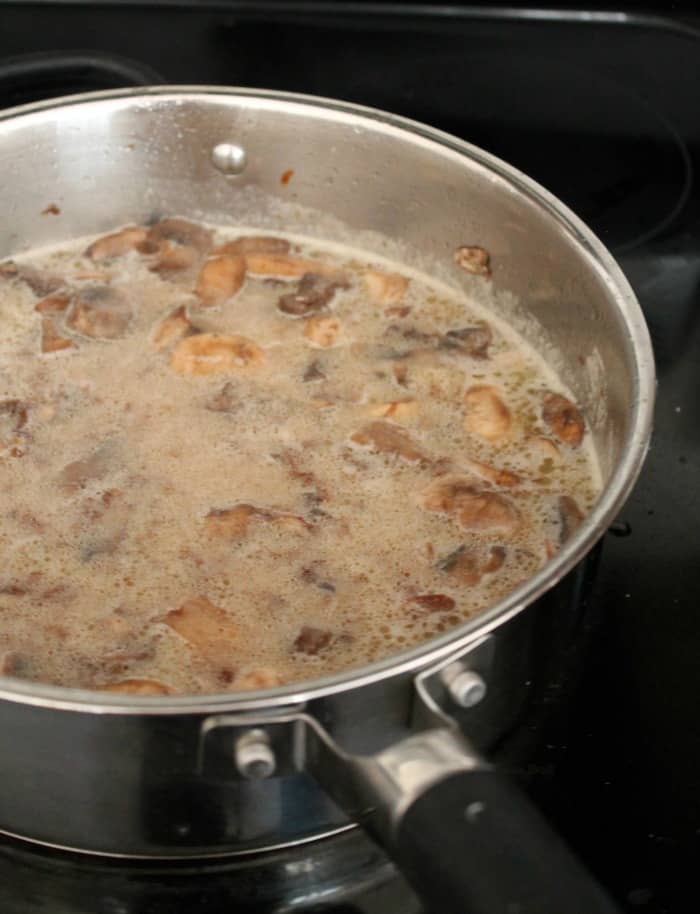 I let that cook down until it reduced slightly and thickened up a little. Please note this recipe thickens more as it sits. Then I stirred in the shredded cheddar cheese.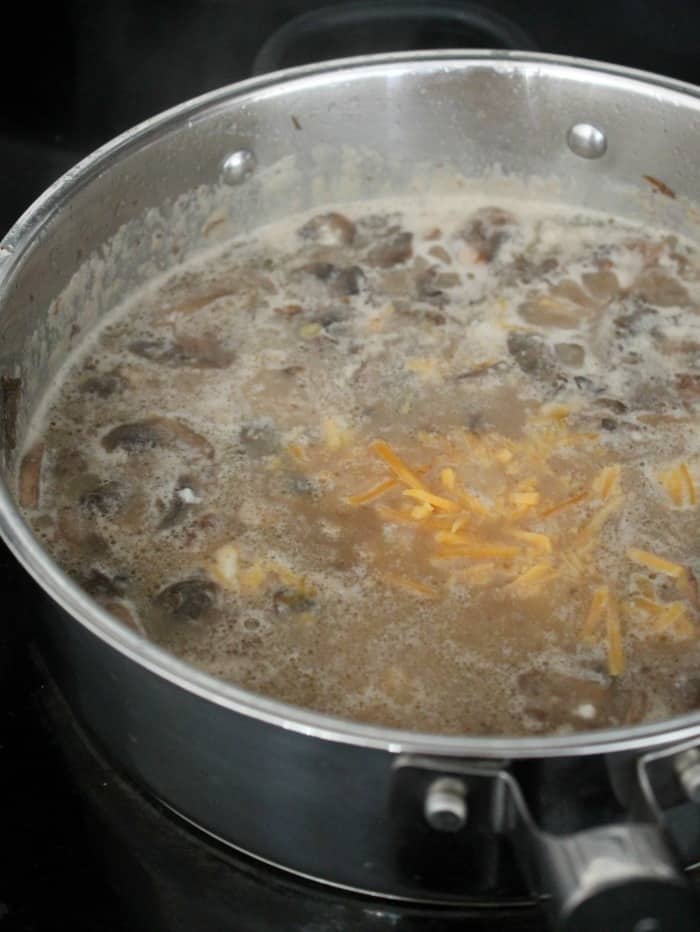 After the cheese melted I stirred in the pasta. I prepare the pasta earlier in the week, and create a skillet kit with the ingredients, so this was easy to throw together.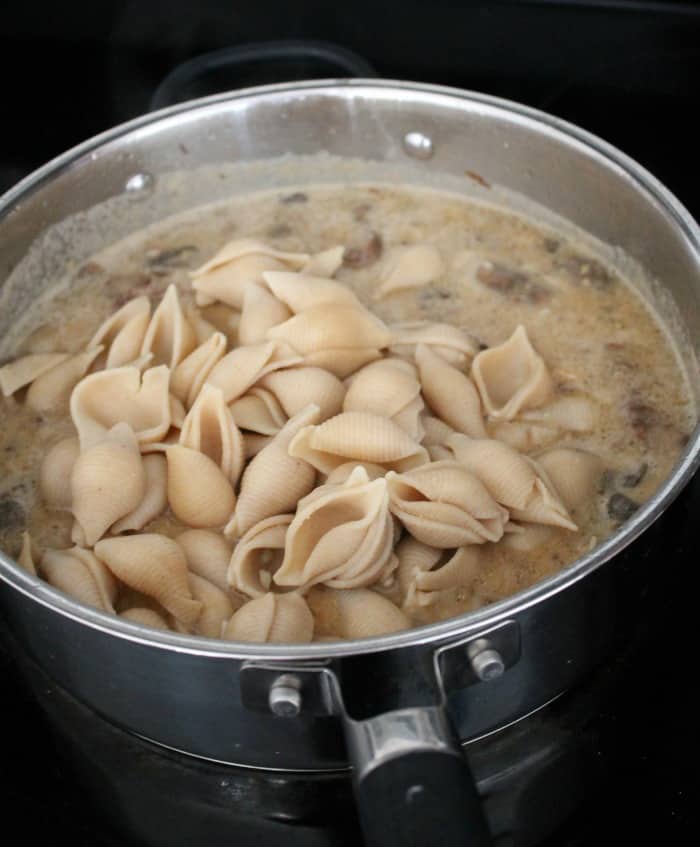 I stirred it up and let it cook down until it thickened up a bit more.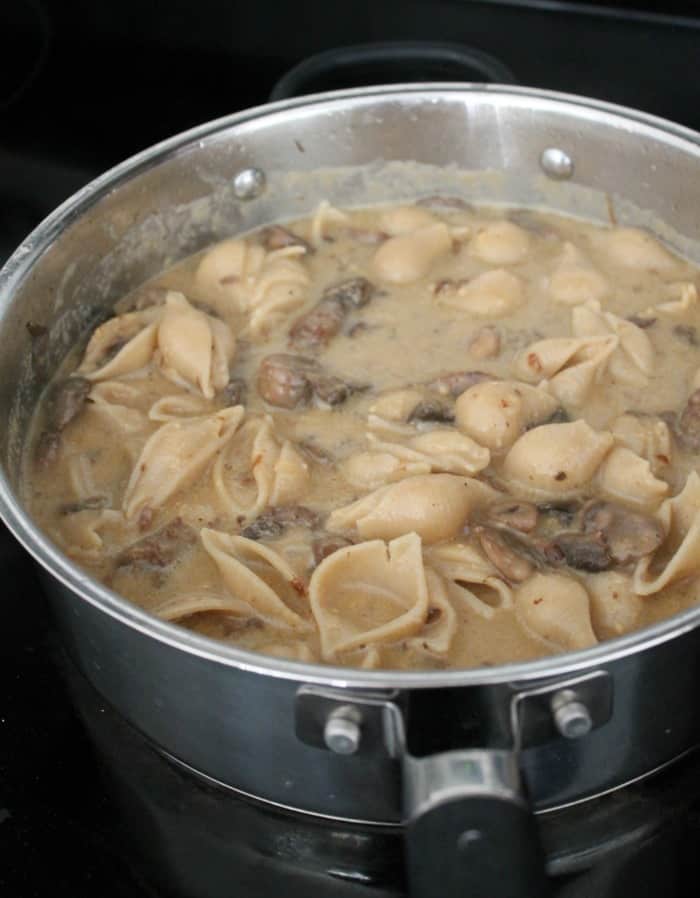 Then I stirred in the sausage and served. I sprinkled green onion on top for a little extra flavor and color. The sauce is not as thick and creamy as my chicken ranch pasta skillet but it is still flavorful and coats the pasta and other ingredients perfectly.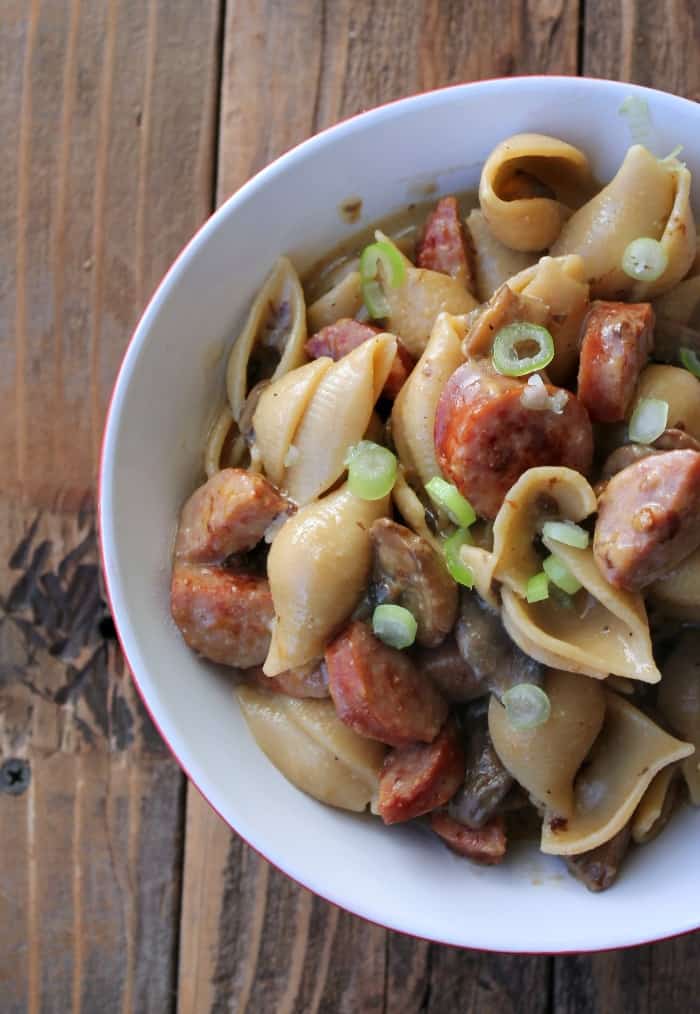 It stored great in the refrigerator and freezer. So you can make a batch and keep leftovers for lunches and dinners during the week.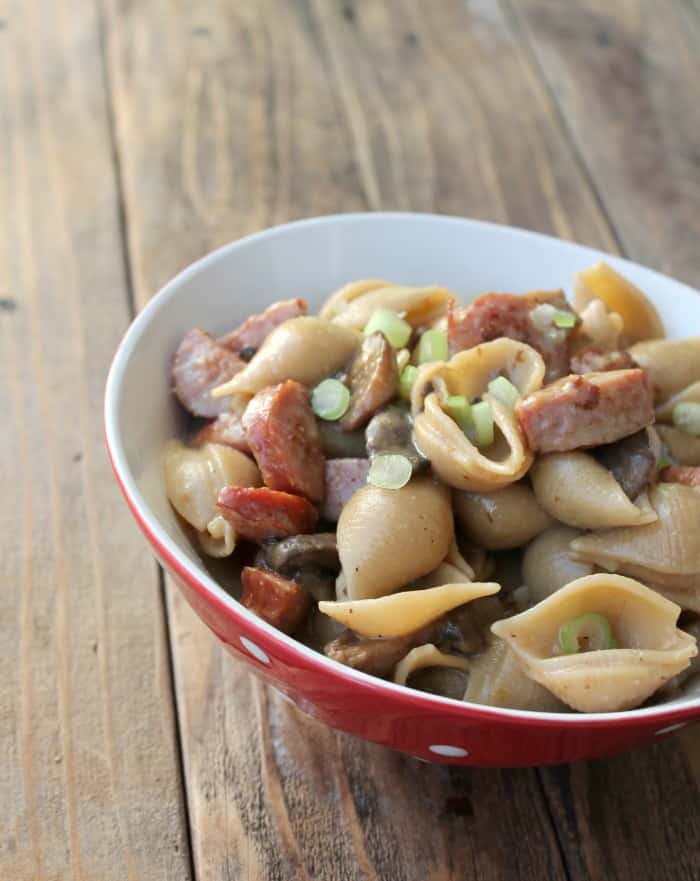 I mentioned that I made this into a skillet kit. Basically what I did was place the cooked pasta, cut up kielbasa, mushrooms, and cheese in a gallon size ziploc bag. I stored the ingredients separately in smaller quart size bags. Then when I was ready to cook all the ingredients were ready and I just need to make the sauce. This skillet came together in like 25 minutes.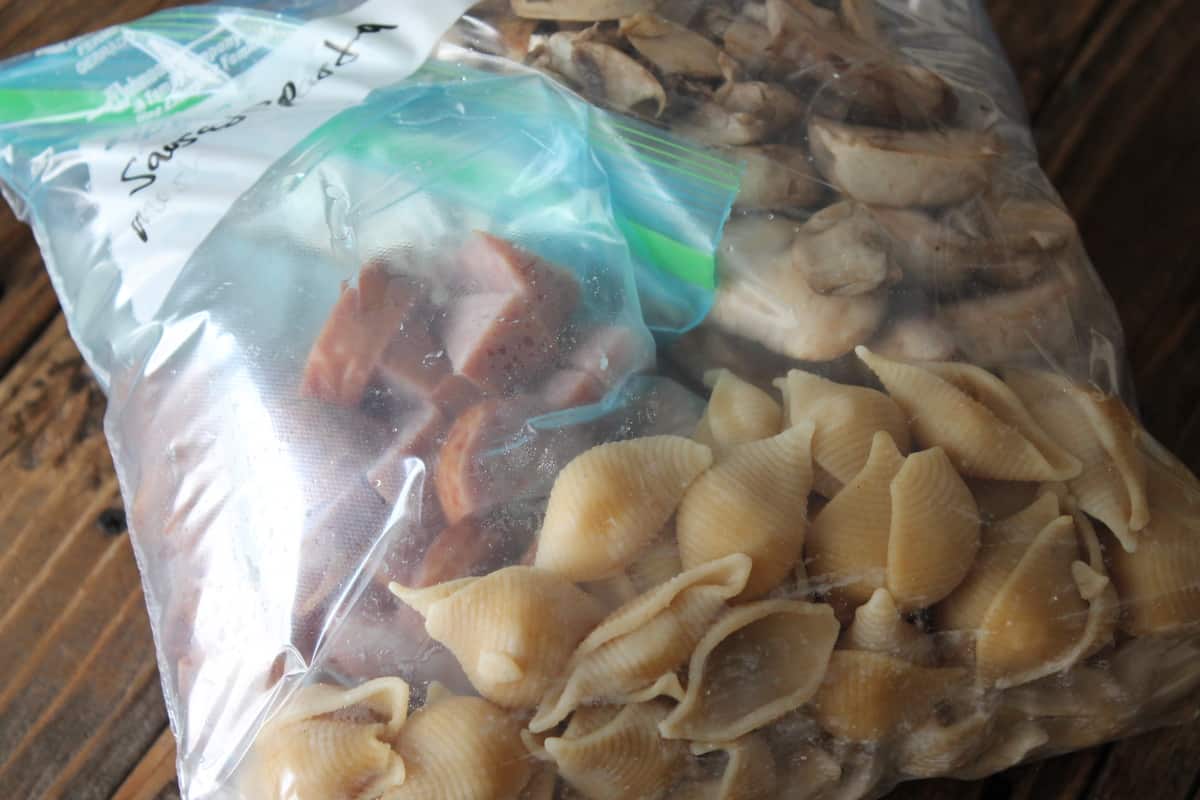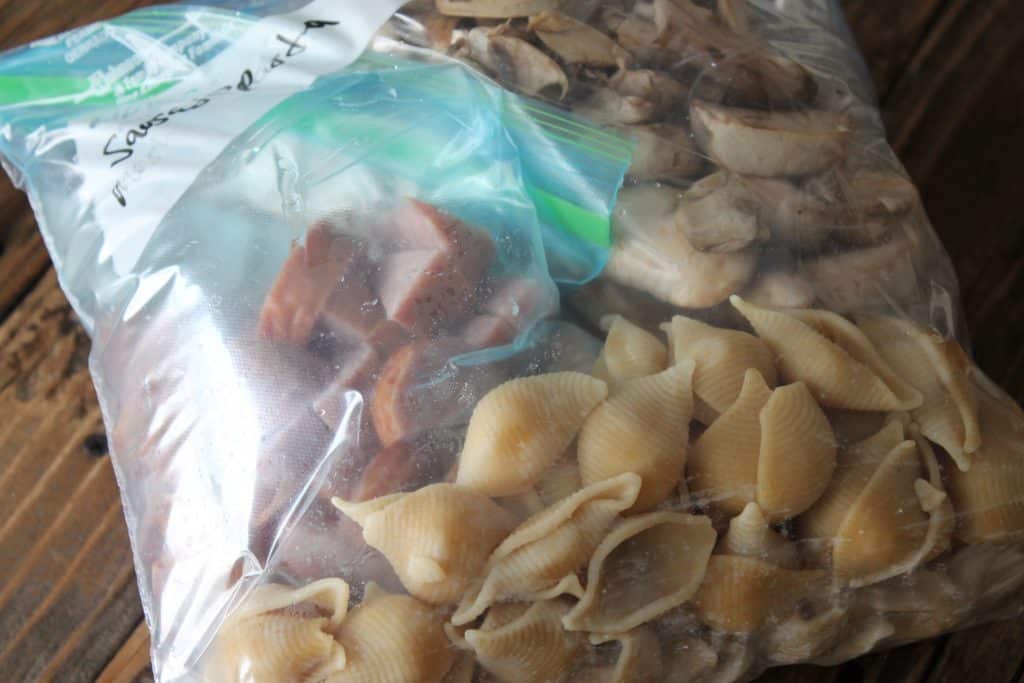 If you decide to make this recipe completely ahead of time, and plan to store it in the refrigerator or freezer I recommend these containers. They're great for portion control, are reusable, and hold up nice in the freezer.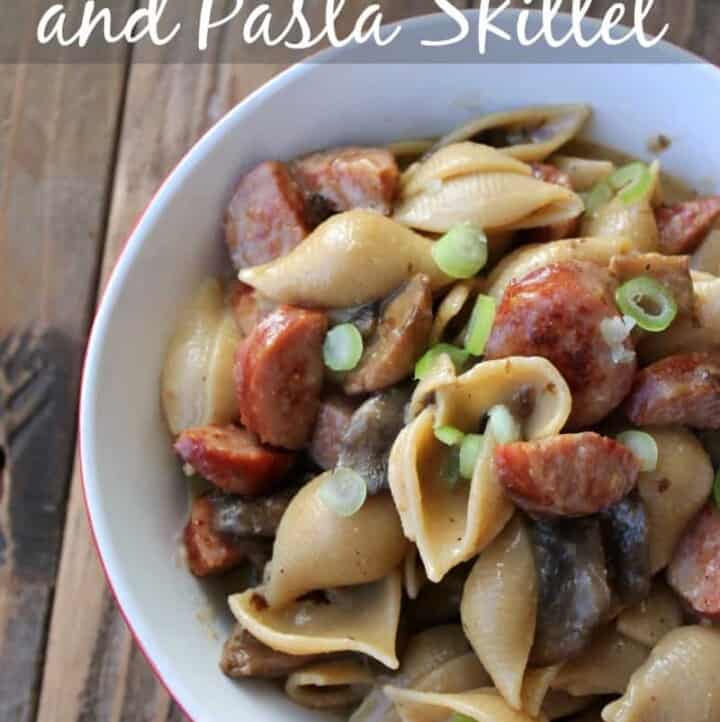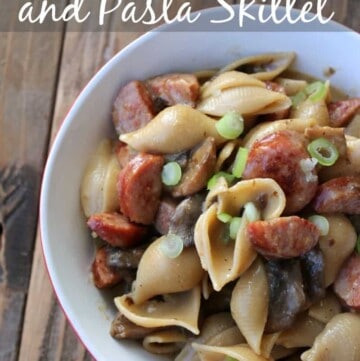 Ingredients
1

lb

pork cooked kielbasa sausage

you can use turkey, thickly sliced

10

ounces

sliced white sliced mushrooms

1

tablespoon

white whole wheat flour

1/2

cup

chicken broth

1

cup

unsweetened coconut milk

or dairy milk

1

teaspoon

granulated garlic

1

teaspoon

onion powder

1/2

teaspoon

salt

1/2

teaspoon

pepper

1

cup

shredded sharp cheddar cheese

3

cups

cooked whole wheat pasta shells

sliced green onion for garnish

optional
Instructions
In a large skillet, brown the sausage on both sides, about 5 minutes. Remove and set aside.

In the same pan sauté the mushrooms until soft and cooked, about 3-5 minutes.

Once the mushrooms are cooked stir in the flour and cook for another 1-2 minutes. Stir in the chicken broth, coconut milk, spices and bring to a simmer and continue to cook until the sauce has thickened slightly, about 5 - 7 minutes.

Stir in the shredded cheese, cook until melted, and then stir in the pasta. Cook until the pasta is heated through.

Stir in the sausage and cook for another minute or until all of the ingredients are hot. Again, the sauce will continue to thicken as it sits. Let sit for about 3 minutes and then stir and serve.

Serve with sliced green onion if you are using.
Notes
sugar is 2 grams.
**Please note you can lower the fat by using turkey sausage.
Make-ahead instructions
This recipe can be prepared ahead of time into a skillet kit. Or you can make it completely and store in the refrigerator up to 5 days or the freezer up to 3 months. If you store in the freezer I recommend portioning it out into individual portions.
Nutrition
Calories:
424
kcal
|
Carbohydrates:
29
g
|
Protein:
19
g
|
Fat:
26
g
|
Saturated Fat:
10
g
|
Fiber:
4
g