This creamy chicken bacon ranch pasta skillet meal is easy to prepare, beyond flavorful, and lightened up using wholesome ingredients.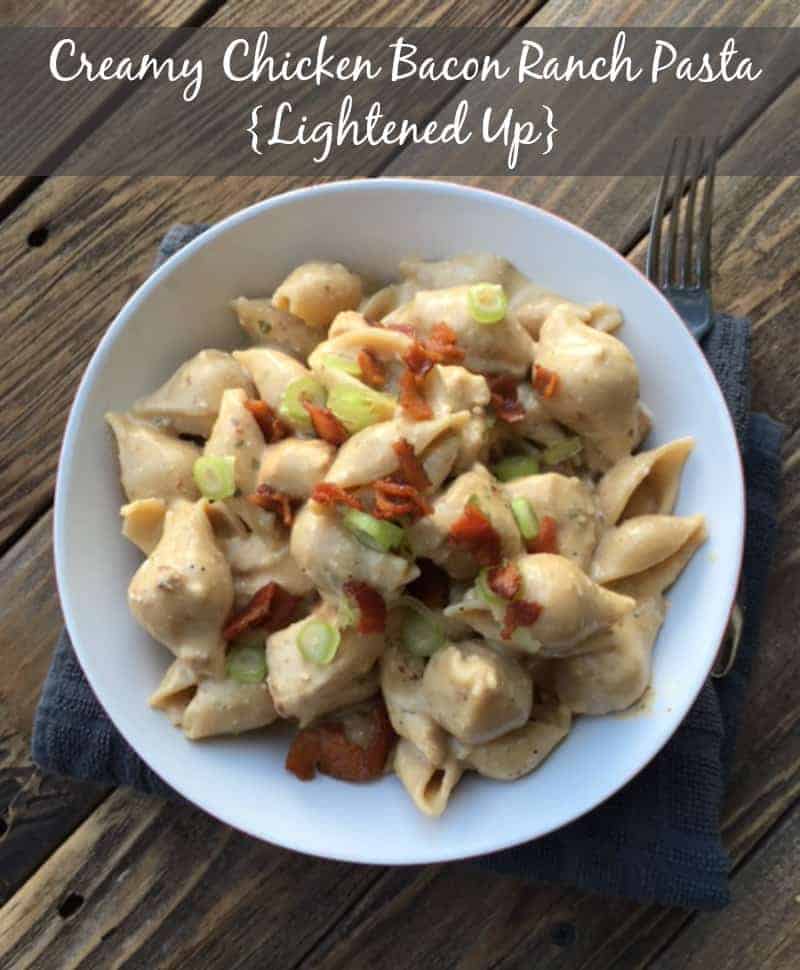 Listen I know it's bikini season and you probably want to kill me for sharing a pasta recipe buuuuuut this recipe might be one of the best recipes I've made this year. No joke! I came across this version on Pinterest and had to give it a Tammy twist.
So don't be mad because even it is bikini season you know we all need an emergency pasta dish for that moment when pasta is needed. You get me. I do have one more pasta recipe I'll share this month but then I promise it's all grilled low carb food and salads…maybe 🙂
Anyway, this recipe is DELICIOUS. I'm kind of a ranch seasoning mix freak. I use it all the time in my Slow Cooker Buffalo Chicken Recipe, on chicken, in meatloaf, and on anything that needs a little flavor boost. My favorite brand is Simply Organic Ranch Dressing Mix. I actually love all their seasonings and seasonings packets. Yes I can make my own, and have, but it's easier for me to have a few seasoning packets on hand.
I made this recipe into a skillet kit. Basically, what I did was prepare components of the meal ahead of time and stored in the refrigerator until I was ready to make it. You could also freeze this.
Working with raw chicken is something I hate to do so I always try to bulk prep chicken. For this recipe, I chopped it into chunks and placed it into a quart size plastic bag with 1/2 packet of ranch seasoning mix and 1 tablespoon olive oil. I squished it around until the chicken was all coated with the seasoning mix.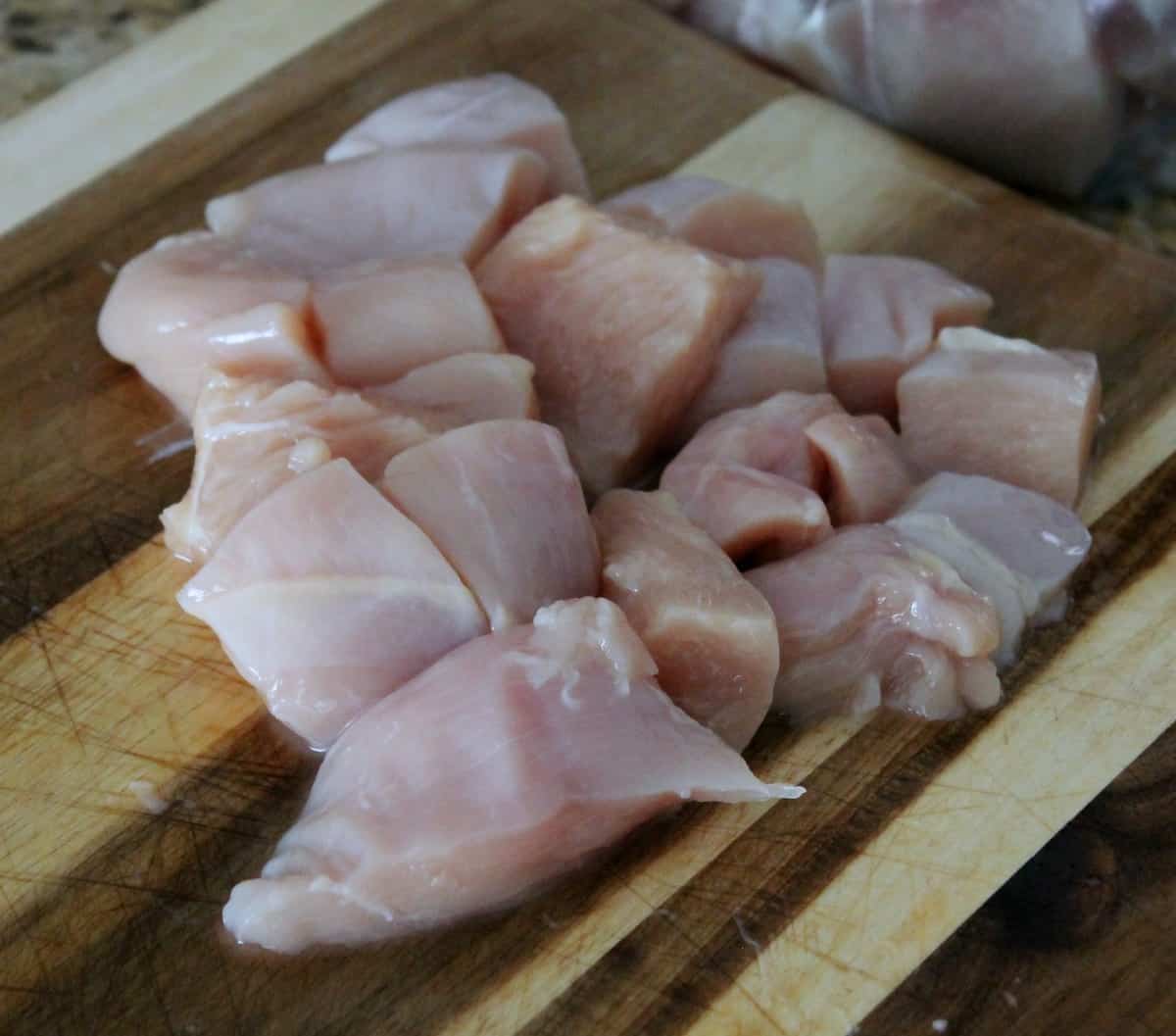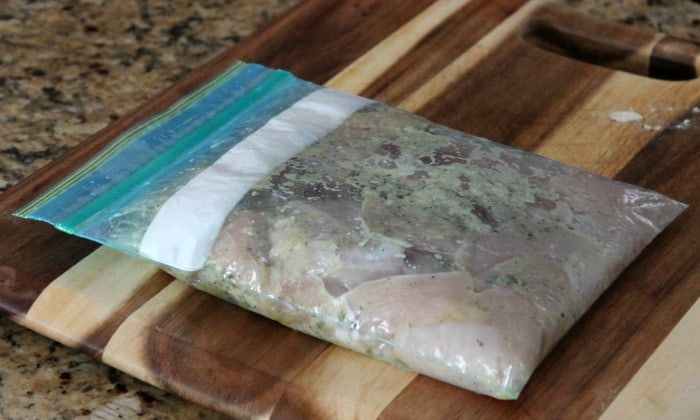 Then in a seperate bag I put the chopped bacon. Having the meat prepared ahead of time is half the battle when trying to get dinner on the table.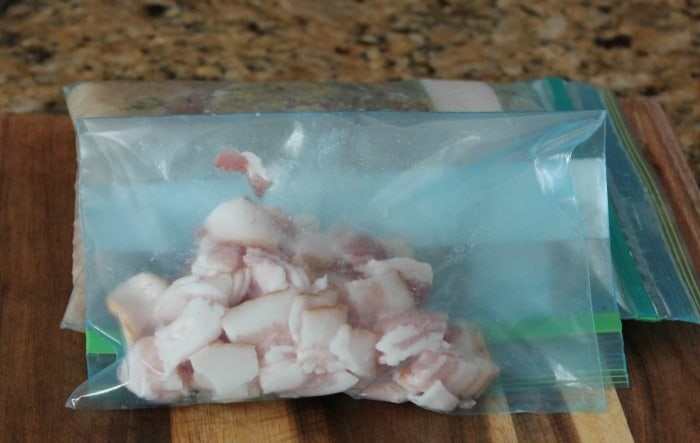 I put 3 cups of cooked pasta in a gallon size bag and then place the meats along with the cheese. Originally, I was going to make the sauce ahead of time but I ran out of time. But I was fine with this kit the way it was because all the key components were ready to go.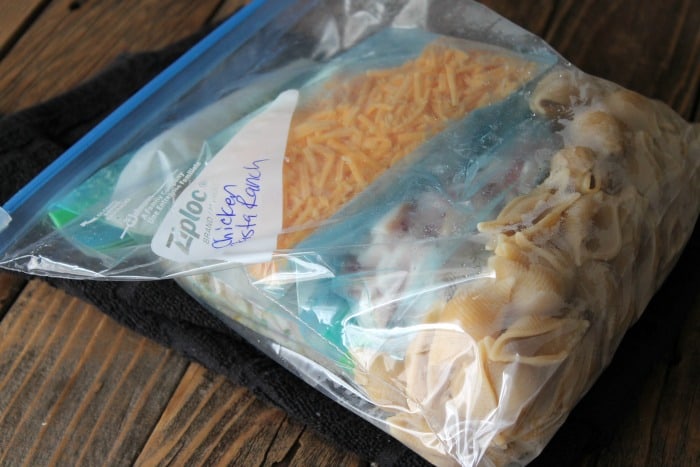 The night I made this recipe I started with the bacon. Starting with the bacon brings so much flavor to the rest of the dish. Since the bacon was already chopped ahead of time all I needed to do was throw it in the pan with a little cooking spray.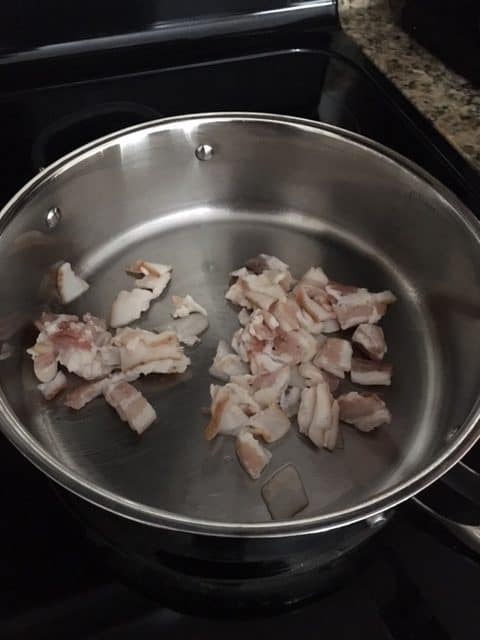 I set the bacon aside and then cooked the chicken in the same pan. I drained most of the bacon grease out but left just enough to cook the chicken in. I poured a little chicken stock into the pan to scrape up the brown flavor bomb bits on the bottom.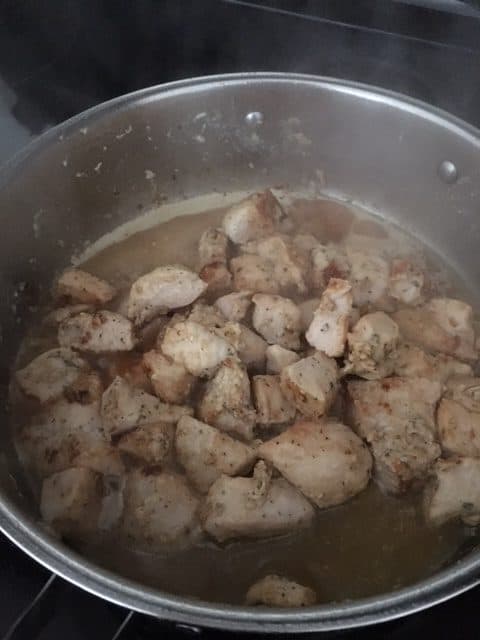 After the chicken was done I prepare a basic base of chicken broth, unsweetened coconut milk, and a little flour (just to thicken it up). You can use dairy milk. I didn't because I didn't have any in the refrigerator. For all that are wondering no this does not taste like coconut at all.
**quick note. I cooked the chicken and bacon the day before I made the base. I meant to cook the whole thing but ran out of time because I'm an overachiever and tried to make this in the morning before my daughters dance competition. Don't ask. I 'm a food blogger and I cook when lighting in good so I can take pictures. Anyway, that's why the base doesn't look darker.**
Back to the recipe.
I brought this base to a simmer and gave it a few moments to thicken up. It's important to whisk the broth and milk as it simmers so the flour doesn't stick to the bottom.
After it was simmering for a couple minutes I added in the cream cheese. In the kit I put the cream cheese on top of the shredded cheddar. That's why you see a couple flecks of cheddar there. I broke the cream cheese a part as it melted.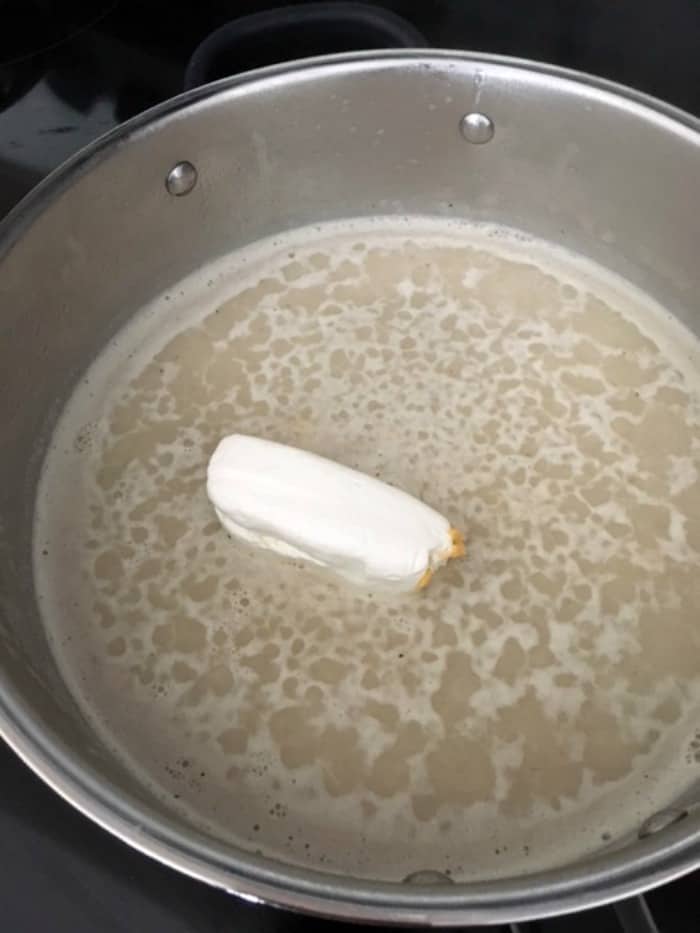 Don't worry about the cream cheese not melting completely. It will once you mix in the other ingredients and continue to cook it.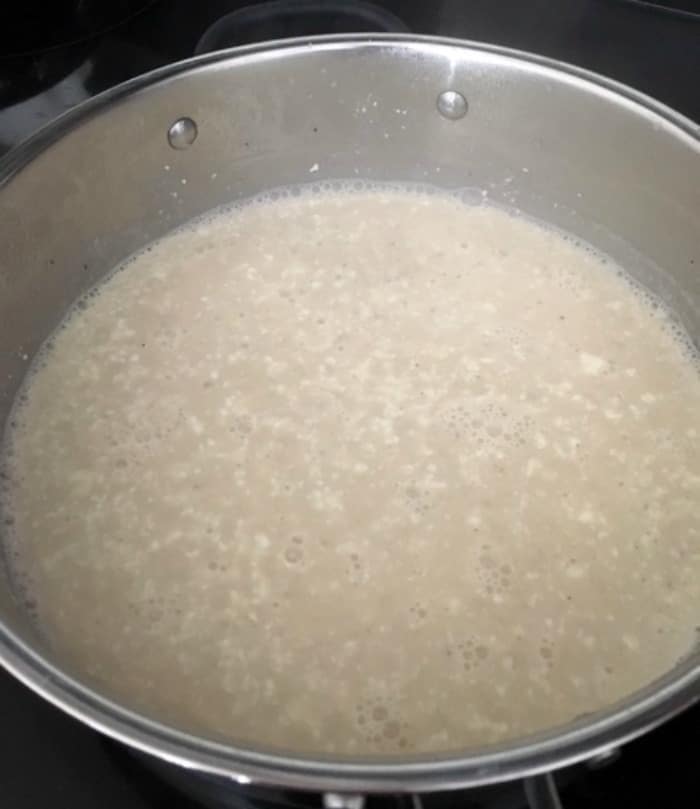 Then I stirred in the shredded cheddar.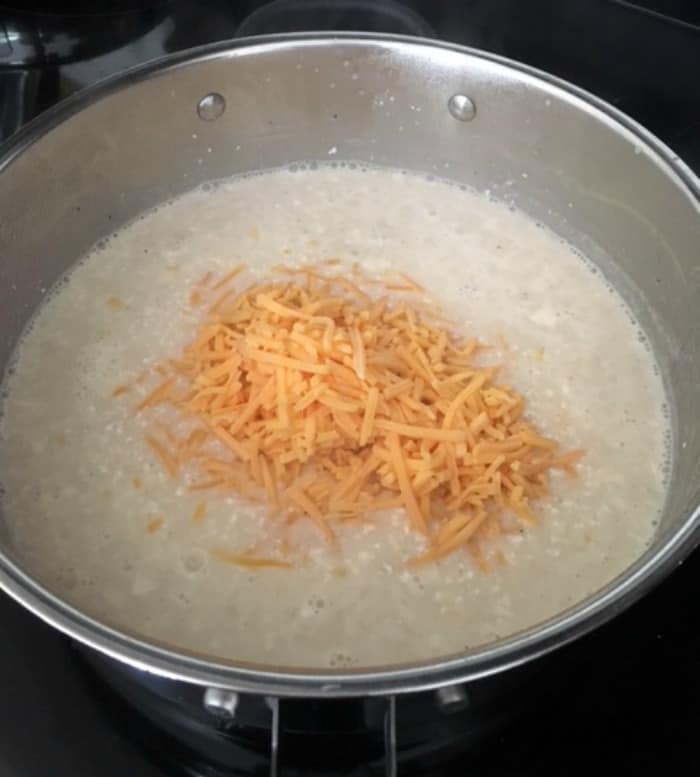 Then I added the chicken back in. Let it simmer for a few moments until the chicken is warmed through.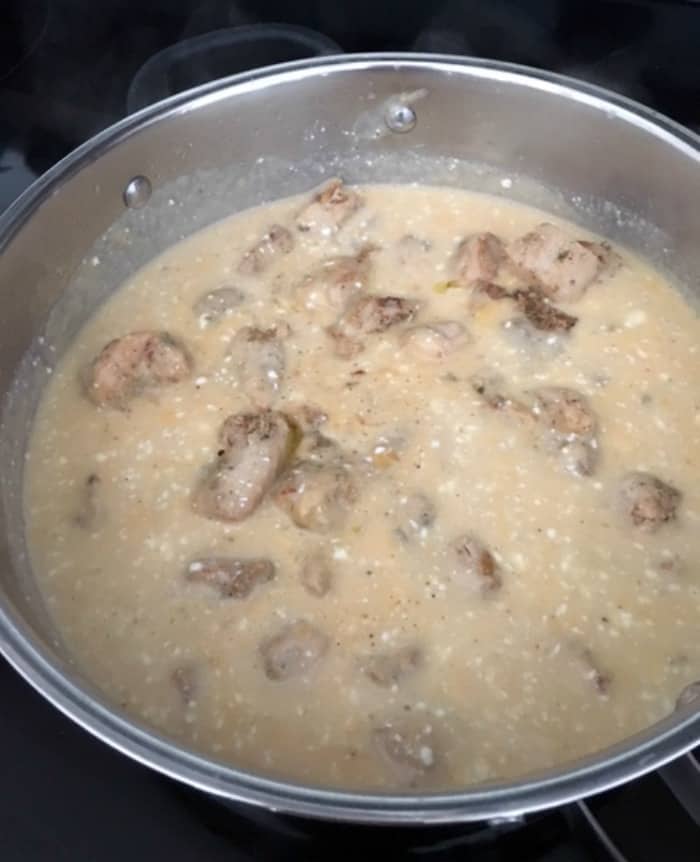 Then I stirred in the pasta. The pasta was also cooked ahead of time and stored in the kit so it was cold. I stirred it up until the pasta heated through. A quick note about the pasta. My absolute favorite whole wheat pasta is Dellalo Whole Wheat Shells. Every single time I make a recipe with this pasta I get compliments specifically on the pasta – even from my kids. If you struggle finding a good tasting whole wheat pasta give this one a try. It's really good and is my go to pasta for all creamy macaroni recipes. I purchase it from Wegmans in the organic foods section.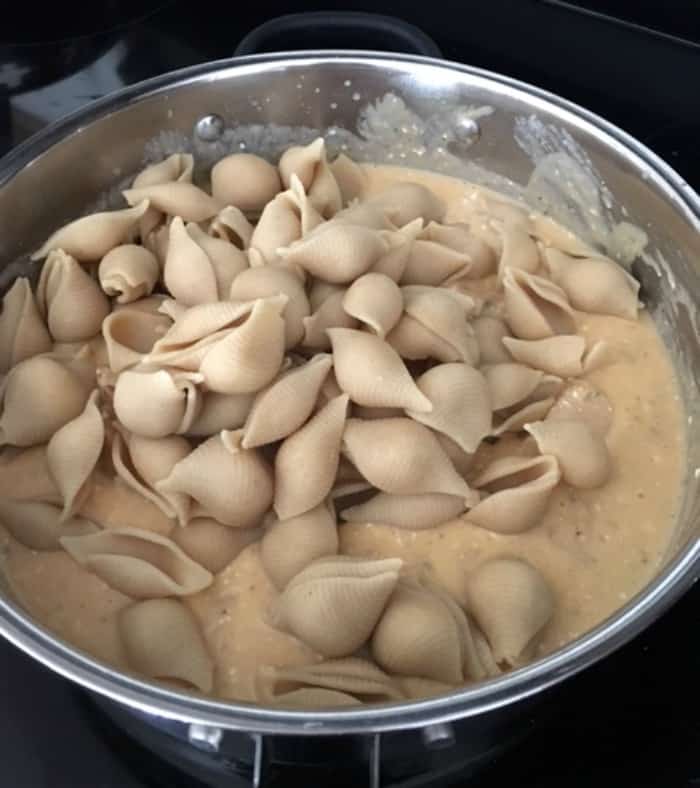 At this point stir in the bacon bits too. You can leave a little on the side to sprinkle over the top.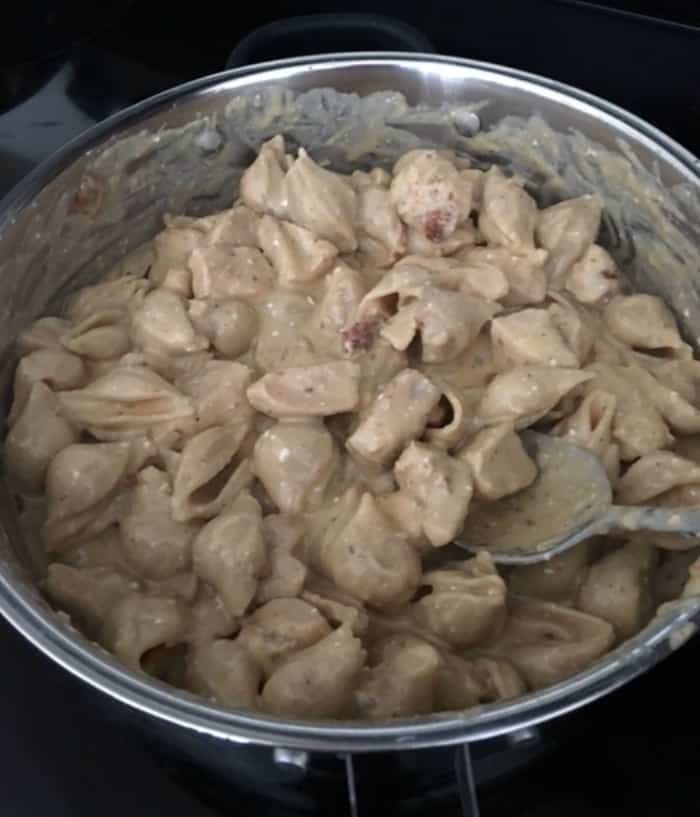 Just another picture for you to show the delicious creaminess.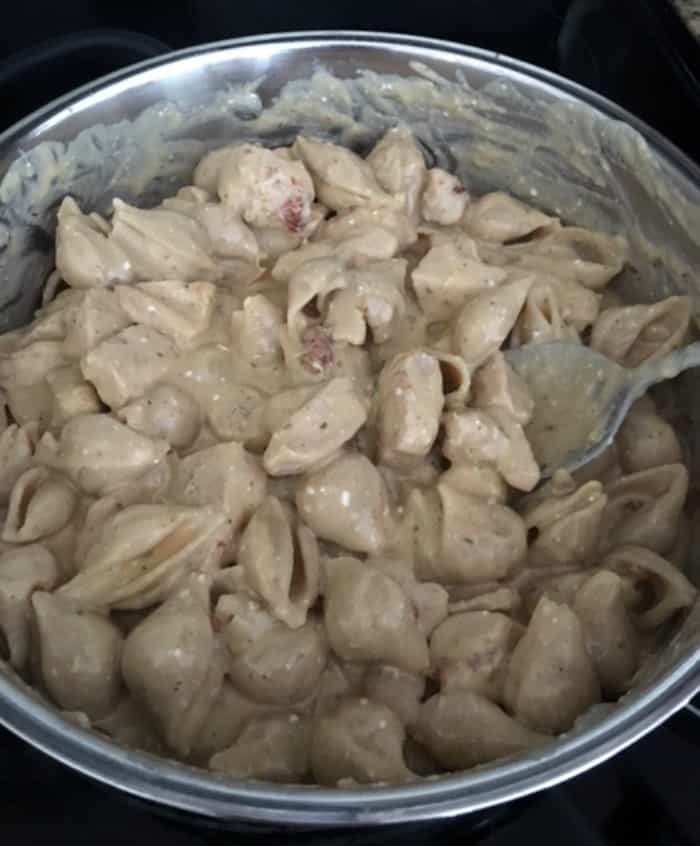 Look at this! Seriously this chicken bacon ranch pasta recipe is DA BOMB! Soooo good.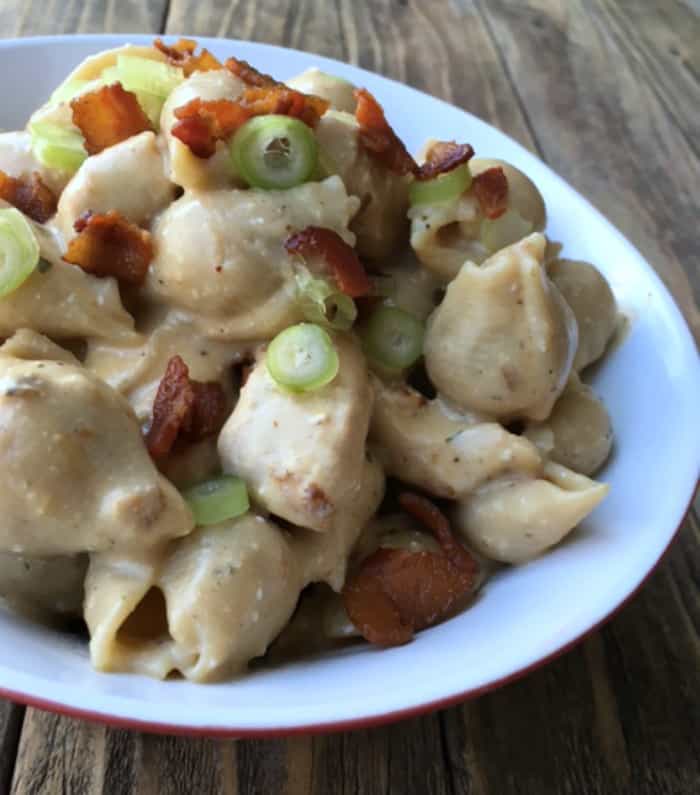 It was a huge hit! I sprinkle some green onions and bacon on top for a little crunch. YUM!!!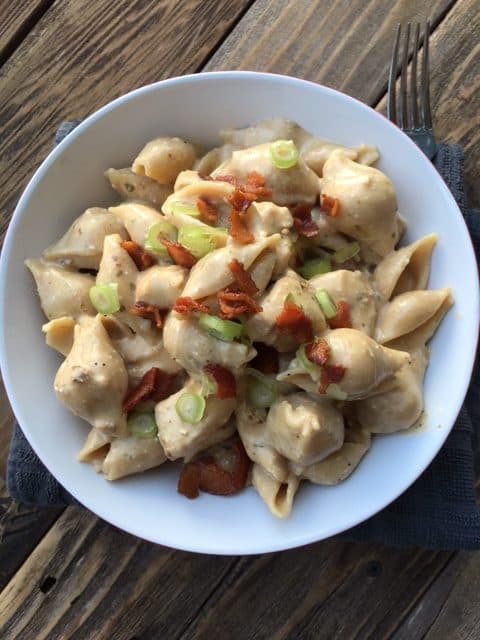 Obviously, it's not low carb and is going to have more calories than a lettuce wrap or a no bread roll up but friends if you need a lightened up pasta recipe then this is it. Each serving is 1 generous cup and trust me that's more than enough. It has 452 calories and is filled with fiber and protein.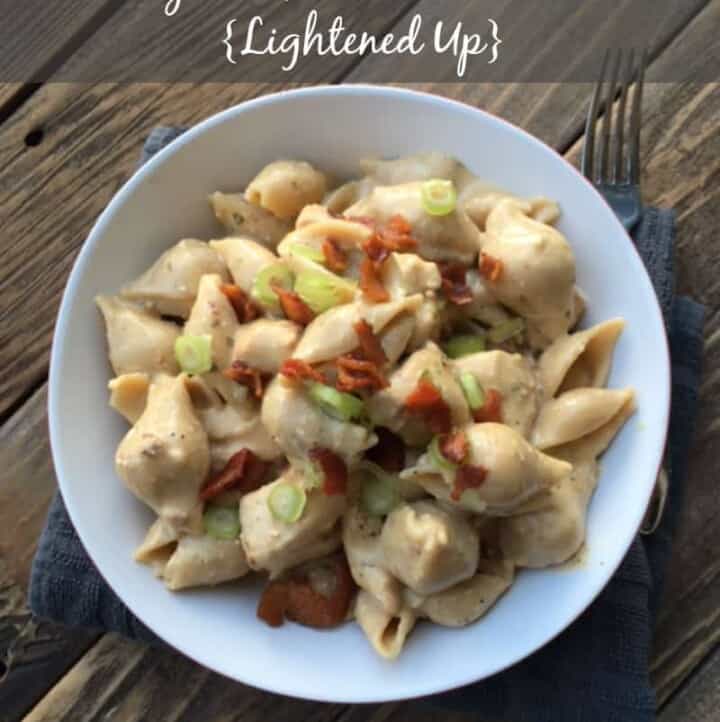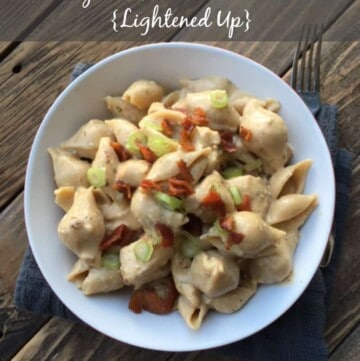 Ingredients
1.5

lbs

boneless skinless chicken breasts

cut into chunks

1/2

packet

about 2 tablespoons ranch seasoning mix

1

tablespoon

olive oil

4

slices

of bacon

chopped

1

cup

unsweetened coconut milk

or dairy milk

1

cup

chicken broth

1

tablespoon

flour

1

teaspoon

granulated garlic

1

teaspoon

onion powder

1/2

teaspoon

salt

1/2

teaspoon

pepper

2

ounces

low fat cream cheese

1

cup

shredded cheddar cheese

3

cups

cooked whole wheat pasta shells

sliced green onion for serving

optional
Instructions
In a medium bowl combine the chicken, ranch seasoning mix, and olive oil. Mix together until the chicken is evenly coated. Set aside.

In a large deep skillet, sprayed with cooking spray, cook the bacon until crisp, about 5-7 minutes. Set aside. Pour out most of the bacon grease. Leave just a little to cook the chicken in.

Place the chicken in the same skillet and cook until browned on both sides and cooked through, about 7- 10 minutes. Add in a little chicken broth if necessary to scrape up any brown bits. After the chicken is cooked set it aside.

Pour the chicken broth and coconut milk into the skillet. Whisk in the flour, granulated garlic, onion powered, salt, and pepper. Continue to whisk every few minutes as it cooks. You want to make sure the flour doesn't stick and burn to the bottom of the skillet. Cook until it is simmering and slightly thickened, about 5 -7 minutes.

Stir in the cream cheese and break it apart as it melts, about 5 minutes.

Stir in the shredded cheddar and cook until it's melted, about 3 minutes.

Stir in the chicken and cook until heated through, about 3 minutes.

Stir in the pasta and bacon bits and cook until heated through, about 3 minutes.

Serve with sliced green onion and leftover bacon bits.
Notes
Sugar: 1
Make-ahead tips
Components of this recipe can be prepared ahead of time into a kit. See post for details. This recipe can also be made completely ahead of time a store in the refrigerator up to 5 days and in the freezer up to 3 months. I recommend portioning out the recipe ahead of time before freezing.
Nutrition
Serving:
1
g
|
Calories:
452
kcal
|
Carbohydrates:
32
g
|
Protein:
43
g
|
Fat:
15
g
|
Saturated Fat:
7
g
|
Fiber:
5
g