Banana and peanut butter blended with coconut milk and then topped with sliced banana, dark chocolate chips, and peanuts to create a thick and creamy delicious smoothie bowl.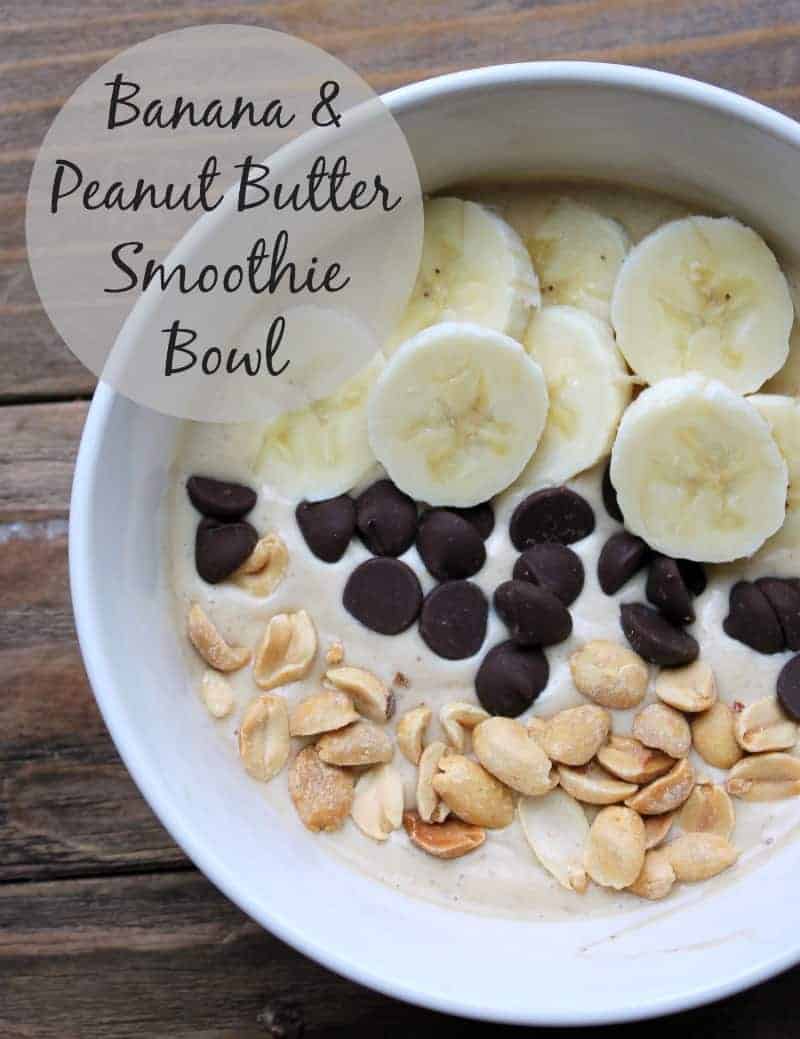 Get instant FREE access to my green smoothie recipe e-cookbook here! I share 20 of my best green smoothie recipes along with tips, tricks, and a tutorial.
Let's talk smoothie bowls.
I've seen smoothie bowls popping up all over Pinterest. At first, I didn't pay attention because honestly I thought smoothie bowls were just smoothies pour into a bowl and I didn't understand why someone would eat a smoothie with a spoon. I didn't get it.
But then I took more than 10 seconds to look into smoothie bowl recipes and discovered they are much more than that. It's more like smoothie soft serve ice-cream topped with lots of wholesome goodies. Whoa!
Smoothie bowls provide texture and substance that you don't get from a regular smoothie. Basically, smoothie bowls turn traditional smoothies into a full-blown meal with the added toppings. If you don't feel satisfied drinking a smoothie for breakfast, but still want the goodness a smoothie provides, then smoothie bowls might be the answer. The only issue is you need to be careful with toppings because calories can easily get out of control with a handful of nuts here, sprinkle of chocolate there, and dash of dried fruit there.
For my first smoothie bowl recipe I decided to keep it super simple with one of my favorite flavor combos – banana and peanut butter! I kept the greens out this time around because I was just feeling pure banana and peanut butter.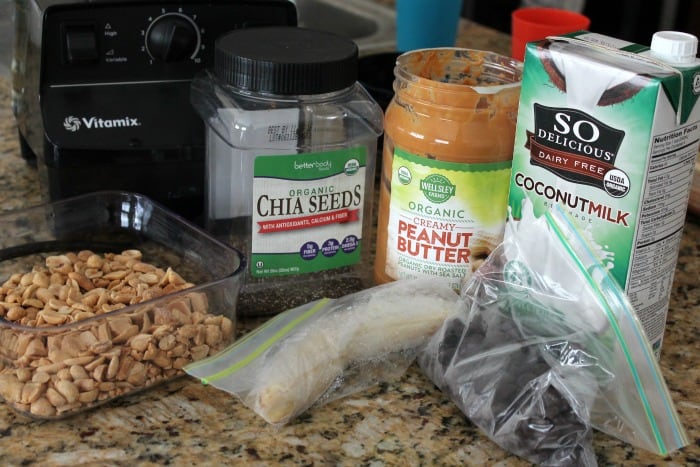 I blended 1 frozen banana, 1 tablespoon peanut butter, 1 teaspoon chia seeds, and 1/2 cup unsweetened coconut milk in my Vitamix blender (a Ninja blender or food processor would work great too). I also threw in a handful of ice cubes. I only did this because my banana was not as frozen as I wanted.
The result was a smooth creamy delicious bowl of blended banana and peanut butter that seriously tasted like soft serve ice cream. Super good. If you are sensitive to dairy I recommend giving this a try because it's a treat!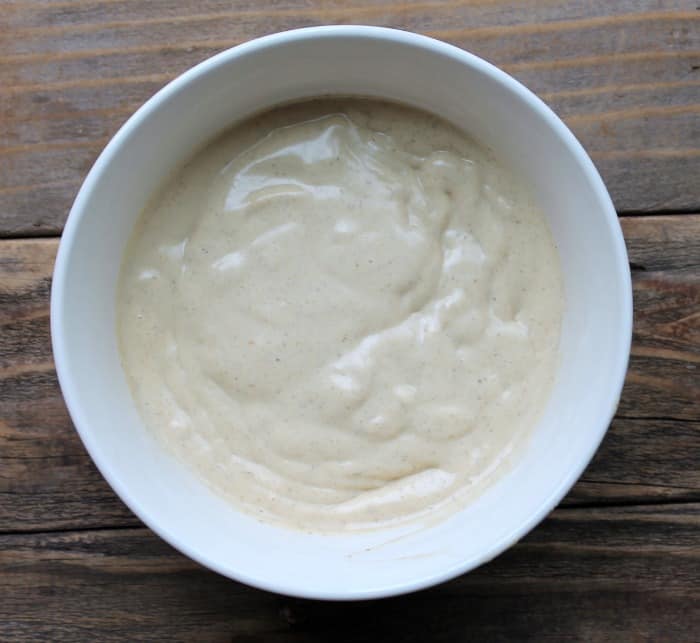 Then I topped it with 1/2 of a banana, 1 tablespoon peanuts, and 1/2 tablespoon of dark chocolate chips. Like I said this is where you need to be careful because too many toppings can cause this smoothie bowl to break the calorie bank. Because of the peanut butter this smoothie bowl is a bit on the higher side with calories and fat. However, keep in mind it's a meal and filled with lots of wholesome goodness. You WILL be full after eating this. You can reduce fat, sugar, and calories by reducing the toppings.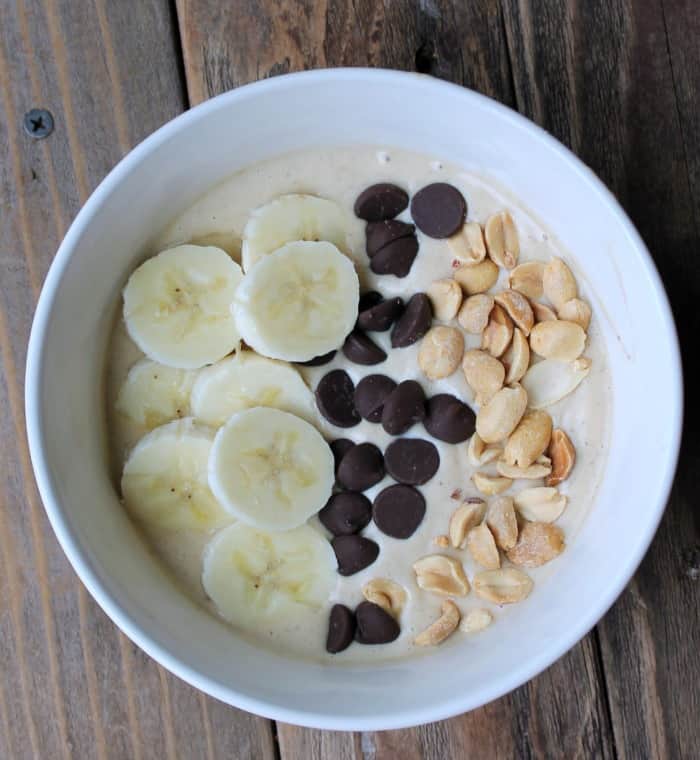 I enjoyed this smoothie bowl after a 5 mile run/power walk and OMG did it hit the spot. I beyond loved it. I mixed all the ingredients together and felt like I was eating a nutritious blizzard from Dairy Queen. Not kidding.
Look for more smoothie bowl recipes in the coming weeks.
Are you a smoothie bowl fan? What are your favorite flavor and topping combos?
Banana Peanut Butter Smoothie Bowl
Banana and peanut butter blended with coconut milk and then topped with sliced banana, dark chocolate chips, and peanuts to create a thick and creamy delicious smoothie bowl.
Author:
Organize Yourself Skinny
Ingredients
1 frozen banana
1 tablespoon creamy peanut butter
1 teaspoon chia seeds
½ cup unsweetened coconut milk
handful of ice cubes, if needed
1 tablespoon dark chocolate chips
1 tablespoon peanuts
½ banana, sliced
Instructions
Combine the frozen banana, peanut butter, chia seeds, and coconut milk into a high power blender and blend till smooth. Add a handful of ice if needed for texture and consistency. I only needed to add ice because my banana was not frozen as much as I liked.
Pour into a bowl and top with chocolate chips, peanuts, and sliced banana. Enjoy cold.
Notes
sugar: 27


Make-ahead Instructions
This smoothie bowl can't be made ahead of time but you must freeze the banana ahead of time.
Nutrition Information
Serving size:
1 smoothie bowl
Calories:
394
Fat:
19
Saturated fat:
6
Carbohydrates:
54
Fiber:
9
Protein:
9
Get Instant Access to my Green Smoothie Recipe E-cookbook!
Sign up now to receive your FREE e-cookbook that I created exclusively for my email subscribers! That's you!