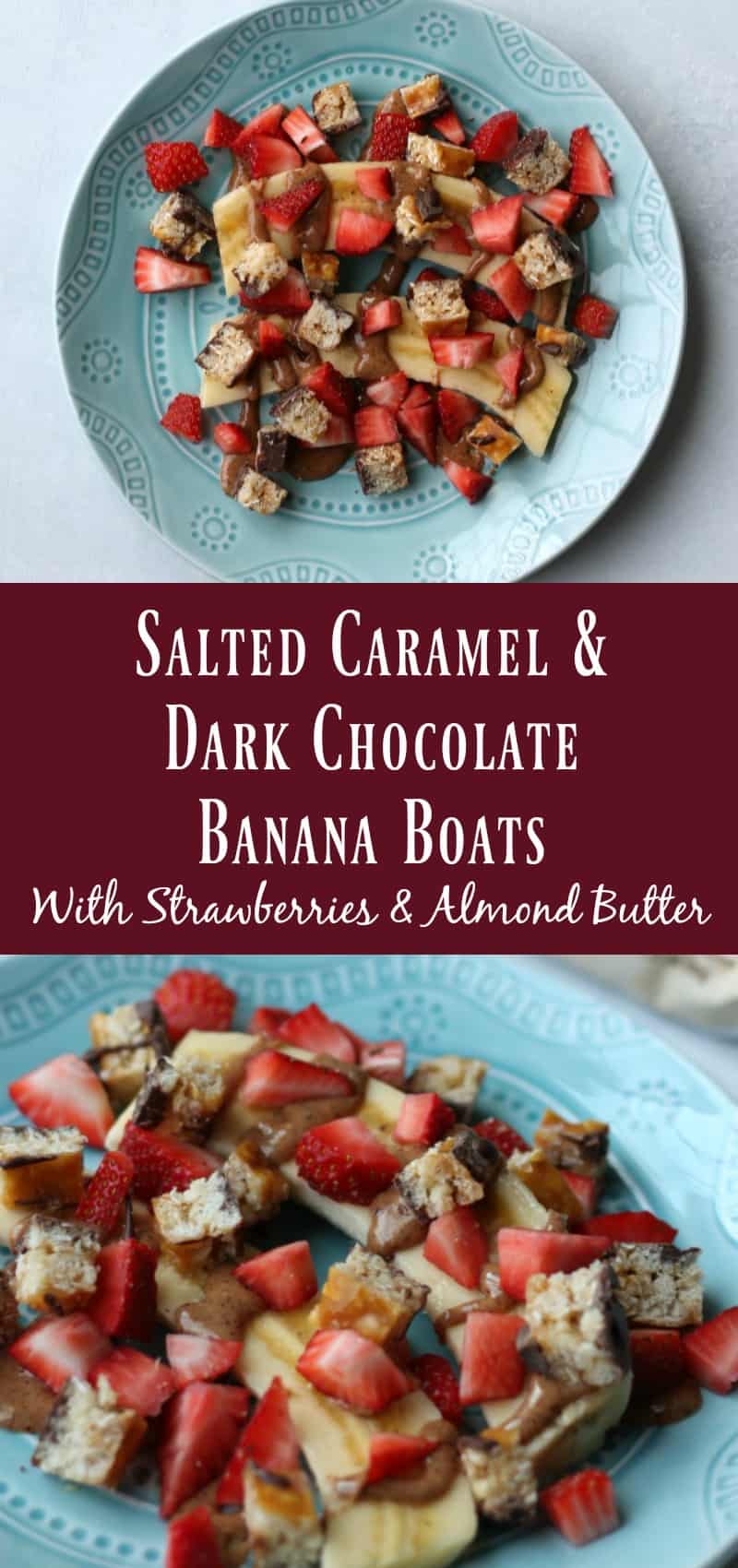 I just want to give a big shout out to my friends over at Fiber One™ for sponsoring this super tasty recipe today. Compensation was provided by Fiber One™ however all opinions and views in this post are mine all mine. You can learn more about their brand new Double Chocolate Almond and Salted Caramel & Dark Chocolate Layered Chewy Bars on the Fiber One™ website, Facebook Page, Instagram, Twitter, and Pinterest. 
---
There are some people in this world that can give up sweets and never look back. For the record, I'm not one of them. I have a sweet tooth like nobody's business and I'm not ashamed to say my children have bribed me with chocolate many times.
Here's the problem. I'm 5ft 3in and almost 42 years old. What does that mean? Well, I can't eat sweets like I used to. Actually, I can't blame it on my age because I've never been able to eat chocolate or candy without seeing it show up on my waistline. So I'll blame it on my height. I'm short and 5 pounds shows up quick on me.
This doesn't mean sweets are left out of my weekly meal plan. Heck no. In my world a healthy lifestyle includes chocolate – it's a necessity for everyone's safety. However, I don't mindlessly eat chocolate anymore. Well most of the time anyway. #justkeepingitreal. I do my best to keep intentional with the sweets I eat. I substitute options that don't lack in flavor or texture and also create recipes that allow me to enjoy chocolate without guilt.
One favorite way I enjoy chocolate is to sprinkle it on a banana along with a drizzle of almond or peanut butter. In the food blog world we call these banana boats. If you have a sweet tooth craving around 3:00pm. then let me tell you, this will hit the spot.
For this simple banana boat recipe I used a Fiber One™ Salted Caramel and Dark Chocolate Layered Chewy Bar. Oh mama, have you tried these yet? I don't know who the genius was that brought together salt and caramel but they won my heart! Now layer it with dark chocolate and you get a decadent and delicious treat.
Each Fiber One™ Salted Caramel and Dark Chocolate Layered Chewy Bar is 150 calories and 7 grams of fiber per bar so it's a great way to curb a sweet tooth craving without ruining all your hard work. Enjoy this bar without regret!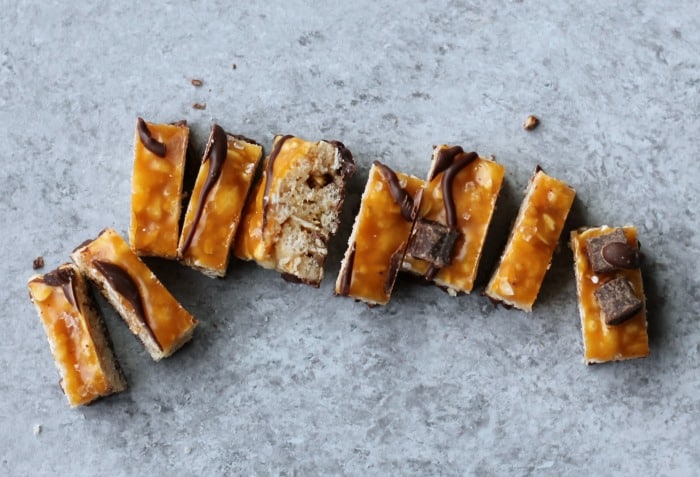 This recipe can be put together quickly. All you need is a small banana, 1 tablespoon of your favorite nut butter, a couple strawberries, and a Fiber One™ Salted Caramel and Dark Chocolate Layered Chewy Bar.

The first thing I did was peel the banana and cut it in half. This serves as the "boat". Then I warmed up the almond butter in the microwave and drizzled it over the top. Yum yum yum! Next, I chopped the Fiber One bar and sprinkled it over top of the banana boat. This gave the banana boat recipe great texture. I love the chewy layers in these bars. Of course the caramel, salt, and dark chocolate bring the flavor over the top. At the last minute I decide to add a few strawberries. Why not? The more fruit the better and it gave my boat a pop of fresh flavor and color.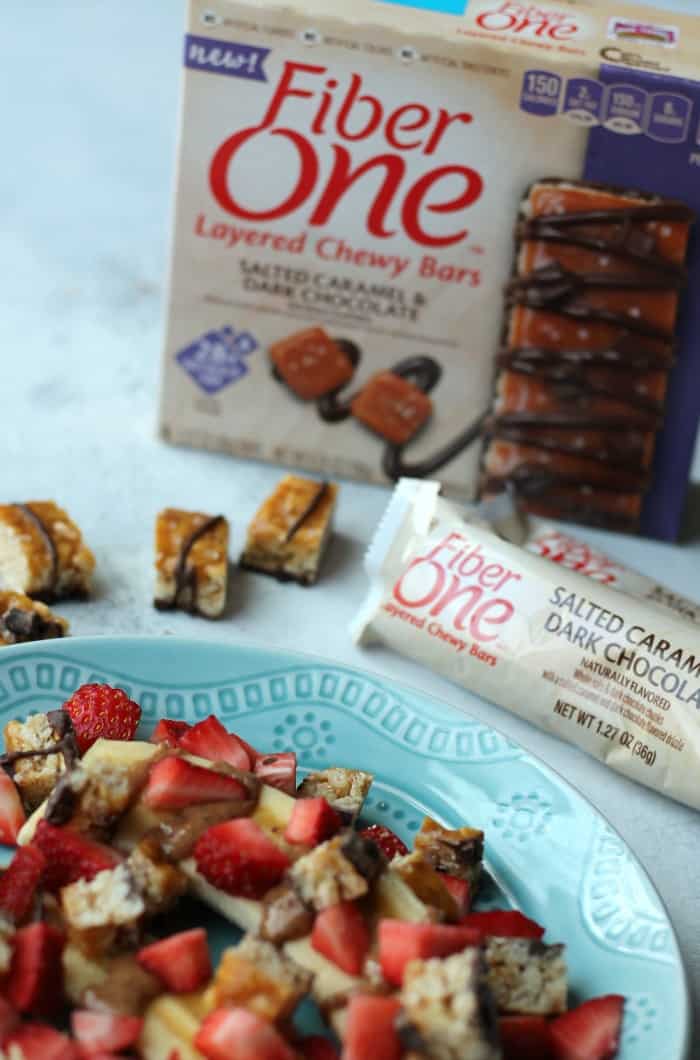 This is a filling snack and can easily be shared with someone else, if you want. Or eat half when you prepare it and then save the second half of the banana boat for the next day. Think about the excitement you'll feel anticipating this at 3:00pm for a mid-afternoon snack.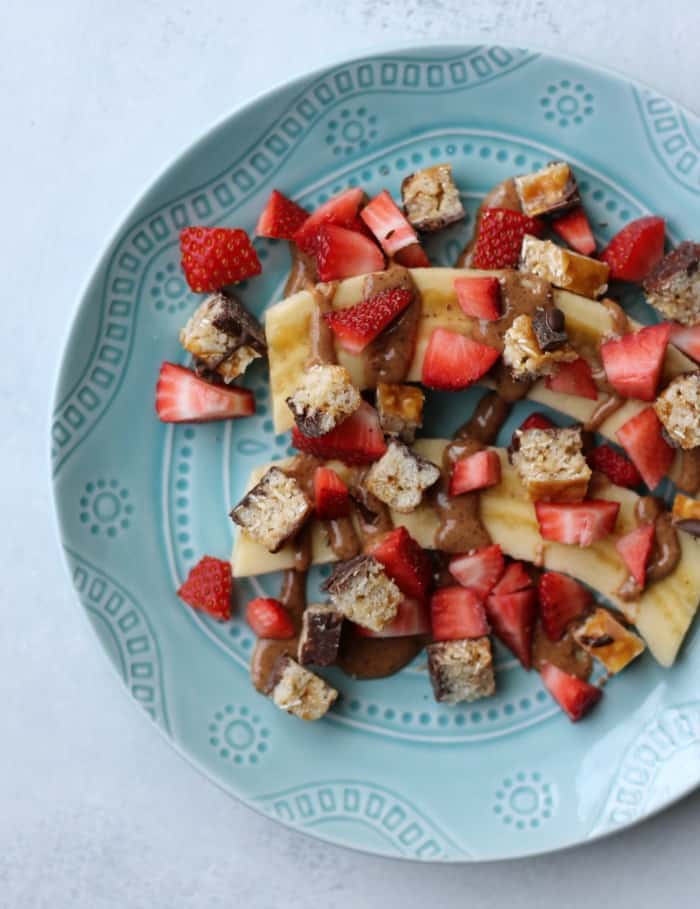 The new Fiber One Layered Chewy Bars are delicious in a parfait or chopped up and sprinkled on a tasty banana boat recipe. These bars can be enjoyed on their own too. I threw one in my purse to eat later in the day when I knew I'd be out of the house running errands. Not only did I savor in the caramel, salt, and chocolate it saved me from impulse eating a candy bar or bag of chips when I was hungry a couple hours after lunch. #win
How would you enjoy a Fiber One Salted Caramel and Dark Chocolate Layered Chewy Bar? I need more recipe ideas!

Salted Caramel and Dark Chocolate Banana Boats
Author:
Organize Yourself Skinny
Ingredients
1 small banana, peel and halved
1 tablespoon almond butter, melted
1 Fiber One Salted Caramel and Dark Chocolate Layered Chewy Bar
3-4 strawberries, sliced or chopped
Instructions
Lay the banana pieces on a plate. Drizzle the melted almond butter over the top of the banana.
Sprinkle with chopped Fiber One Bar and strawberries.
Enjoy. Share half the recipe with a friend or save half for the next day.
Notes
Sugar: 13g


Fiber One Salted Caramel and Dark Chocolate Layered Chewy Bar Nutrition:


Calories: 150
Fat: 4
Carbs: 27
Fiber: 7
Protein: 2
Sugar: 8
Nutrition Information
Serving size:
½ of recipe
Calories:
182
Fat:
6
Saturated fat:
1
Carbohydrates:
31
Fiber:
6
Protein:
3
Get Instant Access to My Best Weight Loss Tips & Strategies!
Sign up now for a free step-by-step 7-day email course that I created exclusively for my email subscribers! That's you. I will teach the best habits, strategies, and insider tips so you can enjoy a lifestyle that encourages and supports weight loss! Stop relying on willpower and take control back over your life! You can do this. Let me help!