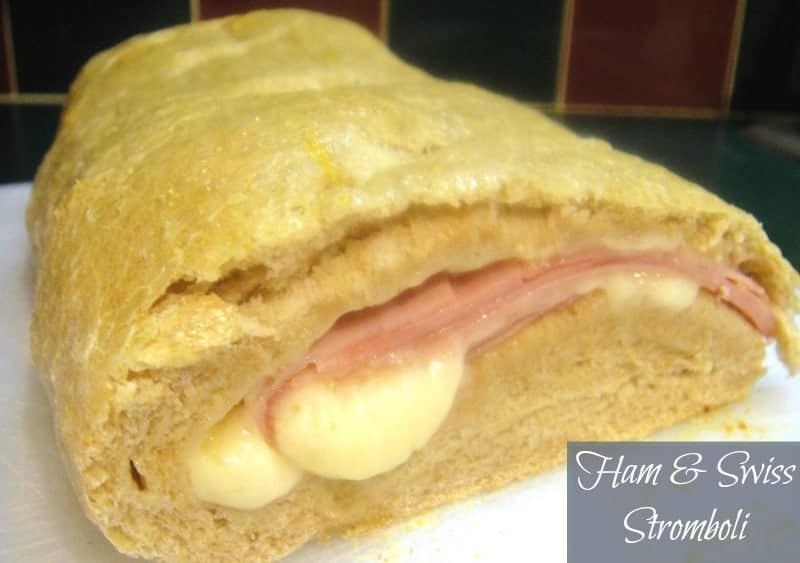 I think I found my new favorite way to easily prepare lunches for the week! Stromboli!!
In the past, when I thought of Stromboli my mind would go to pizza shops or Italian restaurants. Never did I think this delectable stuffed dough could be made at home or with anything else other than mozzarella and pepperoni. Of course, thank goodness, I was wrong. This recipe exemplifies the importance of branching out and experimenting with new recipes. You never know the actual simplicity (or difficulty) of a recipe until you try it.
The recipe I used was adapted from The Best of Cooking Light Everyday Favorites cookbook
. It turned out fantastic. I don't know if you are like this but I get such a strong feeling of accomplishment when I prepare a dough recipe successfully. It makes me feel like a real baker 🙂
After it cooled I was able to slice it up and wrap each individually for a week's worth of lunch. Let's just say lunch time was special this week with these stuffed beauties.
Stromboli recipe's are  so versatile. There are so many options as you play around with different meat, cheese, and vegetable combinations. Have fun with it!

Ham and Swiss Stromboli
Author:
Organize Yourself Skinny
Ingredients
Dough **Please note you can use store bought pizza dough for this recipe. Although if you can make this homemade I say do it because it so good.
1 cup warm water
1 tablespoon olive oil
1 teaspoon salt
2 cups all purpose flour
1 cup whole wheat flour
1 tablespoon nonfat dry milk
2 ½ teaspoons active yeast or bread machine yeast
½ teaspoon dry mustard
½ pound thinly sliced organic deli ham or any ham you like
8 slices Swiss cheese
1 large egg, lightly beaten
Instructions
Place water, olive oil, and salt into the bread machine. Then add flour, dry mustard, and nonfat dry milk. Make a little well in the center of the flour and put the yeast in there. Remember the yeast cannot touch the salt.
Set the bread machine to the wheat dough setting. Press start.**please note your bread machine might be different. Please refer to your bread machine instructions for adding ingredients and settings.
Roll and/or stretch dough out into a 10 x 8 inch oval.
Leaving a 1 inch border, place down 4 slices of Swiss cheese, all of the ham on top of the cheese, then add the additional 4 slices of swiss cheese on top of the ham.
Fold dough over the filling, and press edges and ends over to seal. Some Stromboli recipes call for rolling it jelly roll style. I guess you can do it that way if you prefer but I personally like the simplicity of just folding it over.
Dust a baking sheet with cornmeal and place the loaf, seam side down, on the pan. Make 3 diagonal cuts about ¼ inch deep across the top. Loosely cover with plastic wrap and let rise for 45 minutes – 1 hour, until it has doubled in size.
Preheat oven to 350.
Uncover dough, brush with egg, and bake for 35 minutes or until browned. Cool slightly then serve.
Nutrition Information
Serving size:
⅛ of stromboli
Calories:
270
Carbohydrates:
33
WW Points +:
7
Fiber:
2
Protein:
16
Make Ahead and Freezing Instructions
I have not frozen this recipe completely assembled so I don't feel comfortable giving instructions on that yet. If you have frozen a similar recipe like this I would love to hear from you. However, you most certainly can make the dough and freeze it ahead of time. Then when you are ready to make it just take it out, thaw, and continue at step 3.
Like I said earlier, I prepared this recipe in full and used for lunches the entire week. Once prepared it makes a very easy grab and go lunch.
This recipe will be shared at:
Melt in your Mouth Mondays by Make Ahead Meals for Busy Moms

Get Instant Access to My Best Weight Loss Tips & Strategies!
Sign up now for a free step-by-step 7-day email course that I created exclusively for my email subscribers! That's you. I will teach the best habits, strategies, and insider tips so you can enjoy a lifestyle that encourages and supports weight loss! Stop relying on willpower and take control back over your life! You can do this. Let me help!