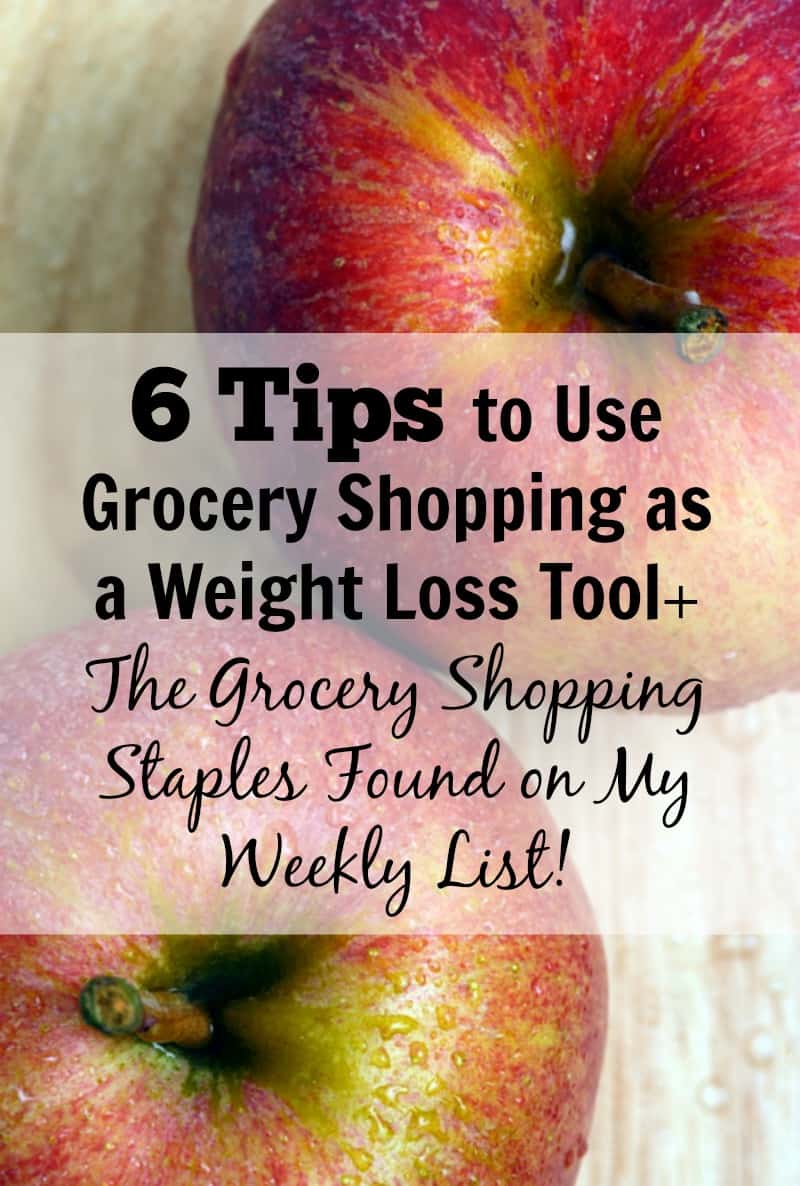 This post is by OYS writer Alexis from Trading Cardio for Cosmos. You can also find her on Facebook and Instagram sharing her awesome weight loss tips and motivation!! She's lost over 100lbs so she has lots to share!
---
I know it sounds counterintuitive to buy food to lose weight, but when done right, grocery shopping is a huge tool for weight loss.
I love grocery shopping. Always have. It's fun for me to explore, to try different recipes and foods, and explore new cuisines. With that in mind, here are my ten tips for grocery shopping to lose weight:
#1. Menu plan according to the 

Sunday

 circulars.
Whether you shop 
on Sunday
 or 
Wednesday
, it's a great idea to check out the sale circulars before you build your menu. You save money when you buy the proteins on sale, and it also enables you to shop for the freshest, most nutrient-packed foods. This time of year I aim for tomatoes, greens, zucchini, etc because this is when those items tend to be freshest and on sale.
#2. Make a list.
You knew that already, didn't you? Making a list gives you a game plan for what you need, and when you menu plan and then build a grocery list, you ensure you have the ingredients for your recipes, healthy foods for your snacks and that you aren't tempted by the stuff you don't need. I actually take it one step further and organize my grocery store by the ingredients I need – produce, meat, dairy, spices, etc – which makes it easier to get everything on the list.
**Note from Tammy. My go to meal planning tool is Plan to Eat. With PTE you can drag and drop recipes into your menu plan and from there easily generate grocery lists. You can keep track of your weekly menus, all your pantry items and even freezer meals. It's an amazing tool that shaves a ton of time and stress off the meal planning process. Check Plan to Eat out here.
Other resources:
#3. Don't go hungry.
Again, you probably already know this, but it's worth repeating because we absolutely buy more than what we need when we go to the store hungry. I like to go after the gym on Sundays, so I have a banana and a coffee before I go in so I don't end up with 7 zucchinis and 8lbs of cherries. Or worse.
#4. Shop the outside of the grocery store as often as possible.
Not like outside in the parking lot, but the perimeter of the store where the fresh and refrigerated items are kept. I used to think I had to go down every aisle, but now I shop the perimeter and just duck into the aisles for cooking spray, bottled water, the occasional bag of pretzels, etc. Things in the aisles tend to be shelf-stable, processed foods, and for me I try to avoid the chemicals and sodium that actually slow my weight loss.
#5. Talk to the store employees.
I love to ask the butcher what's best, and the fish counter employees will always tell you what's freshest, what's been frozen and what you might want to skip. Often asking their advice has led me to try cuts or meat or a new veggie side dish recipe I didn't know about before!
#6  Skip the grocery store altogether.
June is a great month to explore your local farmers market, co-op, farm or other community-supported agriculture. These local farmers grow good in your community, and I've never met a small farmer who wasn't knowledgable about their products. They can provide great cooking instructions, recipe ideas and information. Best of all – it's a person or family growing your food, not a giant corporation. #Eatlocal I always say!
Here are the grocery staples I pick up every week and/or as I need to.
Refrigerated section:
Fat-free milk, eggs for hardboiled, egg whites, 5 chicken sausage or Canadian bacon. Sometimes low-fat shredded cheese, nonfat yogurt for veggie dip and/or low-fat string cheese.
Produce section:
Kale, mushrooms, yellow onion, 5 apples, 5 peaches/plums or a big bag of grapes, cherries, etc that can be divided in 5. Bananas. Lettuce and cherry tomatoes for salads. Two veggies for lunches – zucchini, bell pepper, broccoli, baby bok choy or asparagus. Fresh herbs for egg white omelettes, marinades, even cocktails!
Frozen section:
Frozen (wild caught) shrimp, frozen mussels, frozen green beans (so convenient – no blanching needed) and frozen spinach for frittatas!
"The Middle" section (only when necessary):
Olive Oil Pam cooking spray, balsamic vinegar, capers, Panko bread crumbs, bottled spring water, individual packages of pretzels, COFFEE.
What about you? What are your grocery store tips, tricks or must-have staple items? Share 'em in the comments below!
---