Green Chef vs. Sun Basket – which one is the best? Let's find out! In today's post, I want to go over both of these meal kit companies and how they compare to each other. I'll cover the basics of the meals, meal plans offered, and other services they provide.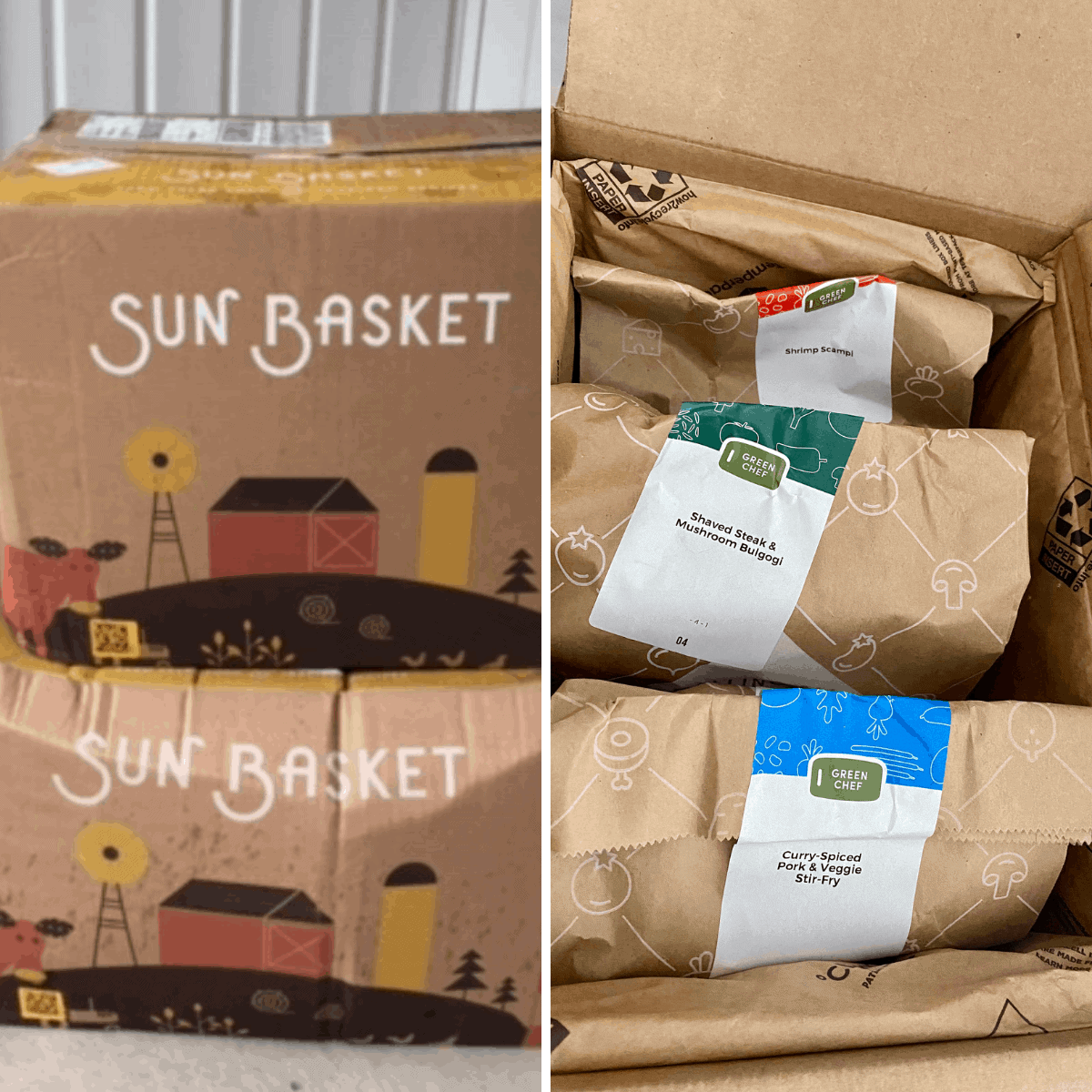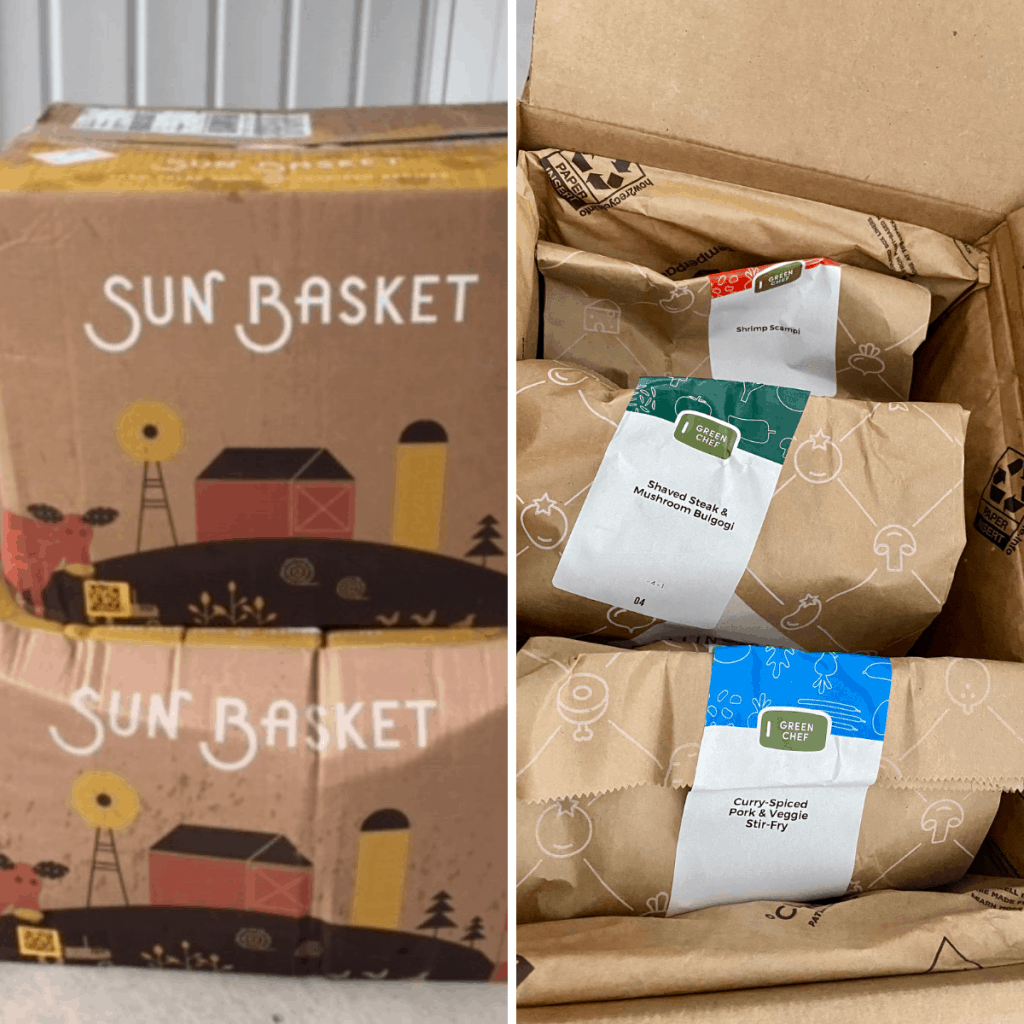 **This post contains affiliate links. I will receive a small commission if you decide to subscribe to Green Chef or Sun Basket. However, this is my completely honest review and you are by no means obligated to use my links. If you do, thanks so much for supporting my site.
If you found your way to this post, then you've probably decided to use a meal kit to help get your eating habits back on track.
I've been a fan of meal kit companies for about 6 years now! They're not for everyone but they definitely offer a solution for busy people and families.
How Meal Kits Can Help You Adapt Healthy Eating Habits
Since the beginning, there have only been more meal kit companies popping up. They are especially helpful for people who want to start eating healthier foods but are too busy to meal plan or grocery shop or, maybe they just don't know where to start.
Meal kits can help you form healthier eating habits in 2 different ways:
It helps get you started.
We all know that getting started with anything is sometimes the hardest part and eating healthier foods is no exception. Meal kits help you get started on healthier eating habits without a lot of work on your part. All you need to do is pick the meals and then cook them.
It does most of the work
The meal kit companies research and curate the meal plans every week. They also figure out nutritional information for you! Then, they put the ingredients together for each recipe along with 'simple to follow' instructions.
Lastly, it gets delivered right to your door, so you don't even need to leave the house! The only thing you need to do is cook the recipe.
So, if you want to eat healthier, are busy, and don't know where to start, then starting with a meal kit company can be just the solution you need.
There Are So Many Meal Kit Companies! Which One Do I Choose?
As you probably already know, there are many meal kit companies available. However, if eating healthy is your goal, then the two companies I recommend are Green Chef and Sun Basket.
Both of these meal kit companies pride themselves on providing options that encourage and promote healthier eating habits. So, if that's what you're looking for, then you'll find healthier options with both of these companies.
Green Chef vs. Sun Basket: Which Is Better?
I've used both Green Chef and Sun Basket for a couple of years now. They are actually 2 of my favorites, so I don't necessarily recommend one over the other. It depends on your needs because some differences can be the deciding factor on which one best meets your needs.
Of course, there's nothing to say you couldn't use both depending on what you're looking for. But, in this review, I'll cover the similarities and differences between Green Chef vs. Sun Basket.
Pricing And Meal Subscriptions
Let's start with pricing because that's always the first question I get when it comes to any meal kit.
Green Chef and Sun Basket are similar (yet different) in the pricing structure.
Green Chef Pricing
Green Chef meal plans range from $9.99 – $12.99. The price is dependent on the meal plan you choose.
I'll talk more about the meal plans below but, just to give you an idea, you can choose up to 4 recipes and servings for 12 people. However, the pricing depends on the meal plan that you choose, not the number of recipes.
This price includes all organic ingredients including meats!
Sun Basket Pricing
Sun Basket is a little pricier with its basic dinner meal kits.
Please note they also offer breakfast, lunch, and extras but for the purpose of pricing with similar offerings, I'm just going to focus on their dinner meal kits.
If you order 2 dinner kits, pricing is $13.99 per serving. 3 dinner kits are $12.99 each and ordering 4 dinners shifts the price down to $11.99 per serving.
Sun Baskets uses organic produce 99% of the time but organic and high-quality meats and seafood will be an upcharge.
Shipping
Both Green Chef and Sun Basket charge shipping. Green chef charges $8.99 per box and Sun basket charges $7.99 shipping per box.
The Winner Is: Green Chef
Green Chef wins out in this area because you get 100% organic for a less price than Sun Basket and without having to pay for upgrades.
Coupons and Promos
Meal Plans
Now, let's go over the difference in meal plans! This is one of the areas where I see the biggest difference between the 2 meal kit companies.
Green Chef Meal Pans
Green Chef has 4 specific meal plans you can choose and order from.
These meal plans are:
Keto
Plant-Powered
Balanced-Living
Carb-Conscious
These meal plans are designed to meet the needs of these eating styles.
Each meal plan has 9 new recipes to choose from each week. However, you cannot choose from all the meal plans when putting your box together.
For example, if you choose the Keto meal plan but see a couple of recipes in the Balanced-Living meal plan you like, you can't choose from that menu. You'd need to switch menus completely to choose from that menu. This likely has to do with the cost of the meal plan.
This is definitely an area I'd like to see Green Chef change in the future because there are often times when putting together a box, I'd like to get meals from the Keto Plan for me and meals from the Balanced-Living for my kids.
On a positive note, Green Chef meal plans work to meet the needs of these specific eating styles which I think is very helpful when trying to focus and stick to a restrictive eating style like keto.
Sub Basket Meal Plans
Sun Basket offers 10 meal plans:
Chef's Choice
Fesh and Ready
Paleo
Gluten-Free
Lean and Clean
Vegetarian
Mediterranean
Pescatarian
Diabetes-Friendly
There are a total of about 18-20 recipes to choose from each week BUT there are only about 3-4 recipes per meal plan. So, if you want 5 paleo recipes, you might not be able to get them.
However, Sun Basket is more relaxed with their meal plans. Meaning when you're putting your box together, you can choose from all of the different meal plans. You do pick a "meal plan" when signing up but you're not confined to only those meals when putting together a box.
A big difference in this area is that Sun Basket does not offer keto recipes. So, if you are specifically looking for a meal kit that will help you start and stick to the keto diet, then Green Chef is the better choice.
The Winner Is: Both (It Depends)
Overall, while I think both meal kits cater to a healthier lifestyle, if you're looking specifically for meal plans that cater to a specific eating style like keto or vegetarian, then Green Chef is the better option.
If you want more variety and flexibility in healthy meal plans, then Sun basket would work better for you.
Types of Recipes Offered
Green Chef vs. Sun Basket: Who has the best recipes? Well, in my opinion, both meal kits have easy to prepare tasty recipes. However, there are a few differences.
Sun Basket Recipes
Sun Basket recipes are more eclectic while using different exotic ingredients. If you are adventurous with food or want to try different cuisines, then you'll enjoy Sun Basket recipes.
Recently, they have been offering more family-style recipes but, for the most part, you'll find recipes using eclectic ingredients.
Another difference between Green Chef vs. Sun Basket is that Sun Basket offers prepared meals where Green Chef doesn't. So if you don't want to do any meal prep, then these meals are the solution.
All these meal options can be found under the 'Fresh and Ready' meal plan!
Green Chef Recipes
Green chef recipes are more on the classic family-friendly side. Especially, their balanced-living menu, in my opinion, is very family-friendly. My kids actually have really enjoyed all the recipes we've received from that menu!
Even though they don't offer prepared meals like Sun Basket does, Green Chef does a great job prepping most (if not all) of the recipe ingredients so recipes come together really fast.
Also, all of the Green Chef recipes I've received I made ahead of time to heat and eat all week. So, they work great for meal prep.
The Winner Is: Green Chef
So, it's more of a preference in taste but, personally, I enjoy the Green Chef meals better.
Extra Add-Ons Offered
This is an area where there is a big difference!
Sun Basket Add-Ons
Sun Basket, over the last year, has become a full-service meal kit company. They continue to offer the dinner kits that they started with but now there are breakfast, lunch, and snack options. You can also purchase proteins and stock your pantry.
You can even get green juices!
So, if you want a meal kit company to meet all of your healthy eating needs and get your entire kitchen stocked, then Sun Basket will do the trick.
Green Chef Add-Ons
Green Chef currently just offers dinner meal kits. So, if that's all you're looking for, then Green Chef will fit the bill.
The Winner Is: Sun Basket
Sun Basket wins this round hands down!
Signing Up And Canceling
Both meal kit companies make it very easy to sign up and cancel your subscription.
The Winner Is: Both
Ordering Meals And Skipping Weeks
Both companies make it easy to select your meals or skip a week from their website.
However, the biggest difference is that Sun Basket has an app and Green Chef doesn't. So with Sun Basket, you can make all those changes right from your phone. With Green Chef, you need to log onto your computer.
The Winner Is: Sun Basket
In this area, Sun Basket wins because they have an app and I find it some much easier to make changes using my phone then needing to go onto my computer and log in.
What Makes Each Meal Kit Unique?
Here's a breakdown of the key differences between Green Chef and Sun Basket. These are the things that I would consider when deciding between the two.
Green Chef
4 specific meal plans – Keto, Plant-Powered (vegan and vegetarian), Carb-Conscious, and Balanced-Living.
They offer a meal plan completely focused on the keto diet.
You can't order between menus.
Ingredients are prepped ahead of time making preparation easy and quick.
Recipes are delicious and more on the classic family-friendly side.
It doesn't have an app.
Sun Basket
It has more meal plans and a larger selection of recipes.
You can choose between meal plans.
It offers carb-conscious recipes but doesn't have a specific keto meal plan.
You can order prepared meals for quick fresh dinners.
It offers breakfast, lunch, and snack options.
It offers proteins and pantry items.
You can use Sun Basket to stock your refrigerator, freezer, and/or pantry.
It has an app.
Final Thoughts
While I think both meal kit companies meet the needs of busy health-conscious consumers, it really will depend on your needs and which one you think is the best.
For me, I tend to lean more towards Green Chef because I love their keto meal plan. The recipes are super easy to prepare and are delicious. When I started to meal prep more keto dinners a few months ago, I was at loss at where to start or what to make.
Utilizing the Green Chef keto meal plan was super helpful!
I also enjoy the balanced living menu from Green Chef when I want to order a box to feed my kids and husband. The recipes are super family-friendly.
I also lean more towards Green Chef because I don't have to pay any upgrades to get all organic ingredients. So, I find Green Chef to be more cost-effective for my needs.
I also love that all the ingredients are prepped ahead of time. Most of the recipes I ordered I've prepared within 20-30 minutes.
Those are my thoughts when it comes to deciding between Green Chef and Sun Basket. I've been using both of these companies for years so, if you have any questions, I'm happy to answer them. Just leave your questions in the comment section below.
See my other reviews to learn more about these meal kit companies:
So, which one will you choose? Green Chef vs. Sun Basket. Share a picture and tag me on Instagram or Facebook if you have decided which way you will go when it comes to Green Chef vs. Sun Basket!