Today's post is by OYS contributing writer Paula. See all of Paula's posts here.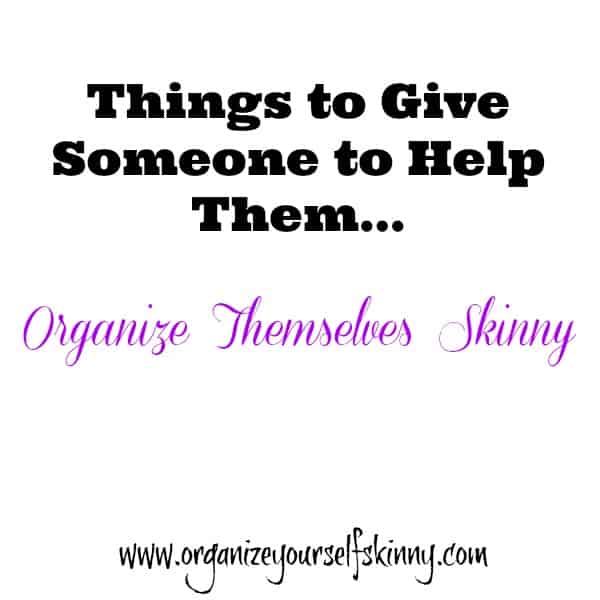 The holidays are a time for many things…but they are also a time that we ask for and get things as well.
I would like to be humble and say "I don't want anything…" HOWEVER, if someone is going to spend money on me, it may as well be something that I truly need. I will say… I have thoroughly appreciated and enjoyed the bottles of wine that my friends have (often) given me…I might have enjoyed them a little too much.  (Just being honest!)
So I have put together a few things money might go towards or that I would like for the holidays (and my birthday…which happens to be around the holidays as well…ahem).
Clothes

They get expensive! And now that I am replacing everything from socks to jackets, it is all adding up!

Exercise equipment

New, additional or different weights
Machines (small and/or large)
Videos (yoga, cardio, etc.)
Games (Wii, Xbox, Kinect etc. have workout "games." I like Zumba and Biggest Loser)
Headphones

Kitchen gadgets & supplies

Blender (mine might be kicking the bucket soon…it was 20+ years old & very well used!)
Organizing items (drawers, shelves, dividers etc.)

Electronics

(iTunes/Spotify) Gift cards or membership(s)
Music
Apps (If there are any that you have to pay for)
Headphones
Adapter (connect your phone/music player to speakers)

Gift cards for the grocery store or health food store

If I had a gift card to a specific food store that is healthy and promotes the lifestyle that I am trying to live, then I am more inclined to use it for myself (as it is intended) and be less likely to be a "mom" and just get "whatever they want".

5k payments

Maybe you could pay ahead of time for a 5k you know I am interested in. This may also motivate me to do it because it is a gift.
I understand that a lot of these gifts are most likely money in envelopes or gift cards…however, you can "personalize" the gift by adding a simple note that said:
"I remember you said you really liked that soundtrack…enjoy!"
"I saw you checking out the Xbox Fitness games at the store the other day. Hope you invite me over to win. I mean play"
"An elf told me that you wanted to upgrade your headphones."
"Thought you might like to register for the Turkey Trot next year! Never too early to keep doing what you love"
These examples tell me that you know what is important to me, you want to support me, and you have put some time and thought into the gift. However, I would probably sign "but feel free to stock up on wine too." J I mean, it would be nice to leave the final decision up to them. Again, it is the thought and gesture that is important!
Ladies, feel free to forward this post to your hubby's.
Men – you're welcome.
Things that money can't buy
So now that I sound kinda shallow by detailing every single thing on my "wish list", I would like to move on to a more meaningful note. The things on my list, would be nice for myself – or maybe it will help you when trying to make your own list (or list to buy for others). But the gifts that I have enjoyed giving the most and prefer to receive more than anything money can buy…are gifts that come from the heart and have some sort of homemade or personal touch to it.
Homemade Gifts
Food

Jams/Jellies/Preserves
Canned pickles etc.
Chocolate bark
Chocolate covered pretzels/candy
Chocolate anything
"Snowman Soup" (hot cocoa ingredients in a small mason jar)
Homemade cookies
Homemade pies
And more!!

Crafts

Scarves
Shawls
Quilts/Blankets
Sweaters
Tatted/knitted Snowflakes
Engraved items (wood, jewelry etc.)
Pottery
And more!!
p.s. I am very fortunate to have very crafty family members and friends who have given me ALL OF THE ABOVE!
Other simple, thoughtful, non-crafty suggestions:
1.     Coupons for ________________
1 batch of Organize Yourself Skinny food (prepared and delivered)
Example: Say someone wanted you to make smoothie kits for them. You could buy the ingredients, make the kits, freeze them and then drop them off.  I only suggest a coupon system for this idea because people probably won't have a lot of space in their refrigerator or freezer around the holidays and it will give them some time to think of a recipe (or you could give them 3 options per coupon).
2.     Purchase supplies (non-food) that you use for some of your OYS methods and package them up.
Mason Jars
Freezer Bags
Freezer containers
Freezer Labels & Marker
Measuring spoons/cups
Food Scale
Bag clips
Kitchen organizers
Apron
Cutting board
Spoons
Pots/Pans
It all depends on how much or little you want or can afford to give.
3.     SMK Gift Basket Ideas
OYS PBJ Kit (just add bread!)
Peanut butter (smooth)
Peanut butter (crunchy)
Jelly (strawberry/different or favorite flavor)
Jam (grape/different or favorite flavor)
Preserves (raspberry/different or favorite flavor)
Spatula
Basket
Create your own OYS kit
Purchase non-perishable ingredients for a recipe that you think they might like (or that you know they like), print off the recipe and OYS freezer instructions, package them up (prettier than I can do/pay someone)…and Ta-da!
Give the gift of "skinny attitude". The possibilities are endless…
So what are some of the things on your wish list? What are you planning on buying, doing or giving to someone else?
Get Instant Access to My Best Weight Loss Tips & Strategies!
Sign up now for a free step-by-step 7-day email course that I created exclusively for my email subscribers! That's you. I will teach the best habits, strategies, and insider tips so you can enjoy a lifestyle that encourages and supports weight loss! Stop relying on willpower and take control back over your life! You can do this. Let me help!