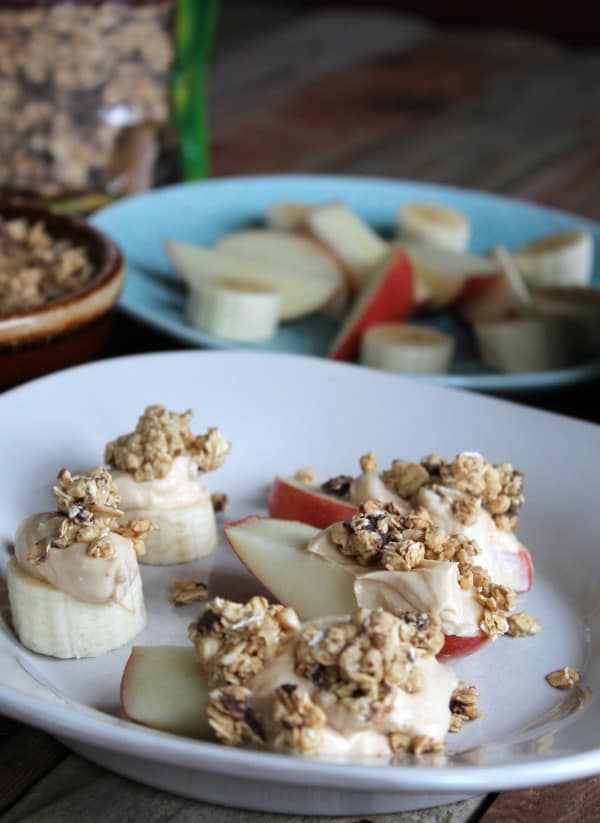 Each week, when I put together my meal plan, I am intentional and thoughtful with snacks. Not just for the kiddos after school snacks but I plan out and prep the snacks I am going to eat for the week too. I have mentioned before that I try to eat 5 smaller meals a day with two of them being my mid-morning snack at 10:00 am and my afternoon snack at around 3:00pm. I think the 3:00pm snack is probably the most important meal of my day. If I skip that snack there is no way I will make it to dinnertime without grazing. Grazing is never good. It usually means that I am picking at ingredients as I make dinner or I mindlessly grab food out of the refrigerator or pantry.
So for me to stay on track snack time needs to be serious business in my house.
However, snack time can't be complicated. I need it easy. In my work at home food blogger life I spend a lot of time preparing new breakfast, lunch, and dinner recipes. A lot of time. So while I would like to create new snack recipes more often than not I fall back on my good ole usuals. If you look at my meal plans you will see that yogurt, fruit, peanut butter, granola, cheese, and crackers make regular appearance week after week. But…let's be honest one can only eat so many cheese sticks. So every now and then I do get the urge to switch things up.
But like I said I need it to be easy.
By easy I mean take what I am already eating and make it look and taste new. That is exactly what I did with this new snack recipe. I love to eat apples, bananas, and peanut butter for an afternoon snack. The fruit curbs my sweet tooth craving and the peanut butter gives me the protein my body needs get through to the next meal. The problem is peanut butter is high in calories and it doesn't take much to overdue it. Boo!
Good thing I learned a little trick to stretch my love for peanut butter. It is simple but borderline life changing. Well for a peanut butter lover like me it is. Ready? All I do is to stir some peanut butter into greek yogurt. I know this sounds kind of weird but trust me it creates a heavenly thick whipped peanut butter dip that goes perfectly with apples and/or bananas. I use vanilla greek yogurt but you can can use plain and just add a little pure vanilla extract to it. I also add in some honey for some extra sweetness.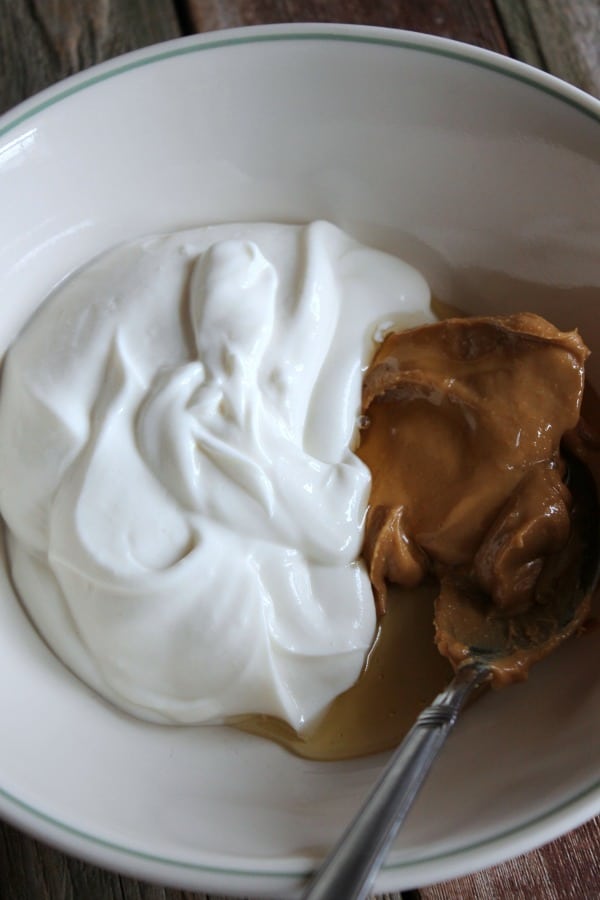 Oh boy it is so delicious. Just look at how thick and luscious that dip is. It is hard to believe that it is only 3 simple ingredients.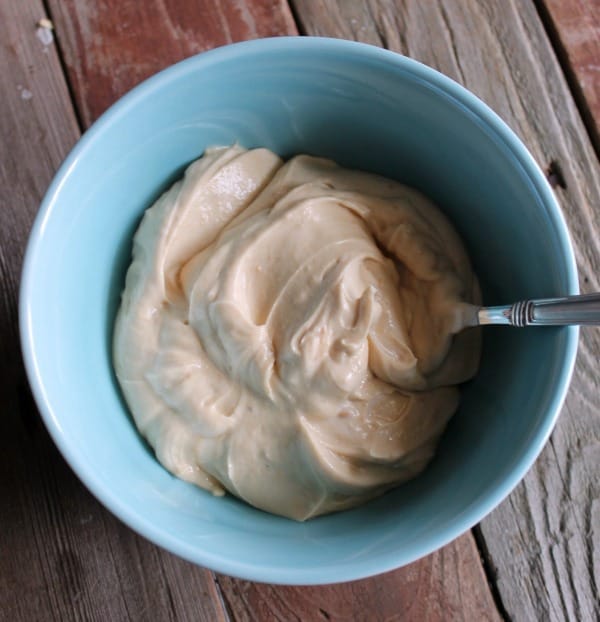 To take this snack to the next level, after I dipped (or plopped) some on my desired fruit,  I went and sprinkled granola on top. I used Nature Valley® Protein Granola and it was delicious. They sent me a bunch of different flavors and each one is great. For this recipe I used  Nature Valley ® Protein Oats N' Dark Chocolate because well…chocolate and peanut butter… ummm yes please. You can see all the flavors on their website. Or check out their Facebook, Instagram, or Twitter page for more ideas and recipes.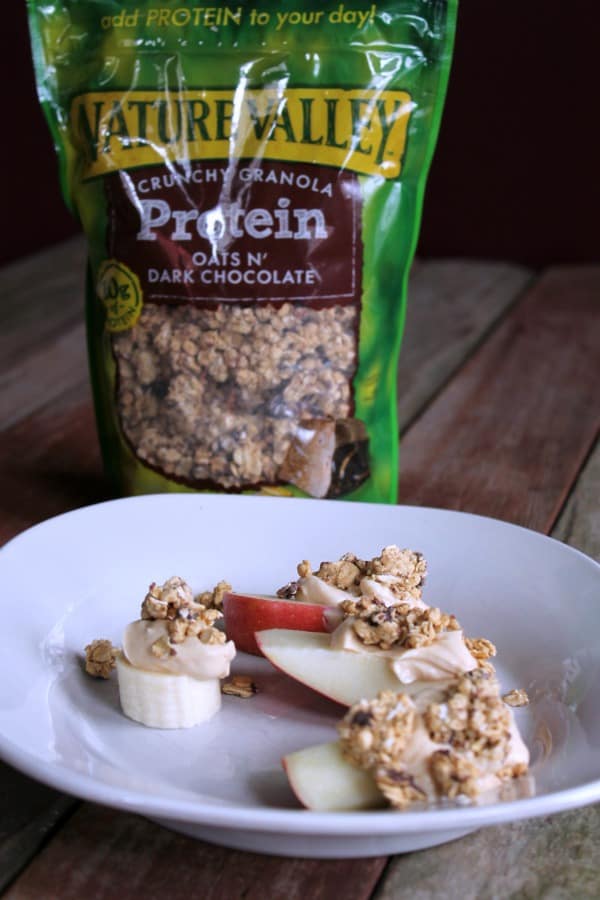 Between the greek yogurt, peanut butter, Nature Valley ® Protein Granola, and fruit I think every taste bud was completely satisfied. And so was my tummy. This hearty snack kept me full straight to dinner time. I absolutely loved it. So did my kids. We ate it 3 days in a row!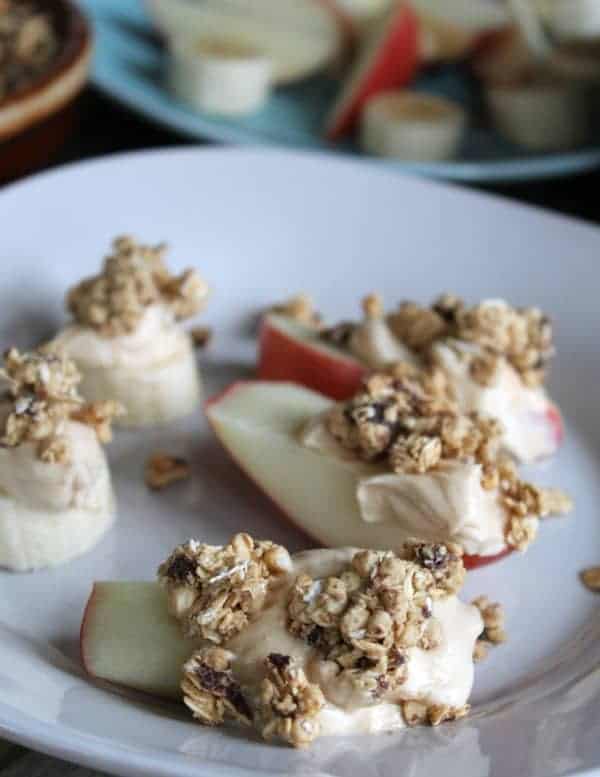 This dip can be made 2-3 days ahead of time and it is one of those recipes that will get more delicious with each day. So make a batch, keep it in the refrigerator, and whip up some fruit crunch dippers when the mood strikes. If you have fruit and granola on hand you can have this snack ready in less than 3 minutes. And we all know having healthy snack options ready is so very important when you are trying to stay on track with your weight loss goals.

Fruit Crunch Dippers
Author:
Organize Yourself Skinny
Ingredients
1 cup vanilla greek yogurt
¼ cup creamy natural peanut butter
1 tablespoon honey
apple and/or banana slices
½ cup Nature Valley ™ Protein Granola Dark Chocolate n' Oats
Apple slices
Instructions
Place yogurt, peanut butter, and honey into a bowl. Stir until blended.
Serve ¼ cup dip with apple or banana slices and 2-3 tablespoons of granola.
Notes
Make ahead tips


This dip can be made up to 3 days ahead of time. Store covered in the refrigerator.
Nutrition Information
Serving size:
¼ cup dip, apple slices, and 2 - 3 tablespoons granola
Calories:
147
Fat:
6
Carbohydrates:
17
Fiber:
7
Protein:
2
This is a sponsored conversation written by me on behalf of Nature Valley Protein Granola via Burst Media. The opinions and text are all mine.
Get Instant Access to My Best Weight Loss Tips & Strategies!
Sign up now for a free step-by-step 7-day email course that I created exclusively for my email subscribers! That's you. I will teach the best habits, strategies, and insider tips so you can enjoy a lifestyle that encourages and supports weight loss! Stop relying on willpower and take control back over your life! You can do this. Let me help!