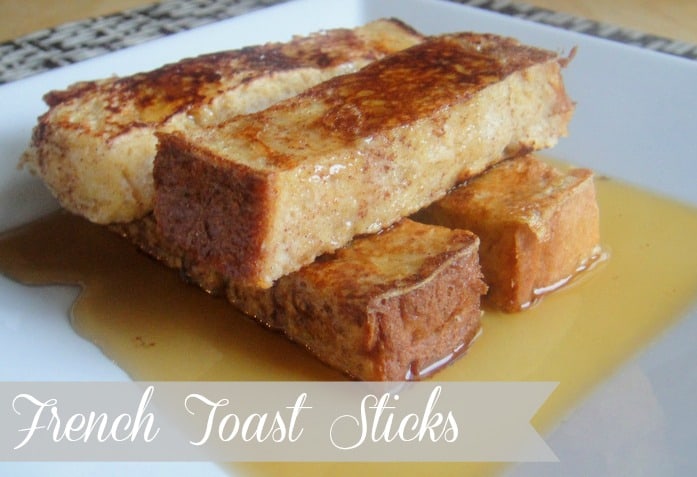 French toast, because it takes a little extra time to prepare, is often thought of as a weekend only breakfast meal. Also, it is not a food that you would think of when trying to eat healthy. However, with a little recipe tweaking you can easily turn this once in a while weekend treat into an regular quick healthy breakfast.
At the request of the kiddos I made french toast sticks over regular french toast. My girls love anything that is considered "finger food". Me too – so who am I to argue?
To my delight the french toast sticks freeze perfectly. Yippee! Now even on super busy mornings we can easily enjoy these for breakfast.
The recipe was adapted from the Cooking Light Way to Bake: The Complete Visual Guide to Healthy Baking
. To make french toast sticks I just cut the sliced bread into 4 pieces. If you choose, the bread can easily be left whole.
I used homemade honey whole wheat bread for this recipe. Any thick cut bread would do just fine.
Don't you love this picture? My 7 year old Emma set it all up for me. She loves being my little food stylist.
Freezer Breakfast: French Toast Sticks (Freezer Recipe)
Serving Size: 4 sticks
Servings: 10 (depending on the loaf of bread)
Approximate nutritional information:
Calories: 150 * Carbs: 18 * Fat: 5 * Protein: 7 * Fiber: 3 * Points +: 4 * Old Points: 3
**Please note these calculations are without maple syrup. Pure maple syrup has approximately 110 calories per 1/4 cup. Adjust accordingly.
Ingredients:
1 loaf of fresh whole wheat bread (homemade or store-bought)
4 eggs
1 cup 1% milk
1 teaspoon vanilla
1 teaspoon cinnamon
cooking spray
Directions:
Step 1: Slice the bread into 1 – 1 ½ inch slices. You should get about 10 slices of bread minus the end pieces. Then cut each slice into 4 sticks. Set aside.
Step 2:  In a medium bowl, combine until blended, the eggs, milk, vanilla, and cinnamon.
Step 3: Spray skillet or griddle with cooking spray. Turn on skillet or electric griddle to medium high heat.
Step 4: Dip both sides of the bread in egg mixture. I set it soak for about 5 seconds, any longer and it started to fall apart. Place dipped bread on skillet or griddle and cook until both sides are lightly browned. Repeat with remaining bread.
Serve with 2 – 4 tablespoons of pure maple syrup.
Freezer Cooking Instructions
Complete steps 1 -4. Let cool, then wrap 4 at a time in plastic wrap. Place wrapped portions in freezer bag. You can also flash freeze the french toast sticks. After frozen place all in a freezer bag, then take out the amount you want when ready to eat.
To reheat place unwrapped french toast sticks in the microwave for 1 – ½ minutes. They can also be warmed up in the toaster oven or regular oven at 350 for 3-5 minutes or until heated through.
Resource
This recipe was adapted from the cookbook Cooking Light Way to Bake: The Complete Visual Guide to Healthy Baking
. The french toast sticks were cooked on the Wolfgang Puck Indoor Reversible Electric Grill/Griddle
. Also, many of you asked for the homemade bread recipe. All of the bread recipes I make come from The Bread Lover's Bread Machine Cookbook
by Beth Hensperger. This cookbook is amazing with over 300 bread machine recipes. I have baked about 15 of them so far and loved them all. I don't post any of the bread recipes because I do not adapt these recipes at all – there is no need to. I highly recommend this bread machine cookbook.
This recipe is shared at:
Make Ahead Meals for Busy Moms Melt in Your Mouth Mondays
Get Instant Access to My Best Weight Loss Tips & Strategies!
Sign up now for a free step-by-step 7-day email course that I created exclusively for my email subscribers! That's you. I will teach the best habits, strategies, and insider tips so you can enjoy a lifestyle that encourages and supports weight loss! Stop relying on willpower and take control back over your life! You can do this. Let me help!