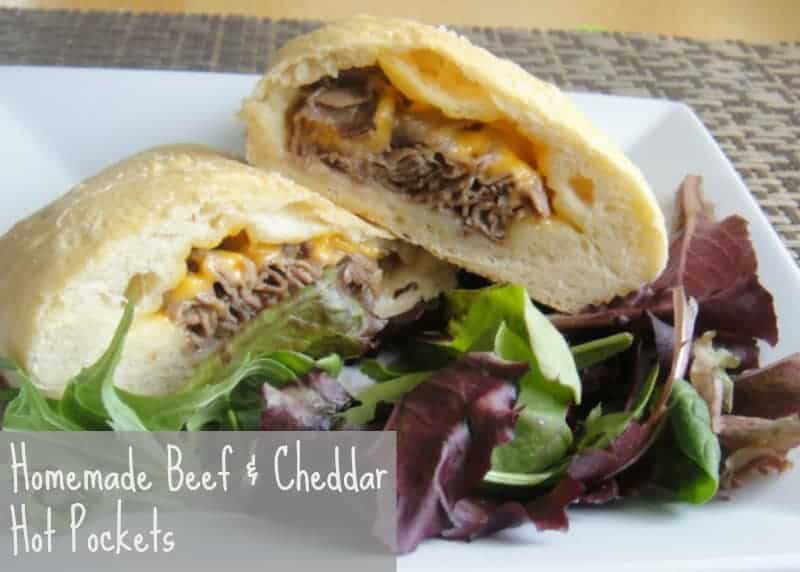 Many moons ago, one of my weaknesses was an Arby's Beef and Cheddar. I remember when I was pregnant with my second I could have eaten one everyday if I let myself. I was bad. But I was pregnant so I will blame it on the hormones.
Even though I don't frequent this fast food establishment anymore doesn't mean I don't crave these tasty sandwiches – yes even today I still think they are tasty.
Now when I get a craving for the famous Arby's beef and cheddar I turn to my homemade hot pocket of the same name. The recipe I put together is so incredibly basic only consisting of meat, cheese, and pizza dough. You could  add a sauce, if you like, but these basic ingredients are all I needed to curb the craving. Of course if you want to vege it up add any of your favorite vegetables – spinach or broccoli would taste great!
Homemade hot pockets are easy to make, freeze, and the filling options are very versatile. I love having a stash of them in the freezer for a quick grab and go lunch.
In the future, I will experiment with other hot pocket filling combinations.

Homemade Hot Pockets: Beef and Cheddar
Author:
Organize Yourself Skinny
Ingredients
Homemade or store bought pizza dough. (I used the semolina pizza dough recipe found in my homemade pizza recipe)
16 thin slices of roast beef
16 tablespoons of shredded cheddar cheese.
1 egg white, lightly beaten
kosher salt * optional
Instructions
Preheat oven to 375 degrees
Separate dough into 8 portions.
On a floured surface or pan stretch dough out to a 7 inch circle. In my experience I find streching out the dough much easier using a floured pie pan
Place in the center of dough 2 slices of roast beef and 2 tablespoons of shredded cheddar cheese.
Fold dough over and pinch ends to seal. Use a fork to crimp ends completely closed.
Brush top of hot pocket with egg white. If you are using, sprinkle the top of the homemade hot pocket with kosher salt.
Bake for 20 minutes or until done.
Nutrition Information
Serving size:
1 hot pocket
Calories:
339
Fat:
10
Carbohydrates:
46
WW Points +:
9
Fiber:
3
Protein:
15
Freezer Recipe Instructions
Cook, cool completely, and wrap in plastic wrap. Repeat with each one. Place all the wrapped hot packets in labeled freezer bag. Place in freezer.
Reheating Instructions
I don't recommend taking these out of the freezer and immediately warming up in the microwave. The ends become to tough in my experience. Instead, take one out in the morning and it will be almost thawed by lunchtime. At that point heat up in toaster over (350 for 5-7 minutes) or microwave (1-2 minutes till heated through). Be careful because the center can become hot.
Get Instant Access to My Best Weight Loss Tips & Strategies!
Sign up now for a free step-by-step 7-day email course that I created exclusively for my email subscribers! That's you. I will teach the best habits, strategies, and insider tips so you can enjoy a lifestyle that encourages and supports weight loss! Stop relying on willpower and take control back over your life! You can do this. Let me help!