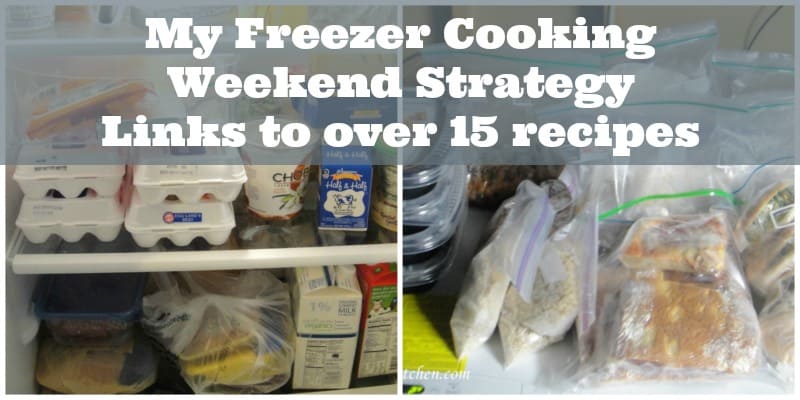 This is going to be a big freezer cooking weekend for me. With hubs and kids home this past week for spring break my freezer (and pantry) is down to slim pickings.
I thought it would be helpful to you (and me) to write down my freezer cooking strategy for this weekend. That way you can see what goes into a large freezer session and I have something to refer, keep me focused, and more importantly hold me accountable.
Let's get started because I have lots of work to do.
Freezer Recipes
Obviously, before I get going with cooking I need to figure out the recipes I am going to prepare. This usually takes me a few days because I hardly ever get a solid block of time to work on it. Mostly, I am looking through cookbooks and finding recipes during my lunch break and when the kiddos go to sleep.
Anyway, my goal for this weekend is to get these recipes prepared. Some of them are new recipes (yikes) so that is why there are no links. If they turn out the way I want them to I will share. Please note I do not recommend trying a new recipe if you are a beginner freezer cook.
Mushroom  Spinach and Bacon Breakfast Burritos.
Spinach and Feta Breakfast Bagels.
Banana Bread
Taco meat (double batch).
Frozen Pizzas (2 large and 8 individuals)
Spinach and Feta Stuffed Shells
Macaroni and Cheese (double batch)
Freezer Meal Starters. In addition to the freezer recipes I am only going to make brown rice and breaded chicken meal starters.
Freezer Cooking Plan of Action
I made my grocery list yesterday and then did all my grocery shopping last night so this morning I am ready to get started.
Here is my refrigerator currently stuffed to the brim.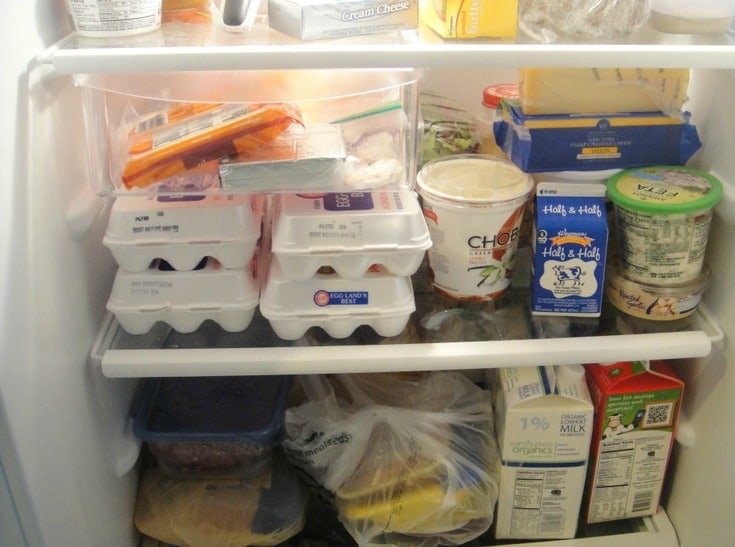 The only glitch is that I will be with my girls at dance class until around 2:00pm. Therefore, most of the freezer cooking will begin using my slow cooker, rice cooker, and bread machine. The rest will happen after 2:00pm and then tomorrow.
Here is the plan:
Start the slow cooker Mexican shredded chicken first thing in the morning. This chicken will be used for the enchiladas and quesadillas.
Start a large batch of brown rice in the rice cooker. Part of this will be used for the chicken fried rice freezer recipe and the rest will be portioned out and put in the freezer.
Start pizza dough in the bread machine.
This can all be done before we leave for dance class.
After we get back start another batch of pizza dough.
Pound out, bread and bake up rest of the chicken. 4 pieces will be used for chicken parmesan freezer meal and the rest will be used for meal starters.
On the stove get going the taco mix, clam sauce, and chicken sausage for pizza. I will need all 4 burners because I will need to cook up some bulgur for the taco mix.
Make pizza sauce and sauce for chicken parmesan and stuffed shells.
Assemble meals and freeze.
This part I am guessing will take around an two hours or so then I will clean up a bit and take a small break before I finish with my freezer cooking session for the day.
Prepare the breakfast burritos and bagel sandwiches.
Assemble the chicken enchiladas and chicken quesadilla kits.
My plan is to be done around 5:30pm so I can go to my parents for dinner 🙂
If you haven't noticed I am trying to get all my meat cooked and prepared today. This way I can focus on baking and meatless dishes tomorrow.
What about you? Do you have any freezer cooking plans this weekend?
Get Instant Access to My Best Weight Loss Tips & Strategies!
Sign up now for a free step-by-step 7-day email course that I created exclusively for my email subscribers! That's you. I will teach the best habits, strategies, and insider tips so you can enjoy a lifestyle that encourages and supports weight loss! Stop relying on willpower and take control back over your life! You can do this. Let me help!