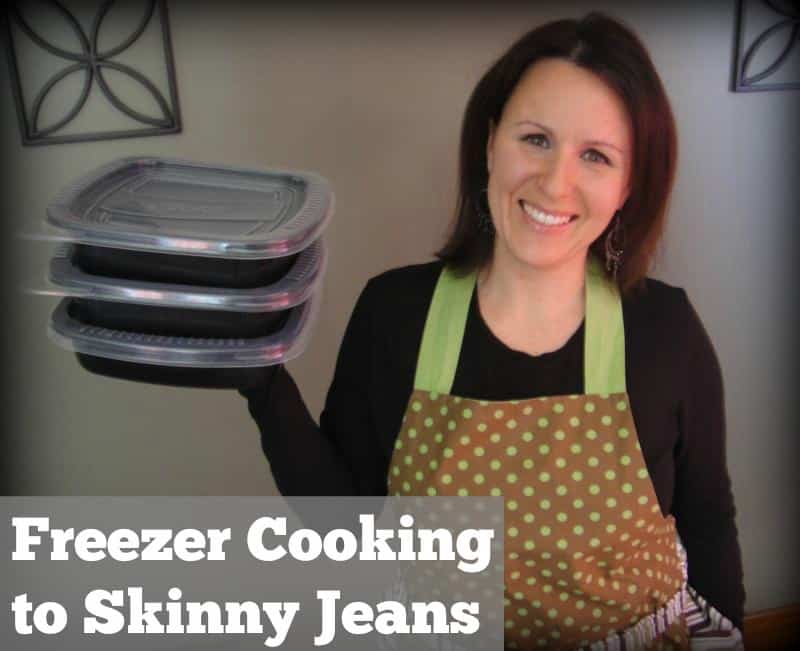 A couple of months ago, I bought my first pair of skinny jeans. In that moment I felt accomplished, proud and, for the first time in a very long time, I loved the way I looked. I never thought I would ever buy a pair of jeans or pants that were not relaxed fit but, I did and it was awesome!
You may have initially come to Organize Yourself Skinny and thought, "What the heck does freezer cooking have to do with losing weight?"  Let me explain. Losing weight will always have its ups and downs but, the one tried and true method to successful weight loss for me has been planning my meals ahead of time and freezing them.  That's why I focus so much on teaching menu planning and freezer cooking.  These two strategies continue to make all the difference for me.  In my busy life, I could not depend on "winging it" every morning to figure out what my family would eat.  This failure to plan ultimately meant planning to fail.  Once I created a plan (calorie awareness) and implemented a method (menu planning and freezer cooking) losing weight became naturally integrated into my lifestyle and the pounds started to come right off.
Here are some more reasons why I choose freezer cooking as a method to support my healthy lifestyle:
Portion controlled meals There are many diet programs out there that offer to send you prepackaged meals every week and you can find hundreds of different portion controlled meals in the supermarket.  However, these meals come at a high cost and they do not even come close to tasting as good as a home cooked meal.  Freezer cooking allows me to prepare portion controlled meals with fresh ingredients for much less money.  Another benefit to creating your own meals is that you learn what appropriate portions are.  If you always use big name diet brands to create your food you will become dependent on them forever.  When you stop eating them, it's more than likely you will gain the weight back because you never learned how to create your own portion controlled healthy meals.  Freezer cooking your own meals will allow you take back control over your eating.
Nutritious minimally processed meals By making your own meals and freezing them, there will be no need to add preservatives or artificial ingredients which are found in many of the prepackage meals.  Freezing food naturally locks in the freshness and nutrition without the need for any preservatives.  When you start eating fresh, minimally processed food, your body will naturally start to become healthier and will thank you with a smaller waistline.
Meals are ready when you are ready The best thing about filling your freezer with ready to eat meals is you always have healthy food available for your family. By having these meals ready, you are less likely to order out or slide into the fast food lane.  Not only does that mean you eat more nutritious food, it means you are spending less money!  In addition to skinny jeans you'll have a fatter wallet!  Like how that works for ya?
As you can see, freezer cooking plays a large role in keeping my family healthy and me in skinny jeans.  It's not just about cooking up and stockpiling huge amounts of food.  For me, freezer cooking is about taking control over the foods I eat and making sure they are available and ready when I need them.
Get Instant Access to My Best Weight Loss Tips & Strategies!
Sign up now for a free step-by-step 7-day email course that I created exclusively for my email subscribers! That's you. I will teach the best habits, strategies, and insider tips so you can enjoy a lifestyle that encourages and supports weight loss! Stop relying on willpower and take control back over your life! You can do this. Let me help!