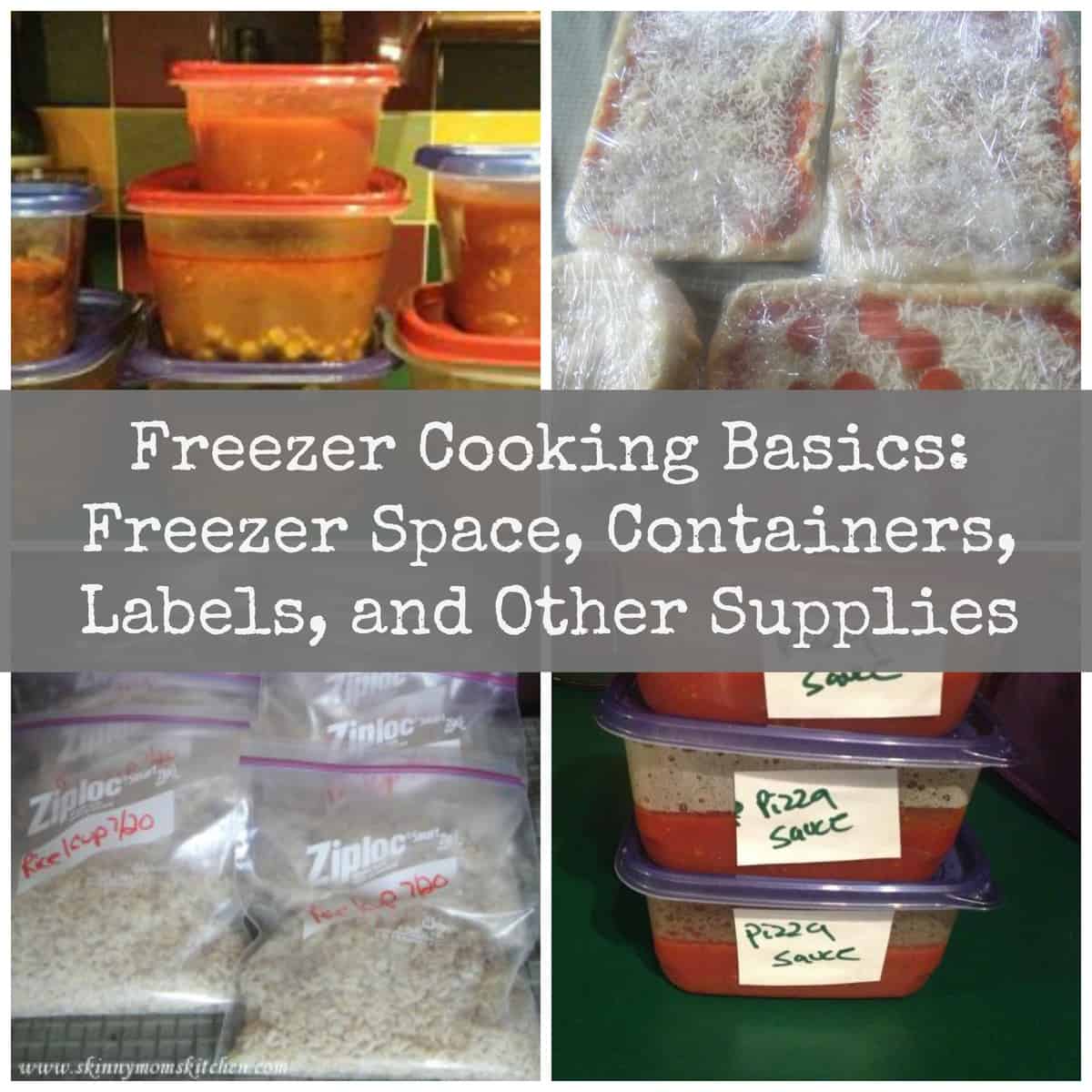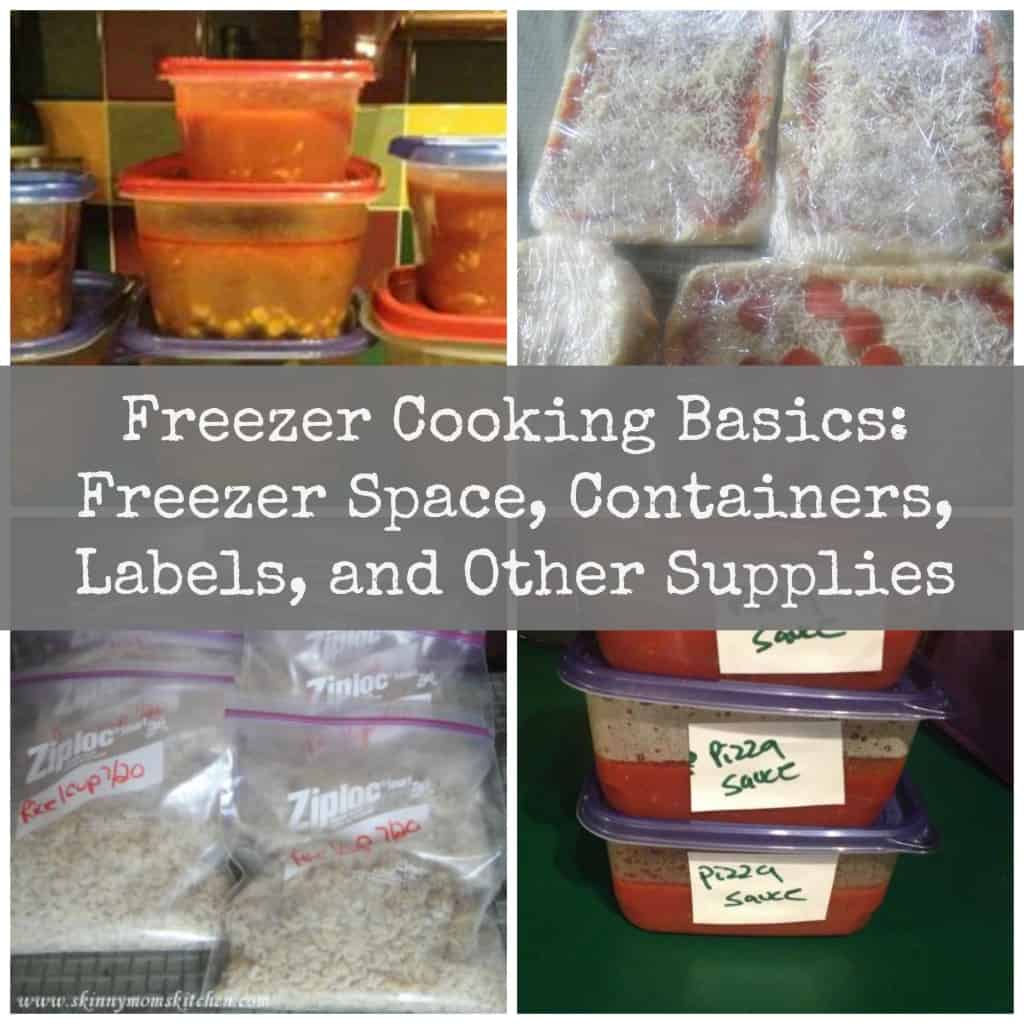 This post is going to be the first in a series reviewing the basics of freezer cooking. The goal of the series is to provide you with the knowledge and confidence to begin using your freezer as genuine tool in moving towards a healthier lifestyle and if needed losing weight. I want you to see that your freezer (small, medium, or large) can be used for more than just storing meat and leftovers.
Part 1 of the freezer cooking series will go over freezer space, containers, labels, and other freezer supplies.
Freezer Space
It is a common misconception that you need to have a large chest freezer or tons of freezer space to reap the rewards of having fresh homemade meals prepared ahead of time. That is simply not true. Of course if your goal is once a month cooking (OAMC) and putting together around 50 meals, including large casseroles, sure you probably will need a large freezer. However, you certainly do not need one to prepare 1 -2 weeks worth of meal starters and frozen meals. Freezer cooking is completely adaptable to whatever your situation may be.
A lot of people think they don't have the room in their current freezer for freezer meals when it fact, with a little rearranging, they most likely do. For example, right now your freezer might be stuffed with packages of frozen chicken, beef, vegetables, and tons of mystery leftovers. Making your freezer work for you is simply turning those packages of food into meal starters or meals so they are ready when you need them. For example, turn that plain chicken and beef into ready to grill marinated chicken and seasoned beef for cheeseburger wraps and tacos. Make a sauce with the vegetables or have them ready to throw into a fajita. Freeze a few bags of brown rice for a healthy side dish. Regardless of your freezer space even the smallest amount of freezer cooking will assist you in healthy eating.
General Guideline for Freezer Meal Containers and Packaging
The general rule for properly freezing a meal is to remove as much air as possible to keep the food adequately protected from the freezer. This is to guard it against freezer burn. Freezer burn, according to the USDA, does not make foods unsafe to eat however it does decrease the taste and quality of the food making it most likely inedible. Therefore, properly storing your freezer meals ensures that all of your hard work does not go wasted.
Freezer Meal Containers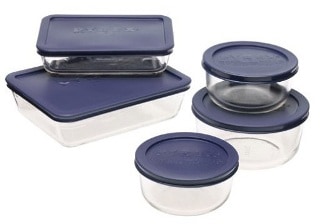 Depending on what you are freezing, and the amount of space you have, will determine the size of the containers you use. There are many different types of containers to choose from. However, the most important thing to look for is whether they are freezer ready and/or safe. Freezer ready containers are made specifically for the freezer and will provide better protection against freezer burn than ones that are not.
Here is a list of common containers used in freezing meals.
Tupperware, Lock & Lock, and Other Hard Plastic Storage Containers
These are the sturdiest of the storage containers with most brands having their own freezer ready lines. The prices are not over the top expensive but they do cost more than other options. You can find nice sales online or in the stores so snatch them up when you can.
Disposable Plastic Freezer Containers
There are many brands that have a large variety of disposable plastic freezer containers. They are called disposable however the ones I have purchased lasted months if not over a year so in my opinion they are pretty sturdy. These are the containers I use most when I freezer cook. Personally, I like the Ziploc containers with the smart snap seal but other brands work just as well.
Glass Containers or Jars
In the research I have done on freezer cooking I discovered that some people use glass containers or jars to freeze their meals in. I personally have not used this packaging method. Unless the glass says freezer safe I would not take the risk of it breaking. I certainly would not take a glass dish directly from the freezer to the oven. If you are in need of packaging a full casserole dish I would first line the casserole dish with heavy duty plastic wrap, prepare the casserole, flash freeze it for about an hour, then remove the casserole from the pan and wrap it tightly in plastic wrap to store in the freezer. However, since I freeze smaller portion controlled meals I usually am not faced with needing to freeze large casseroles. Regardless, if you choose to use glass containers please do so with caution.
Freezer Container Sizes
Here are some examples of different size containers and what they can be used for. Please note these are just examples. Every brand is different and will offer a variety of sizes to choose from.
Extra small/small bowls or small square dishes ~ pesto, leftover tomato paste, dressings, dips, fruit, hummus, etc.
Small/medium bowl or medium square dishes ~ soups, salads, pasta dishes, taco meat, chicken recipes, sandwiches, and pretty much any individually prepared homemade freezer meal.
Divided rectangle ~ these are great for fresh/or frozen lunches and dinners.
Large bowl ~ sauces, soups, and other foods you want to store in large portions.
With most of my freezer meals being portion controlled meals and or meal starters I primarily use the small/medium and divided containers in addition to the other methods listed in the next section.
Freezer Bags
If you don't have a lot of room in your freezer then utilizing freezer bags will be your best bet. Again, you want to make sure that the bags are designed for the freezer and not just regular or snack plastic bags to prevent freezer burn. Freezer bags come in quart and gallon sizes.
I use the quart size to store starter meals such as cooked chicken, rice, and seasoned beef. The gallon size bags I use to group together and store individual package foods such as pancakes and breakfast sandwiches. I also use the gallon size bags for marinated chicken and meatballs.
Heavy Duty Plastic Wrap and Aluminum Foil
Another way to prepare food for the freezer is by wrapping it in heavy duty plastic wrap and/or aluminum foil. I always wrap first in the plastic wrap a couple times then finish off with aluminum foil. Or I skip the aluminum foil and just individual wrap then place in a freezer bag. Either way is fine as long as the packaging is secure enough so no air gets in.
Freezer Labels
When I first started freezer cooking I did not label anything. What a mess that was! It is very important to label everything you put into the freezer because after awhile it all starts to look alike. Right now I use basic white address labels and a black marker. These serve their purpose however do get messy after a wash or two. Not to mention I have to keep placing new labels over the old when I reuse the container. I am going to start using an erasable freezer label system and will update this post once I can give more details.
These are all the supplies you can use to properly freeze your meals. There is a system to fit everyone's style and taste. Some people lean towards using all plastic containers, some prefer plastic bags, and some use a little of everything. Use the packaging system that fits best with your lifestyle.
Lastly, I wanted to mention that if you are brand new to freezer cooking please don't feel like you have to run out and buy everything. Start small, experiment, and soon you will find what you like and what works best for your family.