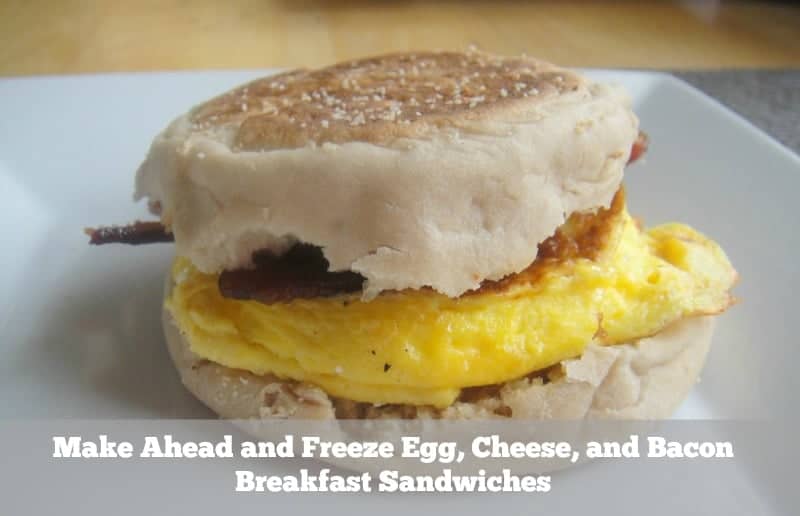 Last August, I put together my first homemade frozen breakfast sandwich. Since then my freezer has been stocked with them – can't imagine my busy morning without them.
At first, I question posting the basic recipe because – well – it is so basic. However, I should not second guess myself. This basic freezer breakfast sandwich has become the most popular post on my site. Seriously, since I posted it has stayed at the number 1 or 2 most viewed post. I guess you all love simplicity as much as I do.
However, as simple as it is there are some challenges with the recipe at times. One challenge, with the original recipe, was the egg whites would sometimes get slightly rubbery and at times a little watery. Looking back on a post I did about foods that are a challenge to freeze this make sense. I never had real issues with this but there is always room for improvement so I set to create different versions of the breakfast sandwich.
The one I want to share today is a bacon and cheddar breakfast sandwich. This has become my new favorite. It is not as simple to put together, as the original, but it does fix the challenges of the first recipe.
Instead of cooking the eggs over medium or hard (as in the original), I mixed all the eggs together with milk and cheese then cooked in ¼ cup portions on the griddle
using a 4-piece egg/pancake ring set
. It was a little tricky at first but once I did a few I got the hang of it. If you don't have egg rings set then just cook in ¼ cup portions in a small frying pan.
Preparing the breakfast sandwiches using this method created fluffier eggs that froze and reheated nicely. I try to take these out the night before and let thaw in the refrigerator. This makes reheating easier. Also, you can toast muffins if you want before freezing. I don't do this but you certainly can.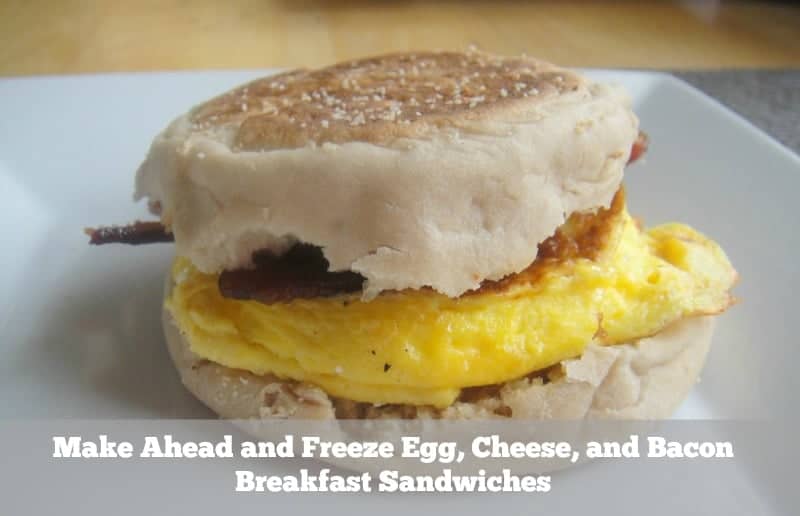 Ingredients
12

large eggs

¾

cup

1% milk

1

cup

shredded sharp cheddar cheese

18

slices

cooked bacon

18

Thomas lite English muffins

high fiber

Salt and pepper
Instructions
In a large bowl whisk all the eggs together, add milk, and continue to whisk until combined. Stir in cheese. Salt and pepper to taste.

Cook ¼ cup portions of egg mixture on hot griddle or frying pan. Repeat until all the egg mixture is gone. Like I said this might take a little longer but the end result is worth it. Also, make sure to stir up the mixture before you scoop out some of the egg mixture because the cheese does tend to sink a bit.

Assemble the sandwiches using 1 English muffin, 1 piece of egg, and 1 slice of bacon.
Nutrition
Serving:
1
g
|
Calories:
227
kcal
|
Carbohydrates:
27
g
|
Protein:
14
g
|
Fat:
10
g
|
Fiber:
8
g
Freezer Instructions
After all the breakfast sandwiches are assembled and cooled wrap them in plastic wrap and place in freezer bag. I usually can  fit 9 sandwiches in each freezer bag. Label and place in the freezer.
Reheating Instructions
Take out of freezer and unwrap. Heat up in microwave for 2-3 minutes or until heated through. These can also be heated up in toaster over, Pannini press, or regular oven.
This recipe was prepared using the Wolfgang Puck Reversible Nonstick Grill and Griddle.