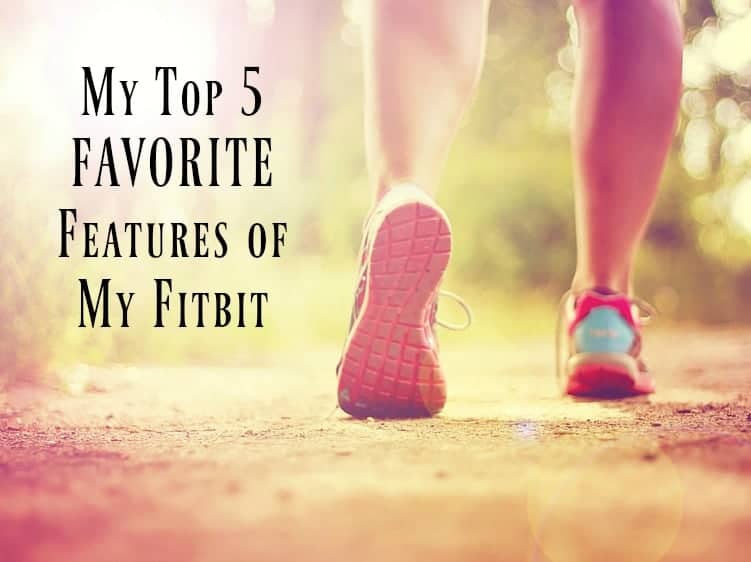 I can't help but keep writing about my Fitbit…I just love this awesome little gadget! If you missed my earlier posts on how to find the right Fitbit for you, and how to get the most out of your Fitbit, you can check them out here and here.
Today I want to share with you the five features on my Fitbit that I find myself using the most, and why I find them so helpful. Your preferences and lifestyle may be different, so all of these may not appeal to you. This is why they make so many different Fitbit models, and why it's so important for you to find the perfect Fit Bit for you.
Fave Fitbit Feature #1 – Step Tracker
Ok, so I know you can track your steps with a good old pedometer, but I hate clipping that thing on my clothes. Plus if I'm wearing a dress, there's no place to clip it on. My Fitbit wrist band is comfortable and goes with any outfit. So why do I love the step tracker feature so much? Well, I guess mostly because it gave me a wakeup call. I am a pretty avid exerciser, so I never thought I had to think twice about taking enough steps. I was wrong. Once I started wearing my Fit Bit, I realized that on my rest days from exercise, I was not getting to that magic mark of 10,000 steps per day. That's the number recommended by the American Heart Association, and it's the goal my Fitbit is set for. So on those rest days, it made me get out of my chair more at work, park a little farther away at stores, and get off the couch during commercials. Taking those extra steps is not about losing weight for me, but keeping my heart and entire body healthy. Thanks to the step tracker on my Fitbit, I am now more aware of my daily movement.
Fave Fitbit Feature #2 – Heart Rate Monitor
The heart rate monitor is not a feature on all of the Fitbit models, so if you have no interest in it, rest assured that there is a model for you. Again, as an avid exerciser, I never tracked my heart rate while working out. I figured, I'm sweating and breathing hard, so I must be working out at the correct intensity. Wrong again! There are such things as your maximum heart rate and your target heart rate zone. You can figure out your maximum heart rate by subtracting your age from 220. Your target heart rate zone is between 50% and 70% of your maximum heart rate. So if you're exercising and you are lower than that range, you need to bump up the intensity. If you are higher than that range, you need to back off a little bit. Well, my Fitbit helped me discover that at time I go over my target heart rate zone. It's not often, but now I know when it happens, and I can lessen the intensity of my workout to get back in the zone.
Fave Fitbit Feature #3 – Exercise Tracker
I always estimated the number of calories I burned during a workout, not ever really knowing if I was accurate. With my Fitbit, I just press a button to let the device know that I am about to go into exercise mode, and then I press the button again when I am done with my workout. It tallies the minutes I worked out, my heart rate, and the number of calories I burned. It adds all of this to my daily totals, but also keeps it as a separate record so I know just how that exercise session added to my daily totals. No estimating or guessing. Most people overestimate the number of calories they burn while exercising, so this is a really great tool to have, and it's super easy to use.
Fave Fitbit Feature #4 – Calorie Budget
This is probably my favorite feature of my Fitbit. As I log exercise and steps, and enter in the food I eat throughout the day, the device tells me if I'm under budget, over budget, or in the zone. I just love this! If I'm over budget, I know that I need to cut back at dinner, and I still have a chance to make up for it without the day being a total loss. If I'm under budget by dinner time or even after dinner, it's like a huge celebratory moment. That means I have room left for an indulgence (or two!). Wine, ice cream, chocolate…whatever I want! After using the Fitbit for about a week, it became really easy to predict when I would be in the zone and when I would be over or under budget. So if you don't want to wear the Fitbit all the time, it teaches you how to estimate without it.
Fave Fitbit Feature #5 – Sleep Tracker
Honestly, I didn't really think I would use this feature, but I do. I have always had trouble sleeping. In college, I suffered from insomnia and late-night infomercials were my best friend. In my twenties, I struggled with sleeping because I suffered from anxiety and had a hard time relaxing enough to get a good night's sleep. Now, in my thirties, I want sleep so bad, but my children don't allow me to get the sleep I want ha ha! Anyway, I love that it logs how many hours I actually slept, how many times I was restless, and how long I was awake for.
Those are my favorite Fitbit features. Do you own a Fitbit? If so, what are the features you use and love the most? Also, let me know if you have any Fitbit questions because I would be happy to answer them in a future post.