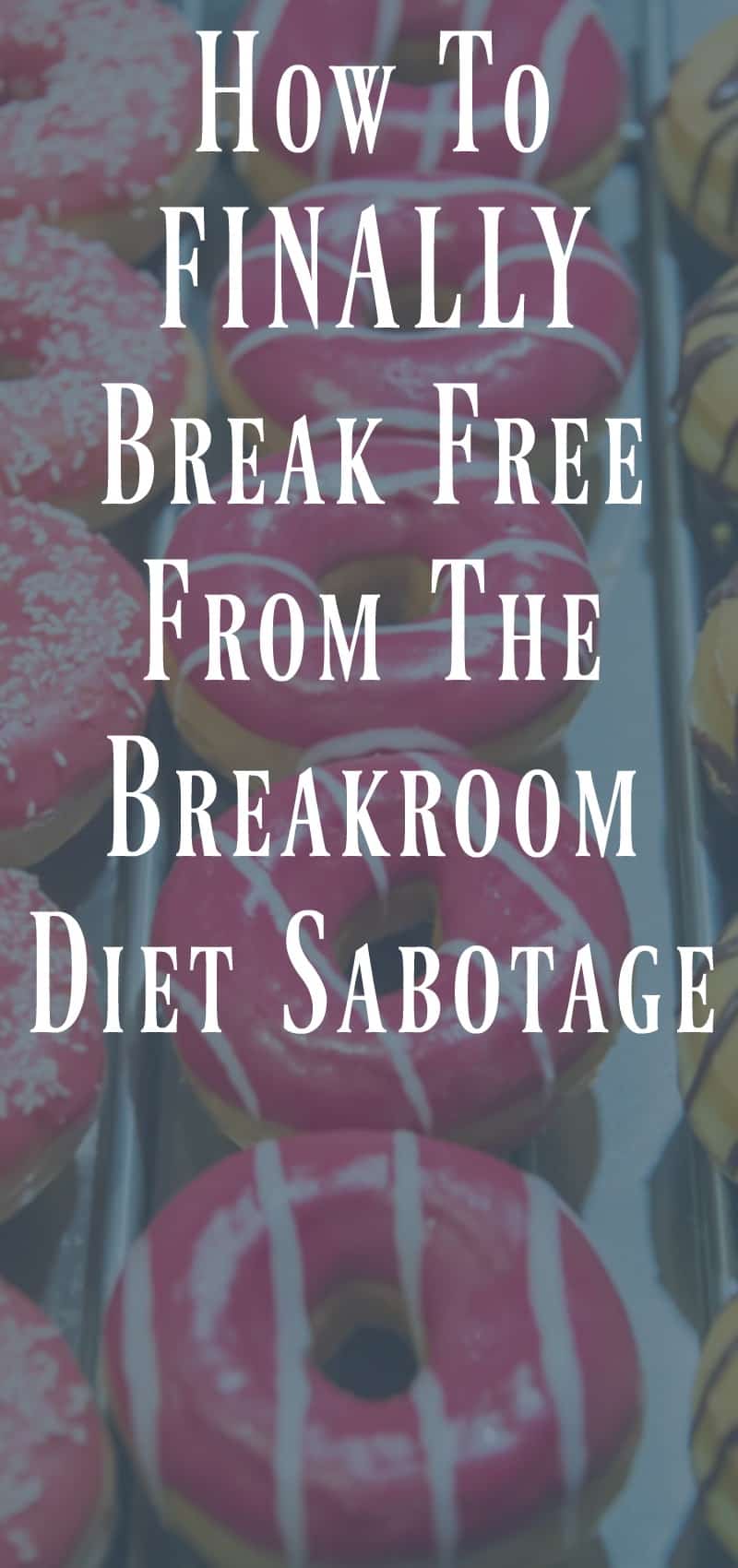 I have had numerous readers tell me that they would be able to lose weight more easily if it wasn't for the damn break room at work. It seems like every day is some sort of celebration…someone's birthday, anniversary, promotion, etc. This always means people are bringing in food…bad food…pizza, bagels, cake, cookies, candy, etc. Does this sound familiar to you? Do you blame your break room for sabotaging your weight loss efforts?
The first point I am going to make may be hard to swallow and you might not like hearing it, but it's time to face the truth. You cannot blame others, and certainly not a room in your office, for your food choices. When it comes down to it, you are the one who ultimately decides whether or not to put a certain food into your mouth. So the first thing you need to do is get out of the mindset that other people are ruining your diet when they bring treats in to work. I know that it doesn't help or make it easy, but these people and their treats are not ruining your diet…you are. Okay, I know that was harsh, but you have to be the one in charge of your weight loss if you want it to happen. You have to take responsibility for your choices and take control of how you react to obstacles. You are trying to lose weight for yourself, not for these other people, so only you can be the reason you succeed or not. If you still struggle with the mental part of weight loss, then I suggest you talk to a counselor to help you get into the right mindset.
Once you get past blaming other people, you do need some strategies in place to pull out when the break room treats appear.
First, do you absolutely HAVE to go in the breakroom? The simplest solution is for you to stop going into the room where people bring the treats. So if you truly don't have to go in there, then don't. That is the simplest solution. If the bathroom is in your breakroom, is there another one somewhere else that you can use? Maybe it's on a different floor or a farther walk, but that's not a bad thing either. You'll get more steps/exercise into your day.
Is there another place you can eat your lunch? When it's nice outside, take your midday meal al fresco and enjoy the fresh air. Is the coffee maker in the breakroom? Either bring your own from home, or ask a co-worker to fill your cup up for you. If it's a friend, fill them in on why you are avoiding the breakroom and they should be willing to help.
If you absolutely must enter your breakroom and face the donuts and other goodies, you will need another set of strategies other than just avoidance. Whenever you go in there, go in with a purpose. Are you using the bathroom? Eating lunch? Filling up your coffee? Whatever the reason, say it out loud to yourself before you walk in. "I am just going to the bathroom." Get in, do your business, and get out. Try to keep your eyes focused off of the place where the treats normally are.
Maybe you need to enlist a trusted co-worker to go in with you the first few times to make sure you steer clear of the treats. This is not a sign of weakness. You need to work up to being able to ignore the treats on your own. You can also write yourself a note and keep it in your pocket. On the note, write something motivating, like, "I am strong," or "I am in control." Pull it out and read it before you go in the breakroom or even while you are in there. Another strategy is to write a list before you go in the room. Make a list of how you will feel if you eat the donut, cake, or cookies that are sitting in there. You may write down a couple of good feelings because it will certainly taste good, but you will most likely have a lot of negative feelings that follow, like guilt and feeling bad about yourself. Nobody wants to feel that way. This little list might make you stop and think before you indulge.
Most importantly, make sure you are armed with healthy snacks and a healthy lunch that you will enjoy eating. Don't let yourself wander around hungry. It will only lead you into that breakroom where you know the treats are. Keep fruit and almonds at your desk. Pack a filling healthy salad or wrap with lots of veggies. If you are allowing yourself small treats, bring in something of your own that is portion-controlled. A small piece of dark chocolate is always good. It will feel rich and delicious and help you from feeling deprived of all the treats.
You could even start a healthy potluck day. Let everyone know that they need to bring in something healthy on a certain day to share in the breakroom. Veggies and dip, fresh fruit, homemade soup…just some suggestions. This can help break the stigma that the breakroom is full of junk food.
Healthy recipes for the breakroom:
Banana Chocolate Chip Energy Bits
The breakroom does not have to be the reason you fail at weight loss. You just have to practice some strategies that will help you from mindlessly eating everything that your co-workers bring in. You CAN break free of the break room diet sabotage.
Related post: 8 Habits to Stop Mindless Eating
Get Instant Access to My Best Weight Loss Tips & Strategies!
Sign up now for a free step-by-step 7-day email course that I created exclusively for my email subscribers! That's you. I will teach the best habits, strategies, and insider tips so you can enjoy a lifestyle that encourages and supports weight loss! Stop relying on willpower and take control back over your life! You can do this. Let me help!