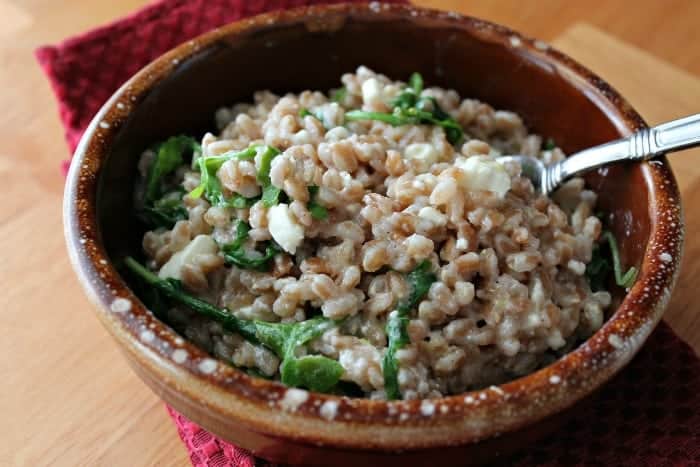 I discovered farro about 6 months ago when it popped up in a few recipes I was viewing on Pinterest – gotta love Pinterest! Up until then I had never even heard of farro. Anyway, after ready through a few farro recipes I thought to myself "hmmm that looks good" so I bought a bag – that is where it ended. For some reason I just never got around to trying farro out until now.
Just in case this is your first time hearing about farro (please don't tell me if I was the last to know) let me quickly explain what it is. Basically, farro is an ancient grain – yes it is described as ancient – that grows in central and northern Italy. It resembles brown rice and has a hearty texture. It is rich in fiber, protein, and many essential vitamins and minerals. So it is filling and good for you.
Well I finally gave farro a try a few days ago. Why you ask? Well, let's just say someone did not go grocery shopping over the weekend and had zero food in the fridge besides leftover arugula and feta that needed to get used up. Okay I had a few more things other than that in the fridge but seriously if I had to throw that food out I would have had nightmares for days. Anyway, I needed to find a way to use up the arugula and feta. My first thoughts went to pasta. Unfortunately, I did not even have a box of pasta – yes my cupboards where that bare.
Then I noticed the bag of farro. I read the instructions and saw that it only takes about 25 – 30 minutes to cook so I decided to give it a shot. I cooked it with chicken broth to give it more flavor. Then once it cooked I mixed in some arugula, feta, and olive oil infused with garlic.
This was delicious and my kind of meal! The peppery arugula and salty feta gave this dish such simple natural flavor. And really how can you ever go wrong with olive oil and garlic? You can't. This farro recipe tasted great warm and I also ate it the rest of the week cold for lunch. So you know what that means? Yep, let's add another awesome make ahead lunch recipe to the repertoire.
I want to talk a little more about the texture. I really loved it. In my opinion, farro is a cross between brown rice, bugler, and risotto. It is hearty, chewy, and can even be a bit creamy depending on the amount of liquid you add to it. You can play around with the texture to meet your tastes. If you want it firmer reduce the liquid. For a softer creamier chew then add more liquid.
I wish I would have tried farro a lot sooner. I am a huge grain fan and I can see this one quickly becoming a favorite. It is so versatile and can be used in soups, salads, and any recipe that would call for rice or other grains. Stay tuned for lots more farro recipes.
If you would like to reduce the fat in this recipe reduce the feta cheese to 1/2 cup.

Farro Salad with Arugula and Feta
Author:
Organize Yourself Skinny
Ingredients
¼ cup extra virgin olive oil
2 garlic cloves, grated or finely minced
2 teaspoons lemon juice
Pinch salt and pepper
1 cup farro (pearled or whole grain)
2 cups chicken broth (you can also use vegetable broth)
2 cups arugula
1 cup crumbled feta cheese
Instructions
In a small container mix together olive oil, garlic, lemon juice, salt, and pepper. Set aside.
In medium saucepan combine farro and chicken broth, bring to a boil. Reduce to simmer and let cook for 20 – 25 minutes or until it gets to the texture you like. Again, for a firmer texture use less liquid and for a softer texture use more liquid. **Special note. If you use whole grain farro you will need to cook it about 10 -15 minutes longer. Remove from heat.
Stir in olive oil mixture then add arugula. Once arugula is wilted stir in feta cheese. Stir until all ingredients are combined and evenly distributed. Give it a taste and add more salt and pepper if needed. Can be served warm or cold.
Notes
Make Ahead Instructions
This recipe can made completely ahead of time and stored in the fridge for lunches or dinners during the week. I have not tried to freeze yet but I think because it is so similar to rice that it should freeze just fine.
Nutrition Information
Serving size:
⅕ of recipe
Calories:
357
Fat:
22
Carbohydrates:
25
Fiber:
3
Protein:
16
Get Instant Access to My Best Weight Loss Tips & Strategies!
Sign up now for a free step-by-step 7-day email course that I created exclusively for my email subscribers! That's you. I will teach the best habits, strategies, and insider tips so you can enjoy a lifestyle that encourages and supports weight loss! Stop relying on willpower and take control back over your life! You can do this. Let me help!