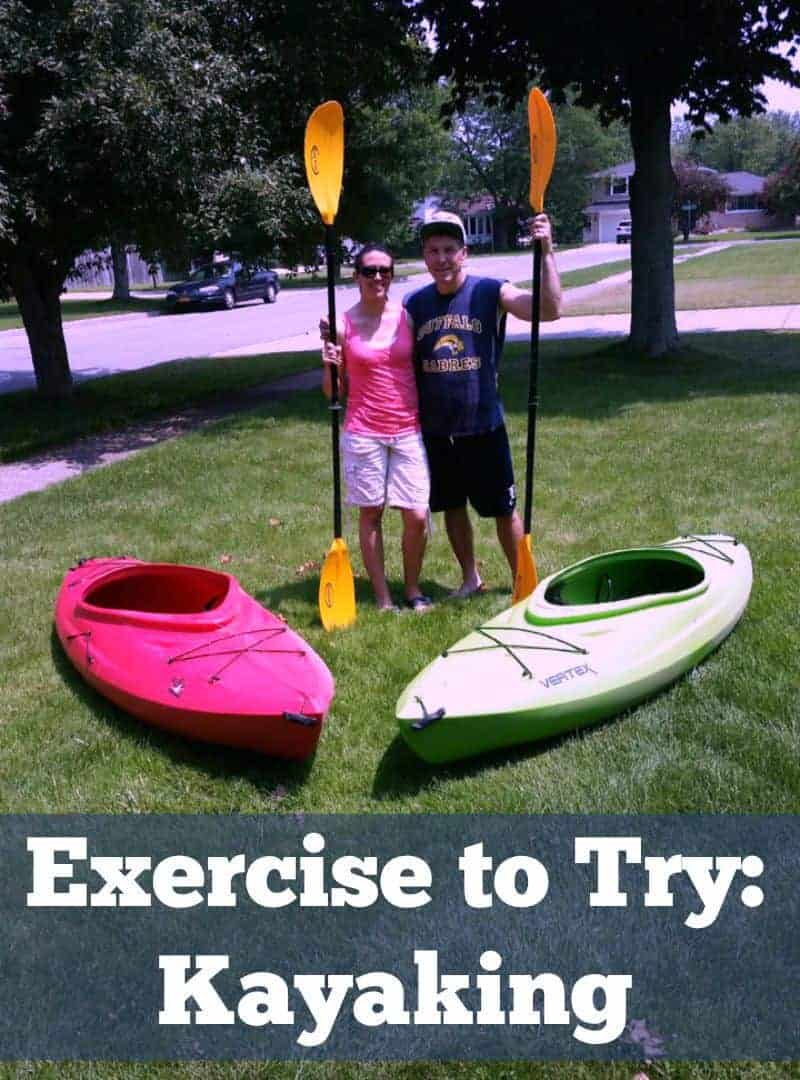 This post is by OYS writer Melissa. See here other posts here.
When my husband and I got married five years ago, instead of buying each other a wedding present, we decided to buy ourselves a pair of kayaks. We had only been kayaking a few times, but we love being active and doing different things outside when the weather permits. Owning our own kayaks has proven to be a fun way to get in some physical activity. This post is all about the benefits of kayaking as a form of exercise.
First off, you do not have to buy your own kayak. There are usually rental companies you can check out, and even some major sporting goods stores rent them. If you end up really liking it and doing it often, then you may want to look into purchasing your own. We got pretty basic models, nothing fancy. We are fortunate enough to live right on Lake Erie, offering us endless places to kayak. If you don't live near a major lake or ocean, any small pond, river, or even creek will do just fine. Our kayaks have traveled with us on a few road trips as well.
If you haven't ever been kayaking, the first thing you should know is that anyone can do it. It is pretty easy to learn and it is a fantastic workout in so many ways!
The Benefits
Kayaking will get your heart rate up, especially if you are rowing consistently, so it has great cardiovascular benefits. An average-sized person can burn close to 350 calories in one hour of kayaking. Kayaking is a great form of exercise for those with knee pain or injuries, because you aren't putting too much stress on them. But don't be fooled. Kayaking is NOT just an upper body workout that you just use your arms for. Trust me when I say that you WILL use your entire body, and maybe even some muscles you never knew you had. So let's start with your arms. Yes, obviously with all of that rowing, you are going to work your arms pretty hard. However, you are also working your shoulders and back as you row. Really think about this when you first start out. If you don't engage those larger muscle groups purposefully, your arms will tire out before you even get away from the dock. Use your entire upper body from back to front. Your core/abdominals are also going to get a great workout. As you are rowing, your feet will push into the floor of the kayak. You will need to tighten your abs to maintain your balance as you bring the oar from one side of the kayak to the other. All parts of your abs will fire up and work hard without you even realizing it. Your butt and legs are also going to pitch in as you push your feet into the floor. So this really is a total body workout.
Correct Form
As always, consult with your doctor before starting any type of new exercise, but kayaking should be possible for most people to do. You just need to be sure to use correct form to get comfortable with the feel of kayaking. Your first time will probably feel difficult and/or awkward and clumsy. It's important to dig the oar into the water before you try to paddle back. You want your hands to be close enough together on the oar so they aren't sliding all over, but far enough apart to stay in control as you switch sides. Figuring out how to paddle to change direction will take some practice, but you'll get it. In the meantime, laugh it off…it's supposed to be fun! You should be sitting back in the kayak seat with your back firmly pressed against the seat and your knees slightly bent. I highly recommend a seat cushion, but it's not necessary. I have found that my butt gets really sore in the plastic seat, but it may not bother other people. Also, make sure you always wear a life vest.
Once you get the basic feel for kayaking, you can challenge yourself by racing with your partner, or just keep it leisurely and take in the beautiful sights around you. My husband and I like to kayak up the canal in Buffalo, get out for lunch on the waterfront, and then kayak back. It never feels like "exercise," more like a fun date, but it is a great workout too.
Do you like to kayak? What are your tips?