Music plays a huge role in exercising. Whether you're looking to run that extra mile, or do a couple of extra reps, the right song can make all the difference. Here's a list of favorite exercise songs to help push you through the hardest part of your workout.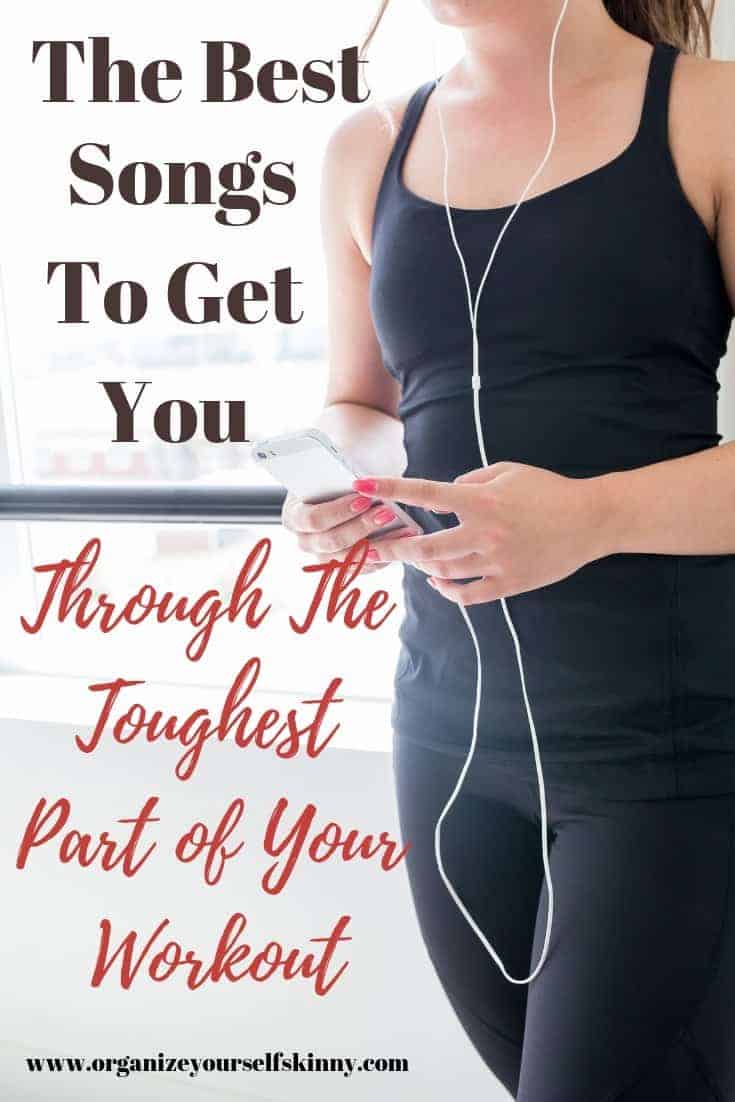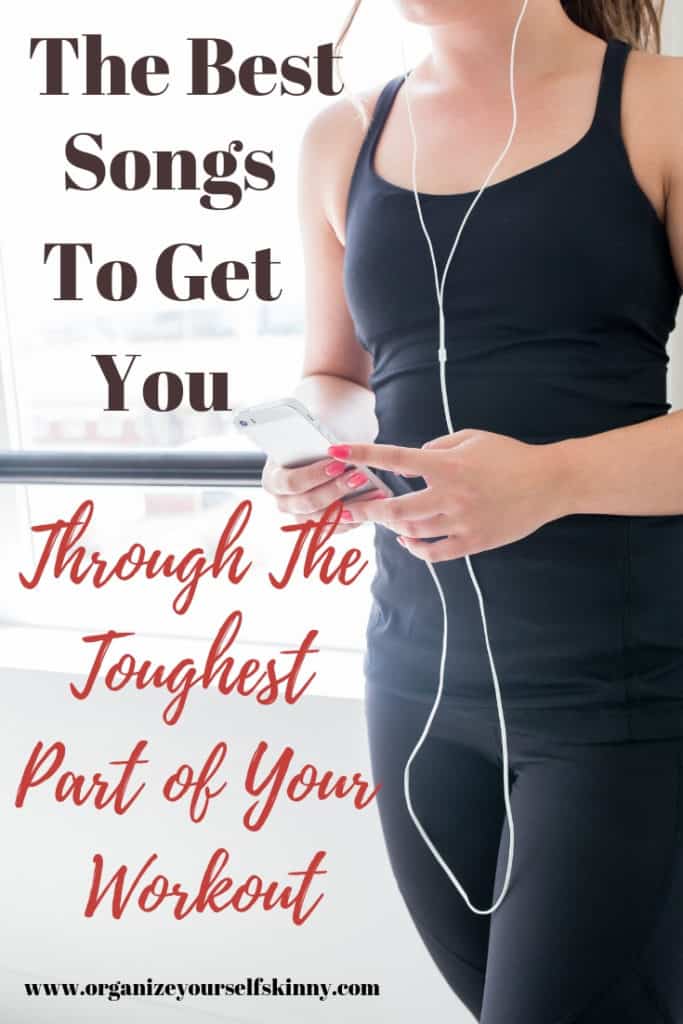 In an ideal world, I'd be the kind of person who can jump out of bed EXCITED about working up a sweaty hog sweat first thing in the morning. You know, someone who's intrinsically motivated to make exercise a priority 4-5 times a week regardless of how tired and lazy they are. You know the person I'm talking about?
Well, unfortunately, I'm not that person.
Of course, I understand the benefits of consistently exercising And, yes I do exercise 4-5 times a week but that does not happen without effort. Are you with me?
In previous posts, I've shared tips for starting a morning exercise routine and keeping daily exercise a priority. If you're struggling to stick with a weekly exercise habit then take a few moments and look over those posts.
However, I learned that if I want to see results then I need to do more than just wake up and get on my treadmill. Sure, there are days watching my favorite show while power walking is just what the doctor ordered but if I want to lose weight, and see changes in my body, then I need to increase the intensity of my workouts. 
This is where music is important. When I need to really challenge myself, I turn to a playlist that's going to push me. There's a certain zone I need to get into when I go into major calorie-burning mode and I need music to do that. Unfortunately, Bravo shows don't do that.
Also, it's not just about getting motivated – it's about staying motivated too. Because, let's be honest, running hard at an incline for 1-minute isn't going to cut it. I need to stay in that zone for at least 20 minutes….at least. A powerful playlist is the only way I can do that.
When I look for exercise songs to push me through the hardest part of my workout I lean towards music that motivates me to dig deep. I like songs that get me thinking, bring out my confidence, and push me to work harder.
Of course, the type of song that does this for one person might not for another. This is why I reached out to readers on Instagram and Facebook and asked them for their favorite exercise songs. And not just any song but the ones that push them through the hardest part of their workout. I received a variety of songs to meet everyone's music taste.
Some of these songs are explicit so just keep that in mind – curse words might not be your thing when running full speed!
But keep this in mind…
Exercise is YOUR time. This is the time to focus on whatever it is you want to think about. Nobody knows what's going on in your head, so listen to whatever you want and let your mind roam free. It's amazing how clear your mind thinks when pushing your body to work hard. I often say that I can solve the world's problems in the hour I'm exercising.
Exercise Songs to Help Push You Through The Hardest Part of Your Workout
Stronger – Kanye West

Power – Kanye West

Lose Yourself – Eminem

So Alive – Goo Goo dolls

Hall of Fame – The Script

That's What I Like – Bruno mars

24k magic – Bruno Mars

So what'cha Want – Beastie Boys

Sabotage – Beastie boys

Intergalactic – Beastie Boys

Enter Sandman – Metallica

Not Afraid- Eminem

Till I Collapse – Eminem

Sweet child o-Mine – Guns and Roses

Welcome to the Jungle – Guns and Roses

Imma be – the Black Eyed Peas

Feel This Moment – Pitbull, Christina Aguilera

Survival – Eminem

Won't Back Down – Eminem

Thunder – Imagine Dragons

The Champion – Carrie Underwood

High Hopes – Panic! At the Disco

All I Do Is Win – DJ Khaled

Paradise City – Guns and Roses

Scream and Shout – Will.I.Am and Britney Spears

Black Widow – Iggy Azalea

Kickstart My Heart – Motley Crue

Dr. Feelgood – Motley Crue

Living on a Prayer – Bon Jovi

You Give Love a Bad name – Bon Jovi

Stronger (What Doesn't Kill You) – Kelly Clarkson

Run the World (Girls) – Beyonce

Bad Blood (remix) – Taylor Swift, Kendrick Lamar

Work B*tch – Britney Spears

Imma Be – Black Eyed Peas

Burn It to the Ground – Nickelback

Sweet Emotion – Aerosmith

Shook Me All Night Long – AC/DC

Talk Dirty to Me – Poison

Eye of the Tiger – Survivor

So Far Away – Crossfade

Jekyll and Hyde – 5 finger death punch

Raise Your Glass – P!nk

Indestructible – Disturbed

Numb/Encore – Jay Z

Dirt Off Your Shoulder – Jay Z
Here are the tools I use to get the most out of my workout:
Wireless Earbuds – these are essential. Honestly, I don't think I could survive without wireless earbuds. I use them all the time. There's no way I could push myself if I didn't have music to listen to or my phone was attached to my earbuds. If you don't have wireless earbuds I highly reccomend getting a pair. I have these by SoundPEATS and they work great. They are under $30. I know everyone is loving on the Apple Airpods but I can't bring myself to spend $160 on earbuds. I've had the $30 SoundPEATS earbuds for over a year, use them all the time, and they never failed me. They have great sound quality, hold a long charge, and I like the magnetic feature so you don't need to worry about losing them.
Spotify – This is my absolute favorite music app! I pay for the family monthly subscription and it's the best $14 I pay a month. All of my exercise songs are on one playlist making it super easy to get started in the morning.
Hand Weights – Toning is an important part of my daily exercise routine. I wish I could just run and be done with it but I've learned if I want to see results then toning must be included. I don't do anything crazy. Just simple arm exercises, lounges, and squats. I use this basic hand weight set from Amazon. It's under $42 and includes 3lb, 5lb, and 8lb weights.
Treadmill – I purchased my treadmill from Sears a couple of years ago. You can get it from Amazon for $600. I recommend taking some time to go to a sporting goods store to test out treadmills to see which one would work the best for you. If you have room, and the funds, to get a large piece of exercise equipment then do it. Personally, I find it so much easier to exercise when all I need to do is go into my basement.
Exercise clothes – I get most of my exercise clothes from Target, Kohls, and Dicks (I love the Carrie Underwood line). Don't underestimate exercise clothes. There was a time where I'd work out in my pajamas and I can honestly say when I finally started to wear real exercise clothes I took exercise much more serious.
Sneakers – Of course, having sneakers is important. However, don't settle for any sneaker. You need something that's going to fit your foot and be designed for the type of exercise you're doing. The wrong sneaker can ruin any workout. I like this Nike sneaker but, again, you'll need to go and try some on and see what you.
Exercise is an important part to creating a healthy lifestyle. Just like with eating healthy, to stay consistent you need to be intentional and plan for it. Part of that planning includes creating an amazing playlist of exercise songs to push you!