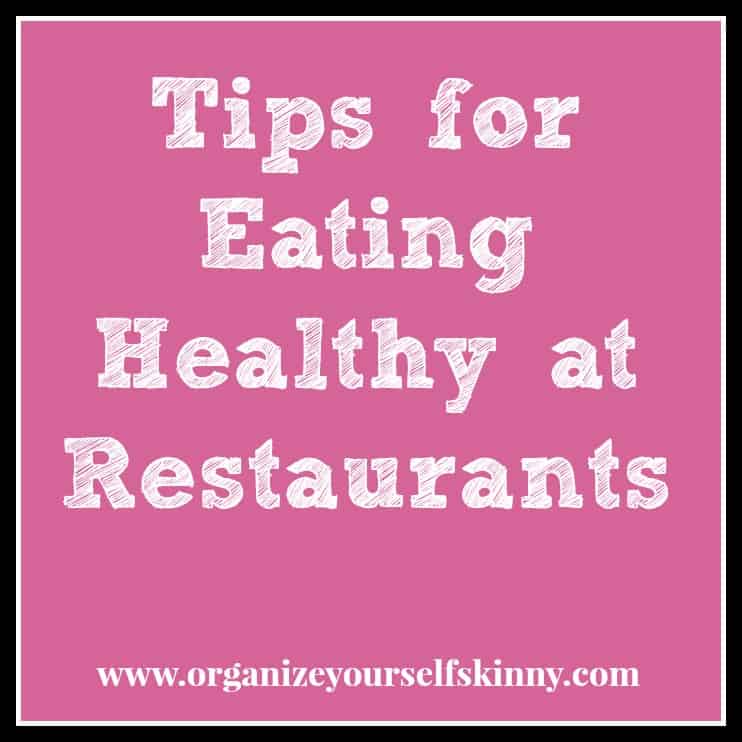 One of my readers recently asked me to talk about how to eat healthy and manage calories when eating at a restaurant. I thought this was a fantastic question because with today's busy lifestyles, more families are turning to take-out and restaurants for their meals.  I'm not going to lie and say eating healthy at a restaurant is easy, it's not.  While most food establishments do provide some healthy choices, I think they can do much better.  Restaurants are in the business of making money by providing their customers with delicious tasting food as cheap as they can make it.  For the most part, they are not concerned with your waistline, that's your responsibility.
Here are some tips to making healthier choices when eating at restaurants:
1. Research the restaurant ahead of time. Many restaurants, especially the large chains, have their menus and nutritional information online.  Take a look at what is offered and decide what you will order before you go.  This way, you can plan out your calories for the day and make adjustments in other ways if necessary.  If, by some chance, the nutritional information is not available, you can plug the ingredients into an online calorie counter, like My Fitness Pal, to measure the calories as closely as possible.
2. Moderation not deprivation. If you go out to dinner believing that you can't allow yourself to eat certain foods, then you are going to feel deprived and resentful.  More than likely, you will find yourself eating those foods anyway, which of course will inevitably lead to feeling guilty. Eat any thing you want but eat in moderation.  If you want chicken wings, go for it.  Just understand that each one is 75 calories and eat one, two or even 5 but accept the fact you shouldn't eat more than that.  Take your time and let the hunger subside.  Don't eat 20 wings before you realize your craving is gone.  Work toward looking at what you can eat instead of what you can't.  Stay positive about your food choices. You have a goal, stay focused.
3. Order lunch portions or appetizer as an entrée. We all know that in our super-size world the portions we are being served at restaurants are more than we need.  Many restaurants have lunch and dinner menus so when ordering, check with the server about your meal being available in the lunch-sized portion.  You could also order an appetizer for your entrée.  You may see an annoyed look on the server's face because lunch portions and appetizers are usually less money.  Well, too bad for them.  It's your meal not theirs.  I worked in the service industry for years and I promise you, they will get over it. You only need to worry about what is best for your health.
4. Remove the extras from the table. Almost all restaurants bring bread, chips, peanuts, or some other starter snack to the table.  These extras fill you up fast and could easily add 100 – 300 calories to your meal.  Save your calories for the good stuff.  Don't waste them on bread or other extras. Ask the waiter to take the starter snack away from the table so then it is out of sight and out of mind.
5. Don't drink your calories. Soda, alcohol drinks, and even coffee drinks can add hundreds of calories to your meal. Remember how I easily cut 500 calories a day just from coffee drinks? The same goes for these types of drinks at a restaurant.  Again, save your calories for the real food.
6. Appetizer or dessert, not both…and share. If you typically order an appetizer, dinner, and a dessert when going out to eat, you are probably consuming around 2000 calories in one sitting.  I know it's shocking but true.  Believe me, I have done the math.  Therefore, when deciding on your meal, make sure you look at all menus (appetizer, entrée, and dessert) and choose whether or not to have an appetizer or dessert but not both.  If you must have one or the other, make it a point to share with others at the table.  That way you get to satisfy the craving and not have to eat all of the calories.
If you tend to eat at restaurants frequently, you will need to pay closer attention the foods you choose. Typically, meals prepared in restaurants will have a higher caloric count because of the ingredients and cooking methods used.  However, if you only go out on special occasions, then you can be a little bit more liberal with your menu selections.  Regardless of how often you eat at restaurants, in order to lose or maintain weight loss, it is essential to practice strategies that will assist you in making healthy food selections.
What are your strategies for eating healthier when at a restaurant?
Get Instant Access to My Best Weight Loss Tips & Strategies!
Sign up now for a free step-by-step 7-day email course that I created exclusively for my email subscribers! That's you. I will teach the best habits, strategies, and insider tips so you can enjoy a lifestyle that encourages and supports weight loss! Stop relying on willpower and take control back over your life! You can do this. Let me help!