Homemade Chicken Nuggets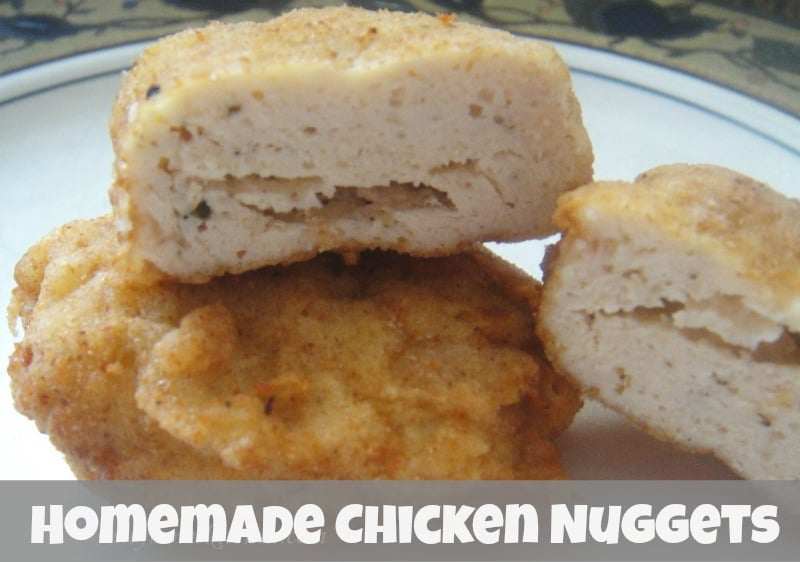 Author:
Organize Yourself Skinny
2.5 lbs chicken (about 4 medium chicken breasts)
1½ teaspoon salt
1 teaspoon onion powder
½ teaspoon oregano
½ parsley flakes
¼ cayenne powder
1 cup whole wheat flour
2 eggs, beaten
1 cup peanut oil (this is what I used but use whatever you like)
Place chicken, 1 teaspoon salt, onion powder, oregano, parsley, and cayenne powder in food processor and  process until ground and pasty.
Combine flour with ½ teaspoon salt in a medium bowl and beaten eggs in a separate medium bowl.
Take a heaping tablespoon or small cookie scoop of the chicken paste and roll into a small ball then flatten slightly. Dip in egg then into flour and set aside. Repeat with the rest of the chicken paste mixture until it is gone. I recommend finishing this step before you start frying.
Heat oil in frying pan. I used a deeper pan but any frying pan would work. When the oil is hot enough (sizzles when you drop a little flour in there) place some of the nuggets in without overcrowding. Fry on both sides for about 4-5 minutes, until browned, and cooked through.
Calories:
60
Fat:
6
Carbohydrates:
2
WW Points +:
2
Protein:
1