Creamy Chicken Bacon Ranch Pasta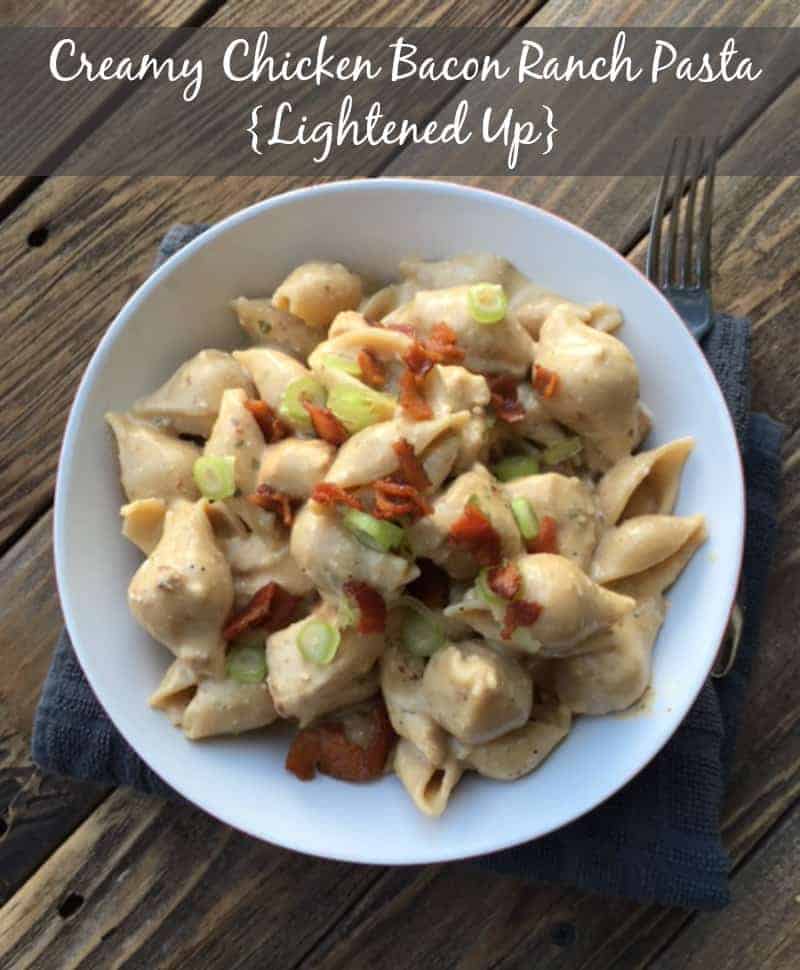 Author:
Organize Yourself Skinny
1.5 lbs boneless skinless chicken breasts, cut into chunks
½ packet (about 2 tablespoons) ranch seasoning mix
1 tablespoon olive oil
4 slices of bacon, chopped
1 cup unsweetened coconut milk (or dairy milk)
1 cup chicken broth
1 tablespoon flour
1 teaspoon granulated garlic
1 teaspoon onion powder
½ teaspoon salt
½ teaspoon pepper
2 ounces low fat cream cheese
1 cup shredded cheddar cheese
3 cups cooked whole wheat pasta shells
sliced green onion for serving (optional)
In a medium bowl combine the chicken, ranch seasoning mix, and olive oil. Mix together until the chicken is evenly coated. Set aside.
In a large deep skillet, sprayed with cooking spray, cook the bacon until crisp, about 5-7 minutes. Set aside. Pour out most of the bacon grease. Leave just a little to cook the chicken in.
Place the chicken in the same skillet and cook until browned on both sides and cooked through, about 7- 10 minutes. Add in a little chicken broth if necessary to scrape up any brown bits. After the chicken is cooked set it aside.
Pour the chicken broth and coconut milk into the skillet. Whisk in the flour, granulated garlic, onion powered, salt, and pepper. Continue to whisk every few minutes as it cooks. You want to make sure the flour doesn't stick and burn to the bottom of the skillet. Cook until it is simmering and slightly thickened, about 5 -7 minutes.
Stir in the cream cheese and break it apart as it melts, about 5 minutes.
Stir in the shredded cheddar and cook until it's melted, about 3 minutes.
Stir in the chicken and cook until heated through, about 3 minutes.
Stir in the pasta and bacon bits and cook until heated through, about 3 minutes.
Serve with sliced green onion and leftover bacon bits.
Sugar: 1


Make-ahead tips
Components of this recipe can be prepared ahead of time into a kit. See post for details. This recipe can also be made completely ahead of time a store in the refrigerator up to 5 days and in the freezer up to 3 months. I recommend portioning out the recipe ahead of time before freezing.
Serving size:
1 cup
Calories:
452
Fat:
15
Saturated fat:
7
Carbohydrates:
32
Fiber:
5
Protein:
43
Recipe by
Organize Yourself Skinny
at https://www.organizeyourselfskinny.com/healthy-creamy-chicken-bacon-ranch-pasta-recipe/