Cajun Chicken Quinoa Bake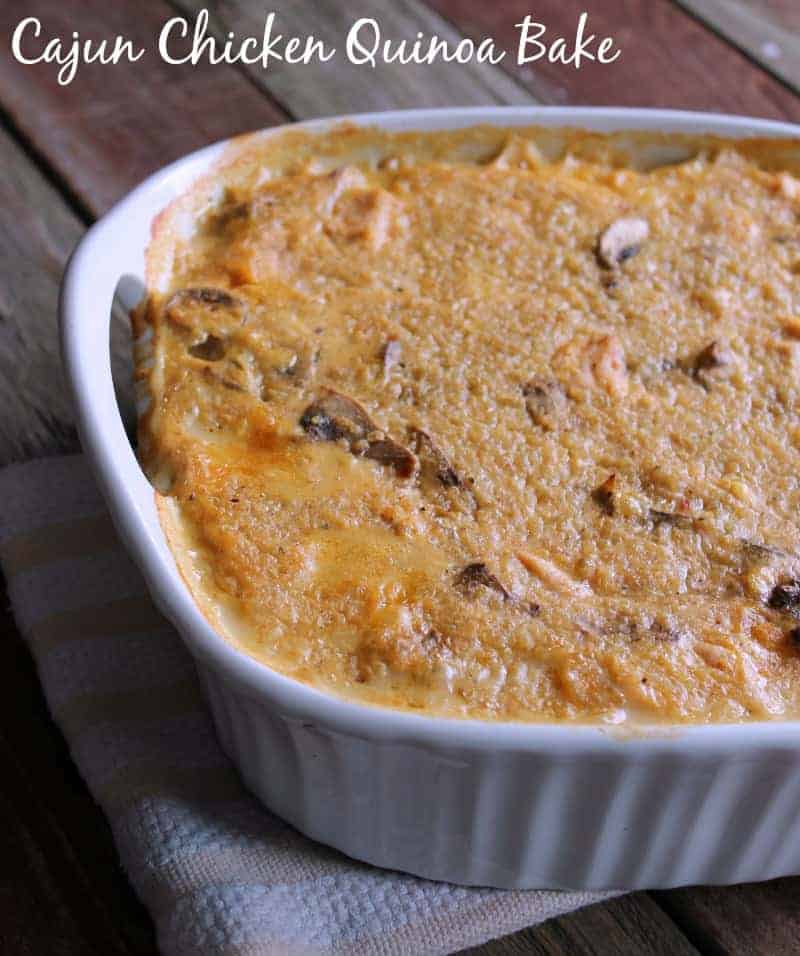 Author:
Organize Yourself Skinny
2 cups cooked quinoa
1.5 pounds chicken breasts, cut into 1 inch chunks
4 teaspoons Cajun seasoning, divided
1 tablespoon olive oil
1 (10-ounce) package sliced white mushrooms, cleaned
1½ cups milk
1 cup chicken broth
2 tablespoons flour
2 ounces cream cheese
¼ cup grated parmesan cheese
½ cup shredded mozzarella cheese
1 ½ teaspoon granulated garlic
1 teaspoons onion powder
¼ teaspoon salt
½ teaspoon pepper
Heat oven to 350 degrees.
Add cooked quinoa to a 9 x 13 pan. Set aside.
In a large sauté pan, heat olive oil over medium high heat then add the chicken breasts, sprinkle with 1 teaspoon cajun seasoning, and cook till both sides are browned and no longer pink in the middle, about 5 minutes on each side. Place cooked cooked in with the quinoa.
Using the same pan cook the mushrooms until soft. if needed ad olive oil. Sprinkle with a little salt and pepper.
Place mushrooms in with the chicken and quinoa.
In the same pan, or using a medium saucepan, pour in the chicken stock and milk. Whisk in the flour until it is dissolved. Cook for 7 - 10 minutes or until the sauce bubbles and it thickens slightly.
Add in the cream cheese and cook until it is melted. Whisk consistently.
Stir in the parmesan cheese, mozzarella cheese, the rest of the Cajun seasoning (3 teaspoons), granulated garlic, onion powder, salt, and pepper. Cook until all the cheese is melted.
Give the sauce a taste for seasoning. Depending on the Cajun seasoning you use more salt might be needed.
Pour the sauce over the chicken, mushrooms, and quinoa. Carefully stir it all together.
Place into the oven and bake for 45- 50 minutes or until bubbly.
Serve hot.
Make ahead tips


This recipe can be made completely ahead of time and frozen, You can also keep it in the refrigerator for up to 3-4 days.
Serving size:
1 cup
Calories:
257
Fat:
7
Carbohydrates:
19
WW Points +:
6
Fiber:
2
Protein:
28
Recipe by
Organize Yourself Skinny
at https://www.organizeyourselfskinny.com/cajun-chicken-quinoa-bake/