Peanut Butter Yogurt & Chocolate Chip Topped Triscuit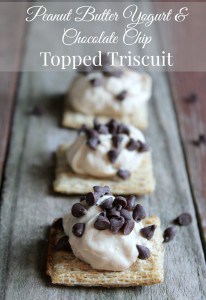 Author:
Organize Yourself Skinny
3 tablespoons vanilla Greek yogurt
1 tablespoon creamy natural peanut butter
1 teaspoon mini chocolate chips
2 original Triscuit crackers
In a medium to large bowl place the peanut butter and greek yogurt. If you are using natural peanut butter be sure to stir it up good so the oil is distributed evenly and it is creamy. Using a spoon stir together the peanut butter and greek yogurt until it is combined.
Spoon about 1 tablespoon or more of the greek yogurt and peanut butter mixture onto each Triscuit. Store leftovers in the refrigerator for a quick snack during the week.
Serving size:
2 triscuit crackers topped with peanut butter dip and a sprinkle of chocolate chips
Recipe by
Organize Yourself Skinny
at https://www.organizeyourselfskinny.com/peanut-butter-yogurt-chocolate-chip-topped-triscuit/