Guinness Beef Stew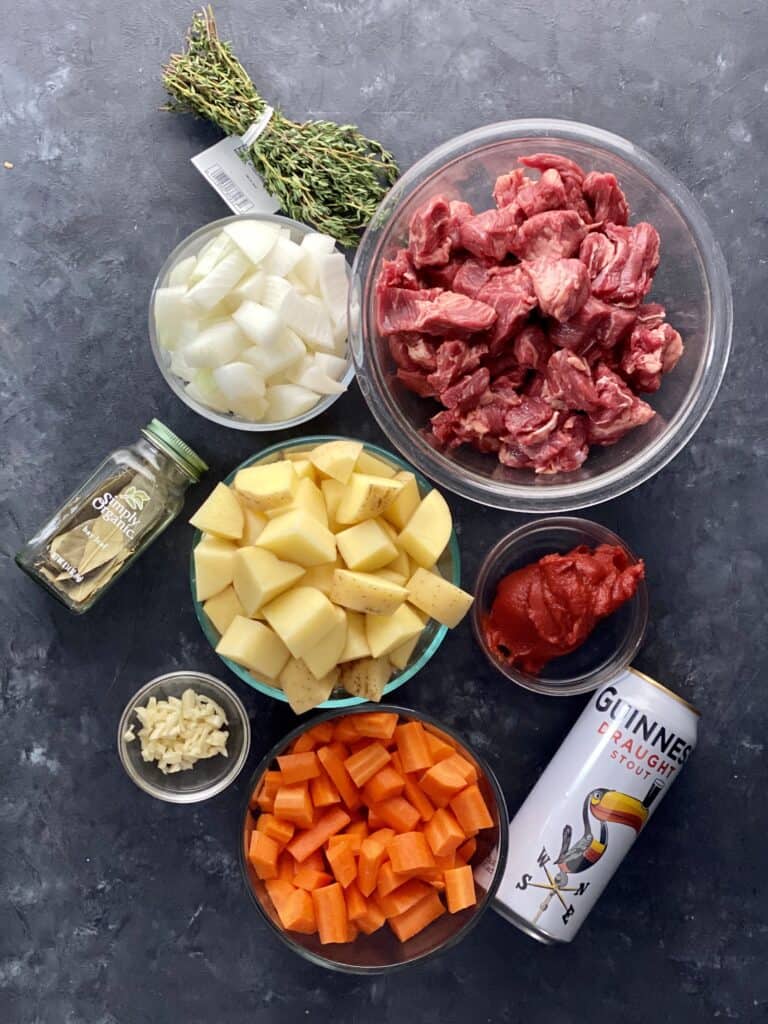 Author:
Organize Yourself Skinny
2 - 3lb chuck roast, cut into 1½ - 2 inch chunks
salt
Pepper
¼ cup flour
2 medium onions cut into chunks
4 garlic cloves
1 tablespoon fresh thyme
1 (14.9 ounce) can Guinness
1 (6-ounce) can Tomato paste
4-5 Yukon gold potatoes, cut into chunks
3-4 carrots Carrots, peeled and cut into chunks
3 cups beef broth
1 bay leave
Place chuck roast into a medium bowl and sprinkle generously with salt and pepper. Add the flour and mix together until the beef is coated with flour.
Heat 2 tablespoons of olive oil into a 6-qt pot. Add beef in batches and brown on both sides. Remove beef and set aside.
In the same pot heat another tablespoon of olive oil and cook the onions until translucent, about 3-4 minutes. Then add in garlic and thyme and cook for another 2 minutes or until garlic is fragrant.
Pour in the entire can of Guinness and cook for about 3-4 minutes. While the Guinness cooks scrape up the brown bits on the bottom of the pot.
Stir in the tomato paste.
Add in the potatoes, carrots, beef, beef broth, and bay leaf. Cook uncovered for 2 hours. Stir every ½ hour or so. Cover for the last hour of cooking time.
Stir in 1 teaspoon of salt and 1 teaspoon of pepper. Serve hot.
Serving size:
1½ cups
Calories:
493
Fat:
18
Saturated fat:
8
Carbohydrates:
41
Fiber:
5
Protein:
43