Dorito Taco Salad: Lightened-up Salad in a Jar Recipe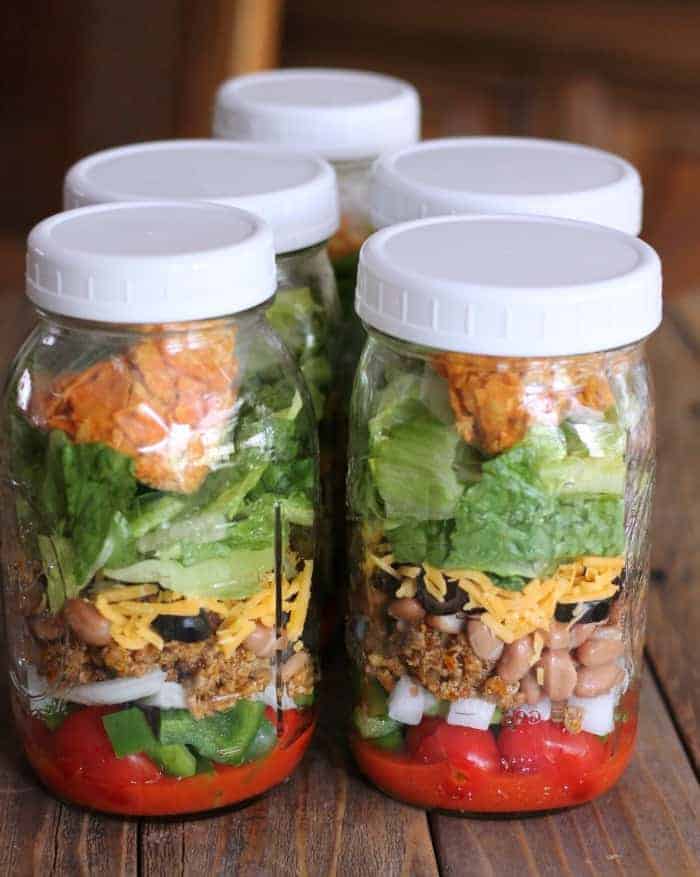 Author:
Organize Yourself Skinny
Recipe type:
salad recipe
5 (32-ounce) mason jars and lids
1lb ground turkey
1 packet Simply Organic Southwest Taco Seasoning (or any taco seasoning)
10 tablespoons Catalina dressing
15 cherry tomatoes
2 green bell peppers, chopped
½ of a medium onion, chopped
1 (15-ounce) can pinto beans, drained
1 (4-ounce) can sliced olives, drainied
10 tablespoons shredded cheddar cheese
10 cups chopped romaine
5 snack size plastic bags
30 Doritos
Cook the ground turkey with seasoning packet according to packet directions. Let cool.
Then divide ingredients between mason jars. Start with salad dressing and then continue with tomatoes, bell peppers, onion, pinto beans, ¼ cup taco meat, olives, shredded cheddar cheese, and end with romaine lettuce. **there will be leftover taco meat. Use on a another recipe or freeze for a later use.
Place 6 Doritos into each of the snack bags and crush into small pieces. Place each of the Dorito bags on top of the romaine.
Put the lid on and close tightly,
To eat, remove the Dorito bag from jar. Close lid, shake the salad up vigorously, and dump into a bowl. Sprinkle Doritos on top of the salad and enjoy.
sugar: 24


Make-ahead instructions
These mason jar salads can be made 5 days ahead of time.
Serving size:
1 mason jar
Calories:
422
Fat:
25
Saturated fat:
6
Carbohydrates:
35
Fiber:
7
Protein:
23
Recipe by
Organize Yourself Skinny
at https://www.organizeyourselfskinny.com/dorito-taco-salad/