Meal Prep Idea: Spinach and Feta Turkey Meatballs with Zoodles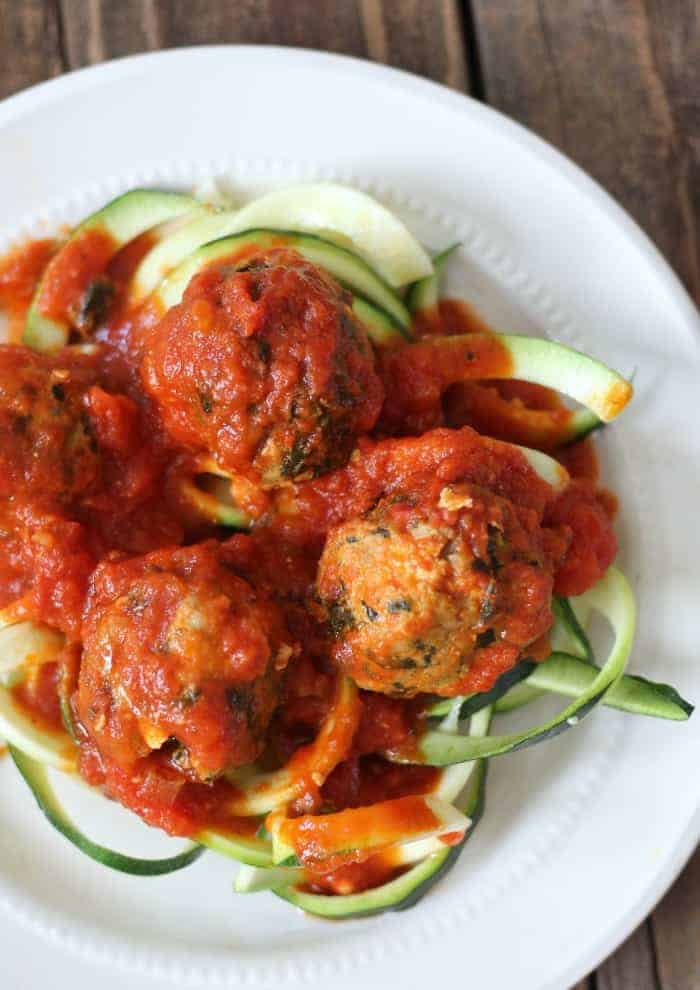 Author:
Organize Yourself Skinny
1 slice whole wheat bread
2-3 tablespoons milk
1 lb ground turkey
10-ounce package frozen chopped spinach, thawed and completely drained
6-ounce container crumbled feta cheese
½ medium red onion, finely chopped
1 tablespoon Worcestershire sauce
1 teaspoon salt
½ teaspoon ground black pepper
1 teaspoon dried oregano
1 teaspoon granulated garlic
1 teaspoon onion powder
¼ cup unseasoned bread crumbs
3 cups marinara sauce
2 medium to large zucchini, prepared into zoodles
Preheat oven to 350 degrees.
In a large bowl mix together bread and milk until it forms a paste.
On top of the paste, place the ground turkey, spinach, feta, red onion, Worcestershire sauce, salt, pepper, oregano, garlic, onion powder, and bread crumbs.
Carefully mix together until all of the ingredients are distributed throughout the meat.
Form meatball mixture into 18 - 20 meatballs and place on a baking sheet sprayed with cooking spray.
Bake for 20 minutes.
Place meatballs into the slow cooker with 3 cups of marinara sauce.
Cook on low for 4-5 hours.
Serve zucchini noodles.
Sugar: 7


Make-ahead tips


This recipe can be made ahead a few different ways. First, you can make it completely ahead of time (like I did in this post) and portion it out into servings to enjoy for dinner during the week. You can also, prep the slow cooker the night before to make the meatballs for dinner the next day. Last, you can freeze the meatballs after they are baked and create a slow cooker freezer kit to use at a later time. This is a very versatile recipe that can be prepped ahead many different ways.
Serving size:
3 meatbals and 1 cup of zoodles
Calories:
326
Fat:
19
Saturated fat:
5
Carbohydrates:
19
Fiber:
2
Protein:
22
Recipe by
Organize Yourself Skinny
at https://www.organizeyourselfskinny.com/meal-prep-idea-spinach-and-feta-turkey-meatballs-with-zoodles/