Healthy Baked Eggplant Parmesan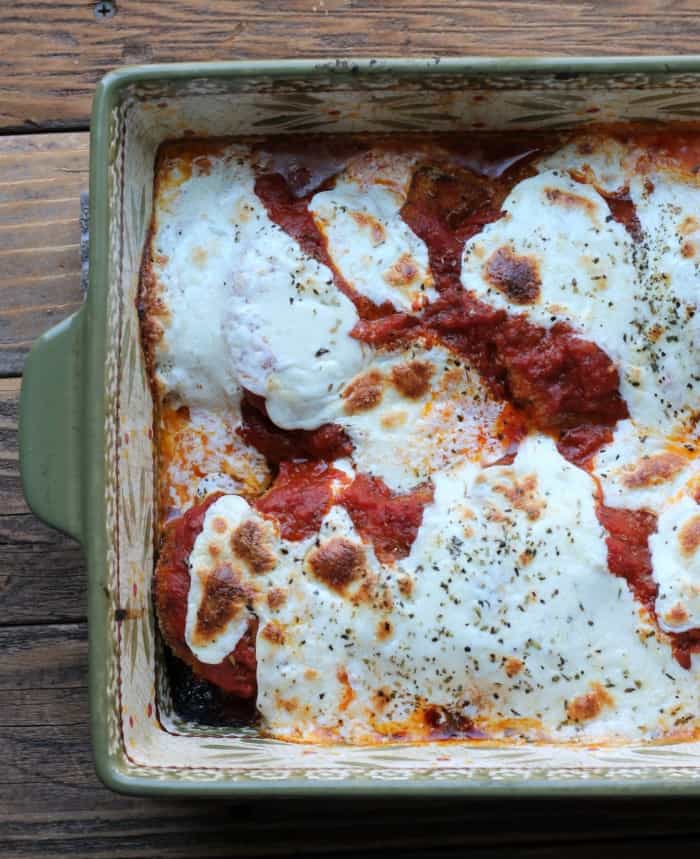 Author:
Organize Yourself Skinny
1 large eggplant
1 cup plain breadcrumbs
¼ cup grated parmesan
1 teaspoon Italian seasoning
1 egg
1 egg white
2 tablespoons olive oil
16 ounces fresh mozzarella
3 cups Rao's Marinara Sauce
Peel eggplant and then slice into ½ inch pieces. Sprinkle salt on both sides of the eggplant and place on paper towels. Put additional paper towels over the eggplant and place books or a heavy pan on top. Let the eggplant sit for 45 minutes to drain out the bitter juices.
Preheat oven to 425 degrees.
In a medium bowl beat the egg and egg white together. In another medium bowl mix the breadcrumbs, grated parmesan, and Italian seasoning.
Brush olive oil onto a baking sheet.
Dip eggplant slices into the egg and then into the breadcrumbs. Then arrange eggplant slices onto the baking sheet.
Bake eggplant slices for 25 minutes, flip over after 10 minutes.
Keep oven set to 425 degrees.
Cover the bottom of a 9 x 13 casserole dish with marinara sauce. Arrange baked eggplant slices in the sauce. Pour the rest of the sauce over the eggplant.
Place 2 ounces of cheese over every 2 slices of eggplant.
Baked for 25 minutes or until sauce is hot and bubbly.
Set the oven to broil and broil for 2-3 minutes or until the cheese is slightly golden.
Serve hot.
Sugar: 6
Make-ahead instructions


This eggplant parmesan can be made completely ahead of time and frozen into portion. It will keep in the refrigerator for up to 5 days and in the freezer up to 3 months. You can also make the baked eggplant slices ahead of time and freeze that to use in a later recipe.
Serving size:
2 pieces of eggplant, 2 ounces of cheese, and sauce
Calories:
374
Fat:
24
Saturated fat:
8
Carbohydrates:
21
Fiber:
3
Protein:
17
Recipe by
Organize Yourself Skinny
at https://www.organizeyourselfskinny.com/healthy-baked-eggplant-parmesan-recipe/